The artists and venues are set and time is ticking down to the start of the 5th annual ArtPrize, the open, international art competition where you--the public--get to vote for the art you like best. And your vote really makes a difference: the winner takes home $200,000 in prize money. This unique event made Time Magazines list of Five Festive Events You Won't Want to Miss in 2013 and draws more than 400,000 people to Grand Rapids annually to explore and experience art in an entirely new way.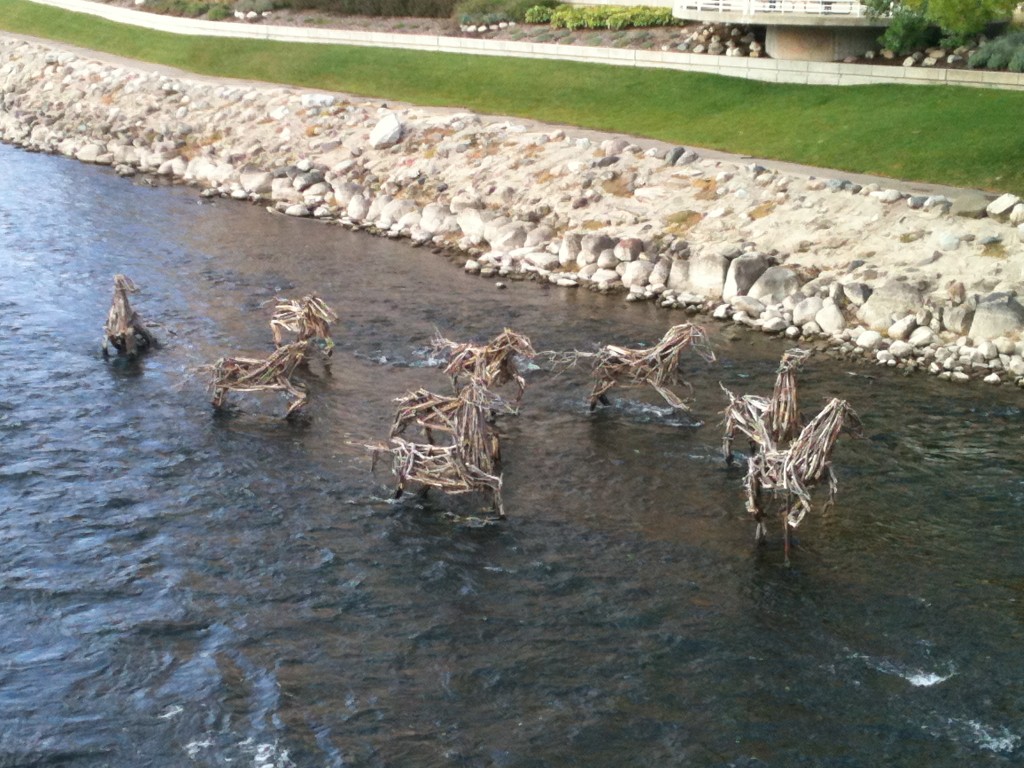 Stick-to-it-ive-ness: Unwavering pertinacity; perseverance, by Richard Morse, ArtPrize 2012
If you're planning to join the throngs attending ArtPrize from out of town and haven't already booked a hotel, its time to get busy! See our first post in this series for tips on where to stay.
You'll also want to do a little pre-trip prep so you can hit the ground running when you arrive in Grand Rapids. See our second post in this series for detailed information on how to register to vote, where to get a map, how to approach ArtPrize with or without kids, where to find food and parking, and various ways to get around Grand Rapids during the event.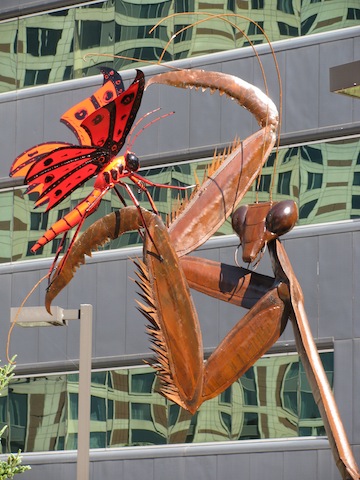 Mantis Dreaming, by Bill Secunda, ArtPrize 2011
Whether you're coming to ArtPrize from the suburbs of Grand Rapids or another state or country, though, some things will be the same: you'll be wowed by the amazing display of art throughout the city, you'll be impressed by the size of the crowd, and you'll do more walking, much more than you expect.
To make your visit to ArtPrize the very best, here are our top 10 tips on how to get the most out of ArtPrize.
1. Check the weather app.Then add a jacket, some shorts, and an umbrella, regardless of what it says. Fall weather in Grand Rapids is fickle. We may see temperatures in the 80s during the day and experience a precipitous drop to 60 or lower in the evening. (Breezy nights make it even cooler, so you'll be thankful for your favorite fleece.) Last year, my husband and I spent hours walking the 3-mile ArtPrize course and it poured for a good bit of our walk. In the event the skies open up again this year, having an umbrella (or rain jacket with a hood) along will allow you to keep on trekking without too much disruption.
2. Sneakers. While fall may seem like the perfect time for jeans and sandals, take my word that you (and your kids, if they're coming) do not want to see ArtPrize in shoes that are anything less than Very Comfortable. If your fashion sense forbids sneakers, find another shoe you deem acceptable that will provide you with adequate support. Trust me on this one. ArtPrize is enticing to kids and adults, so even if you plan on only walking a few blocks, its very likely your plan will change. Art is inside and outside, along the river and on hillsides. Throw fashion to the wind and wear good shoes. Your family's feet will thank you.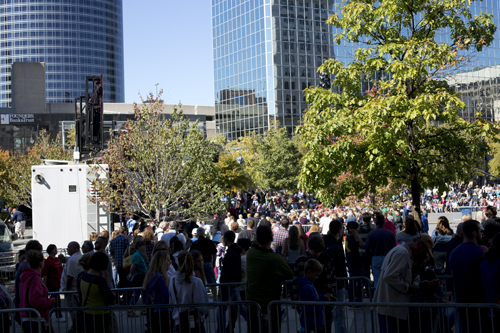 3. Small backpack. If you plan to be downtown with kids, you'll need a few supplies. Resist the urge to pack for every contingency. A couple of small snacks and some water, as well as diapers or any other small child paraphernalia should do it. If you weigh yourself down with a large backpack, it will get heavier by the minute and instead of enjoying the art, youll be focusing on your backache by about the third venue.
4. Camera. Obviously you want to bring one, but do you bring a fancy camera or will your smartphone suffice? This is a tough one. Sensibility tells me to suggest you take photos on your smartphone or with a smaller camera, especially because its incredibly difficult to capture the essence of the art on film (or digitally). However, if you're a photography buff, you'll kick yourself if you leave your favorite camera and lens at home. So, this ones an individual choice but remember: you'll be covering a lot of ground. If you don't want to haul a heavy camera around and you're comfortable leaving it in your hotel room or the trunk of your car, you may want to bring both cameras. (This is especially true if you're already carrying a backpack.) Take the small camera or your phone along for your first round, and then return to your favorite spots with the big camera. Keep in mind, though, that because there's so much to see that you may find it difficult to return to a venue you've already visited--there will be so many others you want to see! Be sure to bring back up batteries if you might need them--nothing would be worse than lugging your camera around all day and not being able to take a picture when you finally find your favorite entry.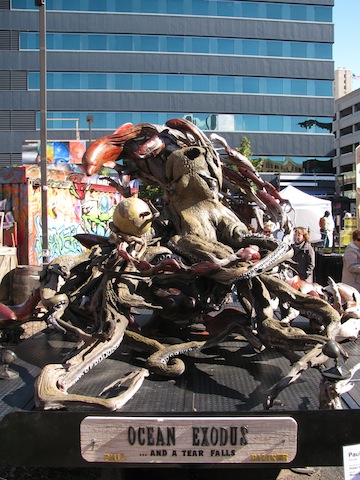 Ocean Exodus, by Paul Baliker, ArtPrize 2011
5. Cash. ArtPrize is free, but you'll want to have cash on hand anyway. Kids will get hungry, adults will get thirsty, and sometimes you just need a break from walking--sitting in a cozy restaurant is the perfect solution. While your backpack will help you get through short bursts of hunger, hopefully you've heeded our advice and not over-packed it. But Grand Rapids has so many delicious restaurants (and some incredible breweries) that there's no shortage of places to stop. Just do it before or after everyone else, and expect a bit of a wait even then.
6. Swimsuits. If you're coming from out of town and your hotel has a swimming pool, be sure to pack swimsuits so you can enjoy a little family time in the evening. It will give your kids--who will probably love ArtPrize but may tire more easily than you--an extra incentive to get through the day peacefully.
7. Smartphone. If you use one, bring it. If youre visiting during the first 10 days of the competition, when you can vote for everything you like, having a smartphone allows you to vote this one! the minute something catches your fancy. If you prefer, you can haul an iPad along, but see our above recommendation about backpacks and cameras--lighter is better. However, if you're staying in a hotel you may want to keep your iPad there so you can transfer photos to it later in the evening. Then, kids and adults can flip back and forth between favorites and discuss why you like, or don't like, a particular piece.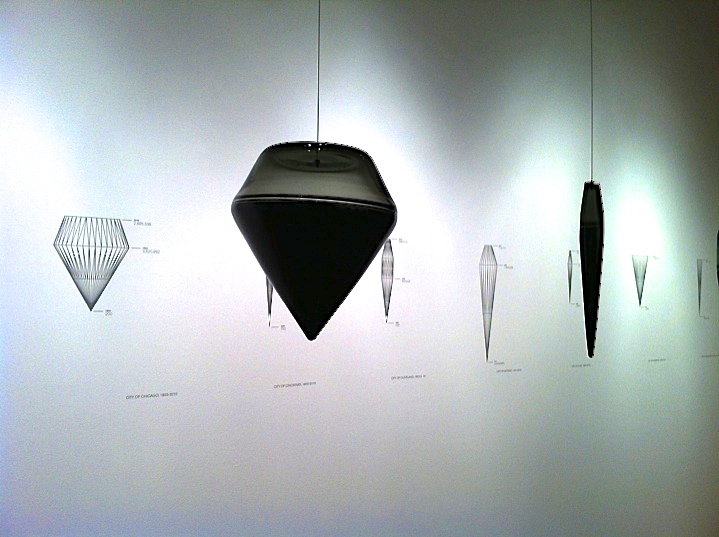 Cities Departure and Deviation by Norwood Vivano, ArtPrize 2012
8. Map it. We mentioned this in our last post about ArtPrize but it bears repeating: attend ArtPrize with a plan. Your first stop should be an ArtPrize voting site where you can get an ArtPrize map (they're free). There are over 1,500 exhibits displayed in 169 venues, which are grouped by 5 city neighborhoods: Center City, Hillside, Heartside, Westside and Monroe North/Belknap. An additional venue is Meijer Gardens, which is located a few miles outside of the downtown area, and you'll be able to see 25 entries on display there this year. Id strongly recommend splurging $5 for the ArtPrize Event Guide (which you can also get at voting sites). It includes a map but also suggests 5 different walking tours of ArtPrize. Each tour takes you through art in one of the 5 neighborhoods. The walks are about 1-2 miles long and paths will be clearly marked on the pavement.
9. Get the app. ArtPrize has its very own mobile app. If you use a smartphone, its available for both the iPhone or Android.By using the mobile app, you can skip the lines that queue up to register to vote. The geo-location feature in the app allows you to activate your voter account as soon as you enter the ArtPrize district in downtown Grand Rapids. You can also search for entries, artists, and venues, and connect to Facebook with just one click.
10. Be original. It's impossible to see every ArtPrize entry in a day or two. As you look at your map and set your course, be sure to make time to see the most popular entries. But don't be too set in your ways. ArtPrize is all about discovery--leave time to veer off the beaten path so you're sure to find the art that speaks to you.
Click here for our first post in the "Get Ready for ArtPrize" series.
Click here for our second post in the "Get Ready for ArtPrize" series.