You might not know it, but running is a big deal in Grand Rapids. In fact, there are several very large running clubs, specialty running stores like Gazelle Sports and Striders, and many different race options to accommodate all the runners in the area. If you're looking for a fun way to experience the city, do something positive for your mental and physical health, and possibly earn a medal, you'll love our compiled list of races.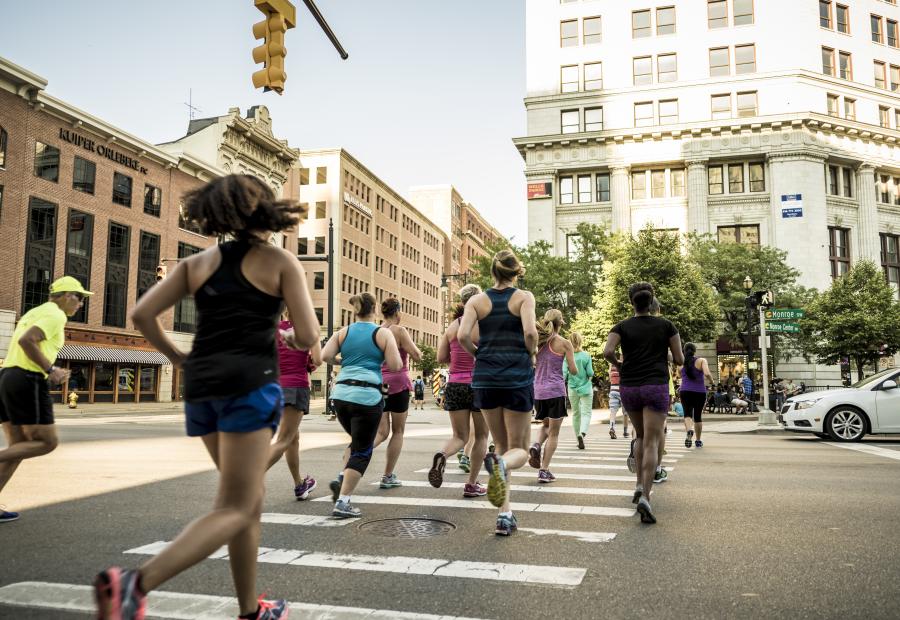 Races in Grand Rapids are a great opportunity to see more of the city and boost your health.
Photo by Experience Grand Rapids
Corewell Health Irish Jig 
Saturday, March 18, 2023 
For most runners and fitness enthusiasts in Grand Rapids, the "official start" to the spring race season is the Corewell Health Irish Jig. Now in its 39th year, the Irish Jig is a 5K (3.1-mile race) put on by Corewell Health (formerly Spectrum Health) to bring awareness to Colorectal Cancer. 
The race, which you can run or walk, starts at East Grand Rapids High School and features a flat course through the surrounding East Grand Rapids neighborhood. If you're a fan of St. Patrick's Day (which is the day before the race). definitely wear all your green gear for the Irish Jig 5K. In fact, you might be out of place if you wear anything other than green! 
Registration is now open and costs $35. It includes a moisture-wicking long-sleeve race shirt. For more information about the race, visit the official Corewell Health Irish Jig 5K website. 
SHE RUNS Grand Rapids 
Sunday, April 30, 2023 
SHE RUNS Grand Rapids is a race to promote movement and wellness amongst women and those that identify as a woman. The event features a 5K, 10K, and half marathon distance that starts at Calder Plaza in Downtown Grand Rapids. Having participated in SHE RUNS several times, the amount of women empowerment is palpable, and it's one of my favorite events to participate in with my girlfriends.
All three distances go through downtown Grand Rapids and feature iconic landmarks in the city. The half marathon, which is a new course this year, goes through nine of Grand Rapids' neighborhoods/business districts. Another cool feature of this race is that strollers are permitted, so if you have some little ones you'd like to take along, it's an excellent opportunity to introduce them to the running world. 
Registration is currently open. Price varies depending on the distance you sign up for. I recommend signing up as soon as possible because there are various price increases between now and race day. Registration comes with a moisture-wicking shirt and distance-specific finisher's medal.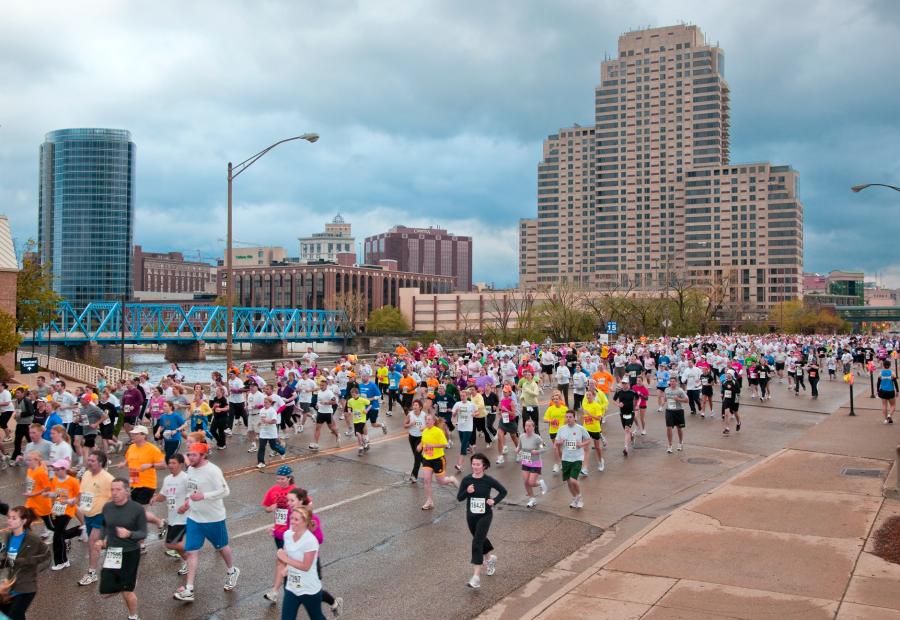 The Amway River Bank Run features the largest 25K in the country and has over 10,000 participants.
Photo by Experience Grand Rapids
Amway River Bank Run 
Saturday, May 13, 2023 
The Amway River Bank Run, established in 1978, is the country's largest 25K road race. This Grand Rapids staple is the largest race in the city, with nearly 10,000 people participating between the 5K, 10K, and 25K distances. In addition to being a big race, it also serves as the USA Track and Field 25K Open Championship, which means that if you participate in the River Bank Run, you'll be on the same course as some of the most elite runners in the country. 
Don't let the size and competitive nature of the event scare you off, though. The Amway River Bank served as my first 5K, 10K, and 25K, and the crowd and other runners were so encouraging! Never once did I feel like I didn't belong. If running isn't your thing, but you want to get out there for your well-being, the River Bank also has a 5K walk. 
Depending on the event you sign up for, registration prices range from $23-$80. Race swag includes a race day shirt and finisher's medal for all three distances. 
Brian Diemer Family of Races 
Saturday, June 10, 2023 
If you've ever wanted to run with an Olympian, the Brian Diemer Family of Races is a great opportunity to do so. The Olympian you'd run with is Brian Diemer, the event's namesake. Diemer, who grew up in Grand Rapids, took home the bronze for the 3000-meter steeplechase in the 1984 Summer Olympics. 
The Brian Diemer Family of Races takes place in Caledonia, about 25 miles southeast of Grand Rapids, and features a 5K walk and run, handcycle, kid's 1K Steeplechase, and kid's Junior Jog. The course is nice and flat and features six live bands on the route. Since Brian runs the race every year, there is a chance to beat him to the finish and if you do, you're rewarded with a donut! 
This race has price increases from now through when registration closes on June 10. Every registration comes with a t-shirt.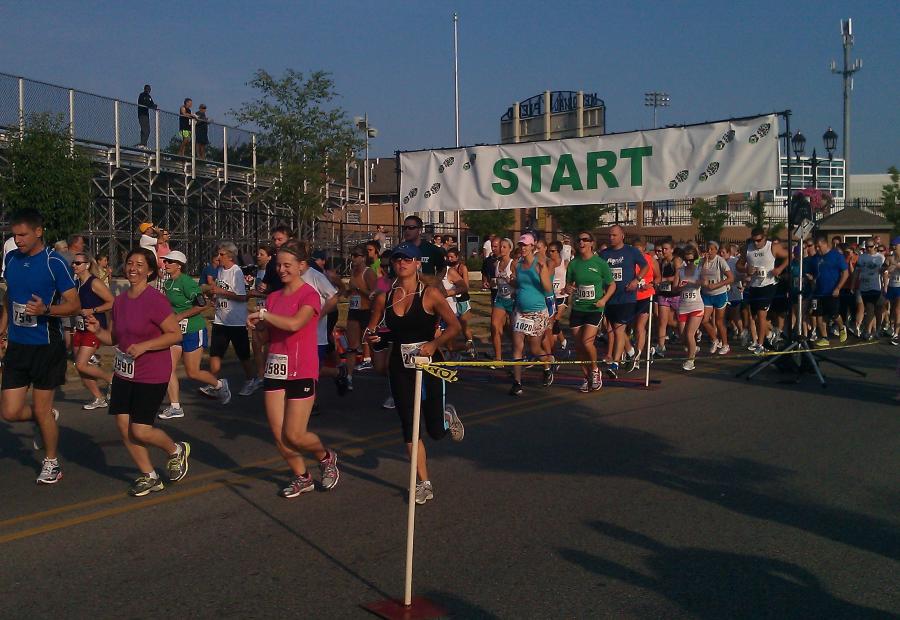 Before the fireworks begin on the Fourth of July, grab your running shoes for the Reeds Lake Trailblazer run.
Photo by East Grand Rapids Parks and Recreation Department
Reeds Lake Trailblazer 
Tuesday, July 4, 2023 
Add some running to your day of barbecues and fireworks this Fourth of July. Every year, on Independence Day, the East Grand Rapids Community Foundation puts on the Reeds Lake Trailblazer 5K to bring people together and raise money for the foundation. This 3.1-mile run/walk starts at the Community Foundation and goes through parts of the Reeds Lake Trail which hugs the lake's shoreline. 
As stated on the Reeds Lake Trailblazer website, families, strollers, and serious runners are welcome. So no matter who is in your crew, everyone is welcome. Registration is $40 for those 18 and older. Children 11-17 are $15, and those ten and under are $10. If you'd like to secure your shirt size, sign up by June 8.  
Magic of the Mile 
Tuesday, July 11, 2023 
When was the last time you did a mile time trial? Was it middle school or high school? Regardless if it's been a while, you can test your physical ability at the Magic of the Mile this summer. Much like its name, the race is a mile long and takes place on the track at Grand Rapids Christian High School. To ensure fair match-ups amongst the runners, race organizers set up several heats that are split by gender and pace, much like a high school track meet.  
The men's and women's heats are open to any age, and there is a Youth 200 and 400-meter fun run for younger participants. There is also a Youth Coed mile. While it does have youth in the title of the event, race organizers say it's for anyone that wants to participate in the mile but may feel intimidated running in the men's and women's heats if they're not too familiar with the distance.  
Registration is $15 for the men's and women's heats, and the fun runs and Youth Coed mile are free. 
Millennium Meadows Marathon 
Sunday, August 27, 2023 
Don't let the name of the Millenium Meadows Marathon deter you from participating. The event features a marathon, marathon relay, half marathon, and 10K. Taking place in Secchia Meadows in Millennium Park, the course is a loop that is just over four miles long. That means if you do the marathon distance, you're doing a total of six loops to make up a total of 26.2 miles. For those interested in the marathon relay, you'll do no more than one loop if you get a large enough team. 
As for the course itself, it's one of my favorites because of how beautiful it is. The loop takes runners over a large bridge, travels along the shoreline of the Grand River, and passes through a scenic meadow. If you do the marathon and complete six loops, you definitely won't get tired of the scenery!  
Registration is open, and prices depend on the distance. There are also price increases between now and race day, so sign up sooner rather than later. Registration comes with a t-shirt and a finisher's medal. 
GRR Runway 5k 
Saturday, September 9, 2023 
Want to feel like you're flying while you run? The closest you can come to that is at the GRR Runway 5K, a race that takes place on the runway of the Gerald R. Ford International Airport in Grand Rapids. The event features a 5K and a 1-mile distance, making it family-friendly. Kids and adults alike will love participating while watching planes land and take off nearby. 
Due to the event's popularity, and the fact that it takes place on a runway, registration is capped at 1200 participants. Registration is $34 for the 5K and $20 for the one mile. However, much like the other races mentioned here, there are price increases during the year. Everyone that registers gets a finisher's medal, custom race shirt, and finish line party.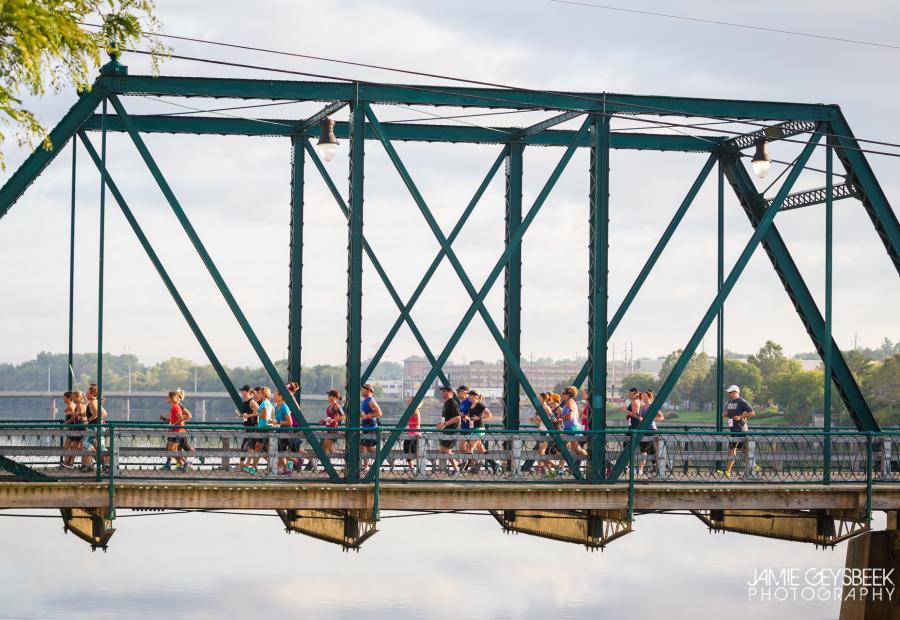 On the LMCU Bridge Run, you will pass over the Blue Bridge, Gillett Bridge, Sixth Street Bridge, and Bridge Street Bridge.
Photo by Photo courtesy is Jamie Geysbeek Photography.
Lake Michigan Credit Union Bridge Run 
Sunday, September 17, 2023 
The Lake Michigan Credit Union Bridge Run is one of my favorite fall races in Grand Rapids! Put on by RunGR, a running group in town, the event features a 10-mile run and a 5K run/ walk. No matter the distance you decide to tackle, you'll go over a few Grand Rapids bridges, including the historic Sixth Street Bridge, built in 1866. Others include the Blue Bridge, Gillett Bridge, and Bridge Street Bridge. 
I've done this race a few times now, and the atmosphere is comfortable for runners and walkers of all paces. There are live bands and cheer stations along the course, and you'll receive a fantastic finisher's medal at the finish line. Registration also includes a commemorative t-shirt. Be sure to register today before prices go up.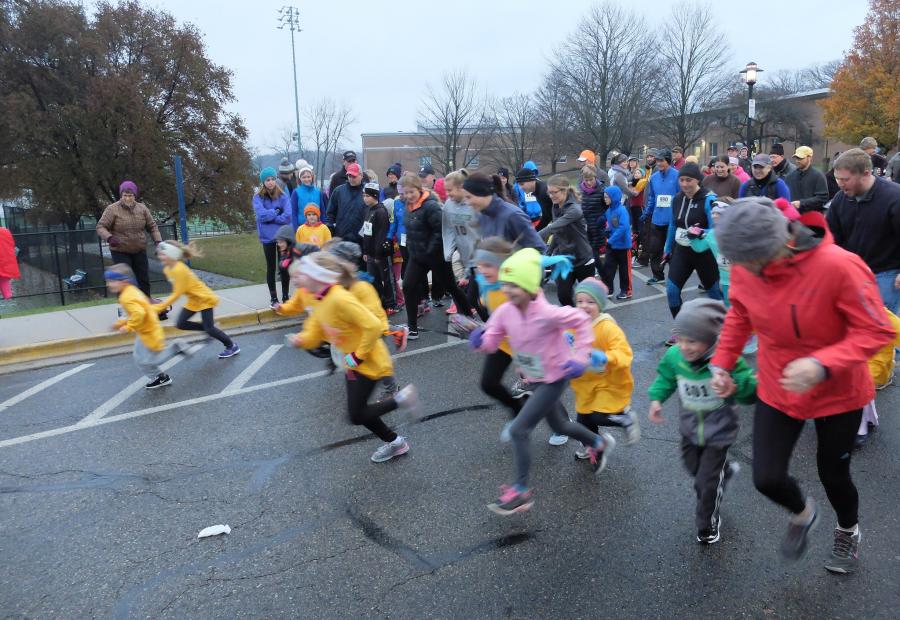 The Grand Rapids Turkey Trot is a family-friendly event that features a mini trot for children 1-12 years old.
Photo by Gazelle Sports
Grand Rapids Turkey Trot 
Thursday, November 23, 2023 
Start your Thanksgiving with fresh air and fitness by participating in the annual Grand Rapids Turkey Trot. This 5K walk/run is a great family-friendly event in downtown Grand Rapids. In addition to the 5K, there's also a mini trot for children one to 12 years old. The trot features a .4-mile course around the Van Andel Arena, which parents are invited to do with their children. The mini trot starts at 8:10 AM, while the 5K starts at 8:30 PM. 
Registration is $30 for the 5K, and it comes with a shirt and a finisher's medal. The mini trot is free for kids and includes a participant prize. All proceeds from the race go  to Grand Rapids Public Schools' athletic programs. 
If you've never done a race before, I know it can be a bit intimidating. Don't let it be, though! One of my favorite running mantras is "forward is a pace." It doesn't matter how fast or slow you go, as long as you're moving forward. If you end up doing one of the races mentioned here, breathe, relax, and soak in all the beautiful scenery that Grand Rapids has to offer.