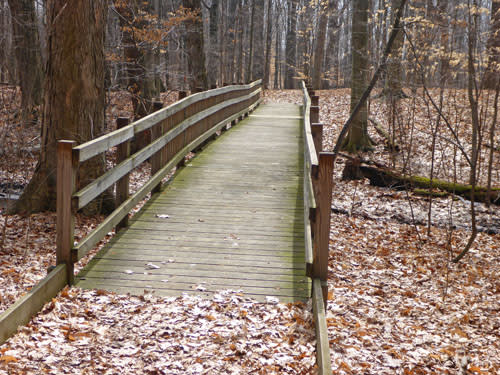 Take a peaceful stroll on the trails at Calvin College Ecosystem Preserve. Photo by Howard Meyerson
Two minutes from the traffic on East Beltline Avenue there is a peaceful, natural setting full of surprises. In spring the woods fill with natural sounds sweet bird songs by day and a chorus of frogs and toads at night.
For Jeanette Henderson, it is a special season at the 100-acre Calvin College Ecosystem Preserve, where she is program manager. Wood-chip pathways lead visitors to more than a dozen ponds and vernal pools, all set back from the highway in the hush of a mature forest. The preserve was established in 1985 to protect a special habitat, the temporary home for more than 140 bird species plus white-tail deer, raccoons and possums, blue-spotted salamanders and flying squirrels and mink.
"People are always surprised to find that we are here," declares Henderson, of the 6,000 visitors each year. "They may come and walk peacefully among the trees, or sit on a bench in meditation, enjoying the wildflowers and natural scenery."
"The thing I think is really unique is what you hear here in spring. We have vernal pools, a rare ecosystem that has been destroyed in a lot of Michigan. They are temporary wetlands that fill up with rainwater and snowmelt and provide critical habitat for frogs. We love to have the public come out and enjoy what we are doing."
The Calvin College Preserve and its associated Bunker Interpretive Center is one of four nature centers within 30-minutes of downtown Grand Rapids. Each is unique in what it provides both for children and adults.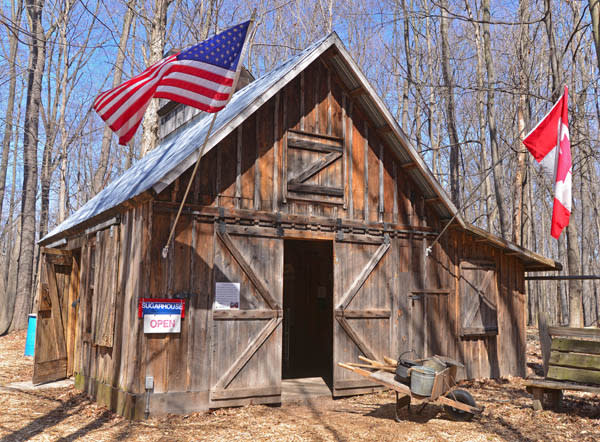 The Sugarhouse at Blandford Nature Center, where maple syrup is made each spring, is open to the public. Photo by Howard Meyerson
Blandford Nature Center, just 10 minutes away, is well-known for its outdoor and nature programs. Its popular Sugarbush Festival draws crowds to watch maple syrup being made. Locals gather for its fall Harvest Festival as well. The center's Wild Animal Trail is where young and old can enjoy seeing a variety of wild animals. Blandford has an Osprey, Great Horned Owl, Red-tailed Hawk, and plenty more.
Established in 1968 on 17-acres, Blandford's program has since grown to encompass 143-acres with 4 miles of wooded hiking trail that is open to the public. Its 2.5-acre farm presents a unique opportunity to learn about sustainable agriculture and see goats and chickens.
"Most of our spring programing is out on the trail exploring," said Kristin Tindall, the master naturalist on staff. "We have Saturday program from 2 p.m. to 3:30 p.m. with instructors. It's popular, and people need to RSVP and reserve a spot. But, if it's a beautiful day and someone wants to explore, they can come and check-in at the nature center and pick up a backpack. They are available on a first-come, first served basis."
Blandford's backpack program is geared primarily for children out with an adult. There are birdwatching backpacks with binoculars, field guides and an electronic bird-caller. The center also has backpacks for learning about animal tracks, tree identification or wetlands, toads and frogs.
"There's a trail map here that people can borrow," Tindall said, "and in wildflower season, we have a wildflower guide."
Spring is a delightful time to get outdoors and see the seasonal transformations. If you have a little more time to travel, two other nature centers are found within 30 minutes of downtown.Those include:
Wittenbach /Wege Agriscience & Environmental Education Center, Lowell: Situated on 140 acres of forest, prairie and wetland, the center is part of the Lowell School District. It has a community garden and 3.69 miles of walking trail, broken into four loops. The trails are open to the public year-round. Horses are allowed only on the almost 1-mile-long Corncob Corner Trail.
Outdoor Discovery Center, Hamilton: This delightful place for children and adults is well-known for its Birds of Prey Education Center where visitors can see and learn about eagles and owls, hawks, falcons and vultures. ODC only accepts permanently injured birds that cant be returned to the wild. Its 7-acre DeWitt Wildlife Enclosure contains a herd of Rocky Mountain Elk. The trails there are open 365 days a year.