From live music and craft beer tours to art and cooking classes, there are lots of ways to immerse yourself in the culture of Grand Rapids. Here we showed you how to search our website for over 100 Tours and Experiences, based on your particular interests, dates, budget and other variables. After you input the details, you'll receive a personalized list of tours/experiences based on your input. Cool, right?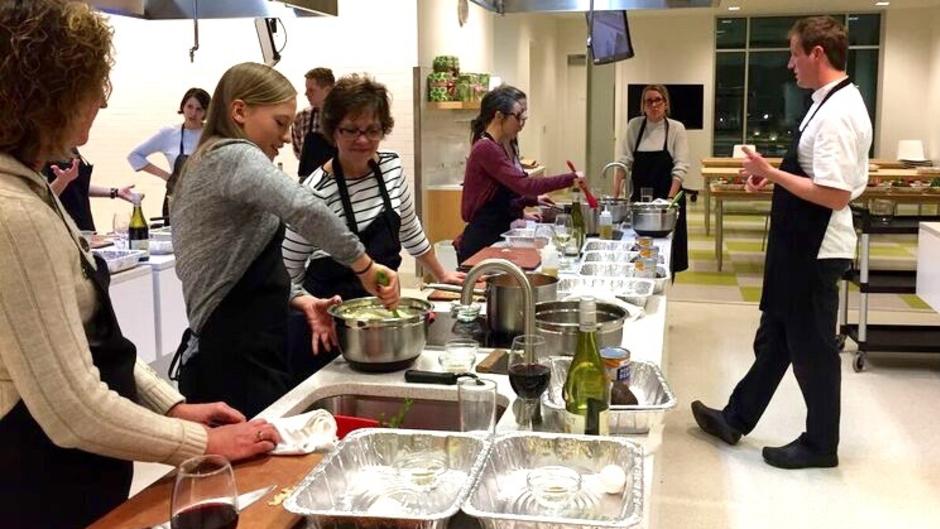 Chef Jacob Bandstra leads the class step-by-step.
Photo Credit: photo credit: Kirsetin Morello
---
What It's Like: Weekly Meal Prep Class at the Downtown Market
Downtown Market opened in 2013 and is a local gem, filled with a variety of food vendors and restaurants, including Social Kitchen & Bar, Slows BBQ and Sweetie-licious Bake Shoppe. 
Cooking classes are offered in its Teaching Kitchen, a large well-lit room, with lots of long countertops featuring built in sinks and stovetops. In addition to ingredients, they provide sharp knives, cutting boards, colanders, stockpots – everything you need to make the meals. They also sell bottles of beer or wine that you can buy to enjoy while you cook.
A variety of cooking-related classes are offered throughout the year and I attended the Weekly Meal Prep class, where an experienced chef led us through the preparation and cooking of a week's worth of meals. Every participant made – and took home – squash soup, root vegetable enchiladas, a rustic pasta bake, pork vegetable stir fry, and a hearty beef stew.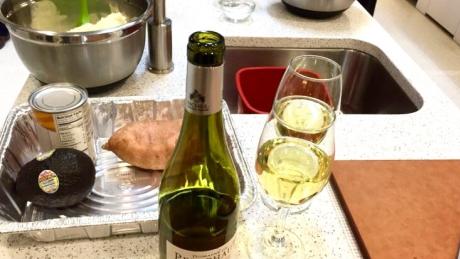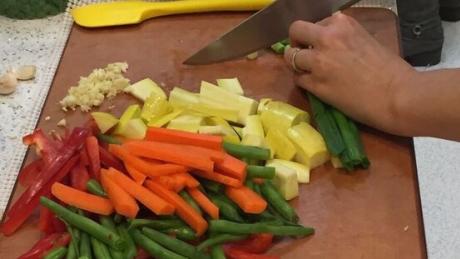 Sharing a glass of wine and cooking with friends makes for a great night out!
Photo Credit: photo credit: Kirsetin Morello
---
The Process
We started with the basics. Our instructor, Chef Jacob Bandstra, who simply goes by "Chef Jacob," was knowledgeable and friendly, and he helped us correctly chop onions as we began prepping for our first recipe: a seasonal squash soup. First he instructed us to only cut off the top of the onion, to give the veggie a flat surface, but to leave the root attached, so it would continue to hold the onion together. He rolled the fingers back on his hand holding the onion, for both safety and control.
"I'm going to take the tip of my knife, plunge it into the onion, right down to the board, and then draw it back," explained Bandstra. He did so repeatedly, creating small slices in the onion, still held together by the root. "Now," he said, "you can turn the onion and slice it the other way." He demonstrated nice, even cuts that created a pile of neatly diced onions. TV screens mounted at both end of each counter allow every participant to easily see the techniques as he demonstrates them.
The room filled with a delicious aroma as we begin cooking onion and garlic in olive oil. An easy, lively spirit of camaraderie permeated the room as everyone learned from Chef Jacob and discussed the recipes. Along the way, Chef Jacob gave us helpful tips – things like making sure we used a high enough heat to caramelize the onions a little and to be sure to cook the tomatoes down before adding stock, in order to extract more flavor.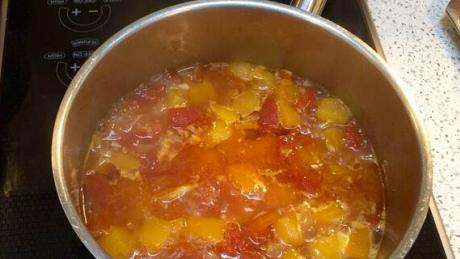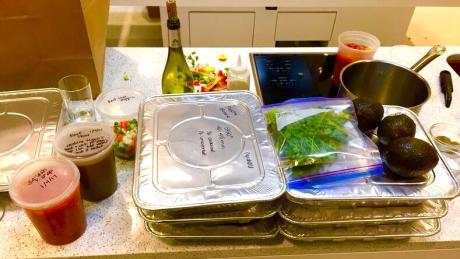 "I love watching Food Network and it felt like I was in one of the shows. It was really fun. – Colene Johnson, Rockford
Photo Credit: photo credit: Kirsetin Morello
---
The Feeling
The class moved along quickly. It's efficiently planned so that we were prepping one thing while cooking another. We diced sweet potatoes and celery root to roast for the enchiladas we'd be assembling later. While those veggies were roasting, we each grabbed a pre-prepped pan and bowl filled with ingredients for our pasta bake: an onion, eggs, zucchini, garlic and herb/spices in the pan; a mixture of parmesan and ricotta cheese in the bowl. Before we began prepping the pan of veggies, we returned to our squash soup, adding homemade chicken stock and pre-cut butternut squash to our cooked down tomatoes.
The class continued in this manner – we worked back and forth between recipes (all of which are provided to students at the end of the class), discussed techniques, chopped, mixed, prepped.
During the final part of the class, we assembled what we'd been chopping, cooking and roasting. We poured a can of beans over the roasted celery root and sweet potato mixture, and then layered it with tortillas, cheese and sauce to make our enchiladas. Similarly, in another large to-go pan, we finished our pasta bake by layering the egg and cheese mixture, sausage, veggies and pasta. Chef Jacob continued to provide instruction and walked us through finishing the prep for each meal.
I really enjoyed cooking without distraction. It was nice to put in a couple of hours and have a week's worth of food.
When my classmates and I left the Downtown Market that night, we'd learned new recipes and techniques and had bags full of delicious dishes to fill our refrigerators and freezers.
"It's a great way to spend time together," says Betty DeGroot from Dorr, Michigan, who gave her daughters the class as a Christmas gift. "We'll be back with our husbands!"
The class isn't just fun for the participants; the instructor enjoys it, too. "I like it when people who've cooked a lot at home learn something new that they never knew before," Chef Jacob Bandstra says, smiling.
If you're interested in taking a class at the Downtown Market, classes do sell out (this one did!), so be sure to sign up in advance on their website.
And be sure to search our Tours & Experiences page to discover other ways to dive into Grand Rapids' culture whenever you're in town.
Don't ever miss a post!
Sign-up for the Insider Experience Blog