Have you ever had a Negroni?  I hadn't even HEARD of a Negroni until June of 2015, when the Grand Rapids Cocktail Guild brought the first Negroni Week to Grand Rapids. After a successful week of restaurant, bartender, and cocktail-lover participation, the 2nd annual event was a given.  This year's Negroni Week take place June 6-12.
Negroni: an Italian-influenced cocktail
Italy provided the inspiration for the Negroni, which is equal parts gin, sweet vermouth, and Campari. The result is a bold cocktail that many consider an acquired taste. "It's become more fashionable in contemporary times to go with a 'gin heavy' variation," explains Maureen Di Virgilio, President of the Grand Rapids Cocktail Guild. "In my opinion, this is because a lot of people aren't using great vermouth and they want to mask that with the boozy and botanical notes of gin. But the flavors of vermouth and Campari are just as important in creating the unique flavor profile of a perfect Negroni."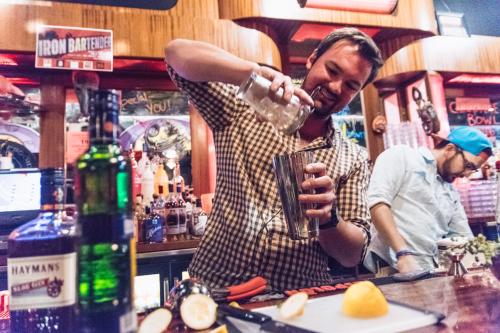 Photo Courtesy of Experience GR
Try a Negroni at these local bars
During Negroni Week 2015, dozens of local restaurants and bars participated by featuring either the classic Negroni or a creative variation on their menu. "Participating bars and restaurants have the option to do any take on the drink, including food," says Di Virgilio. "As part of our Negroni week special last year when I was working at Winchester, we did a 'Hipster Happy Meal' with a carbonated Jungle Bird—a variation with rum and fresh juices. We served fried chicken liver 'nuggets' with dipping sauces that matched the main flavors in a Negroni and served it with a toy."  In addition to trying a Negroni at local favorites like Reserve, Madcap Coffee, and Winchester during Negroni Week, you can also attend the Guild's 2nd summer Iron Bartender Battle, which takes place in the back room of Stella's.  These entertaining competitions happen the 2nd Wednesday of every month and are exciting to watch!  Read about former winners here.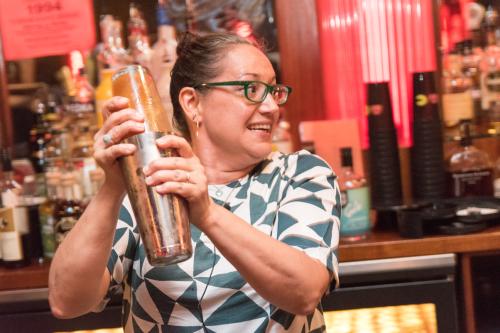 Photo Courtesy of Experience GR
Negroni Week highlights the city's cocktail culture
Negroni Week is a national event, geared towards educating consumers on the presence and sophistication of their city's cocktail culture.  It's also an opportunity for local cocktail guilds to give back in celebration of the negroni.  This year, the Guild is donating to the Kent County Water Conservation.
The official list of all participating bars and restaurants will be available June 4th.  Drink for a good cause, to try the classic Negroni or a new variation, and to meet wonderful people during Grand Rapids' 2nd Annual Negroni Week. You may discover a new favorite cocktail!