Just because the temperatures are dropping, doesn't mean the people of Grand Rapids are hunkering down and staying home. We like to be involved and Grand Rapids gives us plenty of options, regardless of the weather.
Over the next few weeks, we'll bring you news on what's happening around town during the holiday season, including shopping events, activities for family & friends, and where to go for great food & cocktails. We're kicking off the series this week by highlighting 5 art-related events you won't want to miss.
1. Window Wonderland Design Competition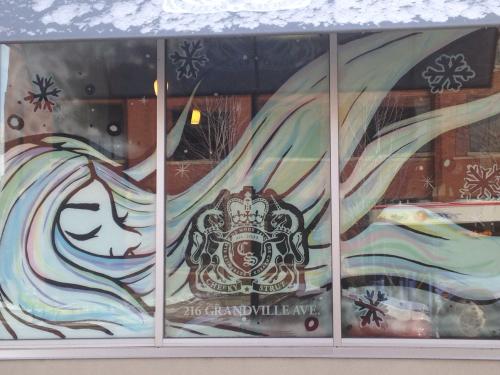 Photo courtesy of Kendall College of Art and Design of Ferris State University. (2014 first place winner.)
Back for a third year, this awesome competition pairs creative design students with downtown businesses in a competition that gets everyone in the holiday spirit. Downtown Grand Rapids Inc. and Kendall College of Art and Design organize the event and, this year, 31 students are competing, each one designing a festive storefront for a participating downtown business.
Like ArtPrize, the public decides who wins: voting opened November 6 and runs through November 27, so hurry down to choose your favorite. Each time you vote, you're registered for a raffle prize. Find out if your choice scored a prize when the Window Wonderland winners are announced during the tree lighting event at Rosa Parks Circle on December 3. The winners will also be announced on social media on December 4, along with the raffle winners.
Even if you miss the voting, head downtown to check out the storefronts, which will remain decorated until the New Year, with some remaining up throughout the winter season. It's a great way to celebrate the work of local artists while you celebrate the holidays.
Click here for a walking map to participating Window Wonderland 2015 businesses and voting instructions. You can also follow the event on Facebook.
2. Urban Institute for Contemporary Arts (UICA) 27th Annual Holiday Artists' Market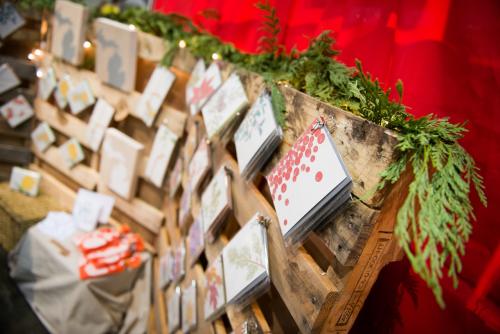 Mark your calendar for Friday, December 4 (6PM - 9PM) and Saturday, December 5 (10AM – 7PM), when the UICA's Annual Holidays Artists Market returns for its 27th year. Members have early access to the event beginning at 5:30PM on Friday (12/4/15). Admission is free for everyone.
The Holiday Artists' Market features a curated selection of locally made treasures, from jewelry and home goods to children's toys and fine art. Throughout the weekend, they'll also offer a gift-wrapping station, art-making activities, and beautiful holiday music by carolers from Grand Rapids City High Middle School.
"The UICA Holiday Artists' Market is a really great example of our mission," shared Katie Zychowski, Marketing and Communications Coordinator, which includes nurturing and supporting working artists in West Michigan. It's also a fun way to meet some of the artists and designers of the products. "The event gives the community a chance to meet with the artists, designers, artisans, and makers in our very own community and learn more about their craft," says Zychowski. "It's really special and that kind of interaction makes gift-giving even more fun."
Click here for a complete list of artists and vendors participating in this year's Holiday Artists' Market or follow the event on Facebook.
3. The Grand Rapids Public Museum (GRPM)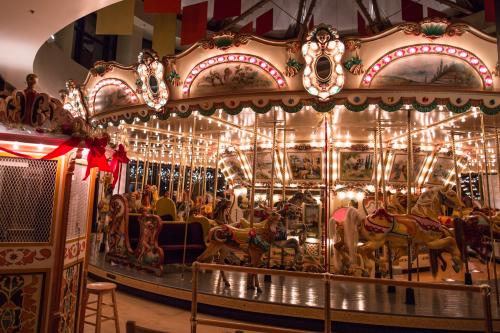 Lessons about history, science, and culture abound at the Grand Rapids Public Museum and during the holiday seasons you can explore their fascinating exhibits while enjoying their many holiday-related activities.
One of my favorites is strolling through The Streets of Old Grand Rapids. The detailed ¾-scale reproduction of Grand Rapids during the 1890's looks especially beautiful when it's decked out for the holidays.
It's worth a special trip just to attend Let It Snow! in the newly renovated Chaffee Planetarium. The brand-new production is set to classic holiday music and showcases thematic animation, laser imagery and special effects. The Trans Siberian Orchestra delivers the stunning multi-media finale.
In addition to these annual events, the GRPM is also hosting a few others this holiday season:
Snowflake Break (Dec 19 – Jan 3). Make your own Egyptian-themed snowflakes and punched tin take homes at this special event, where you can also play a variety of 20s era games and dress paper dolls in the Museum's 1920's fashions.
Holiday's Cheer caroling (Dec 19). From 12:30 – 1:30, enjoy the sounds of Holiday's Cheer, a group of Grand Rapids community members who will be caroling in the Museum's Galleria the Streets of Old Grand Rapids.
Mighty Wurlitzer Organ Concert (December 18 & 19). Relax to the musical talent of Stephen Warner, who will be playing the GRPM's 1928 Mighty Wurlitzer Pipe Organ on December 18 at 7PM and December 19 at 2PM. Manufactured and shipped on February 9, 1928, the organ is a treasure for both the museum and all who hear it.
As a special treat, two exhibits at the museum are open late, until 8PM, on December 21st, 22nd, 23rd, 28th, 29th and 30th. Stop by and explore The Discovery of King Tut and American Spirits, both of which will be ending in January (American Spirits runs through Jan 17, 2016 and The Discovery of King Tut runs through Jan 31, 2016.)
See the GRPM's website for hours, details, admission and costs for special events.
4. The Grand Rapids Art Museum (GRAM)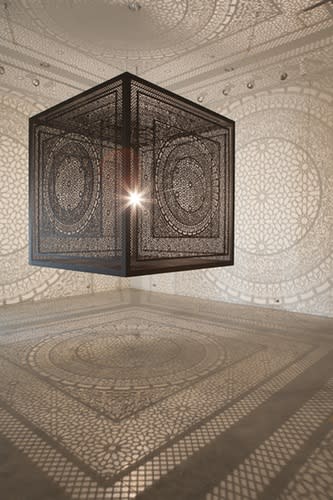 Snowflake-making inspiration: Intersections, by Anila Agha
All year long, the Grand Rapids Art Museum's offers Drop-in Family Saturdays. During December they're offering Greetings from the GRAMStudio, a fantastic program where your family can design greeting cards from handmade paper. "People will be making their own handmade paper, getting their hands wet with the paper pulp, and pressing it into molds with different shapes," explains Crystal Chesnik, Studio Program Coordinator. After you press it into the molds and it dries, you'll have a handmade greeting card! If you prefer, you can also use the molds to create holiday decorations from the handmade paper.
The GRAMStudio also has a photo booth where families can take photos in front of a back drop, which depicts a beautiful winter scene right now; a chalkboard wall with a city scene that connects to the Weidenaar exhibit, and a magnet wall, where your kids can spell their name, compose a poem, or arrange words to describe works of art.
They'll also have a snowflake-making station, where you can clip away to create gorgeous paper snowflakes to take home or hang in the studio's window. The station is inspired by the works of Anila Quayyum Agha, whose stunning work, Intersections, was the 2014 Art Prize winner. "We have 6 new paper cuts of hers on display in our permanent collection. It's really intricate laser cutting," says Cia Segerlind, Communications Manager at the GRAM. You'll want to pop up and take a peek at her complex creations before or after you hit the GRAMStudio.
Beginning December 5 – March 5, you'll be able to save $1 off GRAM admission and enjoy free hot cocoa in the GRAMStudio, in conjunction with ice skating at Rosa Parks Circle. "Families that are here skating on Saturdays can pick up a coupon fro the skate rental station," explains Chesnik. You can also print a coupon from their website (available soon) and bring it to the front desk. "It's a great partnership we have with the city of Grand Rapids. We've done it for several years and are excited to continue it," says Segerlind.
Two other activities you won't want to miss:
Winter Art Camp: Installation Exploration (Dec 29-30). During this two-day workshop, open to children ages 4-9, participants will create a cityscape installation inspired by the Weidenaar exhibit and the Norwood Viviano: Global Cities exhibit, which is part of the GRAM's Michigan Artist Series. (His 2012 ArtPrize entry, Cities: Departure and Deviation, was one of my personal favorites.) Kids will learn from local artists about the entire art-making process, from brainstorming through 3-D planning and installation. Parent participation is encouraged. Click here for details and registration information.
Adult Workshop: Natural Pattern Block Printing (Dec. 12). If you're looking for the perfect custom-made gift this holiday season, this workshop is for you! Inspired by the landscape printmaking of Grand Rapids native, Reynold H. Weidenaar in Weidenaar- A Retrospective, participants will explore the repetitive patterns of nature, cut their own block, and make prints from it onto canvas. "Everyone will have an original textile to take home at the end of the workshop," says Chesnik. What a lovely gift idea! Click here for details and registration information.
5. The Nutcracker (Dec. 11-13 and 18-20, various times)
Reserve your spot now for this annual favorite, performed by The Grand Rapids Ballet, in concert with the Grand Rapids Symphony, at beautiful DeVos Performance Hall. The classic story of sugar plum fairies, fighting mice, and toy soldiers, re-imagined by Polar Express author Chris Van Allsburg, delights audiences with its imaginative set design and masterful choreography by Val Caniparoli. Click here for ticket information for your entire family.
Special discount: On Saturday, December 12th, 2015 at 7:30pm all active duty military personnel, veterans and their families receive a 20% discount.
To make the most of the holidays season, be sure to check out the other posts in this series: