People come to downtown Grand Rapids to enjoy the great restaurants, breweries, and innovative cocktails all year round. But when you head into the city during the holidays, when it's decked out with beautiful decorations and twinkly lights, you'll know for sure that its one of the best cities around. Check out these fun food & cocktail events while you delight in Grand Rapids' holiday splendor.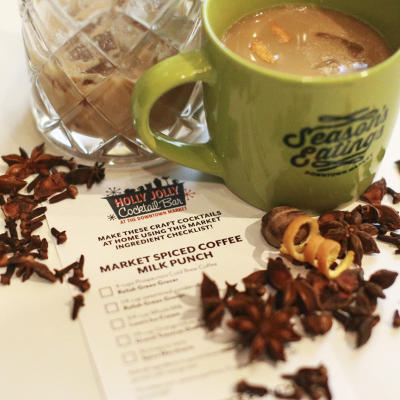 1. Holly Jolly Cocktail Bar at the Downtown Market (Dec. 2, 5, 9, 12, 16, 19 and 23)
Stop by the Holly Jolly Cocktail Bar on the first floor of the Market to try a classic holiday cocktail. All drinks are made from ingredients sourced on-site from their Market Hall businesses and served in a Downtown Market Mug for $9 (refills are just $6). "We're really lucky at the Downtown Market that all of our businesses take a lot of pride in the ingredients they use in their products," said Jenney Grant, beverage manager at the Downtown Market. "A good cocktail has to start with high-quality ingredients, and most of those items can be purchased right here, while supporting our local food entrepreneurs."
When you order a drink, you'll also receive a recipe card and shopping list so you can grab the ingredients while you're at the Market and share your favorite cocktail with loved ones at home this holiday season. 
In addition to local seasonal beer, wine, and hot mulled cider the Holly Jolly Cocktail Bar will feature specialty drinks, like:
Ionia SW. Traverse City Bourbon, chilled mulled cider, sweet vermouth and cocktail bitters. Served on the rocks with an apple garnish.
Market Coffee Punch. Prospector's Cold Brew coffee, sweetened milk, orange infused rum. Served on the rocks with grated nutmeg and orange zest.
Jubilance Punch. Long Road Distillery Gin, sparkling white wine, dessert wine, pomegranate juice, orange. Served in a lowball glass with orange slice and pomegranate seed.
2. Also at the Downtown Market: Check out their Cocktails to leave Santa class (Dec. 15 6PM-7:30PM)
Join the fun at this Downtown Market class where you'll learn how to make a wonderfully indulgent cocktail that Santa is sure to enjoy. $35, click here to register.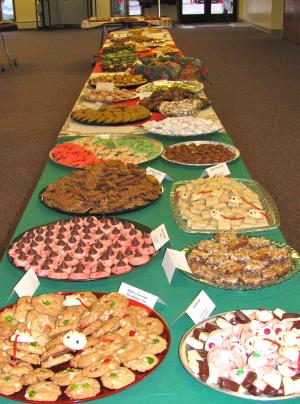 3. Holiday Cookie Walk (Dec. 12 9AM-12PM, or until the cookies are gone!)
Get ready to fill a box or two with delicious homemade cookies at North Kent Presbyterian Church's Annual Holiday Cookie Walk. The annual Cookie Walk is a fundraiser that supports various mission projects. "We generally have about seventy different types of cookies," says Laura Weld of North Kent Presbyterian. "We sell the empty boxes for $7.00 and everyone gets to fill their own box (using a plastic glove!). The only rules are that you have to use the gloves and that the box top has to close."
Be sure to arrive early for the best selection! The church is located at 6175 Kuttshill Drive, Rockford, MI, just north of Rogue River Road.
4. Clara's Nutcracker Party (Dec. 13 11:30AM-1PM)
Take your holidays Nutcracker experience one step further with Clara's Nutcracker Party at the Amway Grand Plaza Hotel. You'll meet all of the Nutcracker characters in a festive atmosphere, take photos together, do crafts, have lunch (including a dessert tower) and see the 2PM performance of The Nutcracker at DeVos Performance Hall.
If you've never attended The Nutcracker, this event is a perfect introduction. And if you're a Nutcracker regular, Clara's Nutcracker Party is a lovely way to add a little twist to an already beautiful tradition. Tickets are $65 per person and can be purchased through the Ballet Box Office by calling (616) 454-4771.
Click here for information on other performances of The Nutcracker (without Clara's Nutcracker Party), which has several showtimes on Dec. 11-13 and 18-20.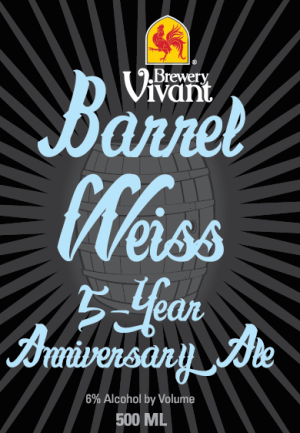 5. Brewery Vivant's 5-Year Anniversary Party (Dec. 20, 12PM-10PM)
Local favorite, Brewery Vivant, turns 5 this year. They're celebrating their 5th anniversary with a big bash that will include the release of Barrel Weiss, their first Barrel-Aged Ale in bottles. The limited edition anniversary ale is a barrel-aged sour you won't want to miss. The day will be filled with fun, including great food and celebratory desserts from their pastry chef. Jake Stilson & The Bootstrap Boys will be playing from 4PM-6PM and owners, Kris and Jason Spaulding will make brief remarks at 7PM.
In addition to pouring exclusive and limited beers and serving good food, true to their roots the anniversary celebration will include a commitment to the community. In addition to donating 1% of this year's sales to charity partners, Brewery Vivant is donating $5,000 to help nearby Congress Elementary School invest in technology for its students. "We see our business as vehicle to do good things within our community" says owner and sustainability director Kris Spaulding, "This partnership allows us to be integrated with the neighborhood in a deeper way than merely making beer (which is important too!). We get to make a broader impact on the future of our whole community through investing in our next generation of leaders."
6. Bones at the Brewery Annual Holiday Party (Dec. 26, 7PM-10PM)
Another don't-miss event at Brewery Vivant: It's their annual celebration and this year's event falls right between Christmas and NYE. This is sure to be a fun event with good food, beer, and music.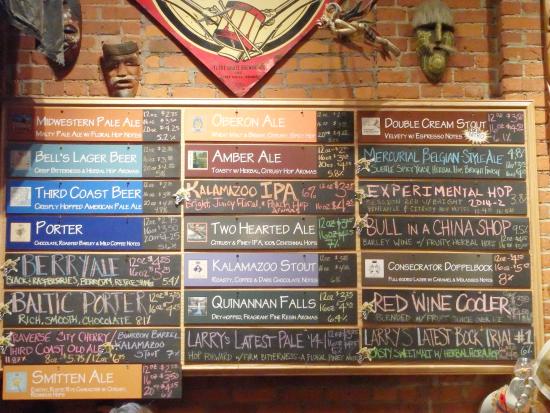 7. Grand Rapids Beer Tours (Dec. 19 & Jan 2, 12PM-4PM)
Anytime of year is a great time to visit Grand Rapids' awesome craft breweries, and the holidays are no exception!
Join Grand Rapids Beer Tours for one of its tours, both offered on December 12 and 26, from 12-4pm. The first visits "east side" breweries (Brewery Vivant, Elk Brewing, and Harmony Brewing Company), while the second takes you to "central" breweries (Founders Brewing Company, The Mitten Brewing Company and Grand Rapids Brewing Company). Both include transportation to and from the breweries with a knowledgeable beer tour guide.
Grand Rapids Beer Tours also offers gift certificates, which could make a lovely just-right stocking stuffer for that special someone.
The cost of each tour is $50 per person. Click here to buy a gift certificate or here to reserve a spot on the tour of your choice.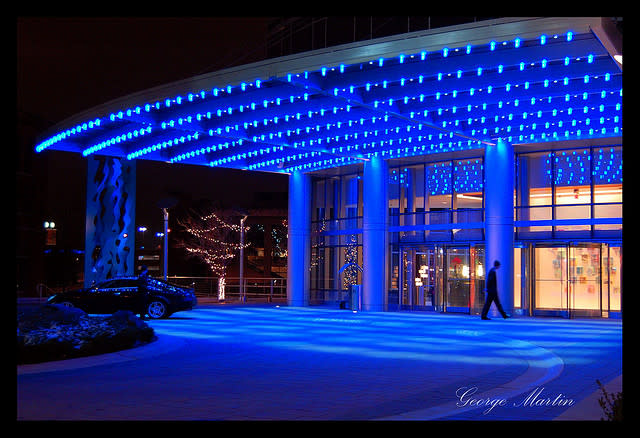 8. Christmas Brunch at six.one.six (Dec. 25, 11AM-3PM)
Make Christmas morning that much more special by dining with your family at the world-class JW Marriott's signature restaurant, six.one.six, which will be offering an offering an inspired brunch menu.
In addition to their traditional brunch items, like yummy omelets, fresh fruit, and waffles, they'll have a full array of Christmastime treats. Starters include treats like artisan cheese and smoked Scottish salmon, while main entrees feature an herb-crusted prime rib as well as a Dearborn ham, with a bourbon mustard sauce and raisin-date relish. Be sure to leave room for desserts – you won't want to skip their delectable mini pecan pies!
The brunch costs $37 for adults and $16 for children 4-12. Reservations are required—click here to see the menu and reserve your table.
9. Dave & Buster's Holly Jolly Breakfast with Santa (Dec. 19, 10AM-12PM)
Dave & Busters in Kentwood is hosting a Holly Jolly Breakfast with Santa, where you can have your picture taken with Santa, play unlimited video games during the event, and enjoy a wonderful breakfast buffet. The cost is $19.65 per person and reservations are required. Click here for more info.