Even when the weather outside is frightful, there's no shortage of ways to create warm memories during the holidays with friends and family in Grand Rapids.
There are so many events, for all ages, that we can't possibly describe them all in one post. We thought we'd describe 11 awesome events and link to a whole bunch of others. So gather your favorite peeps and get ready to create holiday memories you'll treasure.

1. The Local Epicurean (days/hours vary)
The Local Epicurean, at 111 S. Division, is a gourmet foodie's dream. This is the perfect time of year to treat yourself to one of their chocolate truffle making classes, where you'll learn the secrets to creating these delicious treats for the holidays. They also offer an organic infused-butter making class—another great gift idea—as well as classes that teach you how to make homemade pasta. Click here for more information, pricing, and Local Epicurean class reservation information.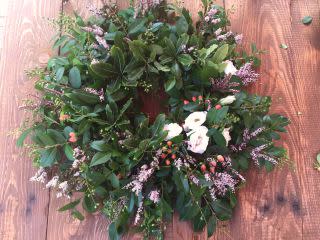 2. Wreath Making with Posh Petals (Dec. 1, 6:30PM-8:30PM)
Florist extraordinaire, Posh Petals, wants to teach you to create a beautifully adorned wreath for the holidays. Take their wreath-making class during their Open House on Dec. 1 between 6:30PM - 8:30PM. Basic wreaths start at $20; ornaments and decorations are extra. Food and drinks will be provided.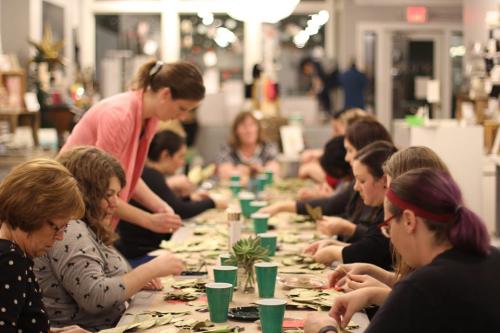 3. DIY Gifts Paper Studio No 6.25  (Dec. 8, 6PM – 9PM)
If walking into a stationery store, inhaling the aromatic scent of all that wonderful paper, and laughing at slightly irreverent cards and wall art makes you happy, Paper Studio No 6.25 is for you. On Dec. 8, join them for a special evening of making handmade gifts, like a cozy hand warmers, a leather catch-all bowl, and a tassel necklace. Cost is $35; register here. (They're also having a holiday open house on Dec. 12th, which gets you an overall discount of 10%!)
4. Grand Caroling (Dec. 4, Dec. 11, Dec. 18, 6PM-7PM)
Joy to the World! Spread the holiday spirit by caroling with area choirs through downtown Grand Rapids. Meet outside the beautiful Welsh Auditorium, on the bank of the Grand River.
5. The Holiday's Cheer (various nights, Dec. 9 – 19)
Here's another great caroling option for the joyful singers out there. For the second year, this group of GR community members plans to carol around the city, handing out candy canes and spreading joy. Join them on one or more nights—let them know you'll be there by signing up on their Facebook page.
6. Grand Menorah Lighting Downtown GR (Dec. 6, 5PM)
Celebrate the first night of Chanukah with the annual menorah lighting at Calder Plaza. There will be Chanukah music, latkes, sufganiot, Chanukah gelt, entertainment and more.
6. An Evening in Bethlehem (Dec. 4, 7PM-9PM open house)
In this living drama, Kentwood Baptist Church presents the ancient town of Bethlehem. Walk through the town to experience what it might have been like on the evening of Christ's birth. (free)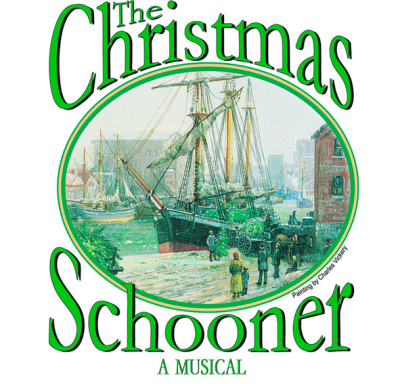 7. The Christmas Schooner (various days/times through Dec. 12)
Master Arts Theatre presents this true story about Rouse Simmons, a Michigan shipping captain who braved the deadly winter weather to bring Christmas trees to homesick German American families in Chicago. Tickets required – check the Master Arts Theatre website for more information and reservations. ($18 adults; $2 discount for senior citizens and students)
8. A Christmas Story: The Musical (various days/times through Dec. 20)
Based on the holiday movie favorites, the amusing musical takes place in 1940's Indiana, bringing to life the story of an imaginative boy named Ralphie and his Christmas wish. Lots of fun for the whole family. See the Grand Rapids Civic Theatre website for dates, times, and ticket prices.
9. We Have Our Savior (Dec 5, 7PM-8PM)
This Christmas worship musical at Christ Community Church includes familiar Christmas songs as well as new modern worship songs.
10. Luminary Hike (Dec.12, 6PM-8PM)
Gather your friends and family and get ready for a nighttime hike by candlelight in Lowell's Wittenbach/Wege Environmental Center. Take your time meandering the forest and enjoying the great outdoors. Refreshments are served and the event is free.
11. Spend a Night at Your Museum (Dec. 27)
Our first post in this series, Unwrap the Holidays: Celebrate with Art, mentioned many of the events happing at the Grand Rapids Public Museum during the month of December, including Let It Snow! in the Chaffee Planetarium and making Egyptian-themed snowflakes and punched tin take homes at their Snowflake Break event. You can also stay the night at the museum as the exhibits come to life. Advanced tickets required-click here for more info.
Annual Favorites and Other Wonderful Holiday Events Happening Around GR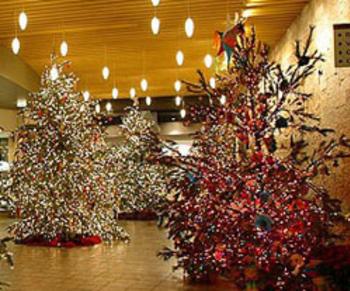 November 24, 2015 – January 3, 2016
300,000 dazzling lights, beautiful trees and decorations, and a masterful train trestle.
Dec. 17, 18, 19, 7:30PM
Stunning acrobatics choreographed to classical and seasonal favorites.
Dec. 3, 4, 5 & 6 (times vary)
Seasonal Favorites, a sing-along, a visit from Santa and a Handel's Hallelujah Chorus Finale.
Holiday Music for Brass Quintet
Dec. 2, 12PM – 1PM (free)
Grand Valley State University's Arts at Noon concert series presents Holiday Music for Brass Quintet. (free)
Dec.6, 3PM and 7:30PM
The Trans-Siberian Orchestra's take on this yuletide tale.
For even more holiday fun, check out our last two posts in this series, Unwrap the Holidays: Celebrate with Art and Unwrap the Holidays: Celebrate with Shopping.