Unwrap the Holidays: Celebrate With Shopping in Grand Rapids
Grand Rapids is known for craft beer, farm-to-table restaurants, and generally supporting all things local. When the snow starts to flurry, you know it's time to get serious about your holiday shopping—and in Grand Rapids it's easy to score the perfect gift for friends and family members: there are so many opportunities to buy beautiful, local gifts that are just right for those you love.
1. Uptown Holiday Shop Hop (Dec. 3, 4-10PM)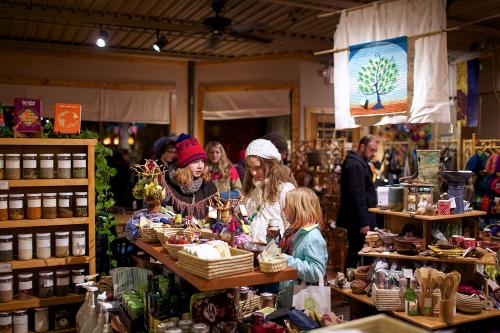 photo courtesy Uptown Holiday Shop Hop
Shops in the Uptown area (between East Fulton, East Hills, Eastown and Wealthy Street) will be open for 6 hours for this special shopping event, complete with strolling carolers and refreshments for shoppers.
"Shop Hop is a one-of-a kind Holiday experience," says Kaleena Kowalkowski, Neighborhood Ventures/Uptown Staff. "The businesses roll out the red carpet for guests with their stores decked to the brim with holiday cheer, treats, and specials. There will be live music, outdoor holiday festivities and the kind of shopping and dining experience only Uptown can offer!"
Stores will be open late for the Shop Hop and you can use the shuttle service to get between shopping areas.
Click here for a map of the area and info on the Uptown Holiday Shop Hop.
2. Tinsel, Treats & Trolleys in Ada (Dec. 4, 5:30-9PM)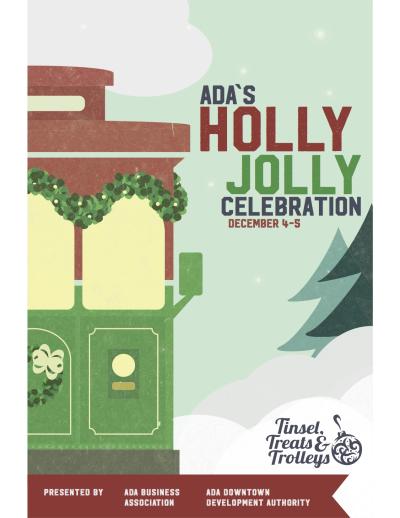 photo courtesy Tinsel, Treats & Trolleys
Don't miss the annual bridge-lighting ceremony in Ada Township (the historic bridge lights up at 5:30) – it's really a wonderful sight to watch the bridge twinkle with lights against the wintery backdrop. Afterwards, local shops are open from 6-9PM, with specials and treats for visitors—you may even spot an Old World Santa. My kids look forward to the treats every year and I love finding that "just right" gift that's still on my list.
"Whether you walk, bike or hop on a trolley to make your way around Ada, there will be plenty of holiday cheer in the air," says Jaclyn Sporte, Tinsel, Treats & Trolleys Chairperson & Owner of Arts & Carafes Studio. "Visit the live nativity, make a s'more, or simply enjoy the lights and music while sipping hot chocolate. Tinsel Treats & Trolley is a great way to kick-off the holidays with your family and this year's bridge lighting ceremony will have a unique twist that I'm certain you'll enjoy!
Click here for more info on Tinsel, Treats, and Trolleys.
3. Rogue River Artisans 33rd Juried Fine Art & Craft Holiday Sale (Dec. 5, 9AM-4PM)
More than 110 juried artisans will be featured at the Rogue River Artisans Fine Art and Craft Holiday Sale, which is held annually at Lowell High School. (Admission is $1.)
You'll find oodles of gift ideas here, including the work of artisans selling paintings, pottery, glass, weaving, jewelry, and more.
Click here for more information about the Rogue River Artisans Fine Art and Craft Holiday Sale.
4. Urban Institute for Contemporary Arts' (UICA) 27th Annual Holiday Artists Market (Dec 4, 6-9PM and Dec 5, 10AM-7PM)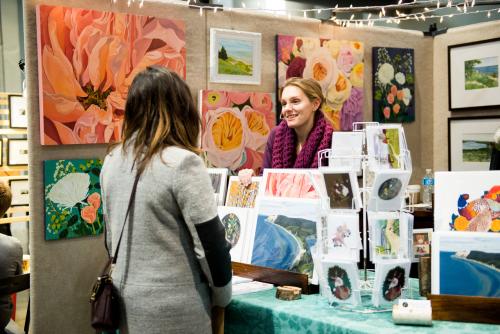 photo courtesy UICA
We highlighted this event last week as part of our Unwrap the Holidays: Celebrate with Art in Grand Rapids post, but it's another great place to find locally-made gifts. (Members have early access to the event beginning at 5:30PM on Friday (12/4/15). Admission is free for everyone.)
The curated Holiday Artists' Market features locally made jewelry, home goods, children's toys, fine art, and more. The market will also have a gift-wrapping station, art-making activities, and carolers from Grand Rapids City High Middle School will serenade shoppers with beautiful holidays tunes.
Click here for a complete list of artists and vendors participating in this year's Holiday Artists' Market or follow the event on Facebook.
5. Winter Wonderland at the Downtown Market (Dec 9, 4-8PM)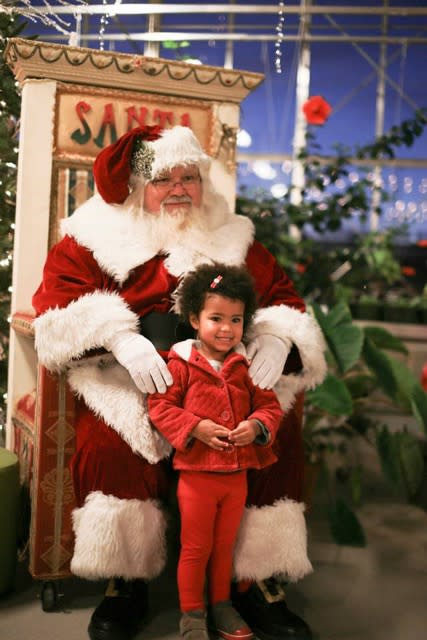 photo courtesy of Grand Rapids Downtown Market
Take your whole family to the Downtown Market for a night of family fun and shopping. Santa will be there and live reindeer will, too! Kids can decorate sugar cookies, you can enjoy the holiday cocktail bar, and everyone can roast chestnuts, all while finding great local holiday gifts for the loved ones on your list.
"With 24 small businesses inside the Market Hall for great local holiday gift ideas, dinner, cocktails and dessert, this event combines a festive shopping environment with some great deals only available that evening," said Mimi Fritz, Grand Rapids Downtown Market president and CEO. "And for those with kids, it's a fun evening of free events like decorating pretzels from Brezel, visiting Santa, food demos holiday crafts and sampling tasty treats from local businesses in our good food community."
The Downtown Market is also collecting men's and women's winter hats, undergarments, hats, gloves, and new boots for Guiding Light Mission. You can bring donations to the event or drop them off at the Market by January 1.
Click here for full listing of events at Winter Wonderland at the Downtown Market.
6. Malls and More
If you can't make it to these events, or want to do more shopping afterwards, you can go the traditional route and visit one of Grand Rapids malls (Tanger Outlets Mall, Woodland Mall, RiverTown Crossing Mall, and Breton Village).
I've also found many great gifts by hitting the shops in downtown Grand Rapids, as well as the shops in nearby smaller towns, like Gaslight Village in East Grand Rapids and downtown Rockford.
Check out the other posts in this series: Unwrap the Holidays: Celebrate with Art in Grand Rapids, and Unwrap the Holidays: Celebrate with Friends and Family-11+ Don't Miss Events!