In Grand Rapids, you don't have to travel far to escape the lights of the city for dark, starry country skies. About a 25-minute drive from Grand Rapids, in Lowell, amateur astronomers and curious members of the public can visit the James C. Veen Observatory to view stars, planets, and other celestial objects.
The Veen Observatory, named after the co-founder of the Grand Rapids Amateur Astronomical Association (GRAAA), James Veen, is an education and research facility owned and operated by the GRAAA. Constructed by GRAAA members over a five-year period, with support from community foundations and the Grand Rapids Public Museum, it became a fully-operational observatory in 1970.
The observatory consists of a meeting room, library, and an audiovisual presentation room, along with two permanently mounted telescopes and several portable instruments.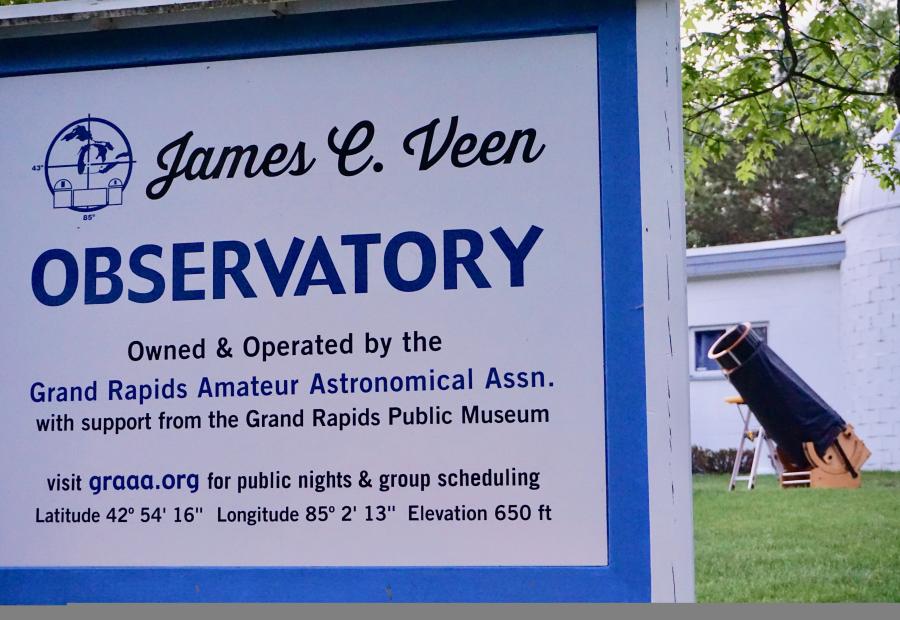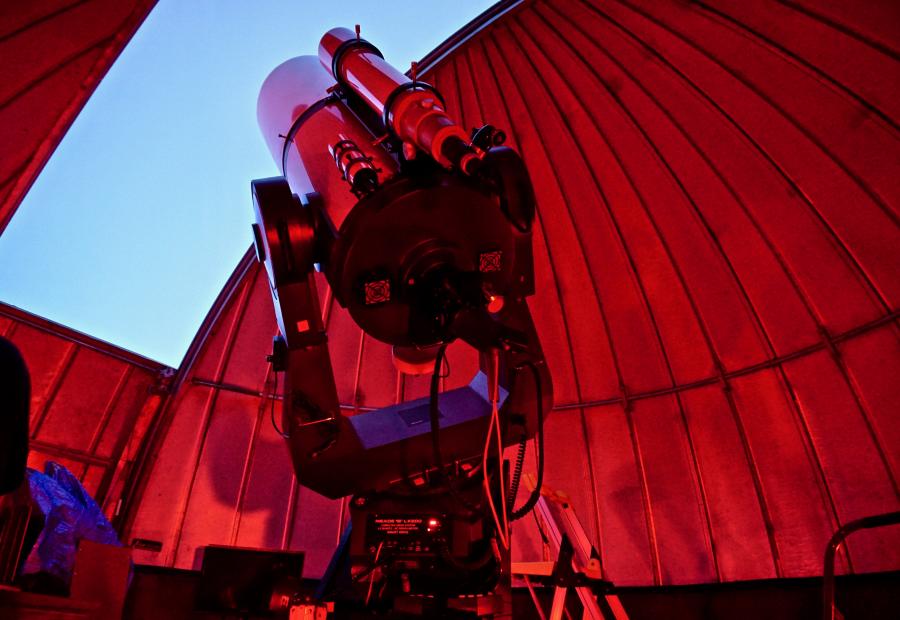 A sign out front of the observatory that says John C. Veen observatory
Photo by Brian Craig for Experience Grand Rapids
Attending A Public Night
While primarily used by members of the GRAAA, the Veen Observatory also offers Public Nights on certain Saturday nights throughout the year. During Public Nights, the observatory is open to the general public for a small fee (see FAQs below), and guests can use its equipment to view the night sky. 
I was curious about what exactly went on at a Public Night at the Veen Observatory, so I decided to check one out for myself. 
The day I planned to go, I checked the GRAAA website to see if weather conditions were still favorable for viewing. Public Night can be canceled if there are clouds or rain in the forecast. 
It was a beautiful drive from GR to the observatory in Lowell. After parking, the walk was about a quarter-mile uphill on a sparsely lit paved road. They do offer golf cart rides to and from the parking lot.
At the top of the hill, a friendly GRAAA member collected my admission fee and greeted me by explaining where to go and what to see. The first thing I noticed was the red light glowing from inside the observatory. Fun Fact: Red light is used to keep your eyes in night mode since it's not as harsh as white or yellow light.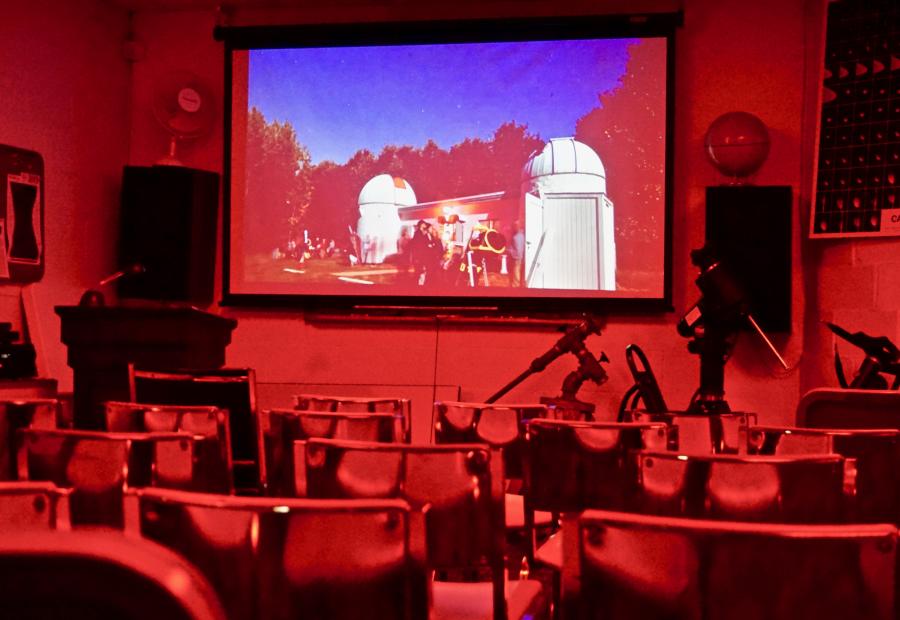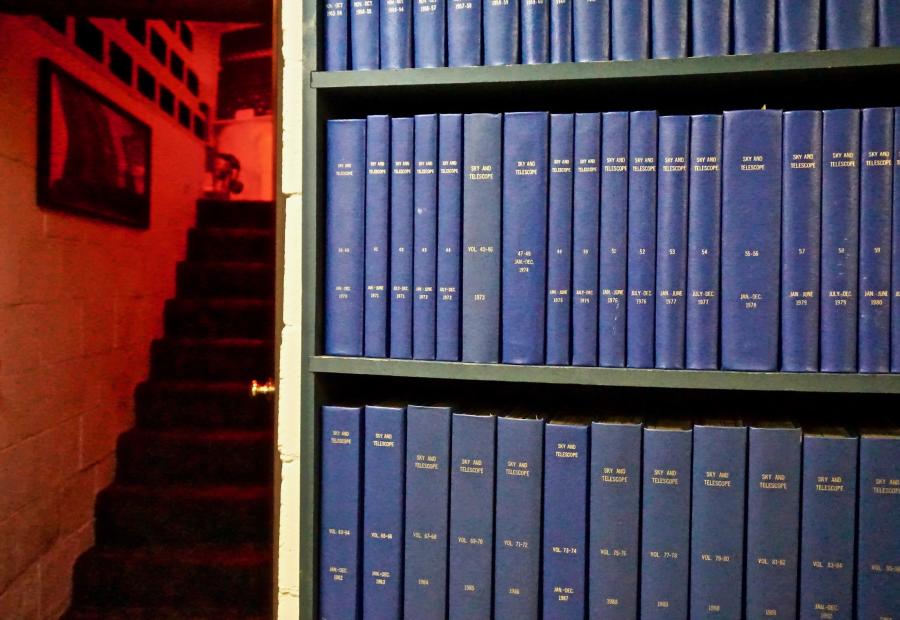 an audio visual presentation inside a classroom at john c. veen observatory
Photo by Brian Craig for Experience Grand Rapids
Programming and Stargazing
Immediately inside was an audiovisual presentation about the history of GRAAA and Veen Observatory.  This 15-minute show runs on a loop throughout Public Nights, so no matter when visitors arrive, they can see the short video. In the basement of the observatory is a library of hundreds of astronomy books going back decades.
The observatory also houses two large telescopes on opposite sides of one another. The night I attended, one of the telescopes was in operation. In the room that holds one of the large telescopes, two knowledgeable astronomers took turns looking at celestial coordinates (outer space's version of latitude and longitude) and typing in keypads, which caused the massive telescope to swivel around the room. Visitors are also invited to view the night sky using this impressive equipment.
It was pretty amazing to look through the telescope at stars millions of light years away.
Back outside the observatory, a GRAAA member shined his laser pointer into the sky, showing visitors different constellations and answering their questions. We were even treated to a viewing of the International Space Station as it buzzed along the night sky. 
Also outside the observatory was a group of GRAAA members with their own telescopes and equipment. GRAAA members bring telescopes to public nights for the express purpose of sharing views of various sky objects with the public.
Visitors are able to look through both the observatory's telescope and the telescopes that GRAAA members bring to public nights. Members are also able to answer questions and help explain what you're seeing through telescopes.  
The Public Night I attended there were no planets visible, which meant attendance was a little lighter than usual. Anywhere from 150 to 200 people is an average public night attendance. Meteor showers bring even larger numbers of people. The last big meteor shower brought in several hundred people, and the observatory remained open all night.
After about an hour and a half of stargazing, I slowly walked back down the dimly lit path towards my car. It was on that path that I had the good fortune to speak with a GRAAA board member, Dave DeBruyn, who has been a part of the Veen Observatory since the beginning. 
Dave summed up what it's like to visit the observatory: 
"I have had the good fortune to have been with this project from the time the Veen Observatory first opened in 1970. That will be 50 years ago next year. Throughout that long period, in which we have welcomed tens of thousands of visitors to the facility, I am still thrilled when people,  particularly families, depart with enthusiastic exclamations about what a worthwhile experience it has been for them. Seeing the big telescopes in operation, and then actually viewing craters on the moon, the rings of Saturn, or satellites of Jupiter—those are unique impressions that will stay with them for a long time. It is satisfying to members of GRAAA to be able to offer such memorable experiences to so many."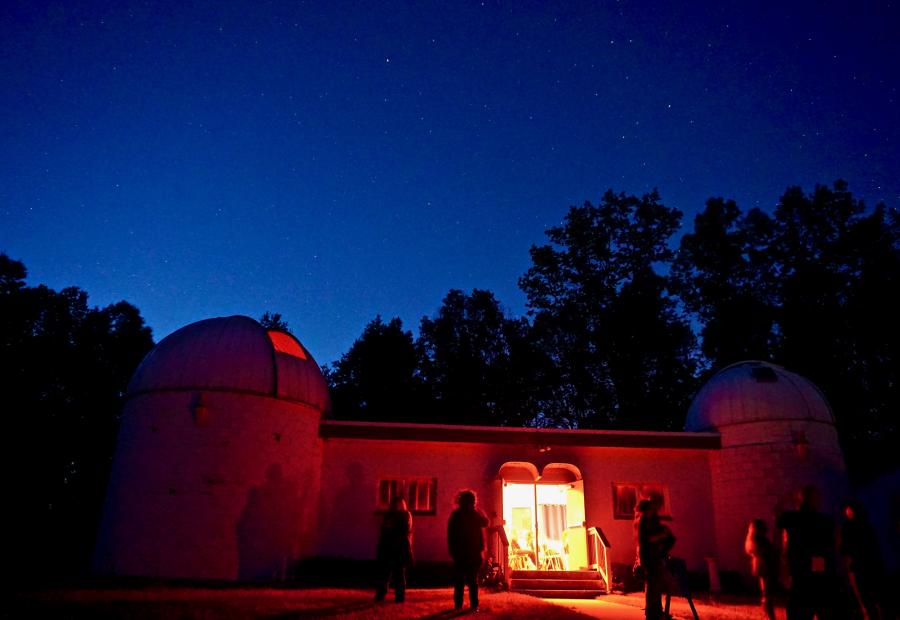 The front of the john c. veen observatory at night
Photo by Brian Craig for Experience Grand Rapids
FAQs for attending Public Nights
When are Public Nights?
On select Saturday nights beginning in April and ending in October. You can find a schedule for upcoming Public Nights on the GRAAA's Public Nights page. 
Does the weather affect Public Nights? 
Weather does affect Public Nights. Before attending one, check the GRAAA homepage or any of their social media platforms for updates.
What will I see? 
What's visible depends on the time of year. Planned featured viewing objects in 2019 include: the moon, Saturn, Neptune, Jupiter, star clusters, galaxies, nebulas, and more. The GRAAA website typically mentions what will be visible at each event. 
What time does it start and end?
Start times vary throughout the season. Start times range from 8 – 9:30 PM depending on sunset. Each Public Night lasts about two and a half hours. 
What should I bring? 
Plan to bring a flashlight (pointed at the ground) for help walking around the grounds, binoculars, as well as bug spray and warm clothes.
How much does it cost? 
Adult admission costs $5, ages five - 17 costs $2, and ages five and under are free. Admission is also free for Grand Rapids Public Museum members. 
How do I get there? 
The address is 3308 Kissing Rock Ave SE, Lowell, MI 49331.
Public Night at the Veen Observatory is a unique experience, one we are lucky to have in West Michigan.  If you're looking for an off-the-beaten-path date night or just something different to do on the weekend, I highly recommend attending a Public Night at the Veen Observatory. 
And if you're looking for more ways to spend a Saturday night, check out the Experience Grand Rapids nightlife page.