Grand Rapids' unique dining scene has garnered numerous recognitions, including being named Michigan's Best Food City by Thrillist.
Grand Rapids is home to hundreds of restaurants, many of which offer dining options to accommodate a wide variety of dietary restrictions and preferences.  
If you're specifically looking for vegan dishes, Grand Rapids proudly offers more than forty restaurants to suit your taste buds.
Our team at Vegan Grand Rapids has compiled a list of some of the sweetest (and some savory) vegan desserts available in Grand Rapids to fulfill your sweet tooth.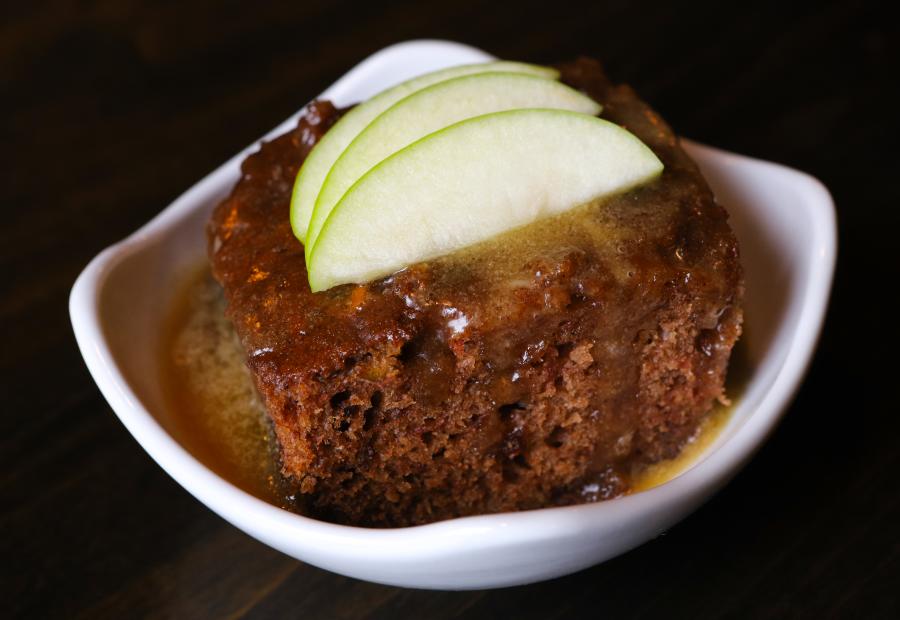 Vegans and non-vegans alike love the Apple Caramel Cake at SpeakEZ.
Photo by Experience Grand Rapids
SpeakEZ Lounge
600 Monroe Ave NW, Grand Rapids, MI 49503
SpeakEZ Lounge has been catering to the plant-based since opening in 2012. While rotating their menu with the seasons, SpeakEZ Lounge has an Apple Caramel Cake on the menu all year, and it's unbelievably vegan.
Chef Scotty's inspiration for the cake was his mom's homemade apple cake. Chef Scotty says he "tweaked the recipe to make it open to all." He pairs Granny Smith apples with cinnamon, caramel, and brown sugar for a delectable end to a meal. Or just skip the meal entirely and stop in for one of SpeakEZ's signature cocktails paired with this temptation.
One reason we love visiting SpeakEZ is that the menu caters to all. As well as the extensive vegan menu, there are also plenty of gluten-free dishes to choose from. SpeakEZ is located just north of the city center. Street parking is free after 6 PM during the week and on weekends. When paid parking is enforced, you can use pay stations or Motu to pay, or simply take the Downtown Area Shuttle (DASH) North.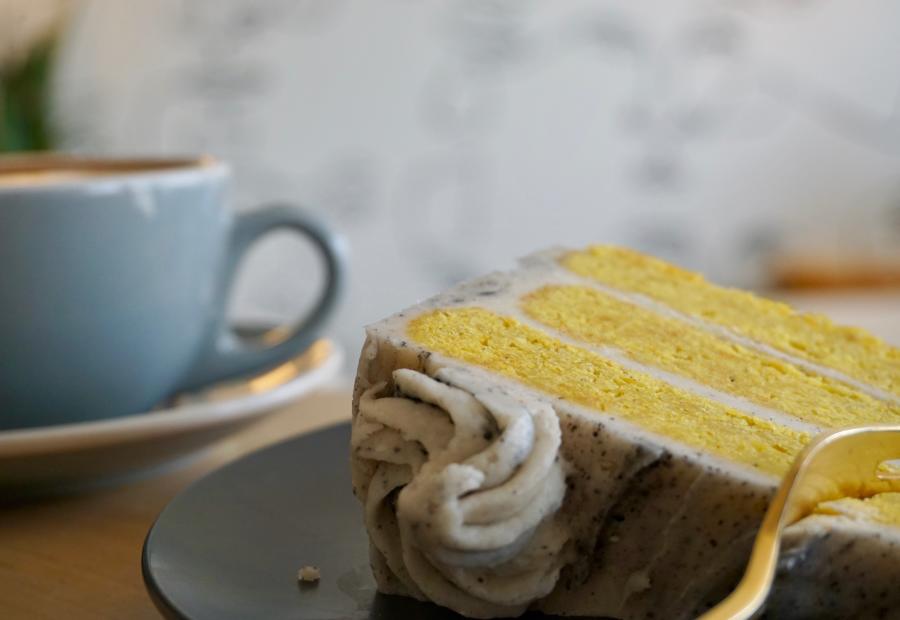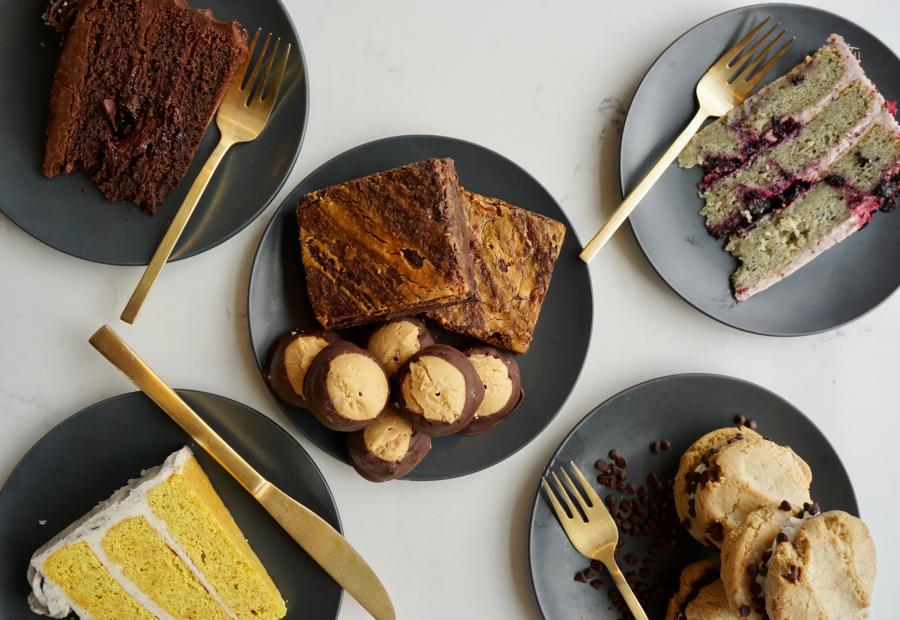 Anyone with almost any dietary restriction can enjoy coffee and dessert at Rise + Squibb.
Photo by Brian Craig for Experience Grand Rapids
Rise Authentic Baking Co.
1220 Fulton St W, Grand Rapids, MI 49504
Rise Authentic Baking Co.'s first storefront opened in February 2019, cementing Grand Rapids as a true vegan-friendly city. The all-vegan bakery started when owners Nick and Becca Van Liere began baking with a focus on using conscious ingredients and "breaking down barriers of dietary restrictions," as described on riseauthenticbaking.com, their website.
Rise's first bakery storefront partners with Squibb Coffee to offer coffee, espresso, tea, and kombucha. Everything at Rise is vegan, as well as soy and gluten-free. You can find doughnuts, cakes, cupcakes, pies, muffins, cheesecake, brownies, and cookies, and even savory goods, like bread.
In regard to opening the storefront, Nick says, "The most challenging thing for us is keeping up with the demand!"
The coffee house is cozy, with seating for just a handful of people, so it's good to grab treats to go. Rise also takes special orders, making this our go-to for ordering birthday cakes. Located on the city's West Side near John Ball Zoo, street parking is available on Fulton and the surrounding streets.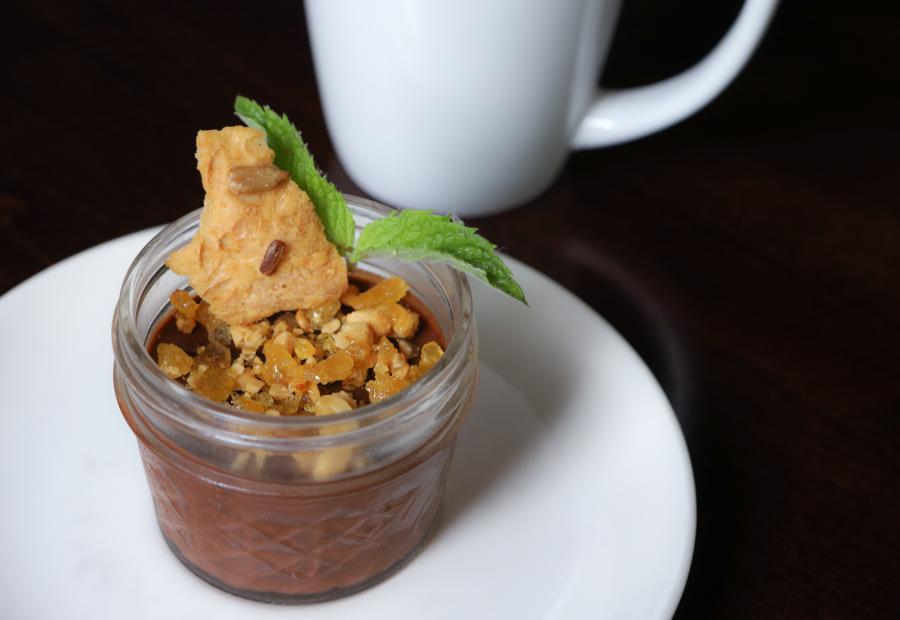 The Vegan Chocolate Pudding is a delicious dessert from the vegan/vegetarian menu at Grove.
Photo by Experience Grand Rapids
Grove
919 Cherry St SE, Grand Rapids, MI 49506
Grove is great for a date night and provides a wonderful culinary experience. This sophisticated farm-to-table restaurant has a rotating menu based on current culinary trends and what's in season.
Grove has an extensive vegan menu as well as plenty of options for anyone with food allergies or other dietary restrictions. A vegan dessert is offered daily, and the chocolate cake is one of the best around.
If you plan to go, we recommend making a reservation and letting them know that you'll be wanting a vegan menu and dessert. The staff is incredibly friendly and always willing to go above and beyond to accommodate guests.
Grove is located in the Uptown neighborhood. Street parking is available on Cherry as well as any of the side streets.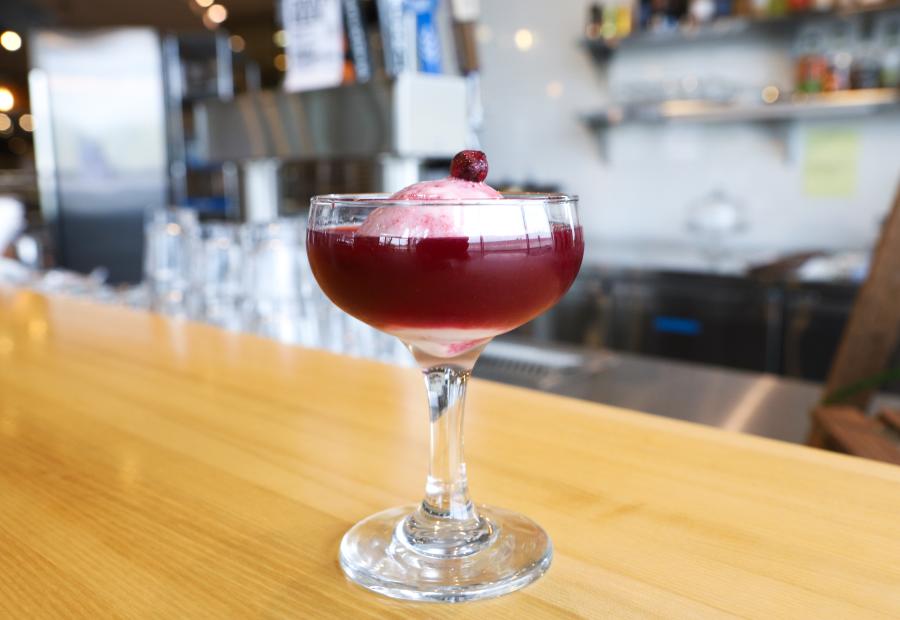 The Mixed Berry Collins (alcoholic) dessert at Love's is sweet, delicious and vegan!
Photo by Experience Grand Rapids
Love's Ice Cream and Chocolate
435 Ionia Avenue SW Stall 106, Grand Rapids, MI 49503
Love's Ice Cream and Chocolate began selling ice cream at the Downtown Market in 2013. The owner, Christopher McKellar, says that Love's ingredients are minimally processed, organic, and fair trade. "We flavor with whole ingredients, not flavorings," he says.
Love's has been churning out incredible vegan gelato since day one. You'll find the usual flavors, like chocolate and strawberry, but also some unique flavors, like Cardamom Orange Blossom and Lavender Blueberry. A local favorite is the Mitten Pop, a fudgesicle in the shape of the lower peninsula.
Love's also sells small-batch, handcrafted chocolate. The chocolate counter offers several choices of beautiful confections including bonbons and candy bars. Just as with the gelato, they are made from the best ingredients, although not all confectionary items contain dietary restriction-friendly ingredients.
Love's also makes boozy ice cream cocktails, like the Margarita Sorbet Float, or the frosty Brunch Cider made with locally-sourced hard cider and vanilla bean gelato. Talk to an employee about vegan options or other dietary restrictions, as Love's does offer menu items that contain dairy, other animal products, and nuts.
Parking at the Downtown Market is paid, but the first 30 minutes are free. You can also park in the metered spots on the surrounding streets, which are free after 6 PM during the week and on weekends.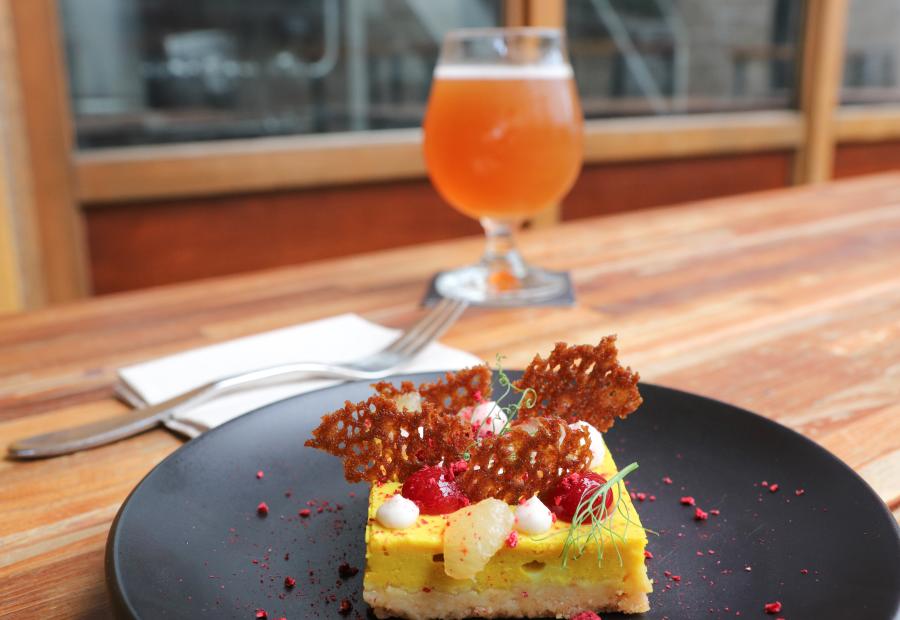 Brewery Vivant's Vegan Lemon Bar is worth the visit to the brewery, even if you're not ordering a craft beer to go with it.
Photo by Experience Grand Rapids
Brewery Vivant
925 Cherry St. SE, Grand Rapids, MI 49506
Brewery Vivant may not offer vegan meal options, but we do highly recommend stopping in for dessert and maybe a house-brewed craft beer. The brewery offers a sticky toffee pudding with maple clove ice cream, which rises to one of the top spots for vegan dessert in Grand Rapids.
When we asked Brewery Vivant's chef about the vegan dessert option, he simply remarked, "Life is short, eat dessert first!"
Brewery Vivant is located in the Uptown neighborhood inside a refurbished funeral home. There's a parking lot behind the brewery, and on-street parking is also available.
These are just a few spots in the city offering vegan sweet treats. There are so many more so we encourage everyone to get out and explore!
As the vegan scene in Grand Rapids continues to grow, we're sure to see more dessert options that everyone can enjoy. You can stay up to date on Vegan Grand Rapids' Restaurant Guide.
You can also read about some popular Grand Rapids restaurants that offer vegan options in this previous Experience Grand Rapids blog.
Did we miss your favorite vegan desserts? Let us know in the comments section!