If you're visiting the Grand Rapids area but don't want to miss your favorite team's game, you're in luck. We've asked West Michigan fan and alumni organizations as well as contacting locations directly and discovered several spots that cater to a variety to team-specific watch parties.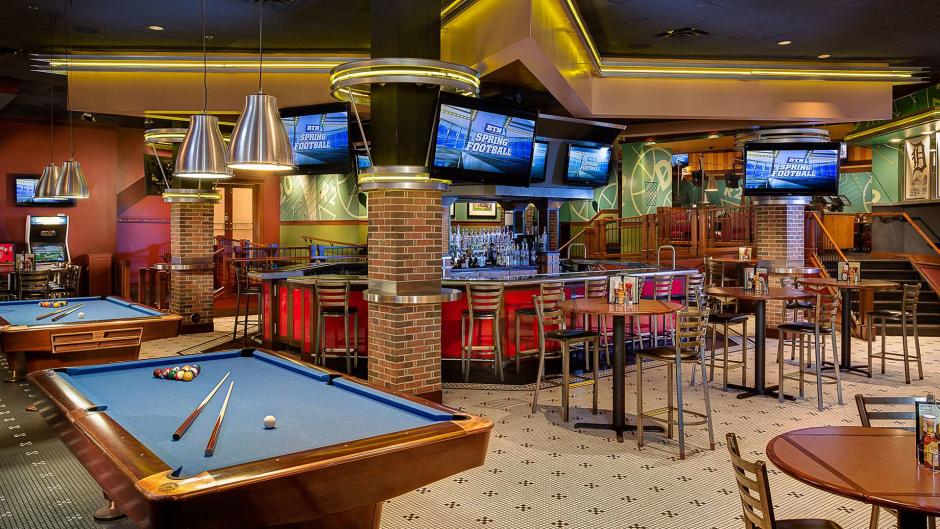 GP Sports within the Amway Grand Plaza provides an enjoyable, casual sports-watching spot in the heart of a beautiful four-star hotel.
Photo Credit: GP Sports
---
NCAA Teams
Michigan State University
Atwater Brewery - Grand Rapids, owned by Michigan State alum, Mark Rieth, is a great spot to watch the Michigan State Spartans. Atwater Brewery - Grand Rapids hosts official watch parties for all Spartan football games, and even offers food and drink specials for Spartan fans.
The Grand Woods Lounge is another Spartan-friendly location according to the West Michigan Spartans Facebook page. With plenty of TV's, great food and drinks, and an outdoor patio perfect to enjoy during halftime or intermission, Grand Woods Lounge makes watching Spartan games that much better.
University of Michigan
When University of Michigan fans aren't cheering "Go Blue!" at the Big House, you can find them at GP Sports in the Amway Grand Plaza. GP Sports boasts great game day food, including burgers, pizza, and sandwiches, including a fully stocked bar. If you're visiting GP Sports to watch a game, make sure to park in the hotel parking ramp and notify your server to receive complimentary parking (up to three hours).
Check out the U of M Alumni Club of Grand Rapids Facebook page for more information on 2018 game watch parties and celebrations.
University of Notre Dame
If you're more apt to say "Go Irish!," there are multiple spots to catch a Notre Dame University game. Last Chance Tavern and Grill located in the Southtown neighborhood and Broadway Bar on the West Side are both great stops. Both locations offer an intimate vibe, perfect for mingling with fellow Fighting Irish fans.
The Ohio State University
According to The OSU Alumni Club of West Michigan, the place to watch the Ohio State Buckeyes is the patio at Vitale's Grill & Sports Lounge on Leonard Street. The Alumni Club offers raffles and charity fundraising at nearly every watch party, not to mention, it's a great time to chat with other Buckeye fans.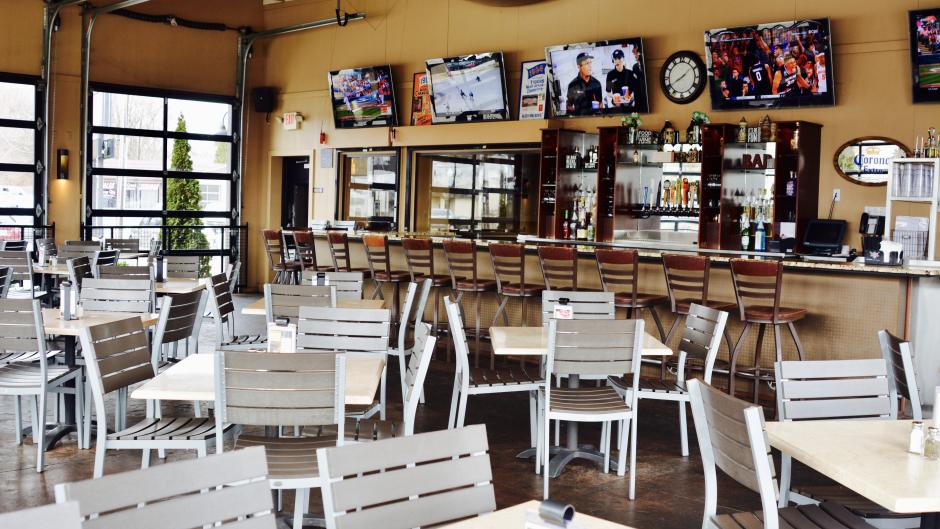 With glass garage doors for walls, this newly added 3-season patio is a fantastic place to enjoy great food and watch your favorite game.
Photo Credit: Vitale's of Comstock Park
---
NFL Teams
Detroit Lions
To watch a game alongside fellow Detroit Lions fans, visit Birch Lodge located in the Medical Mile neighborhood, just north of downtown. Known for its free tacos, Bloody Mary bar, and loads of televisions, Birch Lodge is a fan-favorite destination to watch the Detroit Lions in Grand Rapids. Birch Lodge offers a full menu and full bar, perfect for enjoying 'Game Day' with fellow fans!
The Garage Bar and Grill is also a favorite location for Detroit Lions fans. With a good crowd, great atmosphere, and amazing burgers, Garage Bar and Grill is a frequented location to catch a game.
Green Bay Packers
For those who cheer "Go Pack Go!," Vitale's of Comstock Park is the place for you. Stocked with a full bar and a wide variety of cuisine (including dessert), Vitale's is a great stop to watch the Green Bay Packers on game day.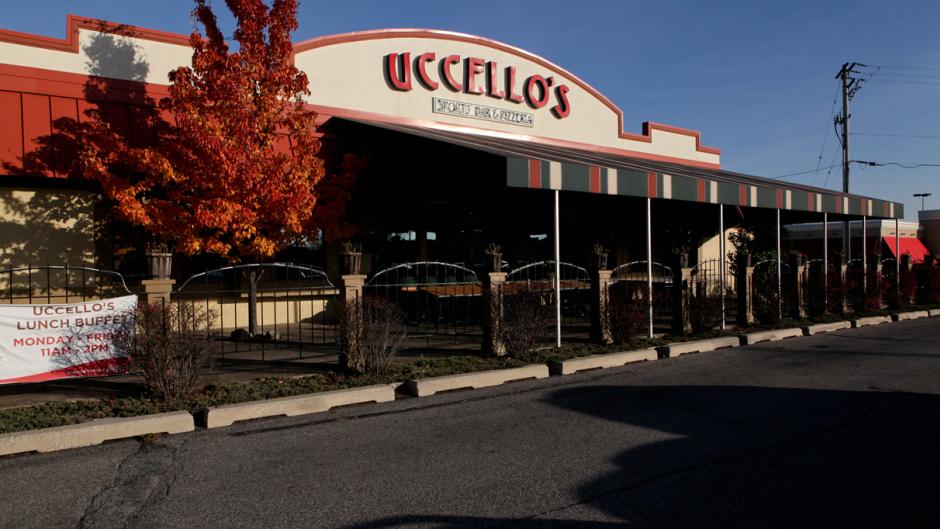 With six West Michigan locations, plenty of TVs, an inviting atmosphere, and an extensive menu, Uccello's is a great place to watch your favorite sports team.
Photo Credit: Experience Grand Rapids
---
More Local Sports Bars
For those who are just general sports fans, luckily Grand Rapids is full of great places to watch any game or team. Monelli's Italian Grill and Sports Bar in Wyoming is a great place to watch a game thanks to its large selection of local beers, great food, and plethora of televisions. Monelli's also offers extensive gluten free, kids, and late-night menus to accommodate all guests, day or night! If you're interested in Fantasy Football, contact them to set up a Draft Party with food and drink specials.
Another great place on the tip of every sports fans tongue is The Score. This family-friendly sports bar features more than 70 HD and big-screen TVs, including West Michigan's only 110" 3D TV. The Score's lengthy menu features gluten-free bar food, along with soups, salads, sandwiches, and other traditional favorites. Looking to let off some steam after your favorite team loses? Play a game of sand volleyball on one of its three sand volleyball courts.
With the slogan, "Michigan sports live here," Peppino's is a great destination to watch your favorite team play. With three locations in and around Grand Rapids, Peppino's doesn't have a bad seat in the house to watch a sporting event.
Stop by one of Uccello's six locations across West Michigan to watch your favorite sports team play. Whether you're staying downtown Grand Rapids, or in surrounding towns such as Caledonia, Standale, Grandville, or Rockford, chances are, there's a Uccello's nearby. Before visiting Uccello's, check out the unique beer menus at each location, or order your food online.
If you're a soccer fan, SpeakEZ Lounge, considers itself "the premier home of world-class football (soccer, if you must) viewing in West Michigan." SpeakEZ features as many as seven matches at a time and the bar is open for all Premier League matches as early as 7 AM. 
Where do you go to watch your favorite sports team? Let us know in the comments, and we'll add them to the list!
Never miss a post!
Subscribe to the Insider Experience blog.