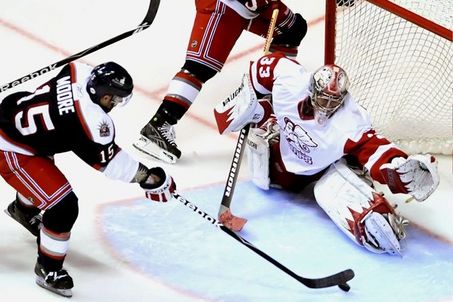 One of the best things about Grand Rapids is our local sports teams. Our family's personal favorite is the Grand Rapids Griffins. The tickets are affordable. The environment is family friendly. And there is a fun promotion to be found at nearly every game.
The season is winding down as we head towards play offs, but if you are planning a trip to Grand Rapids, you should make time to check out these young stars on their way to the NHL before their last game on April 13th.
If you head to the Van Andel Arena for a Friday game you can take advantage of their dollar beer, dollar hot dogs deal. Get your tickets in the D-Zone and you won't even have to wait in line for your beer or hotdogs. They will be delivered right to your seat.
If you want a little more of a meal before the game, check out their Dinner + Hockey deal. Included with the price of your 4 lower level tickets is a $20 gift certificate to your choice of McFadden's, Peppino's and Subway. This offer is available for the April 6th and 13th game.