This past weekend was the Michigan Brewer's Guild's beloved Winter Beer Festival.  As the West Michigan craft beer culture has boomed along with beer tourism and national recognition, this festival has become a highly sought after gathering of enthusiasts, brewers, and people who simply want to see what all the fuss is about. 
This year, the Saturday event sold out in less than five minutes, making it a success for thousands and a missed chance for many more. Two lucky Chicagoans, Mark and Claudia Garcia, won tickets by entering a contest by Experience Grand Rapids in Draft Magazine, after they believed the chance at tickets was long gone! I caught up with them at the halfway point to see how they were enjoying their beercation in Grand Rapids.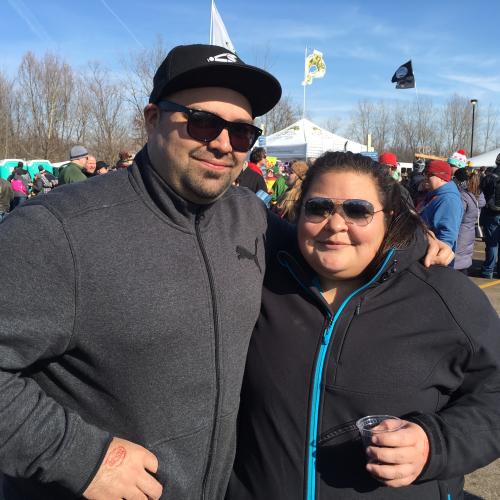 Mark entered the contest at the 2015 Indianapolis CANvitational (picture Winter Beer Fest, but canned beer only!) by putting his name and email in a fishbowl.  When they were first contacted about winning, they assumed that they were headed to just another festival, but were happily surprised by the "big crazy beer fest!" they had secured tickets for. Since they enjoy a wide variety of craft beers between the two of them, it was easy to find brews to taste based on the list of 1,000 beers to choose from. Claudia, who enjoys Belgians and sours, was a fan of Short's Brewing Company's Peachy Pom Pom. Mark, a lover of high gravity IPAs and stouts, was sipping on a Cat's Pajamas Double IPA, also from Short's, and was enjoying it immensely.
As much as we enjoyed discussing the beers at hand, they had plenty of other Grand Rapids praises to sing.  Experience Grand Rapids sent transportation to pick them up in Chicago on Thursday. They were delivered to their hotel room at the JW Marriott, where they enjoyed a view of the Grand River, and the impressive breakfast buffet of six.one.six.  Friday morning brought massages, followed by a tour of Founder's Brewery with Dave Engbers, owner and founder. It was Mark and Claudia's first time in the taproom, and they were full of positive reviews.  Claudia mentioned that taprooms and facilities like Founder's prove that "you can be a huge brewery and still be cozy." Their afternoon and evening were spent at Brewery Vivant and Harmony Brewing in Eastown, where they enjoyed the pizza (and leftovers).   The couple agreed that they "have not had a bad meal," and Claudia referred to GR as "an unassuming food town," a label I love and agree with.
Mark and Claudia had been to Grand Rapids before, but promised to be back again after their wonderful experience during Beer Week and Winter Beer Fest 2016.  It was wonderful to hear; keep up the good work of welcoming, Grand Rapids!