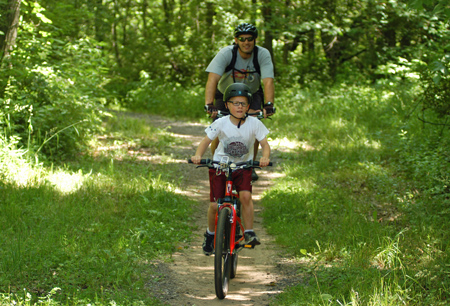 A father and son enjoy a day riding the mountain bike trail at Kent County's Luton Park. The trail was built and is maintained by the West Michigan Mountain Biking Alliance.
More than 60 miles of mountain bike trail can be found in and around Grand Rapids, making this bike-popular city a haven for off-road cyclists. There are easy trails that wander through fields and forests, technical trails to challenge advanced riders, and some that become popular gathering spots for people who enjoy mountain biking.
What many don't know is all 11 trails to date are maintained by enthusiastic local riders, members of the West Michigan Mountain Biking Alliance (WMMBA).
"We surveyed riders and were amazed to find more 50-plus riders than teens and 20-year olds," said Grandville realtor, Kevin Allen, the 47-year old president of WMMBA, a chapter of the International Mountain Biking Association. "Many were professionals, well-established people. We asked whether they knew who maintains the trails. Everyone said the local municipality or township."
"When we told them it was WMMBA they said, 'I had no idea. How can I get involved?' It was an absolute eye-opener. We estimate 5,000 to 7,000 riders use the trails. Maybe 1,000 know who built them. About 300 are members."
WWMBA members draw from a variety backgrounds. They are 30 to 70 years old and hail from communities all around west Michigan, from as far north as Greenville to as far south as Yankee Springs. Thats where the chapter maintains a 13-mile trail network in the forested Yankee Springs State Recreation Area.
Members often gather for organized rides, competitive events, just for fun and for trail building days and seminars. The group promotes riding safety and works with local municipalities and land managers to develop new trails where there are opportunities.
"My wife and I turned 40 and the kids were getting older and more independent," explains Scott TenCate, a 48-year-old WMMBA board member and marketing professional who joined in 2008. "We were sitting at the house one evening playing Scrabble and looked at each other and started laughing hysterically, saying to each other, Is this how we are going to spend the rest of our lives? She bought me a mountain bike for my birthday. We are now both on the Founders Brewery Racing Team."
"People envision us as a bunch of Red Bull drinking cyclists, but that couldnt be further from the truth. We dont promote ourselves as a bike racing alliance. Our members are people who just enjoy cycling. They may mountain bike and enjoy riding the White Pine Trail. We put on a Trifecta Tour a benefit for the club, and we put on women's clinics and riding clinics for children."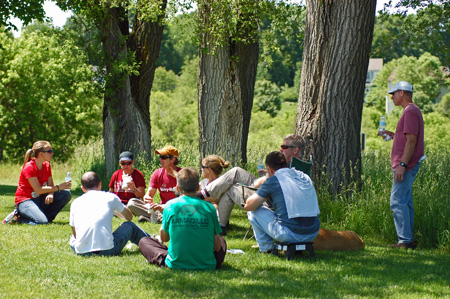 A volunteer trail maintenance crew of WMMBA members enjoy a picnic lunch after working on the Luton Park trail.
TenCate, an Ada resident, called WWMBA a passionate group of cyclists who organized to continue improving the (area's) trail systems.
The most recent example is the group's 7.5-mile Merrell Trail in Rockford, what some call a flow trail due to its roller coaster like characteristics, high-corners and berms along with table-tops (jumps). It was finished in 2013 with help from a $40,000 grant from Wolverine Worldwide Foundation and the Merrell footwear division of Wolverine Worldwide Inc. along with $30,000 from Wynalda Packaging in Belmont.
"Those funds allowed us to use a professional trail builder to construct the trails, but we also logged over 4,000 volunteer hours," TenCate said. "We have really grown over the last four or five years, from a little club to a mountain biking organization, but we haven't scratched the surface getting our name out there."
Looking for a place to ride?
Heres a look at the West Michigan Mountain Biking Alliance area trails. Find out more at www.wmmba.org
Cannon Township Park: 4-mile trail, 6878 Belding Rd NE, Rockford, Michigan 49341
Cannonsburg Ski Area: 6-mile trail, 6800 Cannonsburg Road Cannonsburg, MI 49317
Cannonsburg State Game Area: 7.5-mile trail, 4 Mile Road and Dursum Avenue, Cannonsburg, MI 49317
Grand Rapids Urban Bike Park: 1.5-mile trail, 550 Kirtland Street SW Grand Rapids, MI 4950
Ionia State Recreation Area: 7.5-mile trail, 2740 West Riverside Drive Saranac, MI 48846
Ken-O-Sha Park: 5-mile trail, 1400 Kenosha Dr. SE, Grand Rapids, Michigan 49508
Luton Park: 9-mile trail, 6125 Kies Street Rockford, MI 49341
Merrell Trail: 7.5-mile trail, 2908 Ten Mile Road Rockford, MI 49341
Richmond Park Trail: (under development), 1637 Tamarack Ave NW Grand Rapids, Michigan 49504.
Wahfield County Park: 2-mile trail, 1637 Tamarack Ave NW Grand Rapids, Michigan 49504
Yankee Springs State Recreation Area: 13-mile trail, 2104 Gun Lake Road Middleville, MI 49333
-Outdoors writer and photographer Howard Meyerson can be found online at howardmeyerson.com.