Surrounding Grand Rapids' bustling city center is an abundance of biking trails that wind through a variety of the area's diverse landscapes. West Michigan's warmer months offer the perfect opportunity for locals and visitors to grab their bikes and head out on the trails for some mountain bike riding.
If you're interested in getting involved with mountain biking in West Michigan, take a look at these tips and ideas:
Every spring, Michigan goes through a freeze-thaw cycle as the ground warms up, which means that some of the local mountain bike trails can be muddy and still draining.
It's important to preserve the condition of the singletrack mountain bike trails by avoiding them if they're too wet.
Thanks to apps like Trailforks, riders can check the condition of a trail before heading out to ride. Riders simply sync their ride computers or phones to Trailforks, and it automatically logs when people are riding it.
The app makes it easy to let others know when the trails are top notch or when they need some work done to them.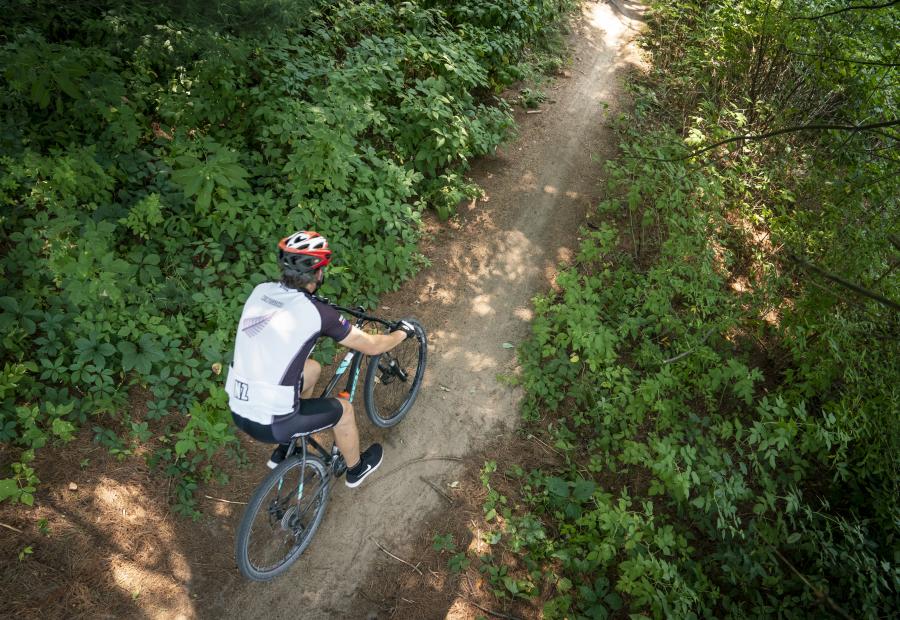 Mountain biker riding through trail in West Michigan
Photo by Experience Grand Rapids