Surrounding Grand Rapids' bustling city center is an abundance of biking trails that wind through a variety of the area's diverse landscapes. West Michigan's warmer months offer the perfect opportunity for locals and visitors to grab their bikes and head out on the trails for some mountain bike riding.
If you're interested in getting involved with mountain biking in West Michigan, take a look at these tips and ideas: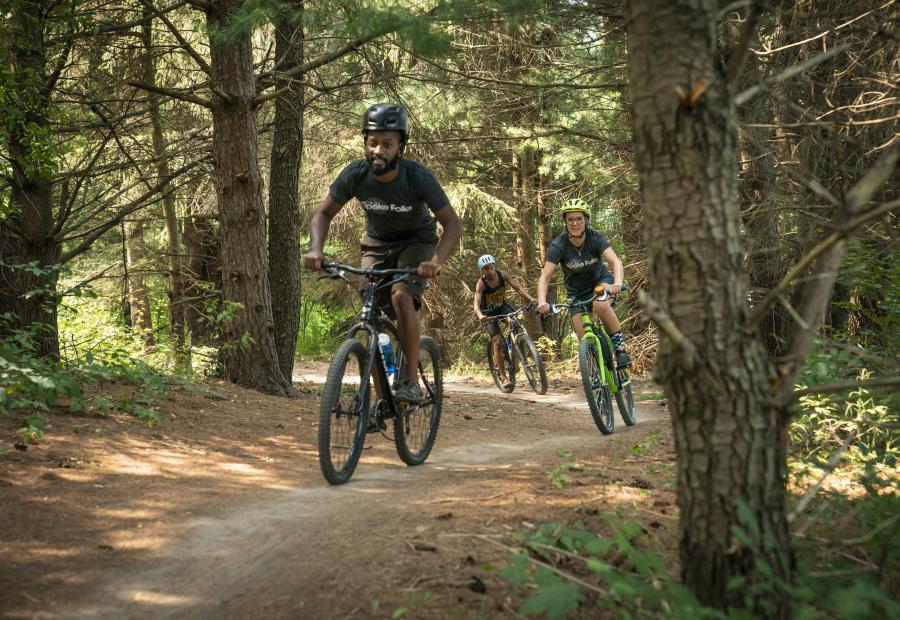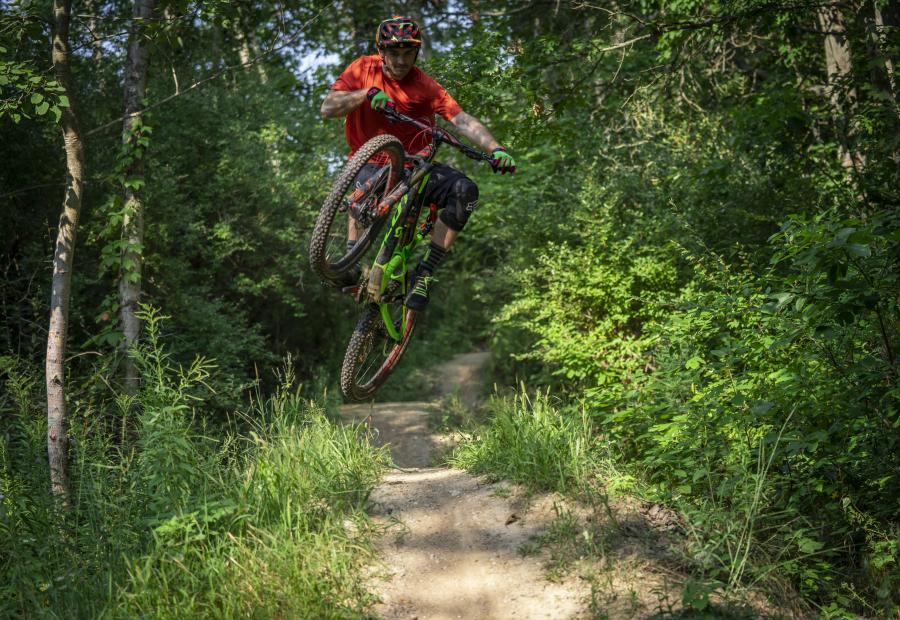 Mountain bikers on a trail near Grand Rapids
Photo by Experience Grand Rapids
Every spring, Michigan goes through a freeze-thaw cycle as the ground warms up, which means that some of the local mountain bike trails can be muddy and still draining.
It's important to preserve the condition of the singletrack mountain bike trails by avoiding them if they're too wet.
Thanks to apps like Trailforks, riders can check the condition of a trail before heading out to ride. Riders simply sync their ride computers or phones to Trailforks, and it automatically logs when people are riding it.
The app makes it easy to let others know when the trails are top notch or when they need some work done to them.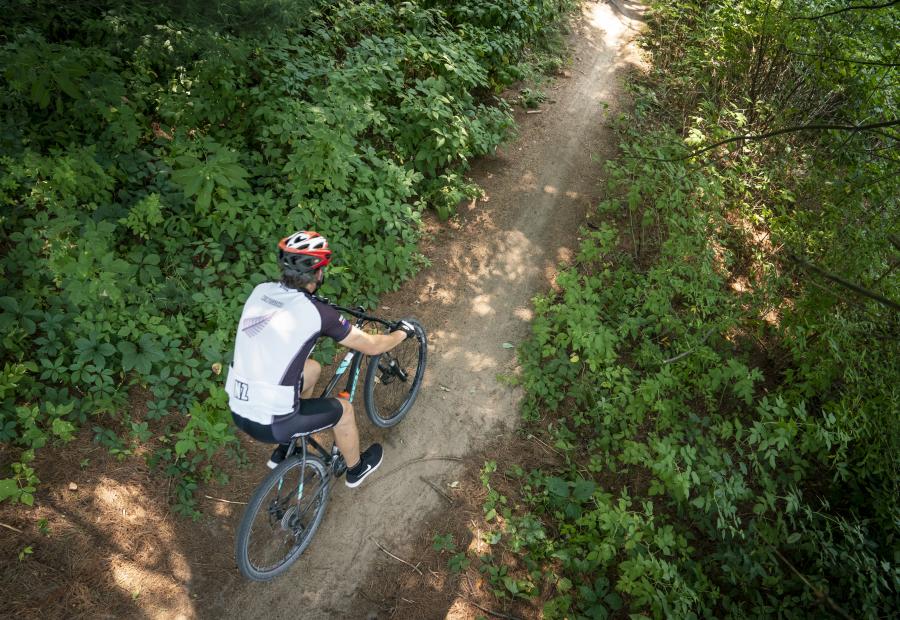 Mountain biker riding through trail in West Michigan
Photo by Experience Grand Rapids
Ever wonder who repairs all the local trails when they need maintenance, like when ruts or downed trees need to be removed?
The West Michigan Mountain Bike Alliance (WMMBA) is a nonprofit organization that works to promote responsible mountain biking by designing, building, and maintaining trails throughout West Michigan.
The WMMBA is a volunteer-run organization that relies on fundraising and its members to help keep the trails in good shape.
The WMMBA hosts yearly fundraisers like the Yankee Springs Time Trial (in April) and Skirts in the Dirt (in August) at Wahlfield Park, and the Trifecta Tour that leaves from Townsend Park. Each event is super fun and family friendly. Participants can register and race or ride all while raising funds for a good cause.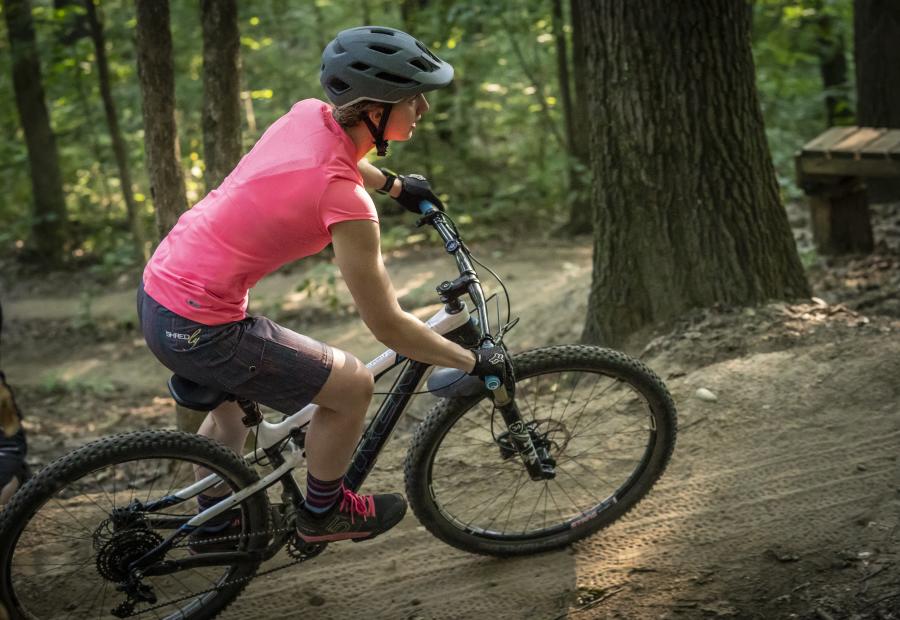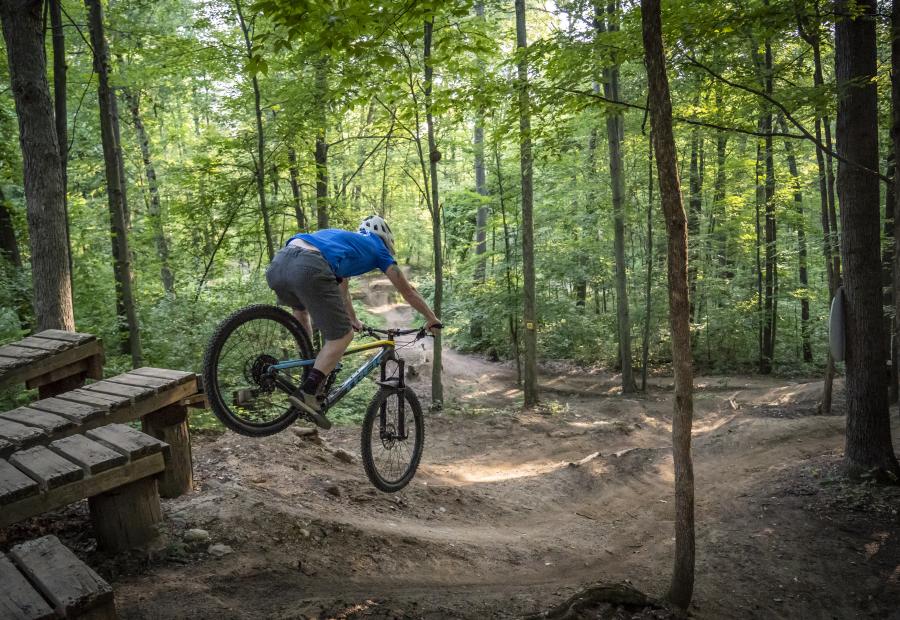 Mountain biker with a pink shirt on a trail just outside of Grand Rapids
Photo by Experience Grand Rapids
Yankee Springs is a great trail that drains and dries really well; it's ready to ride very soon after the snow melts and has options for bikers of varying skill levels. Located about 30 minutes south of Grand Rapids, Yankee Springs offers camping, too. It's a great, close spot to check out, whether you're headed down for an evening after work or with the family for the weekend.
Yankee Springs also has a swimming area and some great hiking trails, so it's easy for everyone to find something to do if they don't prefer mountain biking.
It's also close to the Barry Roubaix gravel race course, a race that takes place each April and which traverses roads through Barry County. Put more miles in on your bike and explore the area by cruising along the course. The Barry Roubaix's intermediate 22-mile, 36-mile, and 62-mile courses are permanently marked so you can go and ride it just by following the green signs that the city of Hastings has placed around the county.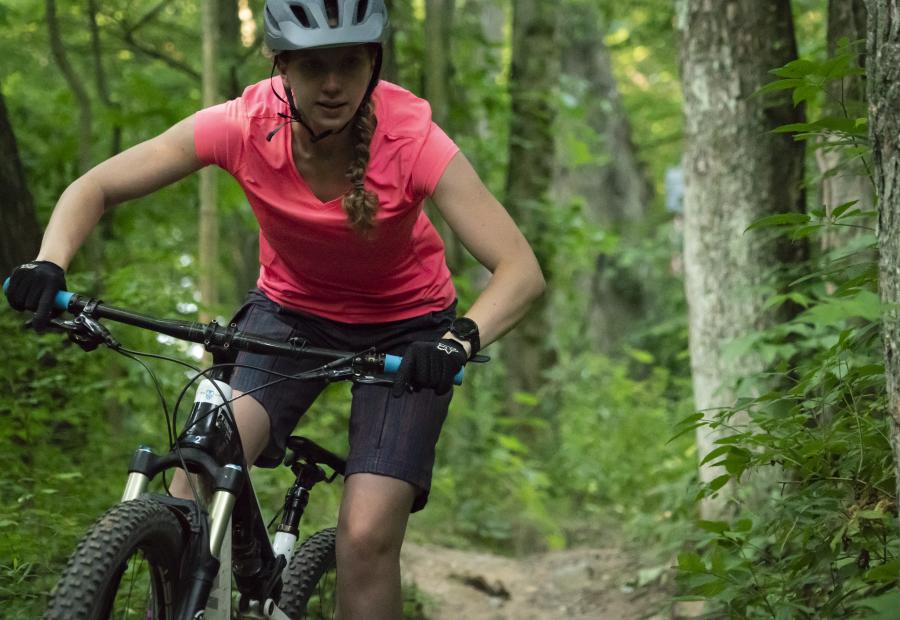 Mountain biker with pink shirt riding through a trail near Grand Rapids
Photo by Experience Grand Rapids
Wahlfield Park, located at the intersection of Alpine and 8 Mile, is known for its new flow trail (good for most skill levels), which was installed in 2017. Mountain bikers climb a slight hill to get to three different jump lines back down to the bottom. In honor of the flow trail's sponsor, Perrin Brewery, the trails are named after some of the brewery's IPAs: No Problems (easiest), 98 Problems (intermediate), and Lotsa Problems (hardest) get a little more difficult as riders increase their confidence and speed.
Wahlfield Park is the location for the WMMBA's Skirts in the Dirt women's mountain bike race. Wahlfield Park's main loop takes about 20-minutes for intermediate riders to navigate through an open field or a twisty, wooded single track.
Different sections branch off of Wahlfield Park's main loop, guiding trail users through patches of wildflowers, wooded areas, and views of Mill Creek. Riders can try some of the off-camber root or bridge sections to work on their handling skills.
Wahlfield Park is one of the few trails available to mountain bikers that also provides covered shelters, barbeque grills, a playground, and indoor bathroom facilities. One of the newer trails in the area, Wahlfield is quickly becoming a local favorite.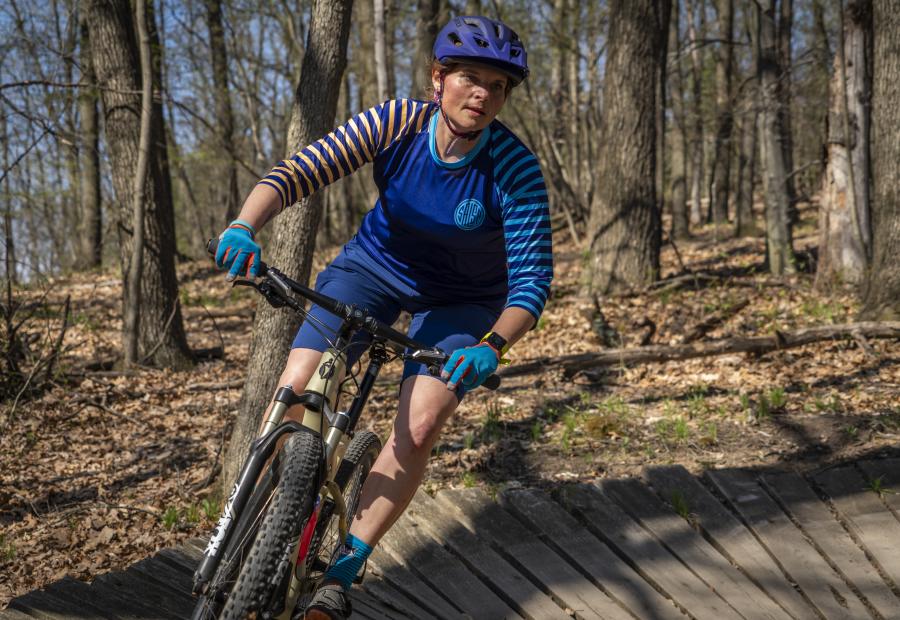 Mountain biker in blue shirt with stripes biking on a trail near Grand Rapids
Photo by Experience Grand Rapids
While there are already plenty of mountain biking opportunities within minutes of downtown Grand Rapids, locals and visitors alike will soon be able to enjoy some more of WMMBA's amazing projects underway for the 2019 ride season.
Namely, the GR Bike Park, located near downtown Grand Rapids, is being completely renovated! New features, including crushed concrete and repurposed grating from the Mackinac Bridge, are being implemented so mountain bike riders can work on their skills in a fun, urban setting!
Drops, rock gardens, and other cool features are being installed to help riders challenge themselves, but there will be ride-arounds to help riders gradually work up the courage to hit the difficult parts.
Focusing on a skills area in Grand Rapids helps prepare riders for more challenging trails, and the GR Bike Park is sure to provide some fun for all ages! 
Grand Rapids has earned its place on the map as an outdoor adventure town. This video from The Grand Outdoors series shows how the city is "built for bikes."
Stay tuned as the West Michigan Mountain Biking Alliance continues to build new trails for everyone to enjoy. For more information on mountain biking around Grand Rapids, download the My City Bikes app. You can also read the previously posted mountain biking trails blog.