Surrounding Grand Rapids' vibrant city center and woven through small pockets within its neighborhoods, there is an abundance of multi-use trails that wind through the vast realm of the area's landscapes. West Michigan offers the perfect opportunity for locals and visitors to grab their bikes (in the winter, their fat bikes) and to head out on the trails for some riding.  
If you're interested in getting involved with mountain biking or fat biking in West Michigan, take a peek at these tips and ideas:  
Michigan regularly goes through a freeze-thaw cycle as temps dance around freezing. Some of our mountain bike trails can get soggy, and riding during this freeze-thaw can rut or damage the trail. It is important to preserve the condition of singletrack trails by avoiding them if they're too wet after a rain. Luckily some trails, like Cannonsbug Ski Area, dry out faster than others so you can continue to explore even if it's a little damp outside. 
 
Thanks to apps like Trailforks, or Facebook pages like the West Michigan Trail Conditions, you can check the condition of a trail before heading out to ride. Riders simply sync their ride computers or phones to Trailforks, and it automatically logs when they ride it. Local riders post in the Facebook page when trails may need some maintenance or when they're in great shape! It can be a useful tool for finding intel and for meeting new biking friends.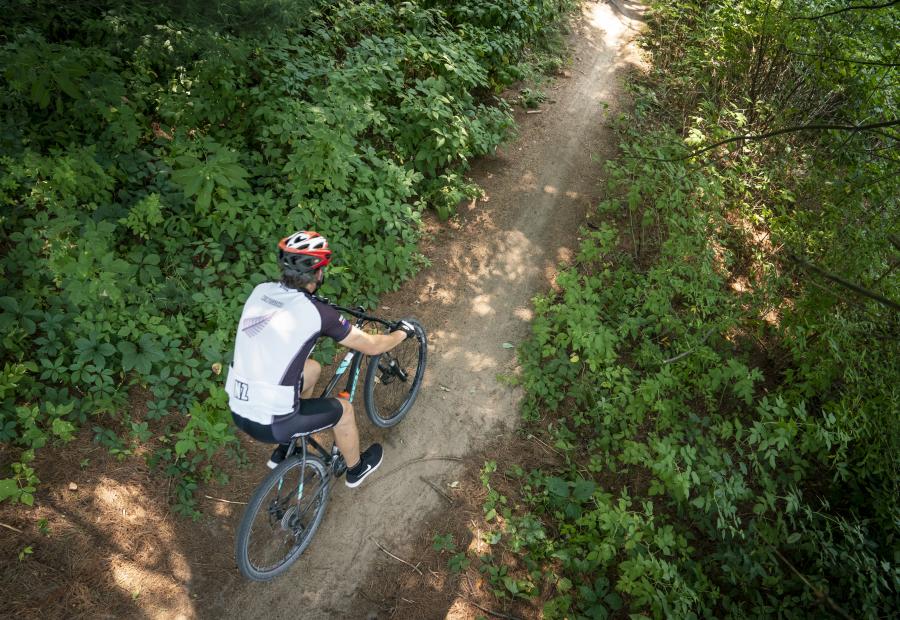 Mountain biker riding through trail in West Michigan
Photo by Experience Grand Rapids