Saturday, April 9th, marked the second coldest opening day that the West Michigan Whitecaps had ever seen!  Snow sprinkled on fans who were excited for the spring and summer pastimes that ballparks promise- entertainment, snacks, and good company.  Although the season started cold, there's plenty to look forward to this season as the Whitecaps warm up!
Fifth Third Ballpark is located in Comstock Park just a few miles north of Grand Rapids' city center.  Within the past five years, renovations due to both fire and age have helped shape the park into a beautiful destination for visitors and locals. Tickets for most games start at $7 for lawn seats, or you can splurge for the newly expanded premium seating behind home plate, which includes table service and an unbeatable view of the game for $25 a ticket.  For bigger events, check out deck rentals that will seat up to 350 people, many of which include exclusive access to food stands and bars.
Photo Courtesy of MILB.com
Speaking of food, one of my favorite things about baseball is the accompanying calories. Fifth Third has kept the menu fresh each season by opening up the food roster to the public each spring.  This was the 7th year of the fun food competition, and the newest menu item can be found on the Comfort Food Cart.  "Dutch Love" is a pita wrap filled with turkey pot roast, gravy, french fries, and Wisconsin cheese curds! Other new arrivals include soft pretzels served with Founder's Dirty Bastard Mustard, Not Your Father's Root Beer Floats (alcoholic), and a full menu of gluten-free options. 
Another new culinary addition is the Build-A-Burger cart. After fans select either a 1/3 pound hamburger, turkey burger or vegetarian burgers it's then time to select a bun. Feeling like something different? Then the waffle bun might be right for you. Finish it off with your choice of topping including guacamole, bacon or sriracha and voila-you have an amazing, personalized meal to enjoy at the game. 
Of course, the classics remain alive and well: hot dogs, peanuts in the shell, elephant ears, and nachos soaked in liquid cheese are a few personal favorites. To wash it all down, Fifth Third provides a number of beverage stands all over the park. One ballpark destination stand, however, is the Craft Clubhouse, located on the third base concourse. This is only the third season that the Clubhouse is bringing 16 local Michigan beers to the baseball fans, and many of the 16 are brewed within city limits! You can expect to pay a little more for the craft brews, but if you're an enthusiast, then it's worth it.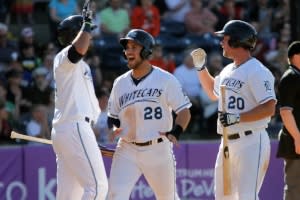 Photo Courtesy of West Michigan Whitecaps
To top off your Whitecaps ballgame experience, check the home schedule to see what's going on at the game you're attending.  50/50 raffles, fun local sponsorship nights, and family days add to the fun every week through the summer-long season.  Friday night fireworks start on Friday, April 22nd, and giveaways already began with championship ring replicas on opening day.  Other giveaways to look forward to (if you're one of the first 1,000 fans into the park) include backpacks, bobble-heads, beach towels, cowbells, water bottles, and more!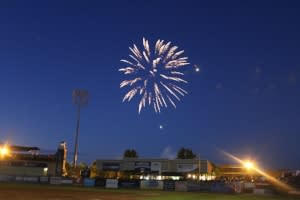 Photo courtesy of West Michigan Whitecaps
Many fan favorite promotions will also return including Star Wars Night (July 9), Princess Night (July 20), Minion Night (Aug 3), and Harry Potter Night (Aug 31). Check out whitecapsbaseball.com for all of the upcoming promotions this season.
If you've been hating our last burst of wintry mix, don't despair yet. Baseball season has begun, and there isn't a better harbinger of summer fun than that. See you at the ballpark!