Wine has a way of bringing people together, and Grand Rapids is the perfect place to gather with the people you love.  A wine bar is traditionally thought of as a bar that offers more than 20 wines by the glass and more than 100 wines by the bottle.  While not all 13 meet those requirements, these destinations have impressive wine lists and make up for the number fudging in atmosphere, excellent service, and food quality.  If you're looking for the grapes and bubbles in the area, this is a good place to start!​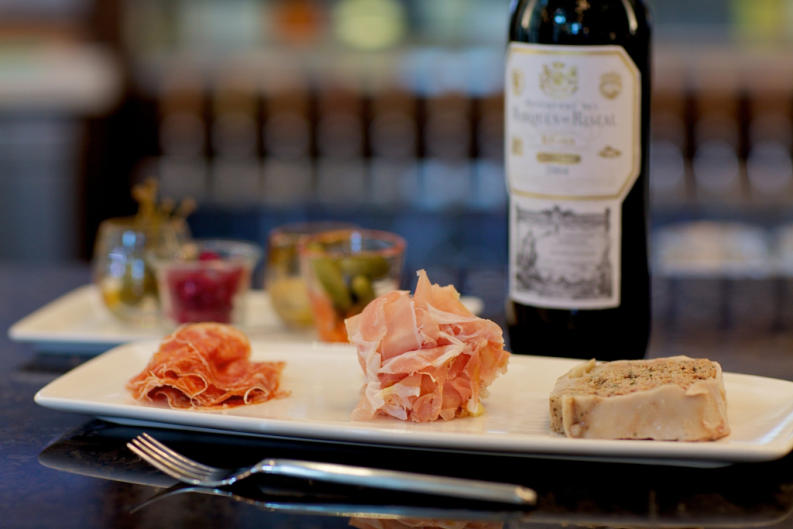 Reserve
Photo Credit: Experience Grand Rapids
---
Reserve
Reserve Wine and Food has been a hit for downtown GR since opening day. Located on Monroe's convenient corner, Reserve strives to tell a story using their impressive list of wines, bubbles, and a unique food pairings menu. Reserve is open Monday-Saturday, with a daily Happy Hour from 3-6pm!  Check out their website for a list of their current favorites.
Cork Wine and Grille
If you're looking for a casual, upscale atmosphere with a beautiful view, check out Cork Wine and Grille, located on Cascade Road and overlooking Watermark Country Club's course.  With a varied but affordable menu and an eight page list of local and international wines, it would be a perfect wine bar to try in Grand Rapids.  Cork is open seven days a week and has Happy Hour Monday-Friday from 3-6pm.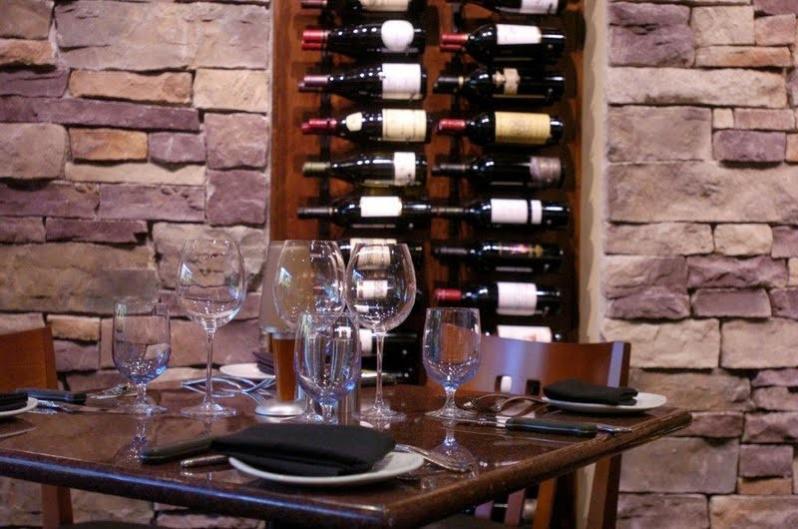 ---
Red's on the River
Owned by the same restaurant group as Cork, Red's on the River offers a similarly huge selection of wines and bubbles in a different part of the Grand Rapids area.  Head north to Rockford and enjoy the view of the Rogue River as you wine and dine in the Tuscan-style decor.  Red's is open Monday-Saturday.
Bar Divani
For fine dining and a friendly and knowledgeable staff, try Bar Divani, located in the Downtown destination Neighborhood on Ionia St. This is also a popular venue for celebrations, so if you fall in love with the atmosphere, you could book your next party here.  Bar Divani is open Monday through Saturday with a weekday Happy Hour from 4-6pm.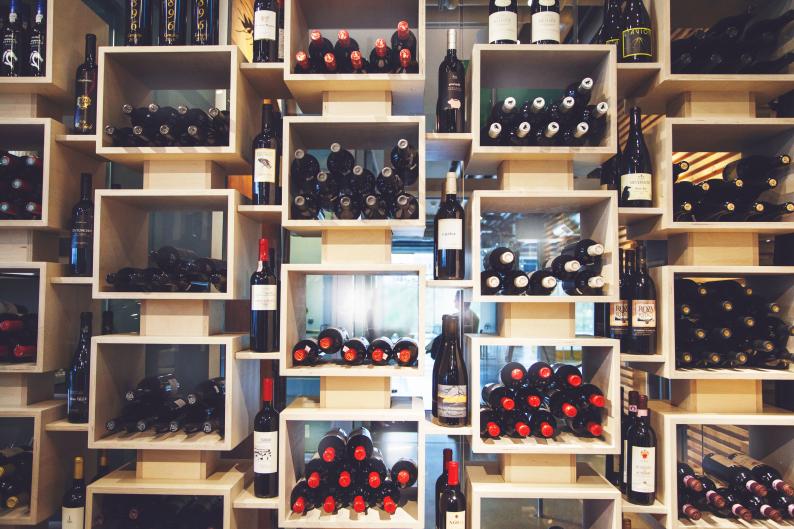 Aperitivo wine
Photo Credit: Aperitivo
---
Aperitivo
To taste and take home, stop by Grand Rapids' beautiful Downtown Market, where Aperitivo, a wine and cheese destination, is located right by the entrance!  It's so nice to be able to try before you buy, and the friendly staff is happy to help you match cheeses, charcuterie, and bottles.  Aperitivo is open seven days a week, but the tasting bar is closed on Sunday!
Judson's Steakhouse
With 5 floors of food and drink, The B.O.B. (Big Old Building) is a must-see staple of downtown Grand Rapids.  Located on the corner of Fulton and Monroe, and directly across from Van Andel Arena, The B.O.B. serves its fair share of wine. Judson's Steakhouse, on the first floor, is open Monday-Saturday and is locally known for delicious food and taste forward pairings.
Noto's Old World Italian Dining
If you're headed out to eat and drink, why not head straight to the source and dine in the wine cellar?  Noto's is a credit to the Italian traditions of wine and food; with over 1200 Italian wines, 5-9 course meals (or marathons), and a highly involved family of owners, your wine experience is certain to be educational and delicious.  Noto's is open Monday-Saturday from 4-10pm.

JW Marriott six.one.six. patio
Photo Credit: Experience Grand Rapids
---
Six.One.Six
Named for the local area code, but loved by visitors and locals alike!  Six.One.Six is located in the JW Marriott hotel and is well known for a romantic atmosphere and incredible menus.  The fine wines will tempt any enthusiast, and you conveniently have a place to sleep if you get too involved with the drink menu.  Open daily for breakfast, lunch, and dinner.
Cygnus27
As another hotel anchor restaurant, Cygnus 27 has been delighting visitors and locals for many years.  Located on the 27th floor of the Amway Grand Plaza, the restaurant boasts wonderful views of the entire city.  The food is Latin-inspired, and the wine list is short, but mighty.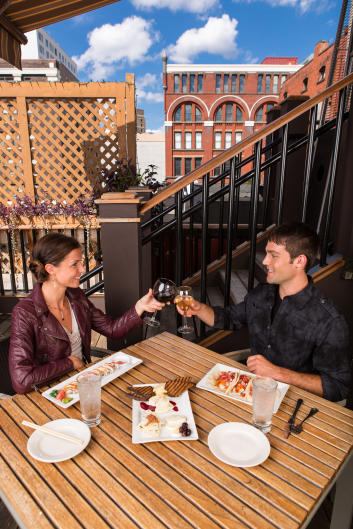 Rockwell Republic
Photo Credit: Experience Grand Rapids
---
Rockwell Republic
Rockwell Republic is known around town for a lot of positive attributes- tasty food, a romantic atmosphere, a cool rooftop patio, and wine bar!  While there is a full bar available, the wine list is respectable.  Check it out on a Monday after 4pm for 40% off of bottles!
Terra GR
Terra GR has raised the bar for farm to table dining in Grand Rapids.  Their approach to the wine they serve is consistent with the mantra of farm to table- know where the products you enjoy are coming from.  Terra is located on Lake Dr. and is open seven days a week with daily Happy Hour from 3-6pm.
Smash Wine Bar and Bistro
Although this destination is a bit of a drive from Grand Rapids, Smash is a traditional wine bar that offers more than 40 glass pours and over 70 bottles of wine.  Customers can browse the options on an iPad for a "unique interactive experience" and can snack or eat a full meal while enjoying the selections.  Smash is in the Frauenthal Center in Muskegon, and guests should try to make a reservation ahead of time if possible!
Ada Pour House
The Pourhouse is a self-proclaimed gastro-pub: a bar with excellent food as well!  The wine (and Michigan craft beer) lists are impressive and varied.  You can download their menu app to keep up with the constantly changing offerings!  They are open seven days a week and are located on Fulton St. in Ada.
What are your wine bar destinations in West Michigan?  We would love to continue growing our list!
For wines to purchase and enjoy at home, make sure you stop by Martha's Vineyard or G.B. Russo and Son for recommendations and an excellent selection.
Never Miss a Post!
Subscribe to the Insider Experience Blog.