Wine lovers of Grand Rapids, rejoice! As you know, there's no better indulgence than a nice bottle of wine around the holidays (and every other time of year). A good wine is a perfect addition to your holiday table or  New Year's party. However, with all the excellent craft brew options in Beer City, USA, wine can get lost in the mix. If you're looking for something unique, you may not know where to find the perfect wine for your special occasion.
The Mitten State has a growing wine scene with plenty of vineyards and wineries across the state. This means Grand Rapids shops and bars have numerous local options for stocking their shelves along with options from all parts of the world. If you're not sure where to start, here are some locally-owned shops whose knowledgeable, friendly staff will help you find just the right bottle for your holiday table.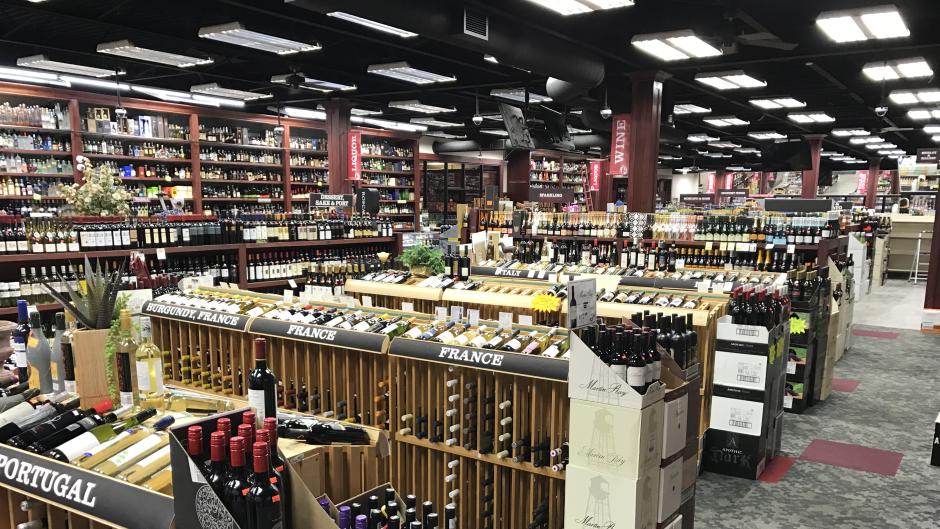 Fantastic wine recommendations in every price range. (Lots of great beer and spirit options, too.)
Photo Credit: Rishi's International Beverage
---
Rishi's International Beverage
3839 28th Street SE
Grand Rapids, MI 49512
If you've ever walked into a wine shop and felt embarrassed to ask for something in the $15 or lower price range, you weren't at Rishi's International Beverage. Manager Rishi Makkar and his staff excel at helping customers find good wines at reasonable prices. Of course, they carry expensive wines too, but Makkar contends that selling pricey bottles is easier than the inexpensive bottles. Because of the marketing behind big wineries, many customers have already heard of those brands, and if you're spending $50 or more on a bottle of wine, it's probably going to taste great.
"The talent comes in finding the good $10 - $20 dollar wines, those diamonds in the rough that compete with wines in the $30 - $50 range," explains Makkar. Anyone can find a good expensive red, but to find the overachievers that are undervalued is the fun part. It's largely why our clientele keeps growing."
Makkar and his staff research, taste a lot of wine, and have solid relationships with distributors in order to make sure they have plenty of delicious options to offer customers at all price points.
"It's a challenge to me to find a customer a good $7 red wine," says Makkar. "We don't look down on that! We want to sell them a $7 bottle of wine that they think is remarkable for $7. That's how you build a solid, long-term stable business."
During the holidays, Rishi's International Beverage creates fantastic, custom gift baskets with a 48-hour turnaround time. In addition to the 28th Street location, there is a second International Beverage located at 6859 Cascade Road SE.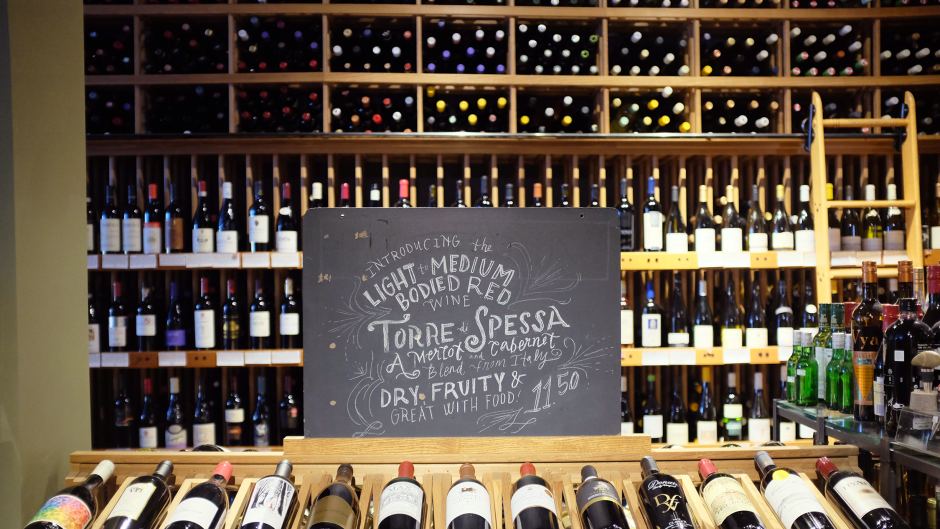 This Wealthy Street favorite delivers novel, small-batch wines.
Photo Credit: Art of the Table
---
Art of the Table and Aperitivo
Art of the Table
606 Wealthy Street SE
Grand Rapids, MI 49503
Aperitivo
(at the Downtown Market)
435 Ionia Avenue SW
Grand Rapids, MI 49503
Fourteen years ago, Amy and Steve Ruis transformed a former party store with patches of dirt floor and no plumbing into the exquisite Art of the Table, which carries gourmet artisan products including wine, cheese, desserts, beer, table décor, and more. When you're looking for a unique wine that you won't find at your average grocery store, Art of the Table is your place.
"We taste each and every selection we bring in and decide whether it fits our desires for smaller batch, family-owned wineries wherever possible," Amy Ruis explained. Whether you're searching for something less expensive for a weeknight dinner or a high-end wine for a special occasion, Art of the Table can help. With over 300 wines, they have selections in many price ranges and can offer guidance and suggestions if you're uncertain about what you want.
"Our shelves represent regions all over the world and have a lot of wines that are from grapes off the beaten track. Our staff is very knowledgeable so they're pretty good at suggesting wines that are similar to what you might normally drink."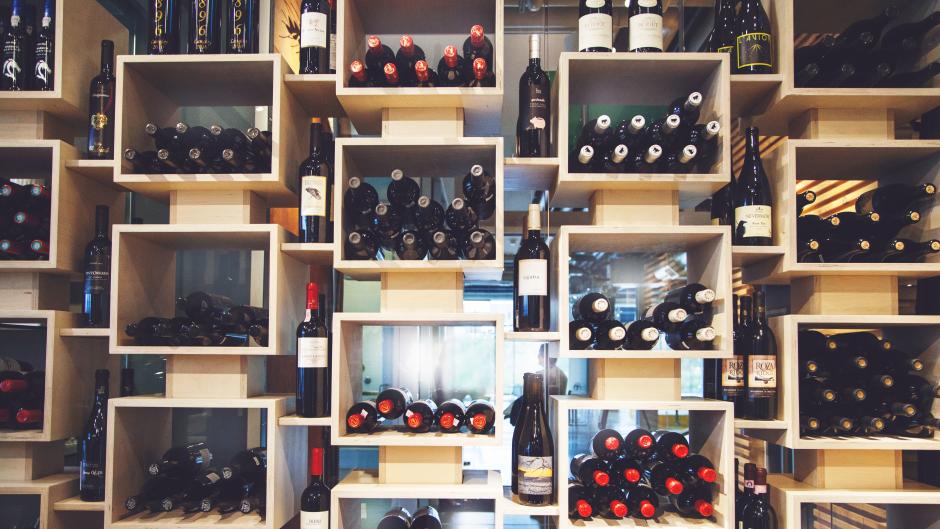 Aperitivo is the perfect place to complete your shopping at the Downtown Market.
Photo Credit: Aperitivo
---
Ruis also owns Aperitivo, a wine and cheese tasting shop at the Downtown Market, which opened along with the market in September of 2013. "Aperitivo's selection is relatively small but well-curated to include a wide variety of wines that play well with foods, especially those that we focus on in the shop like cheese and charcuterie."
One fun aspect of shopping at Aperitivo is that you can often try before you buy. Many of the shelf selections are available at the bar either by the glass or half glass, so you can sip a new-to-you wine before you commit to purchasing an entire bottle.
"Customers shopping in the Downtown Market love that we can complete their meal planning by having choices at many price points and variety of styles on our shelves," says Ruis.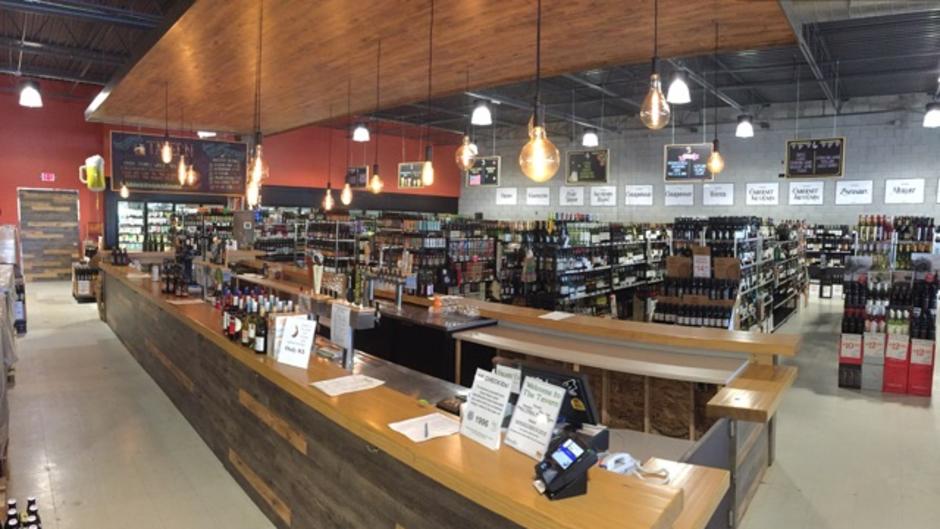 Sip while you shop.
Photo Credit: Horrocks Market
---
Horrocks Market
4455 Breton Road SE
Kentwood, MI 49508
Horrocks Market in Kentwood is known for a lot of things: beautiful flowers, a grocery market that features fresh produce, stylish home décor, and gifts. Did you know they also have a fantastic wine selection? "Our wine department is a must-see," says Carley Morrison from Horrocks Market.
Horrocks offers wines from around the world and has an entire aisle dedicated to Michigan wines. If you don't see a wine you're looking for, they'll be happy to order it for you. "We strive to carry the smaller vineyards and more boutique wines, as well as the classics," Morrison says. "What really sets our wine department apart is that you can enjoy a glass of wine while you shop!"
The in-store tavern serves wine, craft brews, and cider - all available while you shop. You can stop by the tavern to check out the wine selection before you hit the other aisles or sit down afterward and enjoy a drink at the bar.
The market also offers complimentary wine samples of its featured wines, as well as a number of wine events, including wine pairings, educational classes, and more. Check Horrocks website or Facebook page for details.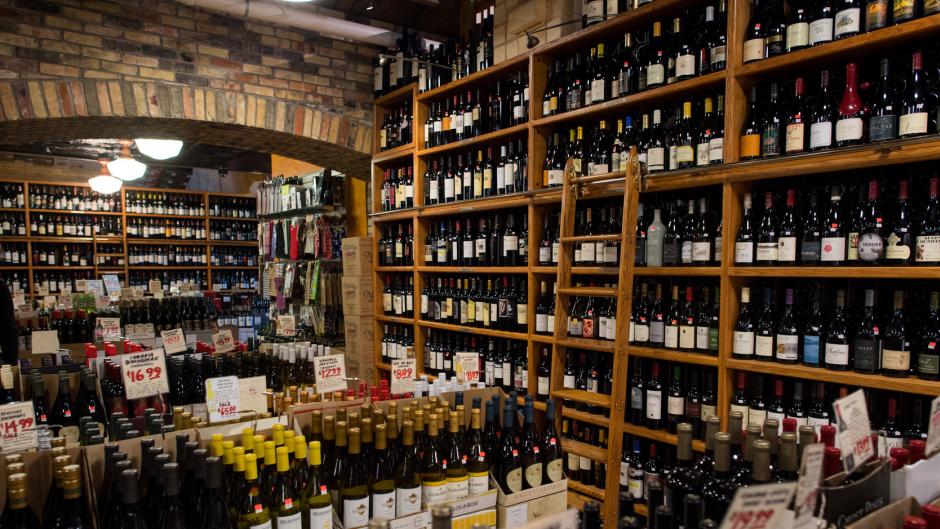 Providing customer service since the early 1980s – now with a special focus on wine.
Photo Credit: Martha's Vineyard
---
Martha's Vineyard ​
200 Union Avenue NE
Grand Rapids, MI 49503
Thirty years ago, the store that's now known for its vast wine selection, specialty groceries, and unique fresh produce began as a small stop-and-go liquor store. While Martha's Vineyard still carries spirits, the business has grown and evolved with the neighborhood, and these days the shop's focus is more on wines and gourmet foods.
When you step into the store, you'll find wines anywhere from $7 - $100+ per bottle on the shelves. "We have a nice selection of wines and are ready to welcome anyone who comes in," says Ilana Chamelly from Martha's Vineyard. If you're not sure what you like, the staff is happy to direct you and suggest new wines. "Come in with questions," she says. "We can help you find whatever you're looking for."
While you're there, don't miss the extensive deli with freshly prepared foods and the mouthwatering pastry items from Nantucket Baking Company. They also have delicious pizza to order, for pick up, and by the slice.
The Crushed Grape ​
2869 Knapp Street NE
Grand Rapids, MI 49525
On the second floor of The Crushed Grape, you'll find an entire level dedicated to wine from every corner of the world. If that seems overwhelming, don't fret. The helpful staff is happy to give you a short tour of the space to help you understand where to find what you're looking for among its many wines.
"My staff and I will go out of our way to help you pick out wines for any occasion, whether it's celebratory or pairing wine with a particular food," says Gary Greer, owner of The Crushed Grape. "We're happy to have you here and we work hard to make sure you have a positive, customer service-focused experience when you come through our doors."
In addition to choosing a bottle or two from its sizable wine selection, you can also purchase fantastic cheeses, salamis, dips, and more. "You could almost put a whole meal together if you wanted to," says Greer, "but we're certainly stocked for appetizers!"
In addition to these fabulous stores, you'll also want to check out local wineries. Stop by Kayla Rae Cellars in downtown Rockford to enjoy its wine bar and tasting room, as well as Robinette's Apple Haus & Winery on the north side of Grand Rapids. It's well-known as an apple orchard, but its winery, which opened in 2006, serves flavorful wine made on site.
To discover more wineries and wine shops in the area, or to download our West Michigan Wine Tour map, visit the Experience Grand Rapids Wine page. Cheers!
Never Miss a Post!
Subscribe to the Insider Experience Blog.