Holiday cheer is just a stroll away when you visit downtown Grand Rapids. The city is filled with lights and festive decorations this time of year and the joyful mood is contagious. Here's a list of a few great places you can see lights in Downtown and cool ways to see them, whether walking with friends and family or riding in a horse and carriage.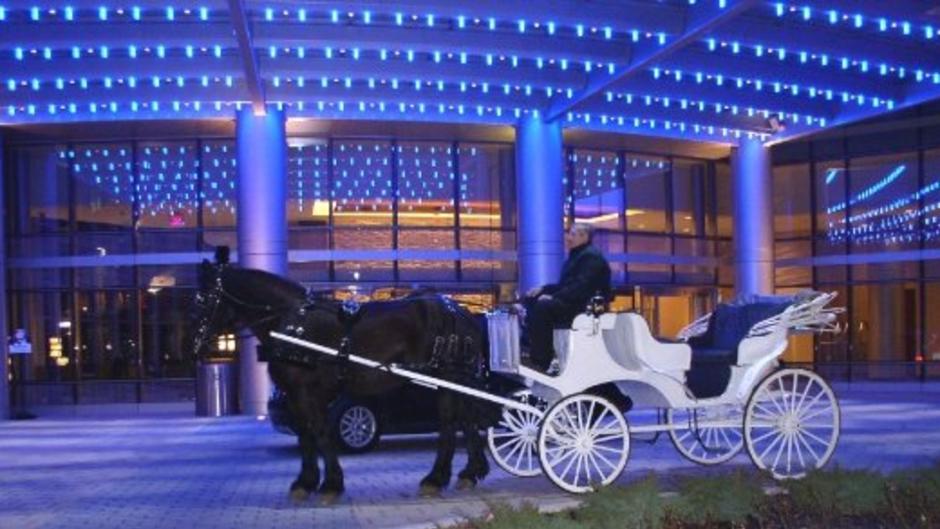 Take in the holiday sights while cozily nestled in the seat of a horse-drawn carriage.
Photo Credit: Classic Carriage LLC
---
Riding in Style
If an equine escort is what you fancy, you have two choices in Grand Rapids.
Classic Carriage L.L.C.  is found on the southwest corner of Pearl & Monroe, in front of PNC Bank and across from the Amway Grand Plaza Hotel on Friday and Saturday evenings, beginning at 7:00 pm (other days and times are by appointment only). The holidays are a popular time of year for carriage rides, so reservations (call 616-498-6090) are recommended, but walk-ups will be accommodated with availability. Rates start at $60 for a half hour.
Common Gentry Carriage Company is another local company offering carriage rides in downtown Grand Rapids on Friday and Saturday evenings. These rides include an optional narrated tour of the highlights of Grand Rapids's history. A half hour tour is $60 during the holidays. Located on the corner of Monroe & Lyon in front of Fifth-Third Bank, Common Gentry Carriage Company welcomes walk-up customers. Otherwise, call ahead (616-204-3190) to ensure your spot.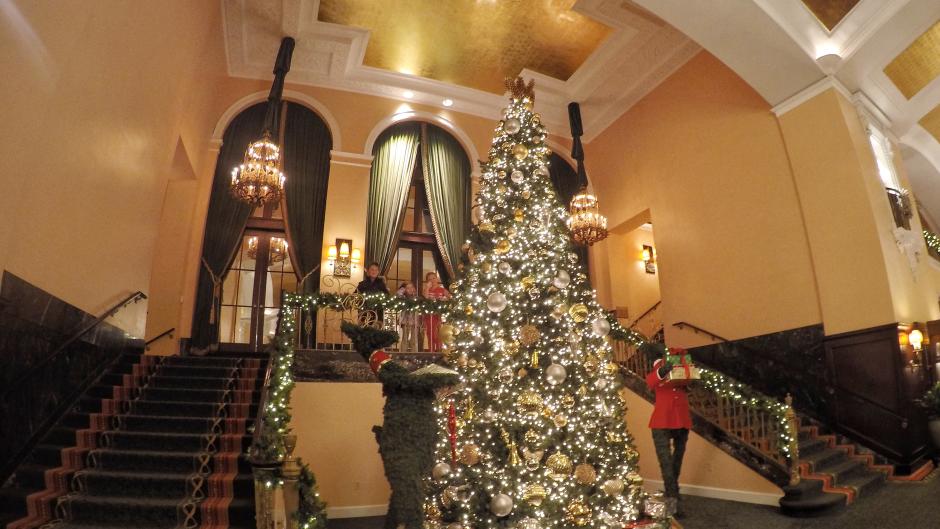 The halls of the Amway Grand Plaza are definitely decked for the holidays.
Photo Credit: Melody VanderWeide
---
A Winter Wander-land
If you're headed out for a walk with your family, you'll be able to peek inside some of the area's beautifully-decorated hotel lobbies. 
Head toward the river and stroll through the JW Marriott (235 Louis St, NW). Their tree-lined street is filled with lights that look like dripping icicles – fantastic!
After that, swing over to Monroe Avenue and check out the Amway Grand Plaza Hotel (187 Monroe Ave, NW). Inside and out, this place is ready for Christmas.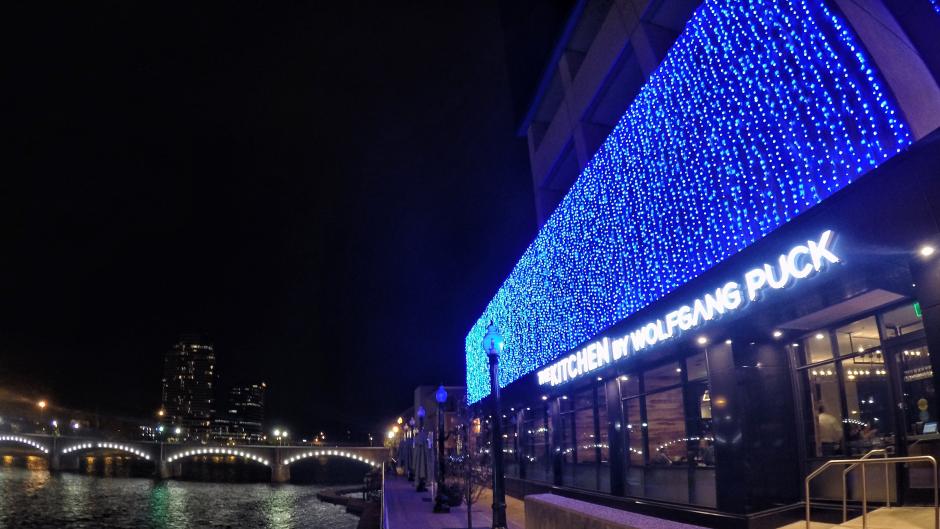 The nighttime riverwalk views are not to be missed.
Photo Credit: Melody VanderWeide
---
The riverwalk near the Amway Grand Plaza is also fantastic at night. Not only do you get a view of the big building light display, you can also gaze across the river at lit up bridges and the carousel at the Grand Rapids Public Museum.
Another definite stop on your self-guided light tour is Monroe Center and Rosa Parks Circle. Located at the heart of the city, you can see why this is the town hub. Electric blue trees with white orbs dangle from limbs throughout Rosa Parks Circle. Plus every tree from the GRAM to the GR Children's museum is illuminated along Monroe Center.
FYI: Monroe Center is the perfect place to warm up! Choose from Madcap Coffee, Kilwin's or, one of my favorites food stops, Brick and Porter.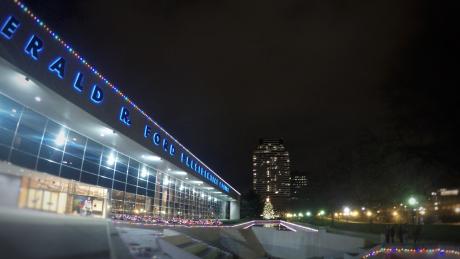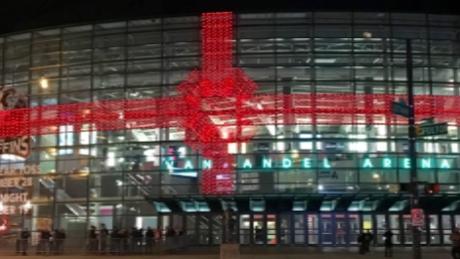 Familiar downtown GR landmarks dress for the occasion.
Photo Credit: Melody VanderWeide
---
Top off your walking tour with a trip over the Grand River to the Gerald R. Ford Presidential Museum (303 Pearl St, NW). The large Christmas tree's bright star will draw you in to colorful lights dancing in the reflecting pool.
Finally, swing by the Van Andel Arena (130 W. Fulton St) to put a literal bow on top of your evening – the whole building is lit up with a giant red bow, sure to put a smile on your face.
Continue the Holiday Cheer
Discover other ways to make this season merry and bright with our holiday events guide and Winter in the City page.
Never miss a post!
Subscribe to the Insider Experience blog.