On April 24th at 8:00 pm an event is taking place at the Van Andel Arena that you absolutely don't want to miss. That night you can immerse yourself in an experience called LiveArts, an event unlike any other, for which the Grand Rapids Symphony has teamed up with the Symphony Chorus, Grand Rapids Symphony Youth Chorus, Grand Rapids Youth Symphony and Classical Orchestra, Grand Rapids Ballet, Opera Grand Rapids, and Broadway Grand Rapids to bring you an unforgettable production about the vital role arts plays in our lives.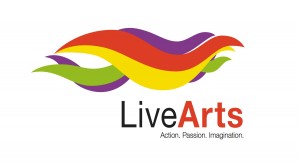 LiveArts is one of several events this season that celebrates both the Grand Rapids Symphony's 85th season and the culmination of David Lockington's tenure as Music Director of the symphony, says Roger Nelson, Vice President and COO for the Symphony.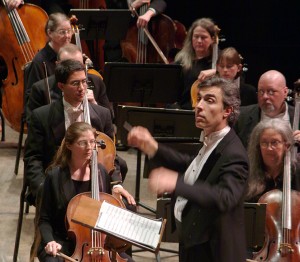 photo courtesy of Grand Rapids Symphony
"We wanted to do something different for our 85th anniversary," explains Lockington. He credits Nelson with conceiving of the idea of producing a collaborative event on this scale that would advocate for the arts in Grand Rapids. "We wanted to show the community the importance of these really fabulous performing groups and create a themed program focused on the creativity of young people."
"Jeffrey Buchman, Artistic Director for LiveArts, helped craft a narrative for the substantial production. I helped create an arc for the entire evening making all of these different organizations feel seamless. Its an evening thats geared towards telling one story for one purpose: celebrating youth and their creativity, their contribution to the arts organizations, and their contributions to Grand Rapids."
To tell the story, Buchman decided to focus on the story of one boy who is so moved by the music of the cello that he longs to master the skill it takes to play the instrument. "I thought we needed to craft the evening in a way that identifies what we all have within us at some point in time: the desire to create," explains Buchman. "First comes the desire, then the understanding of the skill and the mastery, and then we have a vehicle to express ourselves. I began by catching that moment when a child sees or hears something and is transformed inside at that moment. He figures out he has to learn to do that in order to exist. For this child it's the cello. There's some beauty he senses at the outset, but he's not quite able to express himself yet. Throughout the evening, the adults help him to figure out how to do that and the performance spills out to the entire arena."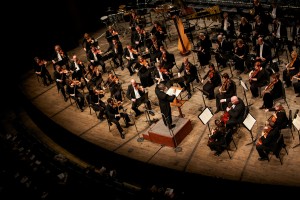 photo courtesy of Grand Rapids Symphony
"At times it's very intimate and at times it's very grand. It envelops the audience and pulls them in. It's something they really get to experience rather than just listening or observing."
But the message isn't only about children touched by the arts, says Denise Borton, Vice President for Marketing & Communications for the Grand Rapids Symphony. "That child could be anybody," she explains. "The child is used to tell the story but it could be someone in their 30s, 40s, or 50s. It's more about that journey and that desire to create. It's about what art can do for you and what that means in your life."
The participating organizations chose a repertoire that includes familiar music, regardless of whether you're an opera or symphony aficionado. "Even if people aren't familiar with the opera or Broadway, there's a very good chance that they'll recognize the songs," explains Lockington. "At the end of the first half of this program, people are going to hear part of Carmina Burana. A lot of people will be very familiar with the repetitive, dramatic quality of the music, which has been used in many different settings. The ballet will be dancing to the music. So the musical piece will be familiar and it will be enhanced by the spectacular dancing of the ballet company."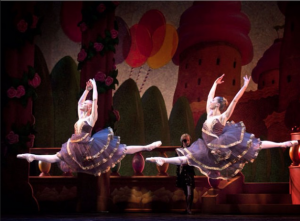 photo courtesy of Grand Rapids Ballet
Audiences will be further moved by LiveArts' use of technology and creativity to add to the depth of their experience. "In addition to hearing the music and watching the performers, people will see images of the performers larger than life on the screens as well as coordinated lighting and graphical images," says Nelson. "In an ordinary concert presentation of the symphony, we're asking people to use their imagination," he explains. "This show is different because throughout the evening, there's a variety of visual enhancement. The entire evening is a musical performance and a visual presentation."
Despite the number of performers and the various organizations involved, Buchman's artistic direction keeps it from feeling like a potpourri, says Lockington. "Each of the elements are a part of the journey, which reflects the path towards potential mastery of an instrument."
Buchman says it's a great example of different genres coming together for one purpose. "There are moments when I'm not even sure that the audience will know that were switching from one genre to another! I think that musically it will be as seamless as the visuals," he says.
Another novel aspect for audience members will be that not all of the performances originate on a traditional front-of-the-room stage. "We've really worked to break down the boundaries of what the stage is," explains Buchman. "We're creating a series of elevations where things are happening, this expands out into the arena itself, onto the arena floor at times and into the aisles. The audience will have the sensation of not knowing where the next moment will be playing, which will add to the beauty and wonder of the evening."

Grand Rapids Symphony Chorus, photo courtesy of Grand Rapids Symphony
"There's a moment which will be very exciting because the whole auditorium will feel like a mass choir," says Lockington. "But right after that we're playing part of Beethoven's 9th Symphony and my hope is that people will be inspired to hum along with the beginning of it. Its a melody that people are very familiar with and I love the idea that people will feel relaxed enough that they can actually join in with this iconic melody that points towards the brotherhood and sisterhood of humanity and speaks directly to the creativity of every individual."
"My hope is that well give people something they'll take away for a very long time," says Buchman. "We've all had events in our life that we can look back on twenty or thirty years later and identify as the moment when we felt something that made us change the way we thought about ourselves. It's a moment that lasts beyond the moment. That really is the focus of what were trying to create."
"This is a celebration of beauty on every level. Its about the beauty of the human spirit. I think its going to be visually beautiful, sonically beautiful, and I want people to feel that theyve taken a core of beauty home with them," says Lockington.
Tickets begin at $32.50 and can be purchased on Ticketmaster. There is also a gala event that includes dinner, VIP seating and an after-party.