I often feel that the excitement of the holidays gets me through the first bout of cold weather in West Michigan. But, after the festivities and twinkle lights have disappeared, some of my tolerance for winter weather disappears too, and I start to find the chilly temps and mounds of snow tedious. 
To help you add some luster to all of your winter adventures, I'm here with some outfit ideas sourced from some fantastic local shops, as well as fun activities to go along with them! Whether you long for beautiful winter snow or want to cure your own cabin fever, pack a bag and make your way to Grand Rapids for a vacation (or staycation)!
Winter in the Midwest isn't for the faint of heart, so you may as well do it in style.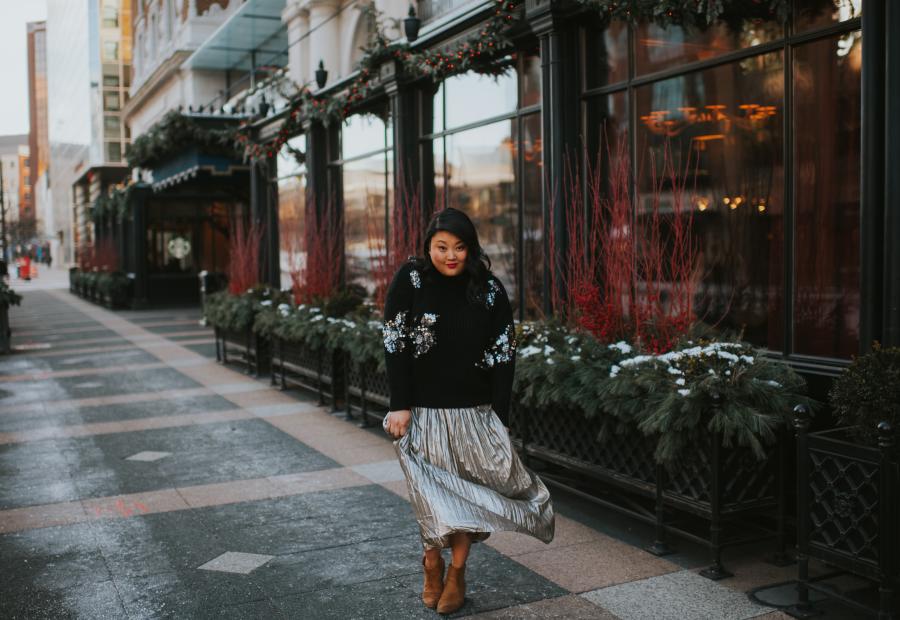 Textures and pops of color go a long way to add some excitement to winter outfits.
Photo by Experience Grand Rapids
A Little Glam All Season Long
One of my favorite ways to look festive, even after the holidays have passed, is by playing with different items and textures: a sequined sweater, shimmery materials, or even pops of color go a long way. Each allows you to express your personality and unique style without looking like you're headed to a Christmas party.
I found this glitzy sweater at The Counting House. Located on Wealthy Street in the Uptown neighborhood, this shop is always full of lovely finds, including apparel and accessories. I wore it over a dress from Spring Sweet, which you can find about half an hour away in Holland, to bring out the shades of silver and gold in the sequins. 
I love wearing boxy sweaters with maxi skirts or dresses! Instead of reaching for the usual jeans or chinos, this combo puts a different spin on your look while making sure you still stay warm in the chilly elements. 
Activity Ideas for this outfit: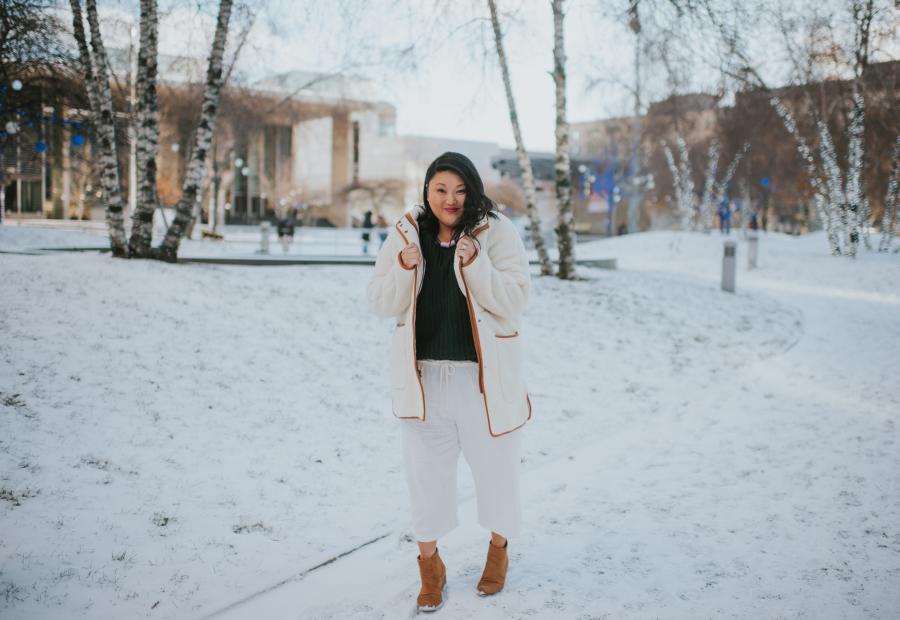 A pullover sweater will keep you cozy under your coat during outdoor winter activities like ice skating.
Photo by Experience Grand Rapids
Sweater Weather Cozy
A weekly go-to outfit for me is a soft pullover. Don't let pullovers fool you - even though they're on the simple side, they provide a lot of impact if you choose them in bolder colors.
The Found Cottage in Hudsonville is my favorite spot for cozy sweaters. They always have a great cardigan or pullover that I can add to my winter line-up. This year, they have a longer knit one that I fell in love with. While I would typically reach for the cheery red or berry color options, I opted for deep green. It reminded me of the color of pine trees, and it doesn't get more wintery than that! To accessorize, I added a beaded necklace from Frances Jaye–another great local shop in downtown Holland.
Activity Ideas for this outfit: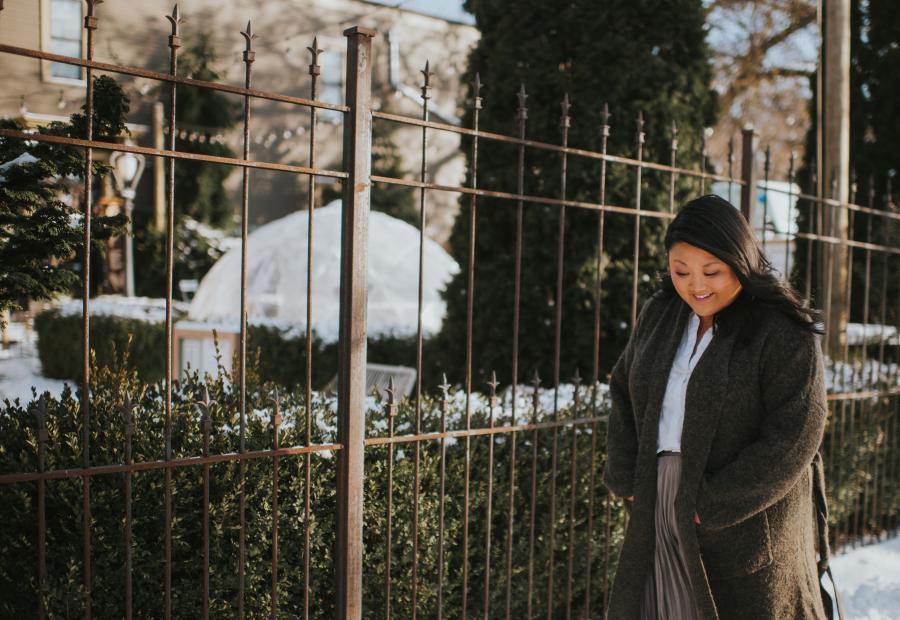 Combine items you normally wouldn't to bring life to tired winter looks.
Photo by Experience Grand Rapids
Unexpected Combinations
I like to combine items that you might not expect to bring some life into otherwise tired looks. In this case, the shimmery pants brought the flair I was looking for to this classic sweater duster.
This long sweater is a find from Lee & Birch on Wealthy Street (right across from The Counting House!), and it can double as a coat for milder days. I paired it with a crisp white shirt and flowy pants that were another find from Spring Sweet. A simple bar necklace from Frances Jaye completed the ensemble.
Activity Ideas for this outfit:
No matter what kind of weather this winter brings, I hope you now have some fresh ideas on what to wear and a few local activities to enjoy in Grand Rapids. Share your own locally curated outfits this winter using #EXPERIENCEGR.