Grand Rapidians are as hardy as they are hungry – so local restaurants and breweries knew we'd show up to drink and eat outdoors in the dead of winter, even if we had to wear a coat and hat. Join us outside on heated porches, patios, decks and greenhouse-like domes and structures to enjoy some socially distanced food and drink … and if you're lucky, some magical snowfall views.
Outdoor spaces may require advance reservations. While we're doing our best to keep this list up to date, information like operating hours, menu items, and ordering procedures, just to name a few, are rapidly changing. Always check a restaurant's website or social media before you go.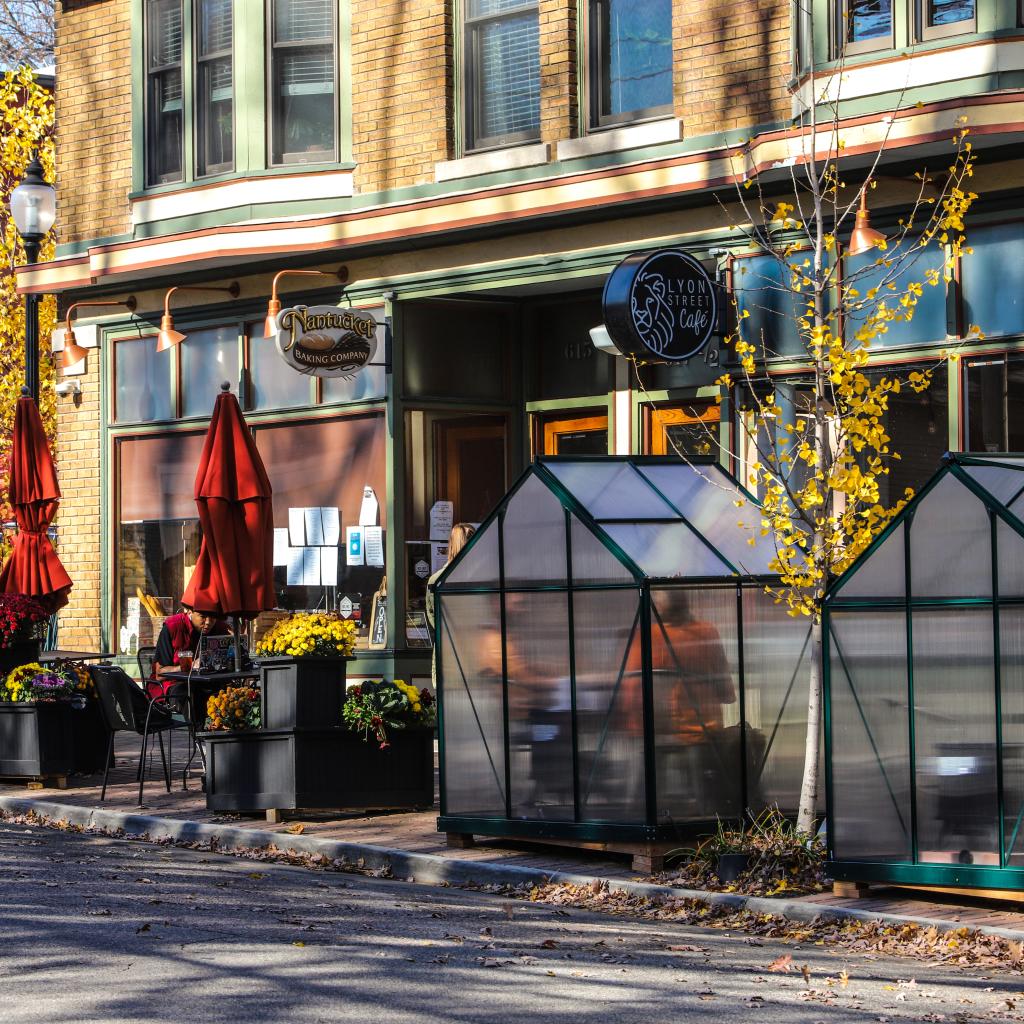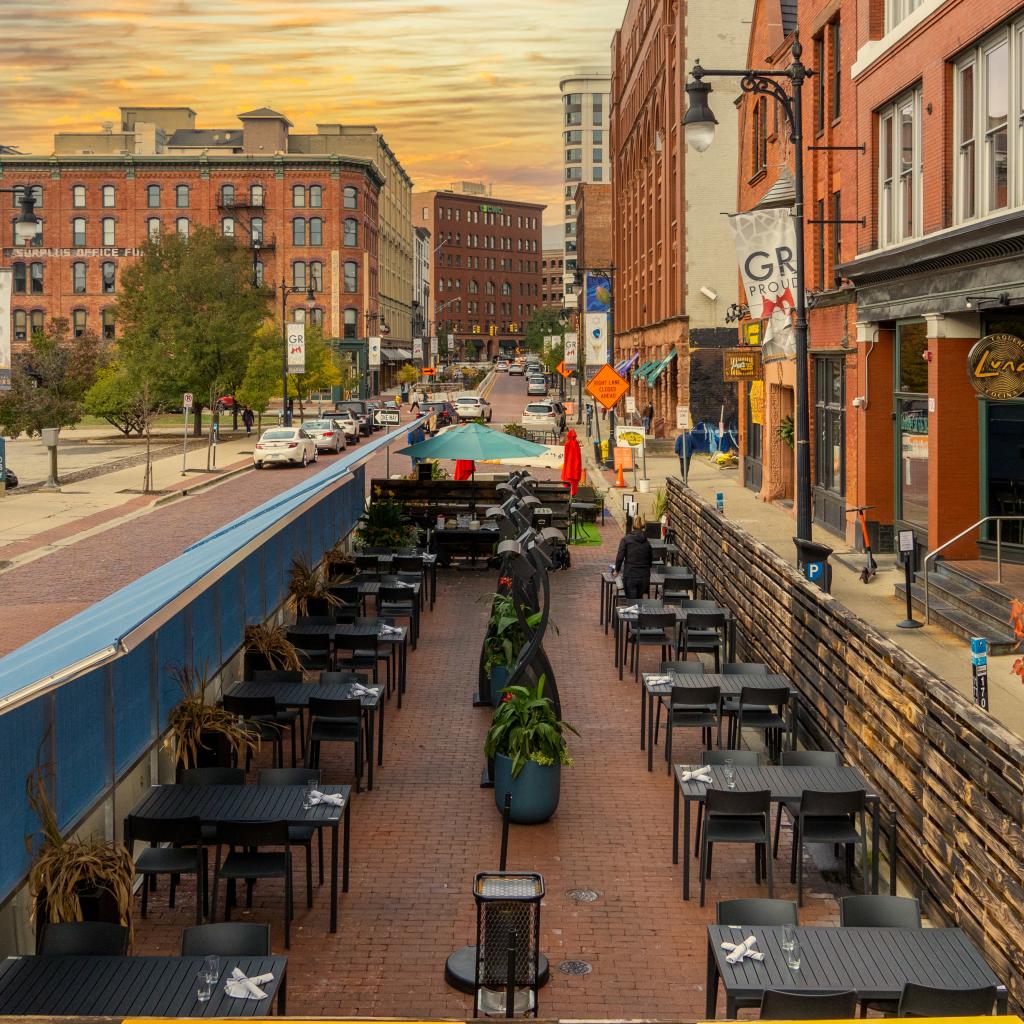 Outdoor dining with heaters and private enclosures options like at Lyon Street Cafe and Luna GR.
Photo Credit: Experience Grand Rapids
---
Downtown
COMING SOON: Michigan's longest-running LGBTQ+ bar has created a four-season outdoor space with forced-air heating for winter … perfect for cocktails and conversations.
An authentic taste of the islands – from-scratch empanadas, Cuban sandwiches, steak jibarito and more – adds even more warmth to the heated dining space outside this downtown restaurant. 
Clear-walled, single-party warming shelters outside this downtown brewery keep patrons safe and cozy as they dine, drink and people-watch at the corner of Michigan St. and Monroe Ave.
Creative pub food and lots of crafts beer are on the menu at this downtown destination, which has 5 heated greenhouses that fit 6. COMING SOON: Brick & Porter also built a heated, partially enclosed shelter to ward off the cold. 
Enjoy fresh-made Mexican food and bar drinks at outdoor tables warmed by tower heaters, in the middle of a Downtown Social Zone. 
This Monroe North brewery has created The Welcome Center - a heated (and spacious) open tent in the parking lot across from its taproom.
The city's longest-running bar and restaurant (93 years!) has added an enclosure above its outdoor patio and installed electric and propane heaters.
The Amway Grand Plaza, Curio Collection by Hilton hotel in downtown GR has set up and outdoor bar at the corner of Pearl and Monroe – enjoy chili, hot pretzels, warm beverages and drink pouches amidst heat towers and tabletop fire pits. 
Four personal greenhouses, each seating up to four people, are situated in the Social Zone outside this North Monroe breakfast and lunch spot. You can even contactless order from your smartphone in the private greenhouse. 
Treat yourself to authentic Irish hospitality, food and drink in the heated, partially covered dining area outside this enduring downtown fave.
The outdoor beer garden at the city's largest brewery is open and heated for winter business – every day from 11am-6pm in a first-come, first-served basis.
This Monroe North neighborhood favorite has built a street-side canopy with partially enclosed sides for customers to comfortably dine and drink outside in colder weather. 
Six outdoor urban domes each accommodate up to six people from your household for limited-service – it's drinks and grub in a bubble!
Cozy global pub in the North Quarter has covered (but not enclosed) its outdoor patio and added heaters to create a spacious and comfortable dining space.  
Custom domed and heated enclosures outside the front door of this downtown wine and charcuterie bar offer one-of-a-kind private dining experiences.
This French-inspired downtown eatery is transforming its warm-weather patio into a winter wonderland with six private domes for riverside dining (and viewing).
The heated, enclosed patio at this Medical Mile-neighborhood pub is equipped with a hospital-grade HEPA filter to circulate fresh air around the space.
Located in downtown's Heartside Social Zone, this award-winning Mexican restaurant has installed large heaters to warm guests on its enclosed patio.
Enjoy al fresco winter dining in the private greenhouses outside this Heritage Hill eatery, which specializes in high-quality beverages, sandwiches and baked goods.
This New American tavern at downtown's Studio Park has outfitted its outdoor space with picnic tables and tower heaters, heated huts and a heated, open-sided tent (which hosts live music!)
Heated private spaces in this downtown eatery's outdoor "dining village" (COMING SOON) provide a cozy spot to enjoy distinctive cheese and charcuterie plates, locally sourced dinner entrées and an exceptional wine list.  
Heated shanties outside this downtown favorite are equipped with carpeting, chandeliers and framed photography to deliver an elegant and safe outdoor dining experience. Call for reservations.
One of downtown's favorite casual restaurants has installed heated enclosures on the spacious sidewalk outside its convenient location in the Center City Social Zone.
Coffee, tea, pastries, desserts, light bites and more can be taken out on the heated patio at this popular gathering spot. This location features heated sidewalks and outdoor heaters.
The eclectic New American menu at this casual Medical Mile restaurant and pub can be enjoyed on the heated outdoor patio.
Located in downtown's Hyatt Place Hotel, this Southern-themed restaurant and bar has equipped its outdoor space with heaters for the winter and shanties. 
This pizzeria and sports lounge has installed heaters on its spacious open patio in the heart of downtown.
This downtown mainstay serves guests on its heater-equipped front patio and hosts Pop Up Bars with food and drink specials every Wednesday and Saturday from 4pm-8pm.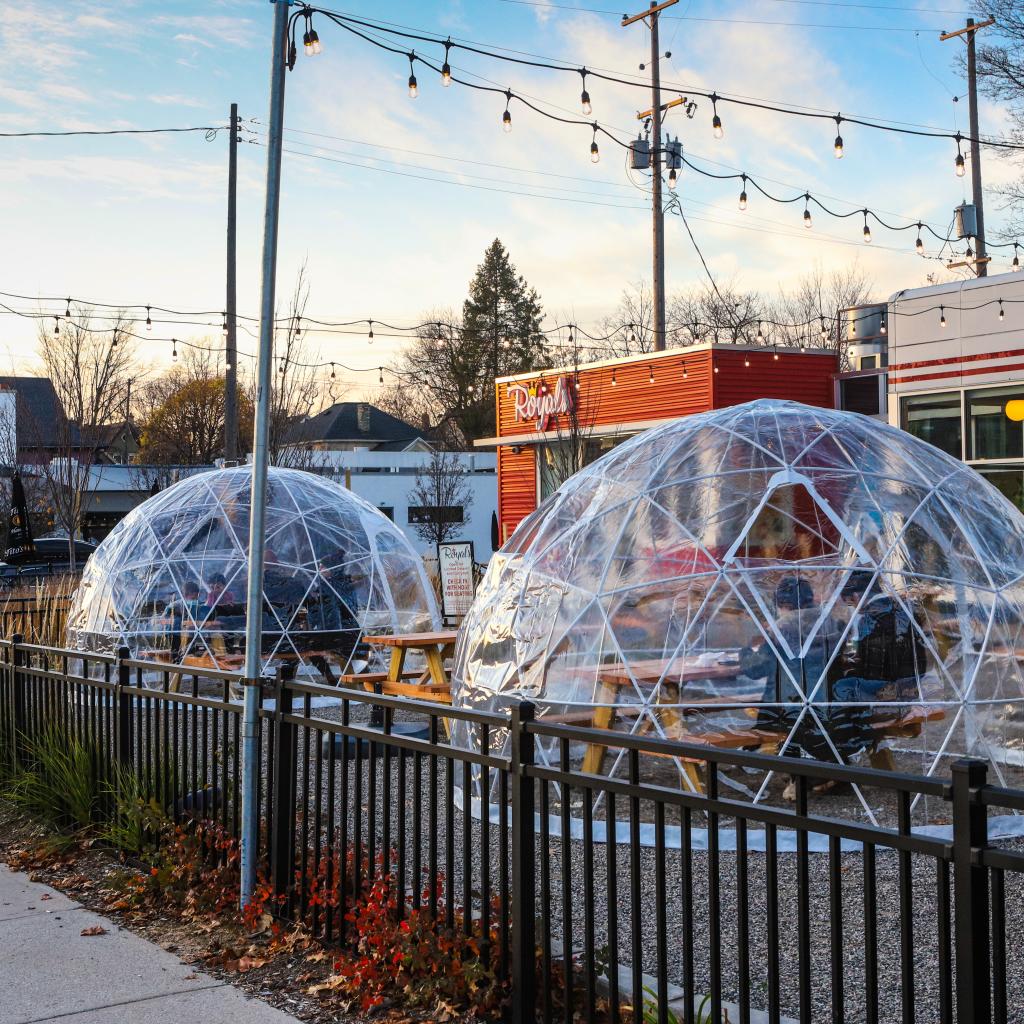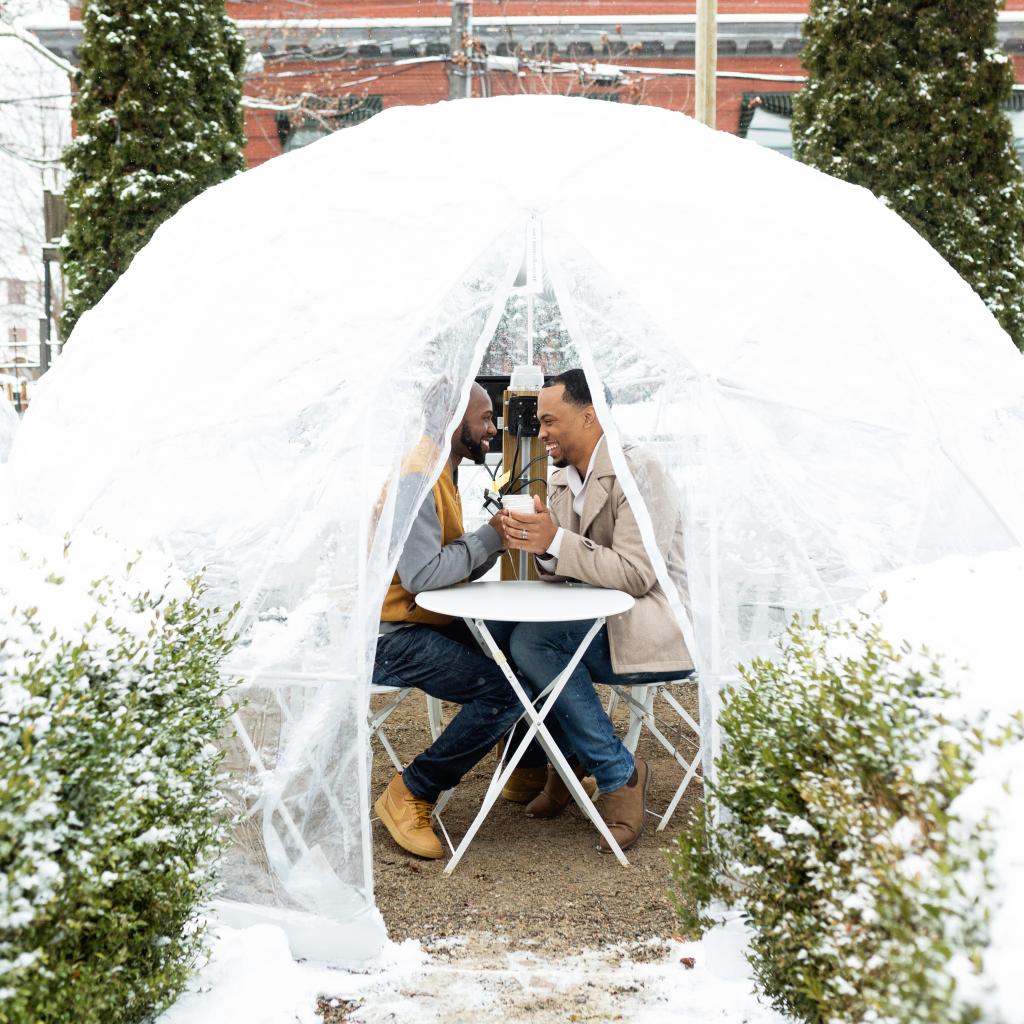 Domes are the perfect options for a private winter experience. (Royals and Outside Coffee Co.)
Photo Credit: Experience Grand Rapids
---
Uptown
Enjoy Michigan farmhouse ales and creative food dishes in the heated beer garden outside this destination brewery in Uptown.  
The heated open patio with newly added shanties (first come first serve) at this rustic-industrial brewpub in Uptown is a perfect spot to enjoy a pint or a flight … and you can bring in your own food (or have it delivered)! 
This one-of-a-kind Mexican street food concept offers heated outdoor domes for contact-free dining – up to six people per dome.
The new covered patio at this creative, eclectic Uptown restaurant features socially distanced tables and powerful heaters.
The Uptown location of this award-winning local coffee shop has added heaters to its outdoor dining space (as if the hot coffee wasn't warming enough).
Uptown's community-based coffee shop adds two private domes to its outdoor garden this winter. Reservations required to allow deep cleaning between seatings.
Outdoor private greenhouses provide a cozy spot to enjoy a delectable assortment of fresh-vegan and gluten-free baked goods plus amazing coffee drinks.
This Uptown-neighborhood diner has installed six-person domes on its patio – heaters included! Domes undergo electrostatic cleaning between each seating. Reservations required.
Uptown's newest destination for handcrafted beer, wine, hard seltzer and cider has outfitted its patio space with heaters and a fire pit. Two greenhouses added on patio. (First come, first serve.)
The "Winnie wonderland" outside this popular Uptown restaurant/pub features three domes and a festive vintage food truck, all outfitted for contact-free dining.
Uptown's home of modern European cuisine offers six first come-first serve heated greenhouses for your dining and drinking pleasure.
East Grand Rapids
Al fresco seating at this East Grand Rapids eatery known for its Mexican and Polish dishes include four outdoor dining huts and a heated tower for warming other outdoor tables.
Enjoy a beautiful view of Reeds Lake along with delectable food and drink on the heated patio of this historic East Grand Rapids eatery.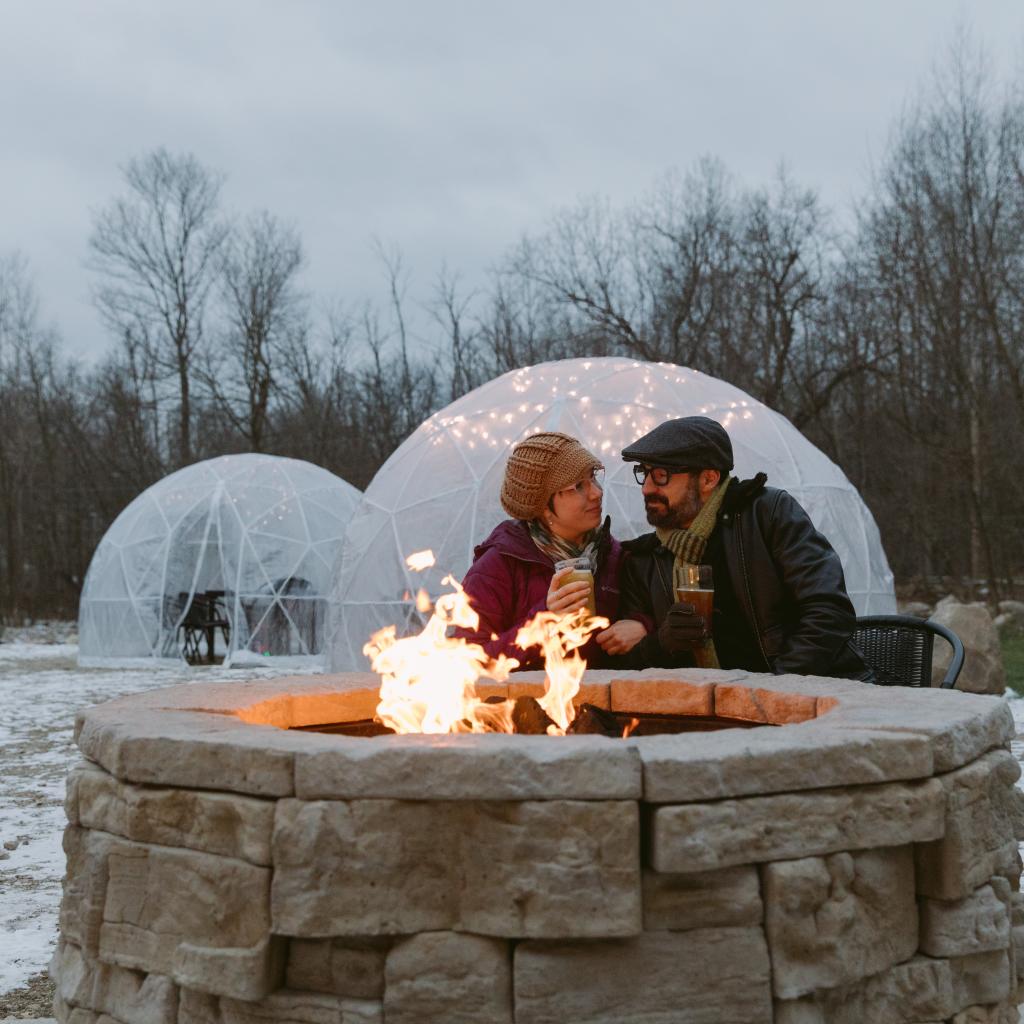 Fire pits, domes and heaters, oh my! Cozy up at Third Nature Brewing Company.
Photo Credit: Experience Grand Rapids
---
Northeast
This northeast-side favorite is adding shelter and heaters to its outdoor space to keep fans of its micro-batch beer, wine, spirits and food warm and satisfied!  
Heaters, firepits, and freshly laundered and sanitized blankets await guests on the beautiful lakeside patio at this northeast-side eatery.
Enjoy the food and the view from the enclosed patio at this lakeside eatery near Rockford. Massive heaters keep you warm and comfortable.
This northeast-side favorite has installed add heaters to its outdoor deck so it can continue to deliver the fun atmosphere and great service it's known for, even in cold weather.
Ski resort just 20 minutes from downtown Grand Rapids offers domes and fire pits plus an assortment of food and warm drinks on the ski lodge deck. Contact for dome reservation. 
By popular demand, this northeast-side brauhaus and restaurant has opened an "Outdoor Loading Dock Biergarten" complete with tables and tower heaters. 
Dine on the heated outdoor patio at this family-owned and operated restaurant in the heart of Plainfield Township.
Outdoor "Dog Houses" (tents) at Rockford's iconic hot dogs-and-more joint offer heated comfort and contactless dining. Reserve online or sign up at the bar if there is availability.
Enjoy handcrafted brews and fresh-made food on the heated patio at this northeast-side favorite.
The fireplaces are roaring and the heaters are cranked up to high on the cozy outdoor patio at this popular beer, wine and food destination just off I-196 at the East Beltline exit.
Tower heaters on the outdoor patio welcome guests who want to enjoy a local beer or HopCat food favorite (like the Cosmik Fries!).
Clear domes on the front patio of this North Quarter neighborhood eatery protect guests from the elements while they enjoy scrumptious food, beer, wine and cocktails.
Enjoy great food and beer from this award-winning brewery among the picnic tables and fire pits of downtown Rockford's Outdoor Refreshment Area.
This rollicking northeast-side sports bar and restaurants keeps the chill summer vibe going all winter long in a heated outdoor tent.
This friendly neighborhood restaurant and bar has outfitted its patio with tents, heaters and six-person domes to accommodate the hungry and thirsty.
Enjoy coffee, tea and cocoa around the huge fire pit on the outdoor patio – and when you're finished, head inside (with your face mask) to browse a selection of bicycles and camping gear.
The outdoor biergarten at this Rockford brewery is equipped with heaters, fire pits and private enclosures for up to six. Visit website to make a reservation. 
The beautiful patio at this Rockford eatery boasts heaters, fire pits and a massive fireplace — ideal for enjoying delectable drinks and/or Timbers takeout dishes (drinks-only on Mondays).
Enjoy hard ciders, apple wines and a handcrafted menu featuring local products beside a fire pit on the outdoor patio of this northeast-side favorite.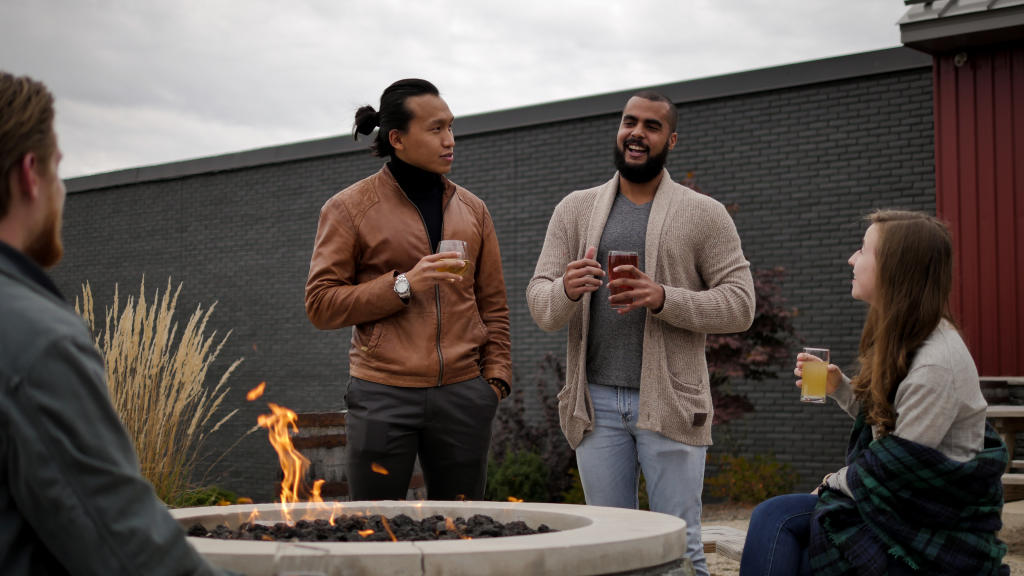 Vander Mill Cider - Patio.
Photo Credit: Experience Grand Rapids
---
Northwest
The spacious patio at this popular hangout near Grand Valley State University boasts heaters, firepits and personal domes for outdoor dining and drinking in comfort. 
This microbrewery 10 minutes north of downtown Grand Rapids now serves up a wide range of draft craft brews and pub grub in its outdoor patio domes. 
Heated domes on the front patio of this northwest-side restaurant/bar offer a view of bustling downtown Standale as well as a cozy spot for enjoying some delectable food and drink.
Located just a few miles southwest of Grand Rapids, this Allendale microbrewery serves handcrafted beer, cider and seltzer on its open, heated patio.
The patio at this northwest-side fast-casual "Italian ristorante" is equipped with overhead heaters to keep guests warm and cozy.
Southeast
This small-batch Alger Heights brewery: safe, comfortable, weatherproof outdoor dining. Reserve shanties right outside. 4 people max. 2 people min. Reservations strongly encouraged.
Savor the flavor of comforting entrees and handcrafted drinks on the heated patio of this southeast-side favorite.
This Ada brewery serves unique beers and a delicious spin on traditional pub food on its outdoor heated patio.
An open-air bar and grille for open-minded people, this southeast-side restaurant also offers a heated open-air patio for cold-weather dining.
Private domes on the patio of this southeast-side eatery seat up to six people from your household for crave-able family cuisine and craft beverages.
The wraparound covered porch at this popular Ada dining destination is warmed with heaters in winter.
Savor house-made beers, spirits, wine, pizza, sandwiches and more in an outdoor dome at this southeast-side destination. Call to reserve. 
Enjoy a vast selection of Italian favorites on the outdoor heated patio at this southeast pizzeria and sports lounge.
Southwest
Enjoy an evening sipping delicious ciders under the stars in a heated dome at this southwest-side cidery. Online reservations required and guests must be 21+ only.
Socially distanced tables and well-spaced heaters outside this southwest-side craft brewery provide a safe, comfortable way to enjoy hearty German-, European- and American-style beer and food.
The outdoor space at this southwest-side microbrewery, winery and restaurant is equipped with a series of tents, each seating up to six people.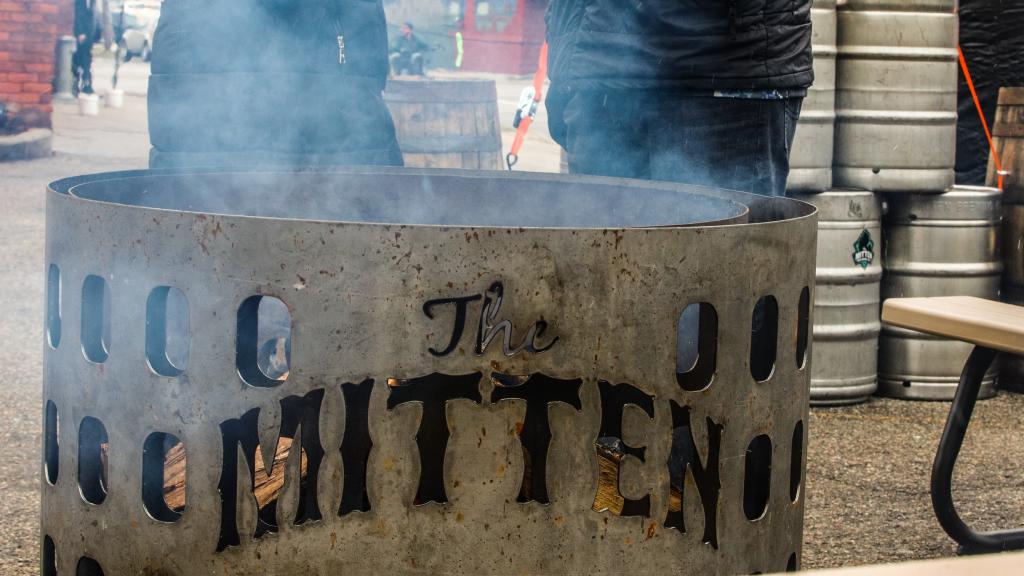 The new "Base Camp" winter social zone at Mitten Brewing Co.
Photo Credit: Experience Grand Rapids
---
West Side
This newcomer to the Bridge Street entertainment district serves its signature build-you-own tacos, nachos and bowls on a spacious back patio equipped with tower heaters. 
Head over to the Standale business district for award-winning beer and from-scratch food under the heated patio tent – it's open on the sides to facilitate airflow.
This West Side brewery has erected a heated tent (including only one side wall) in its outdoor space for lovers of its fresh, small-batch ales. Guests can order in/bring their own food from local restaurants.
Opening January 7th. This Bridge Street crowd-pleaser serves up its quality spirits and American regional food specialties in their split "greenhouse" – an outdoor tent that is enclosed and heated for the winter. Reservations required. Holds up to six.
The patio bar and bier garden at this Westside institution (115 years in business!) is open for socially distanced outdoor dining and drinking.
Welcome to the Base Camp – the new outdoor dining space at this vintage baseball-themed microbrewery/pizza place on the West Side. Base Camp includes 7 outdoor tables and fire pits throughout. Reservations are required and The Mitten is only accepting same-day reservations. Please have your food order ready when you make your reservation.
Fire pits on the semi-enclosed patio area of this Bridge Street brewery keep patrons warm and toasty. Reservations required. Outdoor Beer Garden Weekend Pop-Up Hours: Thursday 3pm-8pm; Friday 3pm-8pm; Saturday: noon-8pm; Sunday: noon-6pm.
Inside a private bell tent at The Søvengård.
Photo Credit: Samantha Ruth Photography for The Søvengård
---
This Westside hangout known for it farm-to-table dining experience has transformed its outdoor biergarten into a heated wintergarten. Patio heaters, fire pits and private "glamping" style bell tents included. 
This post was last updated: 3/1/2021
Narrow your search by cuisine type and specific amenities offered
Never miss a post!
Subscribe to the Insider Experience blog.