If cabin fever has kicked in thanks to the low temperatures and mounds of snow outside, it's time to bring a little summer fun to your winter.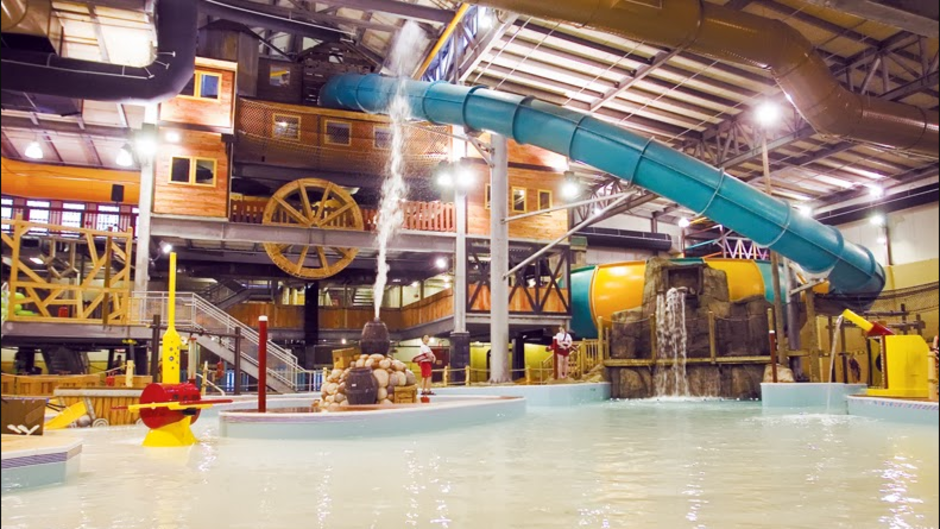 Gold Rush Water Park at Double JJ Resort
---
The Grand Rapids area has several family oriented water parks, two of which are within 10 miles of downtown and, based on availability, you can buy a day pass for their water parks without staying overnight. The other two are slightly over an hour away, making them perfect destinations for a quick overnight getaway.
Castaway Bay at the Ramada Plaza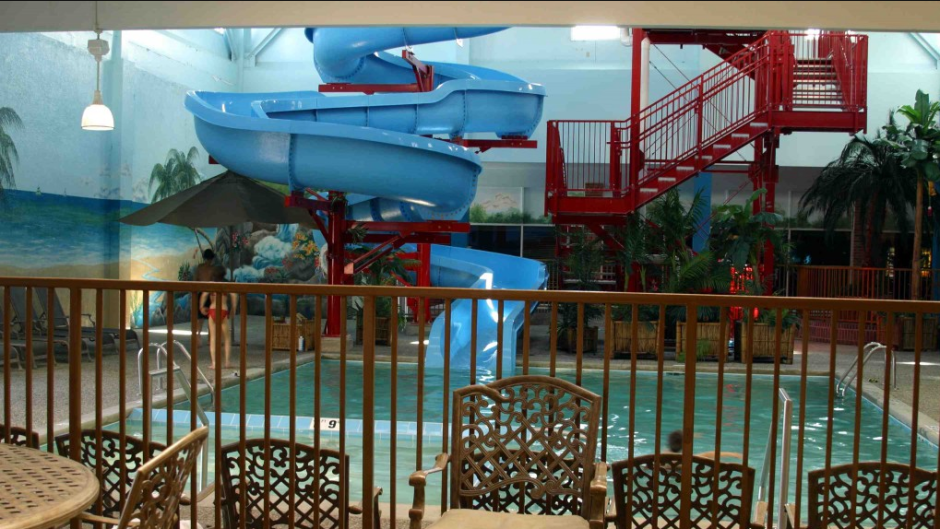 ---
You'll feel more relaxed as soon as you walk into this 70 + tropically-themed pool area. Both kids and adults will enjoy zipping down the 180-foot waterslide into the heated pool, which they keep at a toasty 80-84 according to Kristin Ingersoll, CTA, Sales Manager at the Ramada Grand Rapids. Castaway Bay also includes a hot tub, called the Tiki Spa, for adults 18 years and older and a game room where kids can play arcade games, air hockey, ping pong and pool (adults can play too!). If you prefer, you can kick back in the seating area and catch a show on their suspended televisions.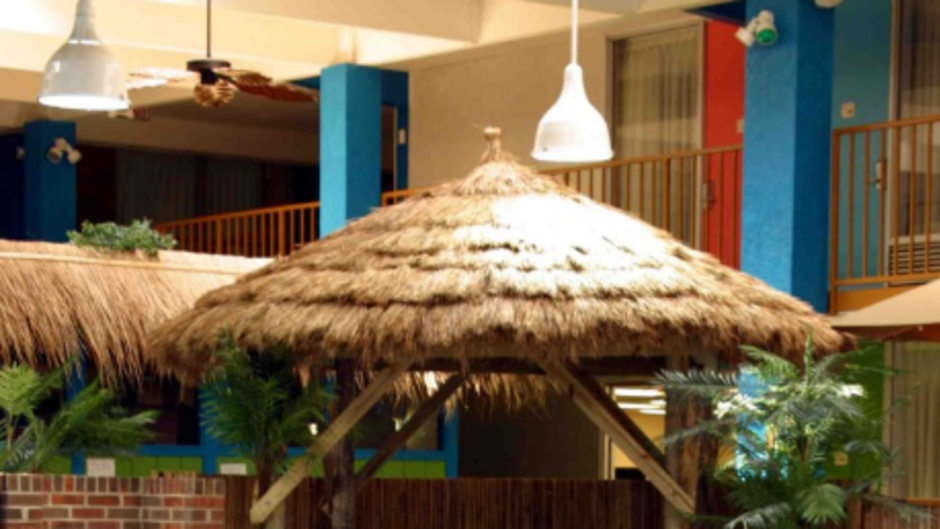 ---
Overnight guests with a standard room receive four water park wristbands with the price of their room. Guests who stay in a suite receive water park 6 wristbands. (You can buy additional bands at the front desk if you need them.)
Castaway Bay welcomes day guests who aren't staying overnight, but you should always call in advance to make sure the slide is open and the water park isn't already at capacity. Day passes are $15 per person.
More Castaway Bay/Ramada Plaza info Current Castaway Bay hours
The Big Dip at the Holiday Inn Express Grand Rapids South
The 10,000 square feet of water park fun at the Big Dip includes a 3-story figure eight-shaped waterslide, a vortex pool, zero depth entry (perfect for young children), and a hot tub for adults and teenagers 16 and older. The air temp is a balmy 85 and the pool water is kept at 80-82, a pleasant change if youre seeking refuge from the wintery outdoors.
Collette Robinson, Front Desk Agent at the Holiday Inn Express & Suites Grand Rapids South, says that overnight guests in a standard room receive 4 water park passes with their room and can purchase one additional wristband for $20. If your party includes more than 5 people, you can book a suite, which sleeps 6 and includes 6 wristbands. Robinsons says the Holiday Inn also offers special loft suites that sleep 7-8; these suites includes 7 wristbands.
During the winter, local residents whod like to purchase a Day Pass for the water park can do so on Sundays from 1:00 7:00. You can purchase one pass for $20 (+tax) or a package of 5 passes for $75 (+tax).
More Big Dip/Holiday Inn Express info Current Big Dip hours
Gold Rush Water Park at Double JJ Ranch & Golf Resort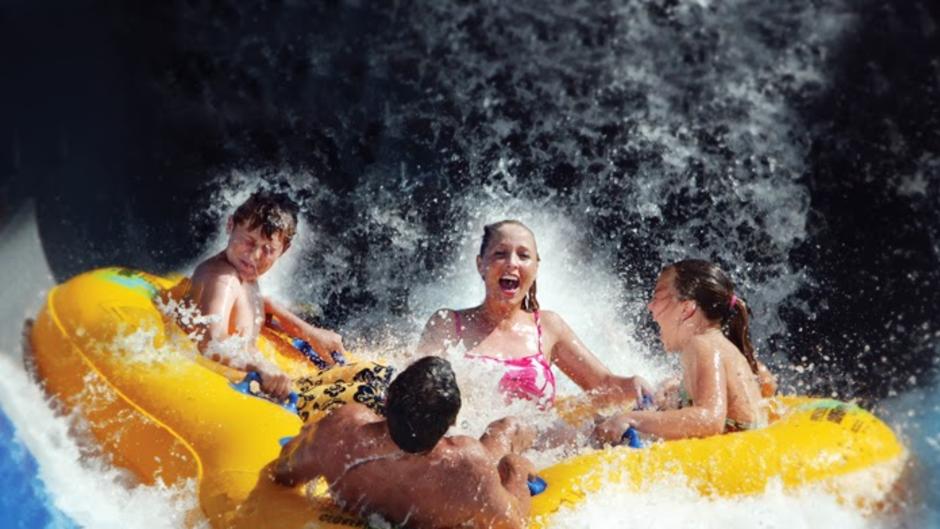 ---
While you may think of Double JJ Ranch as a place to play in the summer, their indoor water park, Gold Rush, is a great winter destination. At just over an hours drive, its far enough to feel like youre getting away but close enough to go just for one night.
Thrill seekers will love racing down Rustlers Gulch, West Michigans tallest indoor waterslide. Gold Rush also boasts three other waterslides, including Thunder Canyon, a four-person white-water raft ride that will keep the whole family laughing. Kids who like waves will go crazy for the wave pool, while others will enjoy shooting water guns in the Lost Mine, playing basketball in the Golden Pond, or floating around the lazy/crazy river. Little ones can splash around in their own toddler pool and adults can relax in the adult-only hot tub. (Theres also a hot tub for all ages.)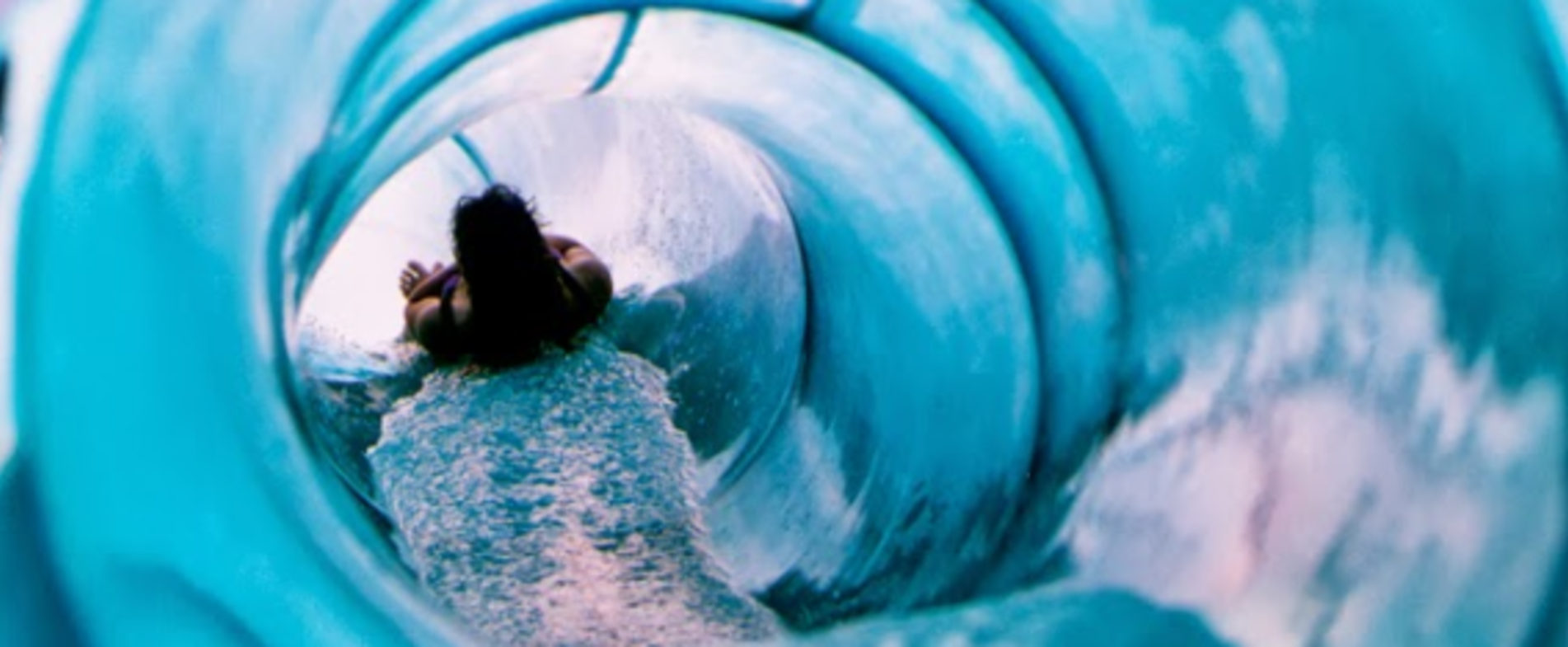 Passes for the water park are sold separately from the rooms but are only available for overnight guests. (No Day-Only Passes.) The water park passes cost $25 for people 42 and taller; $20 for kids under 42. Ages 3 and under are free. Double JJ Resort often offers packages that include water park passes with the room check their website for details.
More Gold Rush/Double JJ Resort info Current Gold Rush hours
Surfari Joe's at Fairfield Inn & Suites, Watervliet
At this 20,000 square feet wilderness-themed water park you can zoom down two enclosed tube slides, Rhinos Rage and the 305-foot Hippos Hollow. Guests can also enjoy the lazy river, heated pool, hot tub, and a kids play area with mini-slides. When you're ready for a break from the water, Surfari Joe's also includes an arcade with games for all ages or you can grab a bite to eat at the Water Hole Restaurant.
Surfari Joe's is a little over an hour south of Grand Rapids, at the Fairfield Inn & Suites in Watervliet. Passes to the water park are $25 per person per day, or $13 per person for a session. Session hours vary but typically run from 11AM 3PM, 3PM 6/6:30PM, and 6:30PM 10PM. During the winter, the water park is open on Friday, Saturday, and Sunday.
"You can purchase a day pass for Surfari Joe's," says Andrew Edwards, Guest Services with Surfari Joe's, "as long as its not at capacity. Be sure to call ahead to check!"
If you're staying overnight, water park passes are sold separately from overnight rooms. Edwards suggests checking Fairfield's current packages before you book your room, because they often have promotions that include water passes.
More Surfari Joe's/Fairfield Inn info Current Surfari Joe's hours
Never miss a post!
Sign-up for the Insider Experience blog.