Grand Rapids is the city I've called home my whole life. And while I've traveled Michigan thoroughly over the years, I've struggled to embrace Michigan winters once the holiday decor comes down. That is, until downtown Grand Rapids started hosting the World of Winter in 2018. 
World of Winter is an annual, two-month celebration that transforms the city's public spaces into a winter wonderland with art installations, ice sculptures, free events, fun activities and more! Plus many of the art pieces are interactive and light up in the evening, which encourages my family and I to bundle up and come out to experience the fun. In fact, attending the World of Winter has become a winter tradition of ours.
I put together this easy walking tour to help you experience as much of World of Winter as possible within one evening. In total this itinerary takes about four hours to complete.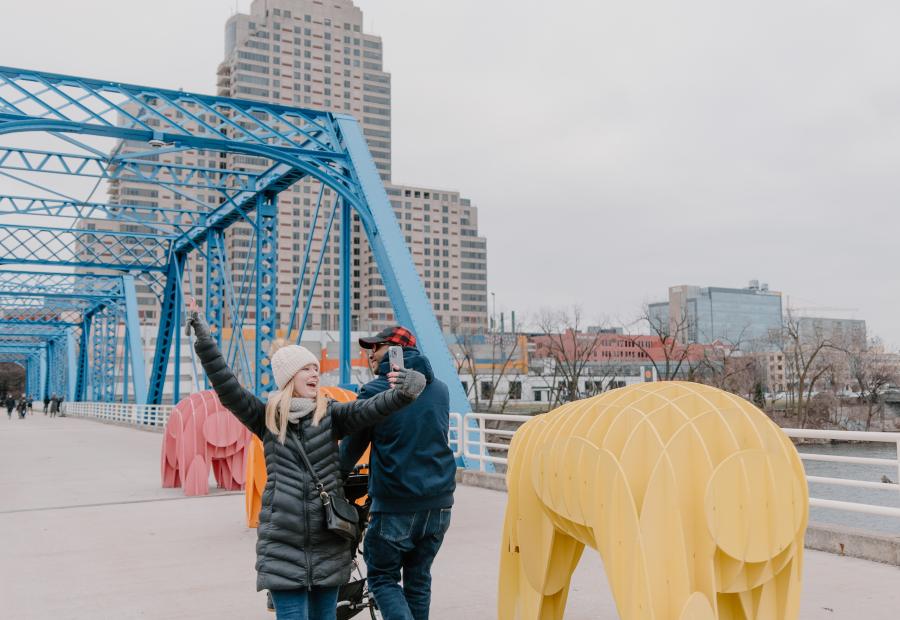 Visit The Blue Bridge to see Massimals by Scroggin Studio and Angels of Freedom by OGE Group.
Photo by Rashelle Whiteharris for Experience GR. Artwork: The Massimals by Scroggin Studio
Blue Bridge 
We started out at the Blue Bridge where there are two separate installations: Massimals by Scroggin Studio and Angels of Freedom by OGE Group. Massimals is a colorful row of abstract bear sculptures, and Angels of Freedom are lit-up pairs of wings and a halo. All of us loved interacting with the angel wings! There are three pairs, each with a different halo height so everyone can get involved. And at night, they're impressive - glowing and constantly changing colors!
Rosa Parks Circle
The next stop is Rosa Parks Circle where we laced up our ice skates for classic winter fun. For a couple decades, ice skating downtown has been a popular activity. Nowadays, the city has made it easier than ever to make your experience easy - visit their website to reserve your ice-skating time slot ahead of time. The cost is $4 for adults and $2 for kids and includes the skate rental.
The Rosa Parks Circle ice rink is a special place to ice skate. Not only is it a place to enjoy a winter activity, but the city goes all out hanging decorative, festive lighting to transform the area into a magical experience. 
And if you are a newbie or are going skating with someone who's never ice skated before, there are several skate trainers available to use. 
Dining Options
After all that walking and skating, we were ready to eat! Thankfully there are many great dining options within Grand Rapids. And there are still restaurants that continue to embrace outdoor dining! 
For dinner, we ate at Cinco de Mayo for its proximity to the ice rink and flavorful, delicious Mexican food. Cinco de Mayo also offers outdoor dining inside six greenhouses with heaters. But, depending on what you're craving, there are several restaurants all along Monroe Center to choose from.
Calder Plaza
After dinner, we headed up to Calder Plaza to see the House of Cards installation, which is a traveling piece with each card designed by a different artist around the world. But now, there are ten extra cards made by local artists added to the piece, and those cards will tour with the whole installation going forward. Each card lights up separately or in unison with the music it's set to. 
There is also the interactive Infinity Mountains piece by Two Eagles Marcus here. Scan the QR code, and your phone transforms so you can use all the mirrors in the piece as a photo booth.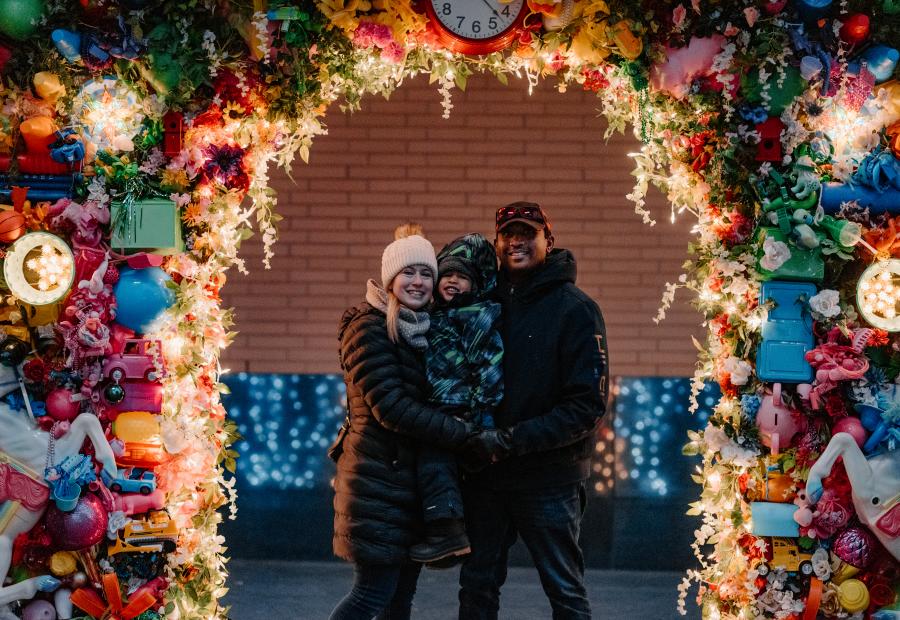 Mandy Cano Villalobos' Carnevale was a beautiful spot for a quick family photo.
Photo by Rashelle Whiteharris for Experience GR. Artwork: Carnevale by Mandy Cano Villalobos
DeVos Place
In front of DeVos Place, there are two pieces that are fantastic for kids: Frozen Fun! by Chris Dudley and Carnevale by Mandy Cano Villalobos. Both pieces can be enjoyed at any time of day but are lit up with spotlights or have lights embedded into them to enjoy at night.
Carnevale is as interactive as it is interesting to look at. It is one of my son's favorite pieces. He enjoyed searching the old toys that make up the sculpture for his favorites. It's also a photogenic piece with an arch inviting you to step in the middle for photos!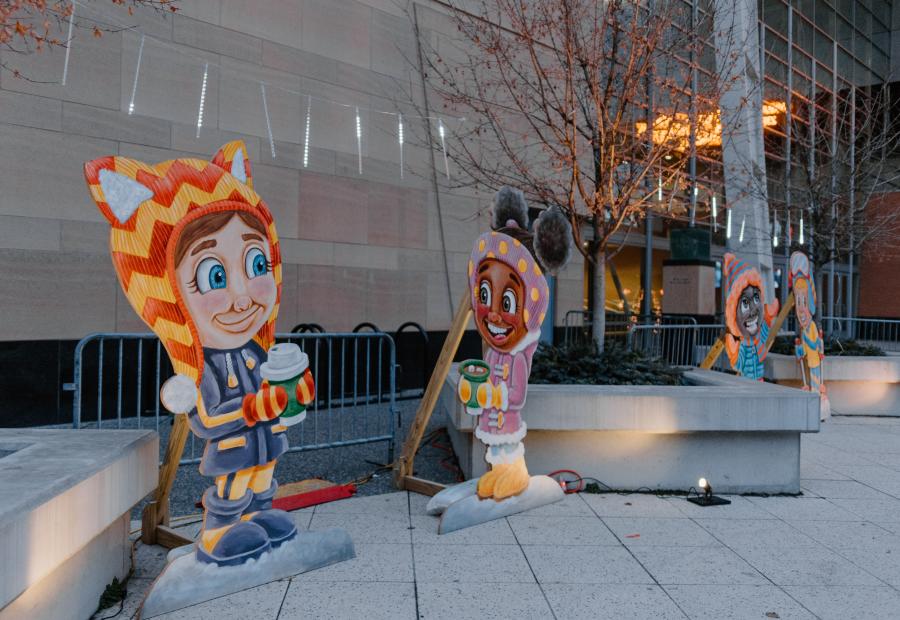 We loved seeing these larger-than-life kids created by Chris Dudley having some winter fun!
Photo by Rashelle Whiteharris for Experience GR. Artwork: Frozen Fun! by Chris Dudley
Frozen Fun! is an inclusive piece featuring five children of various ethnicities outside enjoying winter activities. It's a happy, cheerful piece sure to put a smile on your face created by an award-winning artist based right here in Grand Rapids!
Gillett Bridge
Next, we walked behind DeVos Place to cross the Gillett Bridge over the river to see more installations. On the pedestrian Gillett Bridge, there is a massive piece called Talking Heads created by Viktor Vicsek. This piece features two giant heads filled with 4000 LEDS to create non-verbal reactions to each other using light. 
And if you turn to look back to where you came from, you can also see Messie the Grand River Monster waving from behind DeVos Place. 
Then we walked down to the riverfront at Ah-Nab-Awen Park to take in one of my favorite pieces of World of Winter: Starry Night by Ivana Jelić and Pavle Petrović. It depicts a copy of Vincent van Gogh's famous piece Starry Night Over brought into the present time. Instead of brush strokes, the starry night sky is lit up by acrylic tubes with LEDs that depict a starry sky often lacking in brightly lit cities today.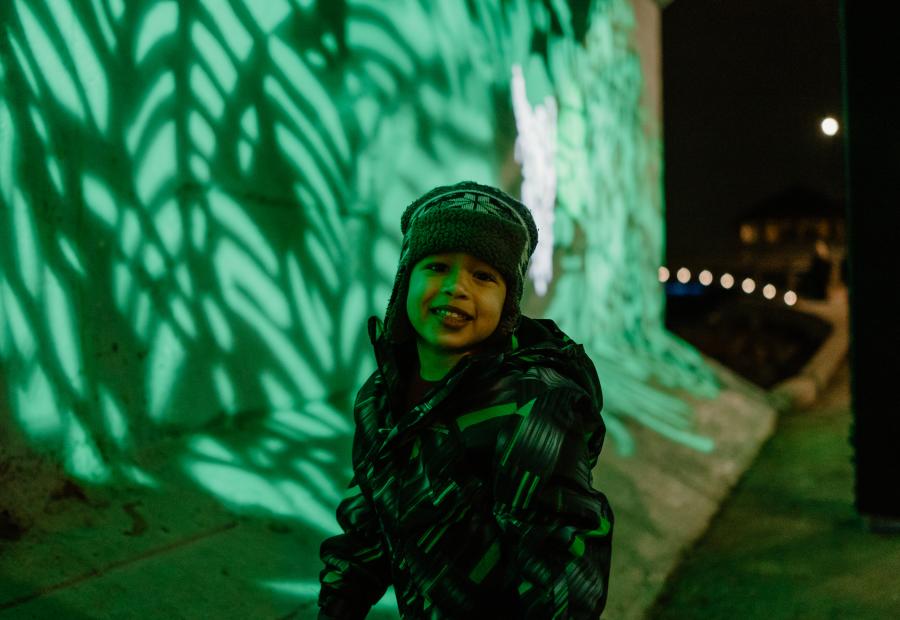 My son loved chasing the lights and images of Tropical Tundra as they danced under the Gillett Bridge.
Photo by Rashelle Whiteharris for Experience GR. Artwork: Tropical Tundra by Jason McClellan.
To round out the tour, we headed under the Gillett Bridge to see Tropical Tundra which transported us into a tropical space with lights and sounds. Lights project tropical patterns onto the ground below that constantly jump and shift, which my son loved hopping on as they changed.
Events
When you visit, make sure to give yourself time to attend a free event as part of World of Winter! Most of these events take place near installations such as Calder Plaza, Rosa Parks Circle, and 555 Monroe Avenue. But before you head out, check out the World of Winter's Calendar of Events to ensure you don't miss when a free walking tour, ice piano concert, or Cultural Story Time starts! 
There is also a free scavenger hunt that's taking place all throughout the World of Winter that can be done on your own time. You may even win a prize by participating. The scavenger hunt is done virtually by phone app.