Since it started in 2018, the World of Winter Festival (WOW) has invited all of us to rethink how we "do winter" here in Grand Rapids by filling the downtown with brightly colored artwork to enjoy during the day and night.
Grand Rapids-based artist Mandy Cano Villalobos's work is part of the brightness that shines amid the winter's gray days and early nights. As you'll see in our conversation, her work also offers us a way to rethink our relationship with our things, and by extension, with each other.
Downtown Grand Rapids, Inc. (DGRI) has been particularly thoughtful in highlighting the artwork of local artists, especially women and BIPOC artists, as part of the festival. Cano Villalobos' WOW piece, "Carnevale," is now on display at DeVos Place Convention Center through March 5.
Our conversation has been edited and condensed for clarity.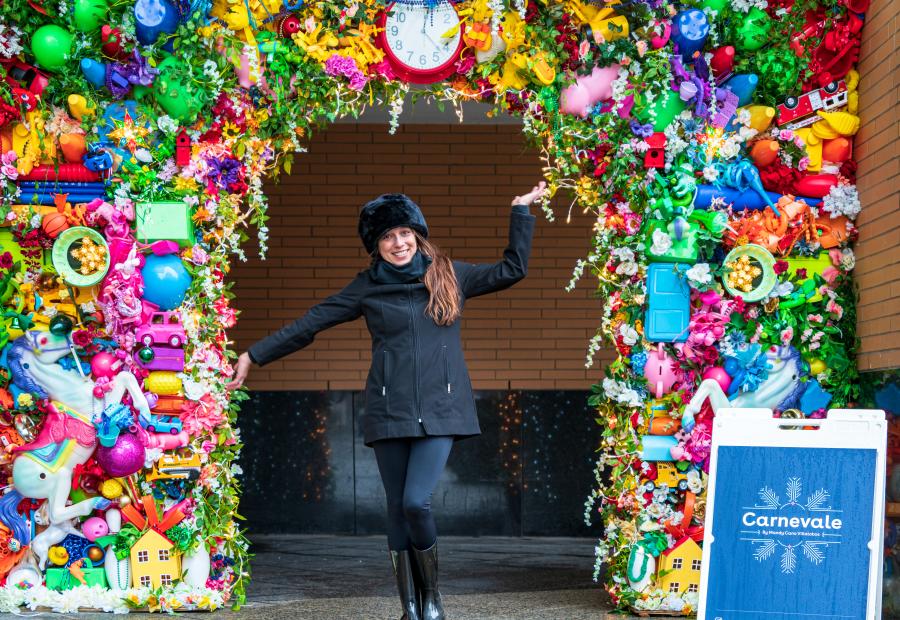 "Carnevale" is made with brightly-colored found objects that light up at night and add a pop of color to World of Winter 2023.
Photo by Nick Irwin for Experience GR Artwork: Carnevale by Mandy Cano Villalobos
The Inspiration for "Carnevale"
Could you tell us about the inspiration for "Carnevale"?
The idea behind the piece has to do with my frustrations with winter. It's cold, it's gray, and I desperately need color. So "Carnevale" includes a whole bunch of found objects that are toys or that are brightly colored, like kitchen utensils, as a way of incorporating the kind of everyday materials that are our lives.
Could you dig deeper into that? What do you want people to take away from their experience with your piece?
The majority of it is sourced in Grand Rapids. So when viewers actually approach, I want them to be attracted to the piece. It lights up, it's colorful, there are fake flowers… but also, I want them to recognize that the pieces that are included might be something that they have at home. Multiple people from multiple backgrounds are going to approach this work, and they're going to find things that are common. 
A lot of my work has to do with finding those commonalities, using things that are so fundamentally "us" that we can see ourselves in the work. So for this piece, it's kind of twofold: One, I want it to be pretty, I want it to combat the depression of winter, but then also I want it to bridge the gaps of a variety of different audience members.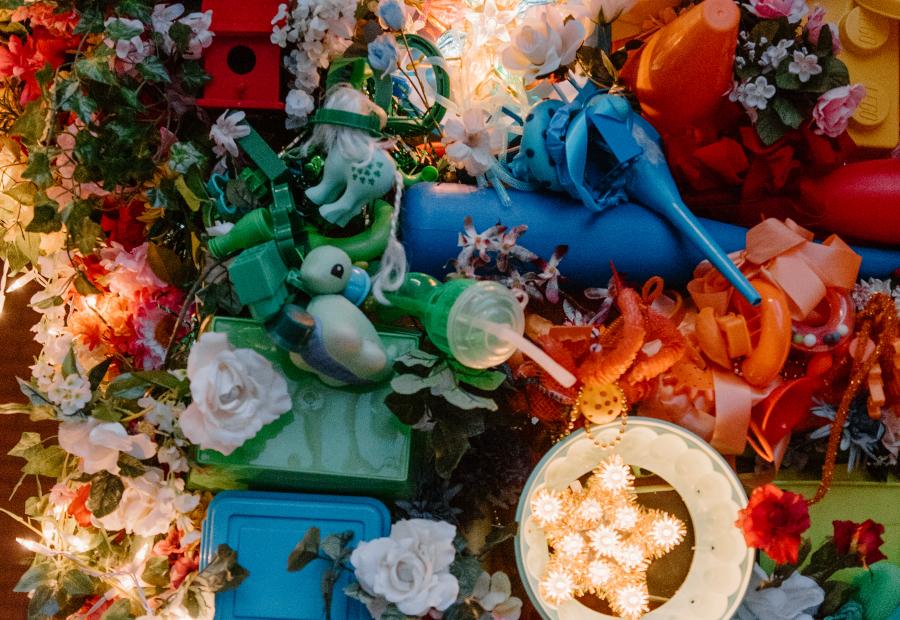 An important theme of Cano Villalobos' work is creating a new sense of value in the things we've thrown away.
Photo by Rashelle Whiteharris for Experience GR. Artwork: Carnevale by Mandy Cano Villalobos
The Beauty in What We Discard
I love that. What comes to my mind is cultural immersion through the objects that we have. So it's that commonality, right?
Yes, I would agree with that. I'm going to go to the garbage and revalue and recontextualize what I find so that the sources, the people who have bought this stuff and no longer need it, will recognize a new worth in the new context. Will recognize themselves or their stuff within this kind of resuscitated or resurrected state where these objects become wanted again.
The reinvestment of that value seems like it can be parallel to so many different things in society. Right?
Yes, totally. We can consider this with people as well. How do we discard one another? How does consumerism create a sense of alienation? What I'm trying to do is then flip that around and create a sense of familiarity between one another and between these items.
Those viewers, when they're coming together and when they see these things that are theirs, that tell their story, people begin to empathize with one another because they're telling a story and they're listening to a story. And there's a relational exchange there that I think visual art opens us up to in a way that a lot of other forms, whether it be of art or whether it be anything... I think that visual art has the potential to open up an empathetic exchange based on what we're looking at.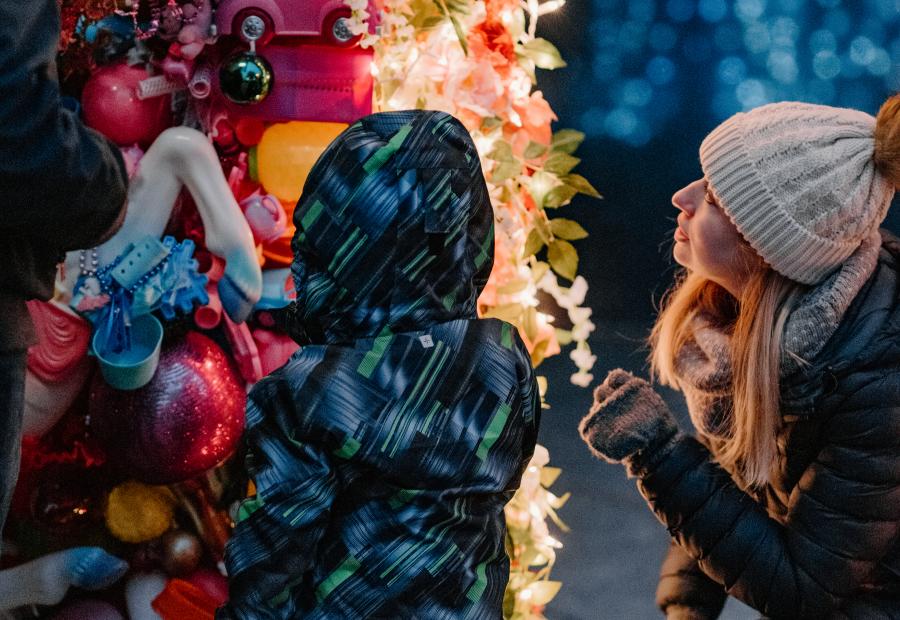 For Cano Villalobos, art is a way to discover the things we have in common.
Photo by Rashelle Whiteharris for Experience GR. Artwork: Carnevale by Mandy Cano Villalobos
The Connections We Build with Each Other... and Our Things
This is so powerful. You are using current materials to rehumanize our experience with each other. 
So when you talk about your artistry and your work, where else could we find more information about you and your work and where you're going next?
I have some work at the Lubeznik Center for the Arts, which is in Michigan City, Indiana. I also have some work on display in New York City at Marisa Newman Projects. I have an installation at the Museum of Contemporary Art in Arlington, Virginia. And I just had a show that came down in Mexico City. So I'll be going back to Mexico City in February to participate in Salón Acme, which is a sort of independent art fair. I have an upcoming show at Main Window in Dumbo, Brooklyn this March. 
The best way to see my current projects is through my Instagram account: @mandy_cano_villalobos.
When You Visit
When you visit World of Winter this year, I encourage you to spend some time in the light of "Carnevale." Look closely to see what stories connect you with this piece, and if you can, ask someone else about what they see in Cano Villalobos' work. You may be pleasantly surprised to learn what you have in common.
To hear more of Cano Villalobos' approach to her artwork and "Carnevale" specifically, check out this video below.