Two Eagles Marcus is a Rockford-based Indigenous Native American artist from the Red Willow Tribe of Taos Pueblo in New Mexico. He also happens to be someone I've had the pleasure of knowing for many years. His work, "Infinity Mountains" is on display at Calder Plaza as part of the annual World of Winter Festival. I've appreciated the efforts of Downtown Grand Rapids, Inc., the organization behind the festival, on emphasizing local women and BIPOC artists as part of this year's festival.
"Infinity Mountains" is a large-scale piece, inspired by nature, that offers viewers a new perspective on themselves and their surroundings. It is on display now through March 5.
Our conversation has been edited and condensed for clarity.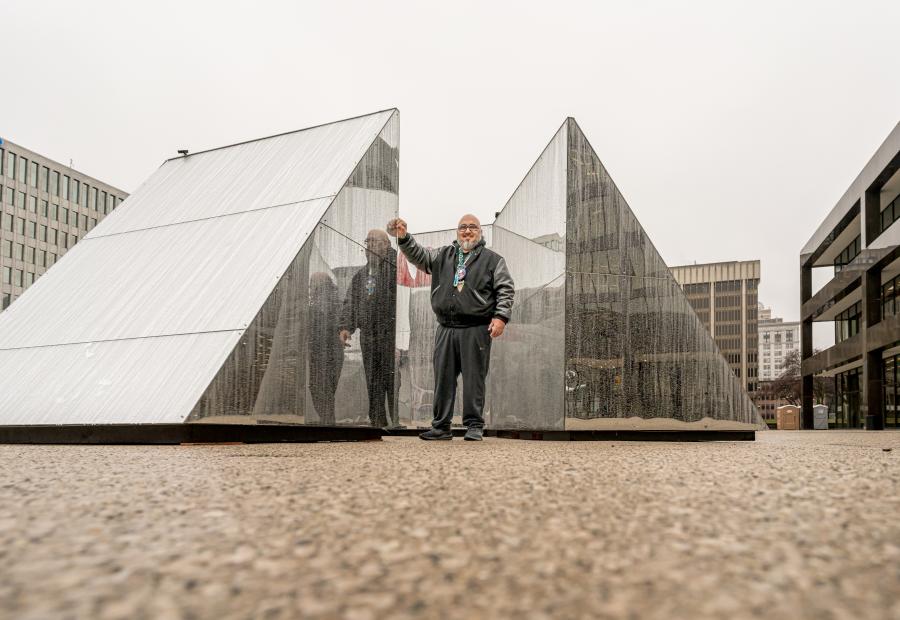 Local Grand Rapids Artist Two Eagles Marcus with World of Winter artwork, Infinity Mountains
Photo by Nick Irwin for Experience GR. Artwork: Infinity Mountains by Two Eagles Marcus
The Inspiration for "Infinity Mountains"
What was your inspiration behind this piece?
I wanted to create a piece of art that people were able to see themselves in it and get a different perspective on the environment around them and have a piece of art that changed the perception of the work, depending on what the weather was like or the time of day. The way the piece is designed and covered in acrylic mirror – that reflective component to it -- I love how it brings in the environment and just reflects the environment.
What do you want the viewers, or I should say, the interactors to take away from your piece?
I want them to be able to see themselves in a different perspective. The mirrored mountains, they're at different angles. You have the vertical face, which is on the inside, and those all create kind of an enclosure, but then on the outside you have the angled portion of it. You can see yourself in the sky, you can see the clouds, you can see the birds, you can see the rain, you can see the snow falling, you can see the sunlight.
To my people, mountains are a sacred piece of the earth, as well as with the sky and the clouds and nature itself. Mirror is also a representation of water and the reflectivity, but the water is also sacred to all of us because we have to have the water. So really these are artificial ways of recreating nature. But mirrors on water, seeing reflections on water are something that people have seen since waters existed and since people have existed and they've been fascinated when seeing their own reflection and the sky reflected around them.
Having people experience and being able to see themselves in the sky and in those sacred things, in the sunlight and nature, I just think it's really awesome.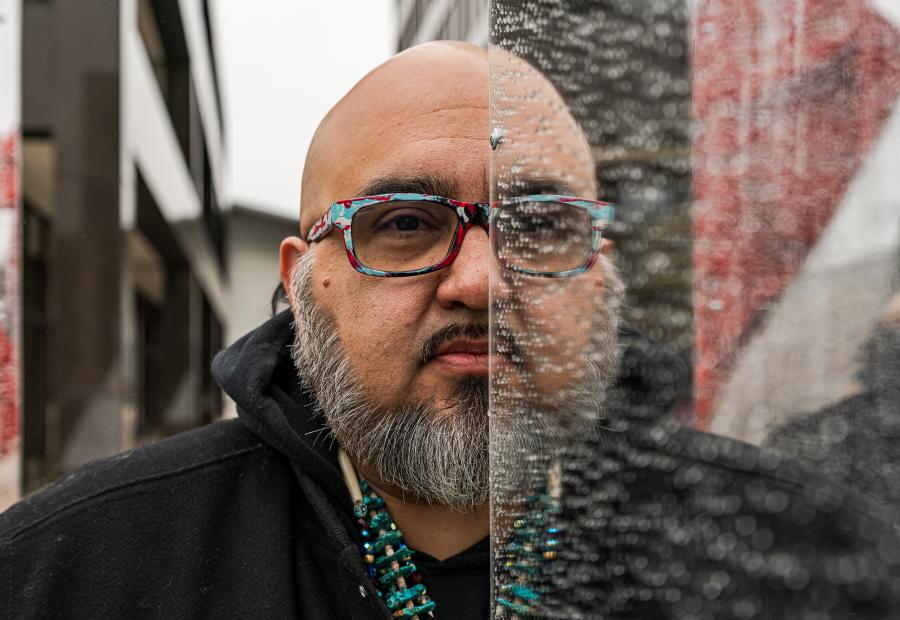 Local Grand Rapids Artist Two Eagles Marcus with World of Winter artwork, Infinity Mountains
Photo by Nick Irwin for Experience GR. Artwork: Infinity Mountains by Two Eagles Marcus
New Reflections and New Perspectives
I find what you were saying to be so profound in so many ways. Would you recommend your installation to be experienced solo or as a group?
So yeah, a lot of people have trouble looking at themselves in the mirror because of what they think of themselves, but also what they think other people think of themselves. So, I think that some people will be reluctant. I think it'll be helpful if they are with other people when they approach it.
I think that there's something to be got out of it for people to go there in the morning when the sun's coming up and to experience the light washing across the city and across the sky and across themselves as they see that reflection. Or even at night when the sun's going down and the long shadows and that beautiful warm light, it's just washing over everything. I think that people never get to see what they look like when that light touches their skin or how it changes them, and I think that there's really so much that is to be learned about yourself and what you really look like in that natural light as that's happening.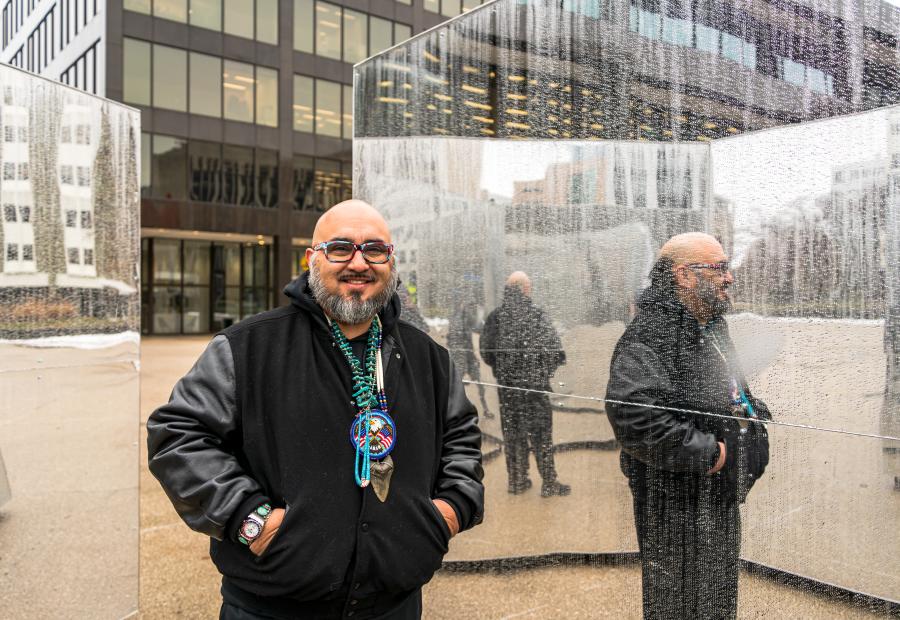 Local Grand Rapids Artist Two Eagles Marcus with World of Winter artwork, Infinity Mountains
Photo by Nick Irwin for Experience GR. Artwork: Infinity Mountains by Two Eagles Marcus
The Healing Power of Art and Empathy
I like that answer. You want people to do some internal self-reflection. I've had the privilege of seeing the different forms of your self-expression though various mediums, but how would you personally describe your artistry?
I really have used my art, vision, talent, training, and experience, over the years, to show people a different version of themselves.
Even this work, it's about them seeing themselves. It's almost like you can't see the piece, you only see what's reflected inside of it because it's almost invisible when you look at it. So from far away this looks like this kind of gray thing, but as you get closer to it and you have to be at a certain angle with it for you to actually see what's reflecting, but as you get closer, then it shows you what it's really reflecting. It's you or it's the Calder or it's the buildings behind you.
So would you say or is it fair to say that your art comes from a place of empathy in all that you do across the form or specifically?
From my experience with photography, there's been so many times, whether it's a live event or a portrait session where people have said, "No, I don't want to take my picture. This makes me really feel uncomfortable. I hate pictures of myself. I hate how I look. I hate looking at myself." 
I'll say, "Look, let me try it, let's see what happens. Let me try it and I'll show you and if you don't like it, I'll delete it." I try to put them at ease so I can show them what I can do.
Then I'll take their photo and I'll show it to them. And to get a reaction from somebody that went from hating what they look like to being beside themselves with how much they love how they look… I love being able to guide them into that place of comfort and trust with them to say, "Look, I think I can make you happy with this."
The feeling it gives me to be able to help someone transform their own opinion and personal view of themselves -- I never know what kind of impact it will have for them long term. But I know that right then it made a big difference when they've clearly gone through so much of their life hating what they look like. So, to be able to offer that kind of transformational work with them -- it really leaves me with a good feeling.
I don't know if it's coaching or it's empathy of even my own opinion of myself and what I've thought about myself my whole life and how I can relate to not liking what I look like or not liking what I see in the mirror. But there's times I look at myself and I'm not happy with what I see, but I know that I can make other people be happier with what they see. Even though I have my personal self-image issues to deal with -- if this one thing can help someone else, it's therapeutic for me.
Thank you. That's powerful. That's really powerful. Lastly, where can we find more information about you and your artwork?
Yeah, so twoeaglesmarcus.com is my personal website. It needs to be updated, but twoeaglesmarcus.com is where you'll be able to find out more information about me and my work. As far as you can also get ahold of me on Instagram under the same handle. For "Infinity Mountains," infinitymountains.com. Then also you can follow the conversation through World of Winter and then the installation at #InfinityMountains.
When You Visit
I hope you'll find your way to Calder Plaza multiple times during World of Winter to take in the always-changing reflections of "Infinity Mountains." In each of your visits, take a good look at the what is offered back to you. You may love what you see.
To hear more of Two Eagles' approach to his artwork and "Infinity Mountains" specifically, check out this video below.