The Grand Rapids Symphony has a rich history of reaching out to kids through engaging programs like their annual Lollipop concerts, which my kids attended and loved for years, and the Fifth Grade Concerts as well as programs like their Mosaic Scholarship and their Artists in Residence program. Each year we reach over 70,000 students through our education programs, says Claire Van Brandeghen, Director of Education, Grand Rapids Symphony.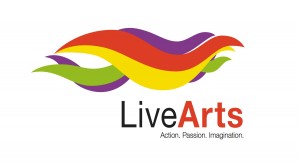 Their outreach continued in a new way when they put out a call to local 4th-8th graders to form a Community Youth Chorus tobe involved in the much-anticipated multi-sensory LiveArts production taking placeApril 24 at 8:00pm at the Van Andel Arena. Nearly 1,000 students will be involved with this collaborative event between the Grand Rapids Symphony, the Symphony Chorus, Grand Rapids Symphony Youth Chorus, Grand Rapids Youth Symphony and Classical Orchestra, Grand Rapids Ballet, Opera Grand Rapids, and Broadway Grand Rapids.
The LiveArts production focuses on the role arts plays in our lives, told through the story of a child who desires to master the cello.
He's really a metaphor for the larger story: Arts represent all that makes us human. "They express our soul and they pick up where words leave off," says Van Brandeghen. "LiveArts celebrates many things, including the seed of creativity and need for self-expression that exists in all of us, which begins in childhood, is developed as we grow, and is fully realized in the outstanding artists that live and work among us."
"Were delighted that well have students from Forest Hills Public Schools, Grand Rapids Public Schools, East Grand Rapids Public Schools and Tri-County Area Schools participating, as well as a group from the Grand Rapids Boys and Girls Club," says Van Brandeghen.
These student's teachers have been working hard to prep them for the LiveArts performance. "It speaks directly to the quality of the music programs in our area schools, and the generosity of the teachers working with them," says Van Brandeghen. "They're doing this in addition to their previously scheduled workloads and year-end concerts. The week of LiveArts, the students will be working the same schedule as the adult professionals and will get a glimpse into what that life is like."
During Live Arts, you'll have the pleasure of seeing these students perform a brand-new work that the Grand Rapids Symphony commissioned from Sean Ivory, the Director of the Grand Rapids Symphony Youth Chorus programs. "We're very fortunate that we have some really stellar music-making going on at the student level in West Michigan," says Van Brandeghen. "These students represent this work."
In addition to the Community Youth Chorus, the East Kentwood High School and Grandville High School marching bands will be participating. If you've lived here for even a short time, you know what power-house marching bands we have! "As the Grand Rapids Symphony, we don't often get to work with the bands on their own, so were very excited to feature EKHS and GHS bands together," says Van Brandeghen. "This is really going to be an experience that people will not want to miss!"
With so many children involved, as well as the Grand Rapids Symphony, Grand Rapids Ballet, Opera Grand Rapids, and so many others, you may wonder about the quality of the production. "It's absolutely professional," says Van Brandeghen. In addition to the Community Youth Chorus and high school bands, you'll see students from the Grand Rapids Symphony Youth Chorus and the Grand Rapids Youth Symphony, who regularly tackle sophisticated music. Preparing for LiveArts is no exception. "These students represent some of the top student talent in our community," says Van Brandeghen.
Having the students involved is an essential part of the LiveArts performance, says Van Brandeghen. "I can't think of too many instances when the performing arts get to trace the path of arts development from childhood into adulthood," she explains. "We've all been in a concert experience when there's that magic, that indescribable moment when the audience members tingle with the performance we're experiencing. It's that moment that we try to re-create for every concert, every performance. And it's what we hope you'll experience at LiveArts."
The audience plays a critical role in completing the loop of artistic creation. "The arts give us a direct line from the past into our present," says Van Brandeghen. "When we have opportunities to bring students and adults together to perform in the same manner, we celebrate this inter-connectedness."
The students and teachers involved are incredibly excited and looking forward to being a part of LiveArts. "I think this is something that they'll be likely to remember for the rest of their lives," says Van Brandeghen.
You can read more about LiveArts on our first post about the production, here.
Location: Van Andel Arena, 130 Fulton Street W, Grand Rapids, MI
Date/Time: April 24th, 2015, 7:30 PM
Admission: Tickets from $22 available here, through Ticketmaster.