This is the perfect time of the year to visit the zoo, and the John Ball Zoo in Grand Rapids has lots to offer. My kids love to gawk as the grizzly bears prowl around, while I enjoy watching the otters frolic. But whatever your preference--whether its large cats (we have lions), the frightening-sounding Komodo dragon (the only one in Michigan), or playful chimpanzees (loved by kids of all ages), John Ball Zoo is worth a trip.
If you're an animal lover, be sure to look into a membership at John Ball ($30 individual; $65 family), which gives you free admission and discounts on concessions, gifts, and Camel Rides, for starters! And because its part of the AZA Reciprocal Membership Program, members of John Ball Zoo also score half off admission to Binder Park Zoo in Battle Creek and get in free to Potter Park Zoo in Lansing. You can reach either of these zoos in about an hour. (With a membership, you also get free or reduced admission at specified zoos in other states.)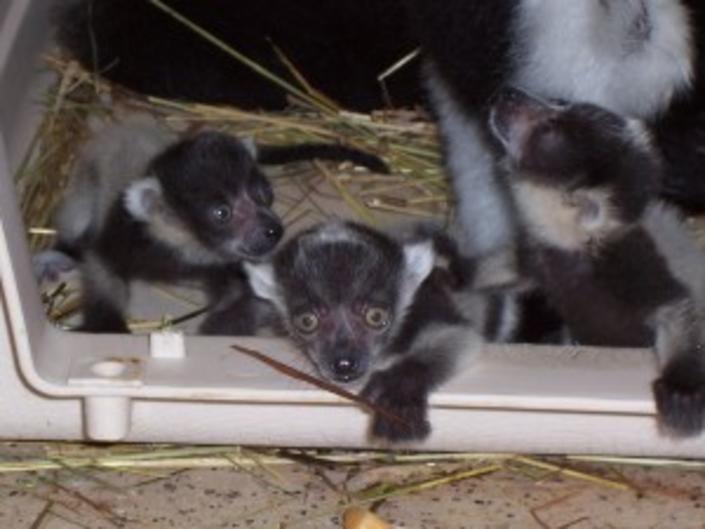 Black and white ruffled lemur babies born April 29, 2012.
Photo Credit: Binder Park Zoo
---
At Binder Park Zoo you can hike through the Savannah and feed the giraffes (with those super-long tongues!) or take a peek at the brand-new baby black and white ruffed lemurs. The triplet babies are fantastic news: black and white ruffed lemurs are an endangered species. (Note: The lemur babies were out for the first time this weekend. Please call the morning of your planned visit to see if they'll be out that day.)
If its beautiful Amur Tigers and snow leopards you're looking for--or maybe Jello, the Rhinoceros--head to Potters Park Zoo in Lansing. Here you can explore the habitats and animals of the Americas, Asia, Africa, and Australia as you wander through the scenic landscape. Don't miss the Coral Reef Room its small in size but filled with super cool under-the-sea life.
For animal lovers who are willing to drive a little farther, you can check out two other zoos that participate in the AZA reciprocal membership program: the Children's Zoo at Celebration Square in Saginaw (free for John Ball members) and the Detroit Zoo (half-off for John Ball members).
Your kids will love the hoof stock yards at the Children's Zoo at Celebration Square. What kid doesn't want to pet a llama, alpaca, or pot-bellied pig?! If you happen to have kids who aren't inclined to pet wildlife, however, they'll still love seeing the Clydesdale horse, reptiles (a python!), and the occasional peacock strutting his stuff.
If you want to see North America's largest Polar Bear exhibit, the Detroit Zoo (actually in Royal Oak) is the place for you. When you enter the 70-foot-long Polar Passage tunnel, you'll walk right beneath the polar bears and seals. (Don't worry, they're not together!) This 125-acre zoo has plenty more to offer, from great apes to kangaroos and red pandas. Belle Isle Nature Zoo, with 6-acres of wetlands, is a separate facility and location, but is considered part of the Detroit Zoo. It's open to the public on weekends.