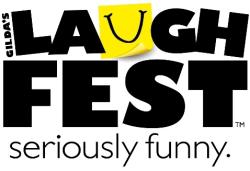 CONTACT: Tyler Lecceadone                                                                                                                                                 616-776-3511
                   lecceadone@seyferthpr.com
GILDA'S LAUGHFEST OPENS REGISTRATION 
FOR INDIVIDUALS INTERESTED IN PERFORMING DURING 2018 FESTIVAL
Festival of laughter scheduled for March 8–18
GRAND RAPIDS, Mich., Nov. 1, 2017 – As Gilda's LaughFest, the nation's first ever community-wide festival of laughter, plans to announce headlining performers for the 2018 festival on Nov. 16, individuals wishing to perform during LaughFest's showcases can sign up for the opportunity beginning Nov. 1. 
Submissions from seasoned comics to amateurs alike from across the country are being accepted online through Dec. 18, 2017, at laughfestgr.org/laughfestshowcase/.  The festival is held annually in Grand Rapids, Michigan, and surrounding communities and is now in its eighth year. LaughFest 2018 is scheduled for March 8–18. 
Categories for the showcases include stand-up, improv/sketch, college stand-up and college improv. Individuals of all ages and groups of any size are encouraged to apply for the opportunity to showcase their talents. 
"One of the highlights of the festival is opening our stages for individuals wishing to share their talents during Gilda's LaughFest," said Joanne Roehm, Director of Strategic Initiatives & LaughFest. "The LaughFest showcases give individuals an opportunity to perform in front of a captive audience at well produced shows in unique venues across the city."
Gilda's LaughFest, created by Gilda's Club Grand Rapids, was launched in March 2011 to celebrate laughter for the health of it. In addition to free showcases, the festival features ticketed events with nationally known and up-and-coming artists performing stand-up and improv. 
During LaughFest 2017, more than 100 LaughFest showcases and other free events were featured at various locations in downtown Grand Rapids, and Lowell, Michigan. Past LaughFest headliners have included Howie Mandel, Seth Meyers, George Lopez, Wanda Sykes, Billy Gardell, Iliza, Amy Schumer, Jay Leno, Lily Tomlin, Chris Tucker, Pete Holmes, Sinbad, Margaret Cho, Betty White, Whoopi Goldberg, Mike Epps, Kathleen Madigan, Martin Short, Kevin Nealon, Wayne Brady, Jim Breuer, Joel McHale, Lewis Black and Brian Regan.
Proceeds from the festival and donations raised will go to support the free cancer, grief and emotional health programs offered through Gilda's Club Grand Rapids. Visit laughfestgr.org, or call 616-735-HAHA (4242) to learn more about Gilda's LaughFest. 
###
About Gilda's Club
Gilda's Club Grand Rapids is a free emotional health support community of children, adults, families and friends on any kind of cancer journey or those grieving a death due to any cause. Its comprehensive program, delivered by professionals, includes education, structured sharing times, networking, lectures, workshops and social activities. Gilda's Club Grand Rapids is one of the largest and busiest of the 42 affiliates in North America. The organization runs entirely on charitable donations and currently serves more than 10,000 individuals each year at its clubhouses in Grand Rapids and Lowell, Mich., in various schools and community centers. For more information, visit www.gildasclubgr.org.