A few days before the Michigan Music Conference in Grand Rapids last January, Betsy Purcell, MMCAssociation Manager, realized that in addition to all the other tasks on her plate, she had about two thousand name badges to stuff. Purcell turned to the service staff at Experience Grand Rapids for assistance. For 3 days before the conference opened, they pulled together a dozen volunteers each day to help me assemble thousands of badges, said Purcell. "They're unbelievable in that regard. I found Experience Grand Rapids to be indispensable."
1. Volunteer Services
Purcell benefitted from the services of Experience Grand Rapids base of volunteers, called Stars, who are available to help meeting planners with a wide range of services. Andie Newcomer, Convention Services Manager at Experience Grand Rapids, says the Stars help with everything from greeting attendees and answering questions about the city to providing directions to conference and meeting rooms. For one recent conference, the Stars led groups of attendees several city blocks from their hotel, the Amway Grand Plaza, to the Urban Institute for Contemporary Arts (UICA), where their session were being held.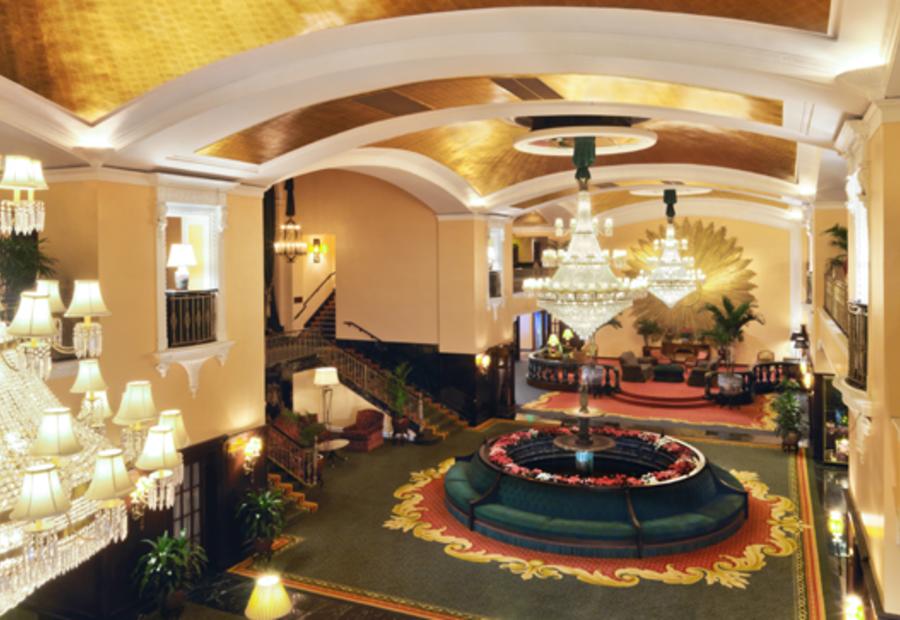 Be sure to ask the CVB/DMO you're working with if they have a similar volunteer base you can tap for help before and during your event. These types of volunteer services can save you significant money and provide a local touch for your event.
"We utilized Experience Grand Rapids volunteers over and over," said Purcell. "They were wonderful. For example, we have lots of parents and grandparents coming to see their kids, grandkids, nephew, or whomever perform," she explained, "and they can be overwhelmed by the size of it. Experience Grand Rapids provided volunteers to staff booths to answer their questions and give them directions."
2. Promotion and Building Attendance
Another way CVBs/DMOs can help you stay under budget is by providing assistance with promotion and building attendance. "We create a customized webpage (called a microsite) for the meeting planners event that helps build enthusiasm and attendance," says Newcomer. She explained that Experience Grand Rapids makes sure the webpage includes details about the event as well as visitor information for local attractions, shopping, and recreation. Providing that type of information helps increase desire to visit the area, which can help increase event attendance.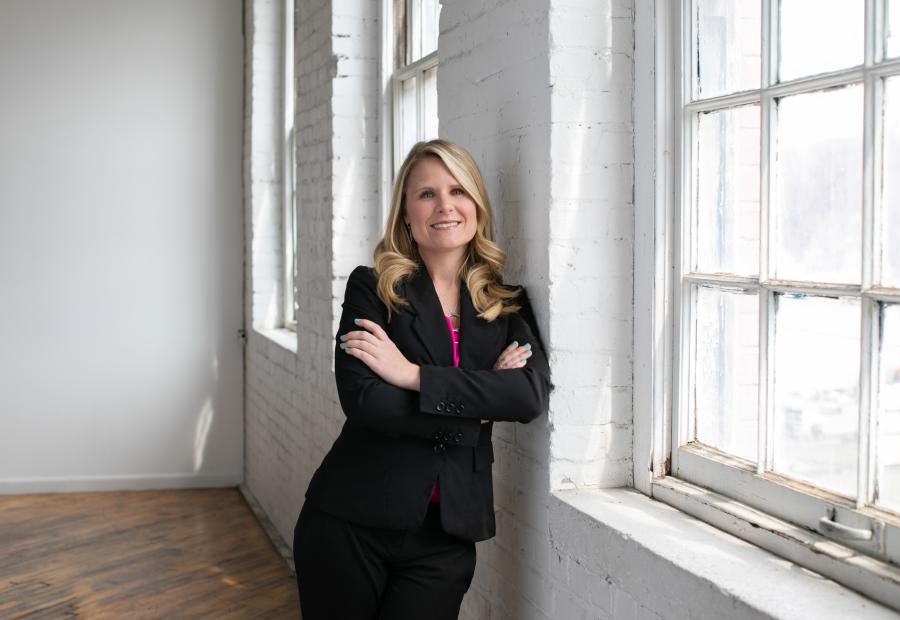 Andie Newcomer, Director of Events at Experience Grand Rapids, 2019.
Photo by Experience Grand Rapids
"We also have templates meeting planners can use for Save the Date and Register Now postcards," says Newcomer. "Experience Grand Rapids customizes the postcards with the event name, date, a website address and information about how to register, all for no charge to the meeting planner. They can also provide a pdf for meeting planners to send electronically to potential attendees."
Purcell took advantage of this service and had Experience Grand Rapids create a microsite for the Michigan Music Conference. She then linked to the microsite from The Michigan Music Conference website. She said this no-cost enhancement to their promotion efforts provided valuable information for attendees.
3. Liaison
When the date of your event draws near and you're ready to decide on the nitty-gritty details, you know that the CVB/DMO can help coordinate site inspections of area attractions, hotels and offsite venues. But did you realize that, often, they will also act as a liaison for you for local services?
For example, Experience Grand Rapids helped Purcell coordinate permission from the city to park their numerous charter buses on city streets. "They liaison for us with a lot of other entities in the city of Grand Rapids," said Purcell, "so I can funnel everything through them rather than having to reach out to everyone individually. Having someone from the CVB/DMO staff work on these kinds of details is like having an extra staff member for free."
When SkillsUSA held their Michigan state conference in Grand Rapids last April, no one could've anticipated that record-breaking flooding would precipitate the evacuation of 138 guest rooms in Courtyard by Marriott, where their attendees were staying. Because of the floods, the competitions scheduled to take place in the hotel also had to be relocated.
"Experience Grand Rapids stepped in help find other hotel accommodations for the attendees, feed lots of hungry teenagers, and to get the competitors to the newly scheduled event venues. We provided a transportation plan how many buses they would need and what specific times they'd need to be at specific place, for example," says Newcomer. She obtained quotes and made sure everyone could get to the right place at the right time.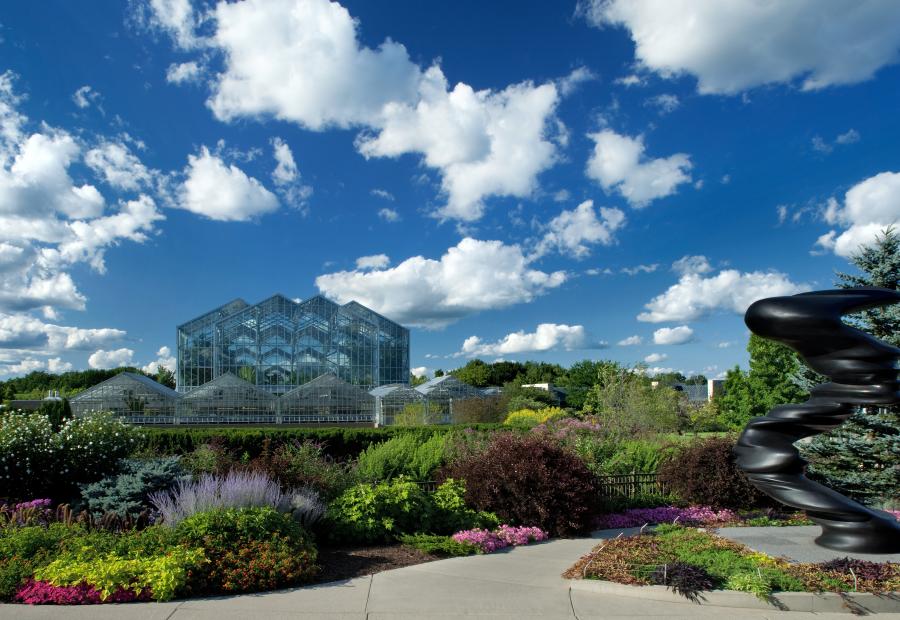 Frederik Meijer Gardens & Sculpture Park
Photo by Experience Grand Rapids
CVBs/DMOs can also provide plenty of assistance for non-emergency situations, like coordinating fun outings for your group. For example, one group that held an event in Grand Rapids wanted to tour the city and stop at the Frank Lloyd Wright Meyer May House as well as Meijer Gardens. "I contacted the transportation company and gave them the general itinerary," says Newcomer. "Then I reached out to the Meyer May House so they could schedule docents for tours." She also arranged to have someone greet them at Meijer Gardens, give them a tour and organized a tram ride.
Newcomer said that rather than just providing ideas for tours, her group excels at helping plan and set them up. For example, if a meeting planner wants to offer a golf outing for attendees, Newcomer and her staff reach out to see if golf courses have a particular date available, how many people they can handle, what their prices are, what kinds of meals they can provide all of those details that take time for a meeting planner to pursue.
4. Local Partners
If you've paid to ship signage, programs, or other printed material to an event, you know the shipping costs can be substantial. Next time, ask your CVB/DMO for a recommendation for a local printer, instead. Often, they can drop the materials off at your hotel for no charge or a small service fee, which should cost you significantly less than paying to ship numerous boxes.
Printing isn't the only place you can save money by tapping into your CVBs/DMOs. They often can provide recommendations for other services, too, like transportation or flowers for your event. "Instead of a meeting planner spending a lot of time researching companies and getting quotes," said Newcomer, "we can send out service requests on our end, collect the quotes, and go back to the meeting planner to see what meets their needs."
Purcell relied on Newcomer for several small business connections. "Andie's got that Rolodex handy," says Purcell. "Experience Grand Rapids is invaluable in negotiating for us and providing us with referrals for businesses in the area."
"A lot of what we do takes the work off of the meeting planners' plates," explains Newcomer. "We act as an extension of their staff, which saves them money."
Purcell says that it's precisely these types of services that make it easier for her to get everything done and stay on budget when she works with Grand Rapids CVB. "There are so many layers to planning the Michigan Music Conference that I could not do it without Experience Grand Rapids' assistance and contribution!"
invalid widget [plugins_common_blog_subscription] []