"In a banquet setting, we can't prepare fifty different meals," says Joyce Miller, Director of Conventions at the luxurious Amway Grand Plaza hotel in downtown Grand Rapids, "but we still want a fantastic presentation and want people to remember it was great." To do so, Miller works with meeting and event planners to ensure that everyone is on the same page. Miller says planners should make sure they understand what the kitchen can and can't provide, and that transparency is imperative to keep everything on track and to maintain quality.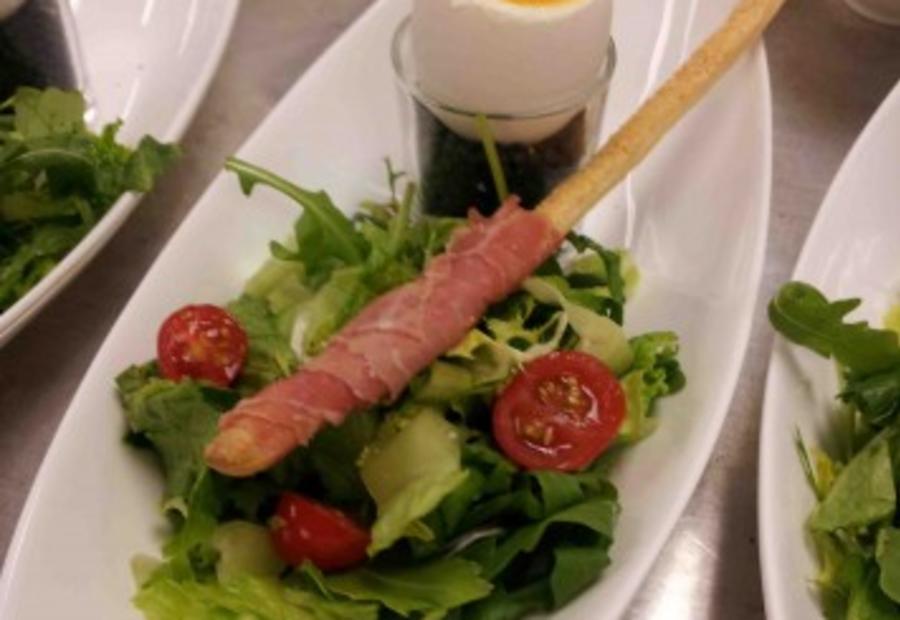 Amway Grand Plaza's Mixed green salad with a prosciutto wrapped crostini and a poached egg.
It all starts with a conversation, explains Miller. Her staff talks with planners about how they'd like to handle attendees allergies, special diets, and restrictions. She suggests putting a request to note any special diet needs in the registration pack for your event.
It's crucial to collect this information proactively, says Miller, because it's very difficult to prepare meals on the fly the night of the event. Often, the kitchen is responsible for other events simultaneously. If they've prepared 100 meals for your event and suddenly have 40 special requests, not only will it be very difficult to accommodate those 40, but it will take quite a bit of time, which could leave attendees with a negative impression. It also means your budget will be shot, because you'll be paying for 140 meals, not the 100 you anticipated.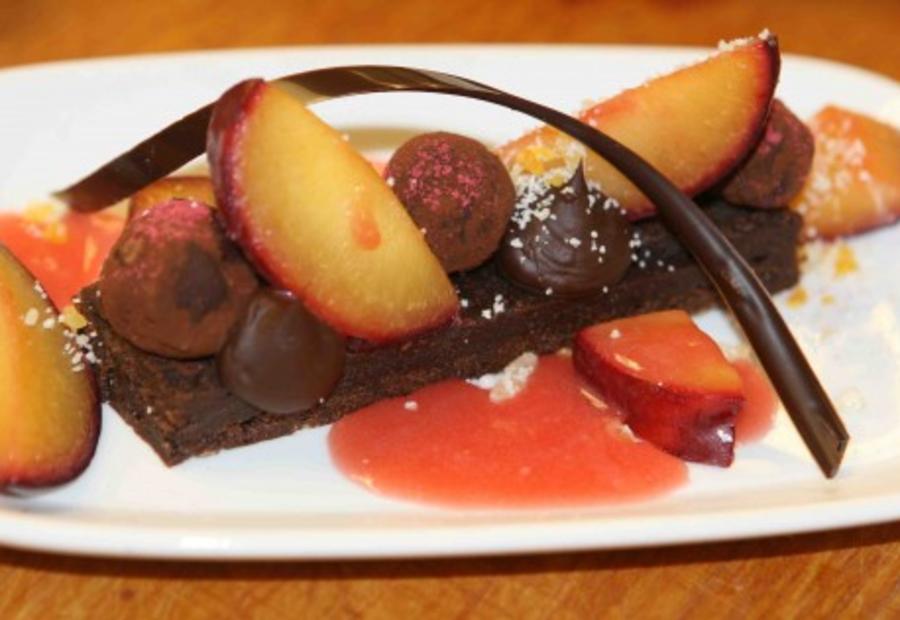 Amway Grand Plaza's Flourless chocolate cake with fresh plums and plum and champagne sauce.
When you collect information about special dietary needs ahead of time, the chef can work with the planner to create a menu that meets attendees' needs and fits the events budget. At the Amway Grand Plaza, for example, the chef typically creates one entree that is vegetarian, vegan, gluten-free, nut-free, and onion-free, addressing some of the more frequent requests that arise with one dish. "All of our vegan meals are very custom," says Miller. "If you're planning a convention or wedding, that may be the only event those guests attend. However, if you're planning an event during gala season, Miller says, several of the same people will attend more than one gala. If they're vegan, you don't want them to have the same meal at every gala. That's one reason it's important to work with the culinary team to come up with the special meal offering.
Miller said special dietary requests are much more common than in the past, probably because there are so many more conversations about new diets and food in general. In her experience, people who have food allergies are very good about letting the meeting planners know ahead of time. But today there's an explosion of dietary preferences as well - from low-fat to low-carb diets and everything in-between. The kitchen staff can't always know whether the request is a preference or allergy, so they must be very careful about every request. Occasionally, says Miller, they'll receive a request with multiple restrictions and they actually call the guests to find out how they can best accommodate their needs. "They're always pleasantly surprised," she says.
Having conversations about what to serve also helps with cost containment, because everyone involved understands what the parameters are beforehand. Menus with two entrees are more expensive, says Miller, because there's significantly more work involved. The line has to completely shut down and start over, she explains. At the Amway Grand Plaza (and many other facilities) the highest priced meal dictates what's charged.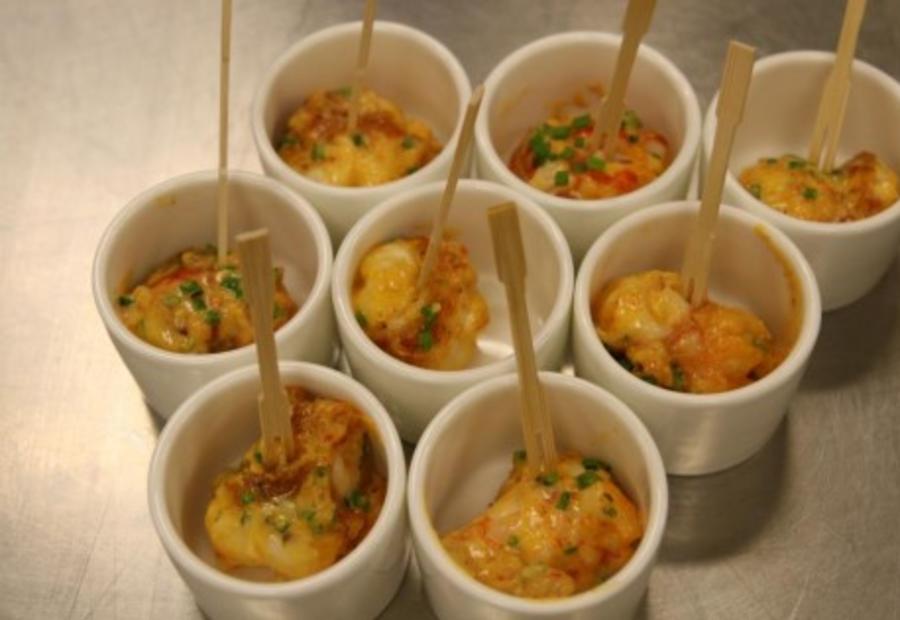 Amway Grand Plaza's Sriracha Lobster
Although pre-planning can help meet special dietary requests, issues can still arise. One issue planners should watch out for is guests at the event requesting a special meal, even though they didn't order one ahead of time. "This can cause multiple problems," says Miller, "not only because the cost will jump for each additional meal, but because the kitchen may not be able to accommodate extra requests quickly, if at all." The solution, she says, is to have an indicator for each diner. "It could be a meal ticket or a dot on people's name tags," says Miller, "as long as the servers know what it is ahead of time." This ensures that the correct attendees receive the special meals. "It's also helpful to the hotel if we have a list of the people receiving a special meal ahead of time," says Miller, "in case someone forgets or loses their meal identifier. There's nothing worse than giving away a gluten-free meal and then the person who really is gluten free shows up."
Using banquet tickets also allows the banquet captain to track how many have been served and how many are left, facilitating flow. This helps if an extra meal is requested - the banquet captain will have a better idea whether there's any wiggle room in the number meals that are left. If an attendee who ordered a special meal didn't show, you may be able to serve that meal for the extra request.
When planners work with facilities to get special dietary information up-front, both sides are transparent, and they work together to create special meal indicators, it increases the likelihood that you'll have a successful, on-budget event that meets attendees dietary needs. For a list and definitions of common dietary restrictions, click here.
invalid widget [plugins_common_blog_subscription] []