If you haven't heard of beacon technology yet, you soon will. The market for the devices is expected to explode in the next six years – growing 80 percent by 2024.
First, a little primer: Beacons are small devices that transmit Bluetooth Low Energy, or BLE. The intended receiver is typically a smartphone app.
The app gets triggered when it enters the transmission range of the beacon – which can be anywhere from a few feet to a few hundred feet, depending on the strength of the transmission.
So what is the app being triggered to do? Send you a notification tailored to your location.
In a history museum, it could be information about the Egyptian tomb you just approached. In a retail store, it could be a coupon to save on the brand of jeans you're looking at. And at a large conference or event, the options are limited only by the functions on your conference app and your imagination.
For attendees who download the conference app ahead of time, strategically placed beacons can trigger the apps to automatically register people when they arrive.
When people enter an exhibit hall, the apps can deliver a map of vendor tables with turn-by-turn directional capabilities. Vendors themselves can take advantage of the beacons, too, with messages to draw people in.
They can push a notification about a location change when attendees arrive for a session that has been moved. Or they can connect you with other attendees in the app's social networking function, showing you who else is in your session or at the networking mixer.
Kathy Woronko, global communication manager at office furniture giant Steelcase, sees this type of data collection as invaluable. She oversees event planning at Steelcase and serves on the Client Advisory Board for Experience Grand Rapids.
"If the general session is only 50 percent filled, why don't we send out a quick note that there is still room to increase attendance?" she said. "We could highlight a feature and remind them why they don't want to miss the session."
Those functions and the countless others that can be used at meetings and events are all great ways to increase engagement with attendees and make their experience more enriching. They also provide key information when looking to plan next year's event.
But in this age of data mining and information sharing—and when Facebook founder Mark Zuckerberg gets called before Congress to testify—beacon technology might raise privacy concerns among attendees.
Getting a message that's a little too appropriate and timely might seem—creepy.
In actuality, apps that are triggered by beacon technology are no more intrusive than most of the apps you're already using. The beacons themselves collect no data.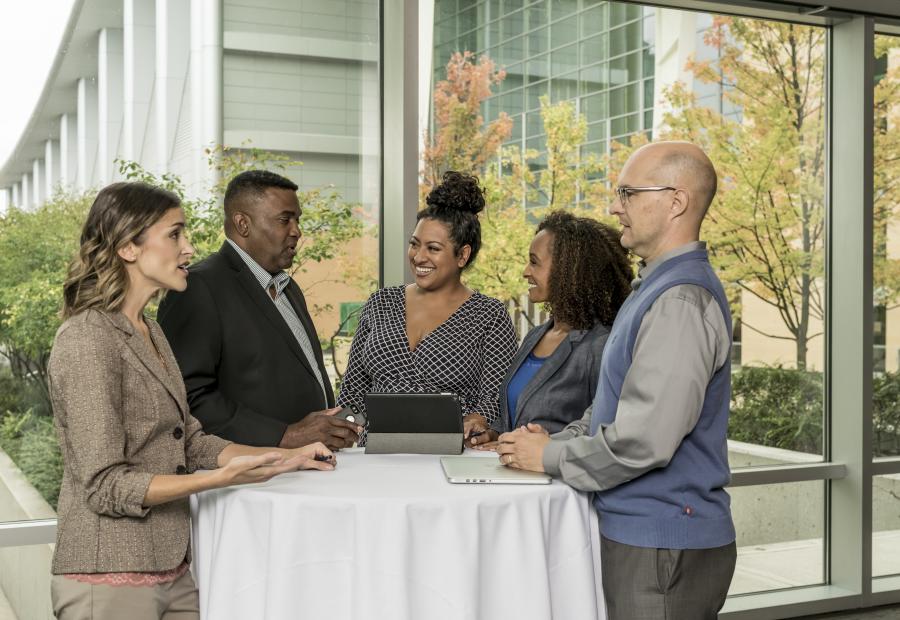 group of professionals gathered around a table at a technology conference in Grand Rapids
Photo by Experience Grand Rapids
Have you ever walked into a Costco and received a notification from Facebook suggesting you check in? Or maybe you've just been seated at a restaurant and Google sends you a phone notification suggestion you read its reviews. Those are based on GPS technology. Beacon technology is simply more precise.
And most event apps also allow you to set your own privacy settings so you can determine how much location information you're willing to share.
It's all part of the give and take we agree to when we accept user agreements. And when it comes to event and meeting apps, the notifications triggered by beacons are meant to give—a lot—providing useful information that will add to the attendee's experience.
Woronko sees the use of the technology only growing. Her company recently introduced Steelcase Workplace Advisor, which uses infrared sensors to record use of office space and furniture. The data allows Steelcase to design environments that better meet the needs of their clients.
Translate that type of technology to an event, she said. Wouldn't it be helpful to see where the bulk of your attendees spend their time, how long they attend their sessions (if at all) and whether they attend the prepared lunch or leave the venue?
The possibilities are truly remarkable, she said.
"These are the things that really intrigue me when I think about analytics," she said.
"As an event planner, you're not just about picking out the next great venue or the latest trend, you're gathering real strategic information for the people you're working for."
invalid widget [plugins_common_blog_subscription] []