Event planner's quivers are full of facts. They know about filling seats, counting beds, and incorporating logo colors. They know which facilities have the most spacious conference rooms and which hotels have the right amount of beds and amenities. With so many factors to consider, it's easy to turn to familiar venues again and again. But planners who want to up the wow factor hunt down novel spaces for their functions to deliver dynamic results for their corporate clients.
Jennifer Ederer, owner of Modern Day Floral in Grand Rapids, had great results with a unique venue last summer. "We had it on tennis courts!" she says. The large corporate event, which included people from around the world, went off without a hitch and provided the congenial atmosphere her client was after.
Custer Office Environments also chose a unique venue: they went out on a limb and hosted their company's Christmas party at the Bissell Tree House at John Ball Zoo in Grand Rapids. "It brought new life and new energy to our group of employees," says Custer. "The atmosphere up there is very inspiring." Custer believes the Bissell Tree House would be the perfect place for a corporate strategic meeting. "You're away from everything, you're in a very inspiring setting and it definitely allows for free thinking and brainstorming," explains Custer.
Beyond elegant tree houses and tennis courts, here are other creative venues you can use to bring fresh new energy and excitement to the events you're planning.
Hoop Dreams.
Sporting facilities, from basketball arenas to baseball fields, are often available for events during the off-season or even off-hours. Facilities vary greatly depending on both the sport and the team, but skybox suites or boardrooms are sometimes available for use.
For companies that want a traditional environment with a twist, many arenas also have conference rooms. Companies can combine work and play by meeting in the conference space before the game, then heading out to cheer on the team. Some teams also offer perks like pre- or post-game on-field (or court) experiences, access to the coaches (sometimes even a talk), and personalized tours.
Venues to consider:
TD Gardens (Boston Celtics)
Amway Center (Orlando Magic)
US Cellular Field (Chicago White Sox)
History Lessons.
Using art museums, theaters and other cultural gems (like President Lincoln's Cottage - see below) provides companies with plenty of tinder for sparking creative discussions among employees. Indoor & outdoor arrangements are available at some venues, and many will customize a tour for your group.
These facilities are often equipped to handle mid-size to large meetings, and a surprising number feature cutting-edge technology. Some use in-house kitchens, while others coordinate meals through a caterer.
Venues to consider:
President Lincoln's Cottage (small meetings, Washington DC)
Philadelphia Museum of Art (PA)
Lyceum (Alexandria, VA)
Get Smart.
For summertime events, don't overlook universities and colleges. You can expect these facilities to boast top-notch technology since they're in the business of attracting tech-savvy students. And although you may not recall your college cafeteria food with fondness, schools have upped the ante and many now sport grade A dining services. Some also offer the option of contracting with a caterer.
Its not all about the classroom, though. Universities often encourage team building among employees by challenging them to work together on ropes courses or land navigation courses. Many will design programs to your specifications. But if ropes courses aren't on your agenda, most campuses will also coordinate local excursions to nearby cities or historic sites.
Venues to consider:
William & Mary (Williamsburg, VA)
Calvin College (Grand Rapids, MI)
UCSF (San Francisco, CA)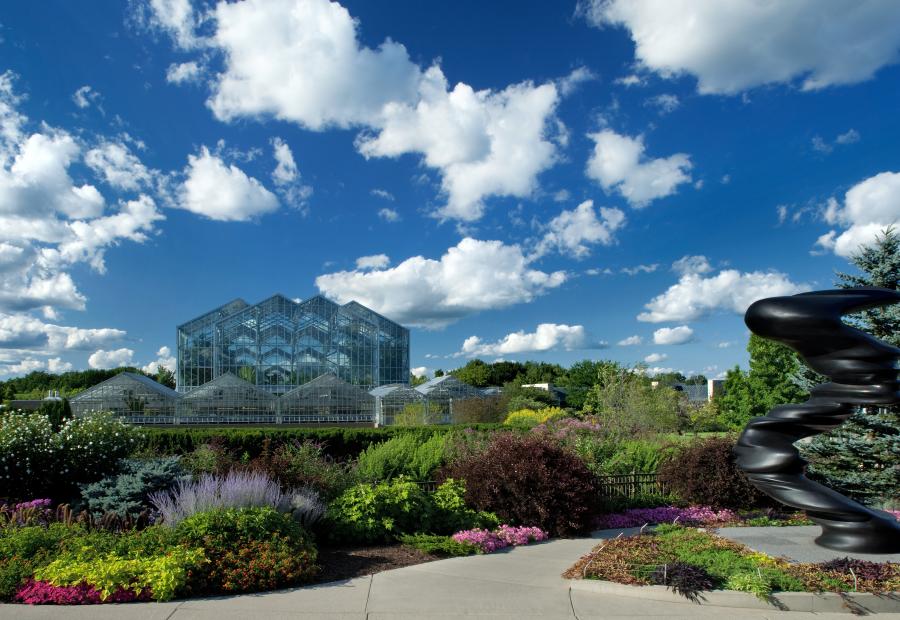 Frederik Meijer Gardens & Sculpture Park
Photo by Experience Grand Rapids
Get Back to Nature
Lucky event-goers might find themselves rambling around a 100-year old farm, soaking in the beauty of orchids and birds-of-paradise at a conservatory, or feeding giraffes at a zoo. Both big cities and rural areas offer impressive venues that immerse guests in a back-to-nature setting.
The natural beauty of these types of venues can reduce your decor budget and make choosing colors easy (emerald green and mocha brown, anyone?). Its even possible that new ideas will sprout from creative discussions as guests relax among the foliage and wildlife. Getting back to nature a great option for event planners whose customers want to break the mold.
Venues to consider:
Frederick Meijer Gardens & Sculpture Park (Grand Rapids, MI)
Cherry Basket Farm (Omena, Northern MI)
Cheyenne Mountain Zoo (Colorado Springs, CO)
In addition to these non-traditional venues, there are aquariums, airport hangers, and mansions galore. If you're ready to kick-start your next event, one of these venues might be the right creative space for you.
Have a favorite space we didn't mention? Feel free to leave it in the comments.
invalid widget [plugins_common_blog_subscription] []