Event planners, this questions for you: Did your last FAM trip include playing Jeopardy or the Amazing Race with other attendees? Or earning CEU credits?
If not, you weren't in Grand Rapids, MI.
Experience Grand Rapids, the city's Convention and Visitors Bureau, is designing FAM Trips with a twist.
Recognizing that event planners have a limited amount of time and money to dedicate to FAM Trips, "Were trying to create more opportunities for relationship building and offer more of a professional benefit for event planners when they attend," explains Kim Rangel, Event Sales and Services Manager with Experience Grand Rapids.
One way Experience Grand Rapids is adding value is by providing event planners with the opportunity to earn Continuing Education Credits (CEUs) during their FAM trip.
Many event planners are Certified Meeting Professionals (CMPs) and are required to earn Continuing Education Credits (CEU) to maintain their certification, says Rangel. "When event planners come to Grand Rapids," she explains, "not only do they see our city, but they also have the opportunity to earn 2 CEUs. They can kill two birds with one stone."
Experience Grand Rapids is also getting creative with the format of FAM Trips, adding a large dose of fun for event planners and guests.
"Historically," says George Helmstead, CDME, Executive Vice President at Experience Grand Rapids, "these types of trips consisted of a dog-and-pony show, with event planners evaluating hotel rooms, convention space, and meeting facilities throughout the day. Evenings were often spent at a concert, dinner reception, or other social event."
But, says Helmstead, meeting planners receive so many invitations for these types of trips that they can't possibly visit every city. "We wanted to find something different that no one else was doing," he says, "because the most effective way for us to sell Grand Rapids is to bring people in to see it."
Helmstead and his staff met with their Client Advisory Board, whose members advise them on best practices and improving sales efforts. When they suggested adding a CEU component, Experience Grand Rapids jumped on the idea. Additionally, Rangel came up with the idea of creating a Grand Rapids-style Amazing Race event, says Helmstead, to give event planners a better feel for the city.
The Amazing Race event was put into action during a recent FAM Trip. Event planners met at the JW Marriott and were split into several groups before heading out for the race.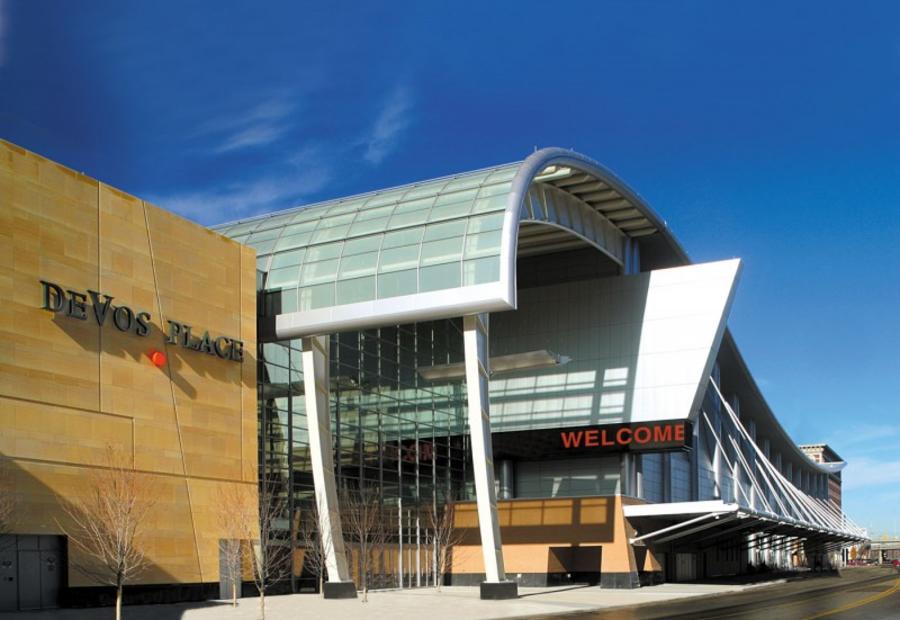 Devos Place Convention Center
Each group began by searching for clues around DeVos Place, Grand Rapids convention center, which is connected to the elegant four-star, four-diamond Amway Grand Plaza Hotel. After hunting down each clue, a staff person from Experience Grand Rapids gave the group more information about the facility. (One such nugget, as they stood in the Amways Ambassador Ballroom: It's the city's largest ballroom.) "By doing this," says Rangel, "they get to see the whole convention center without being dragged on a regular tour. It's fun!"
Next, each team participated in a different challenge around the city. Some headed to Meijer Gardens to name the 5 Great Lakes in the Children's Garden; others visited Craig's Cruisers and local museums to complete their challenge.
Team leaders took photos during the events. Rangel used the photos to create a slide show that captured the essence of each location, so event planners were able to see different facets of Grand Rapids without visiting each one personally.
Planners began the following day by preparing their own breakfast while Amway Grand Plaza Executive Chef Josef Huber talked to them about how to create a successful banquet menu. The interactive demonstration also qualified as their first CEU credit for the weekend.
Breakfast: check.
CEU: check.
Better understanding of the facility: check.
Experience Grand Rapids clients spent the rest of the day touring hotels and a completing a second CEU opportunity. To cap off the afternoon, event planners went head to head in a rousing game of Jeopardy, answering questions about what they'd learned throughout the day. "The fun competition promoted learning and camaraderie among attendees - a nice change of pace from a typical recap. We want to have that relationship building opportunity," says Rangel.
The new format has been a win-win for event planners and Experience Grand Rapids. In the past, Rangel says, they've taken attendees to big name concerts, but she found that event planners preferred adding the CEU educational component. "We had 2-3 times more clients come to this," she says. "Afterwards one client remarked that the event was very well branded. She said it matched who we are," says Rangel, "which is a wonderful compliment."
invalid widget [plugins_common_blog_subscription] []