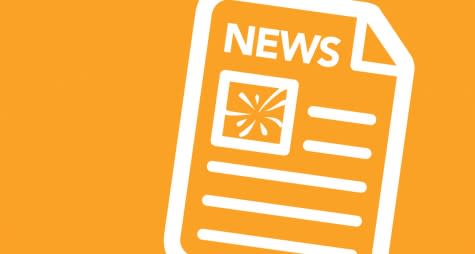 As "going local" becomes more and more desirable, meeting planners are looking for ways to incorporate regional foods and community organizations into their events. As a leader in the farm-to-fork trend, Grand Rapids is a great model for how to enhance your meeting with local products, people and foods.
As any local - and probably most visitors - can tell you, the Grand Rapids community is incredibly supportive of the local food movement, which has burgeoned in recent years. In addition to a $2.7 million renovation of the Fulton Street Farmers Market, the Grand Rapids area hosts 38 local farms, many of which offer CSAs (Community Supported Agriculture) and the city will debut the Downtown Market this summer. This 25,000 square foot marketplace will showcase local products and food, and will include not only a farmers market, but a restaurant, rooftop greenhouse, and retail shops. The opening of a venue of this magnitude is a testament to the Grand Rapids residents demand for locally sourced products.
The growth in the Grand Rapids local food movement isn't driven solely by families replacing trucked-in foods with locally grown kale and asparagus. Grand Rapids is home to a number of top-notch restaurants, like Grove, Bistro Bella Vita, and Brewery Vivant, farmer-owned Trillium Haven, who are concerned about sustainability and committed to using locally-sourced meats, cheeses, and produce whenever possible. As the restaurants have flourished, they've helped drive demand for more farms that can supply them with fresh, local products.
To foster relationships between local restaurants, farmers, and suppliers, local-business advocate Local First holds an annual event, Fork Fest, which brings together chefs, restaurant owners, brewers and more for an open-to-the public celebration of all things local. Attendees spend the evening sampling tasty wares from their favorite local establishments, whose tables stretch the length of Romence Gardens two main greenhouses. Last years event drew 400 people, twice as many as attended in 2011.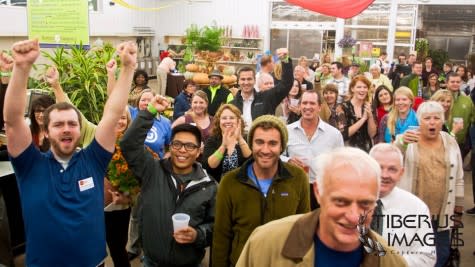 "The event has grown, in part, because the farm-to-table in Grand Rapids is popular," says Seth Galligan, Communications Coordinator for Local First. "But it's more than that. When people go to these restaurants, they're delivering on quality," he explains. "Fork Fest gives them the chance to try lots of first-rate, local foods and beverages in one fun evening."
Attendees also have the privilege of meeting the people behind the food the owners, chefs, brewers, winemakers, and suppliers. Galligan believes that connecting the consumers and the people behind the businesses is a powerful tool. "You might have a favorite local neighborhood restaurant," he explains, "but if you can actually meet the person who owns it or works there, that creates real relationships, which creates the strength were looking for in communities."
Meeting planners in Grand Rapids are also taking advantage of the boom in the local food movement. "If you have great food at your event, it could help your attendance," says Kim Rangel, Event Sales and Services Manager with Experience Grand Rapids. "We want our attendees experience to be stellar and our locally-sourced restaurants make amazing food. That's part of a positive event experience."
Last year, Rangel planned Experience Grand Rapids Annual Celebration, collaborating with four top local chefs to design an event for 300 people that celebrated local food. Attendees enjoyed a 4-course meal that began with a charcuterie appetizer and ended with four desserts, one prepared by each chef. (Collaborating chefs were Justin Dalenberg (six.one.six), Jenna Arcidiacono (Amore), Pat Wise (Grove), and Matthew Millar (Reserve).)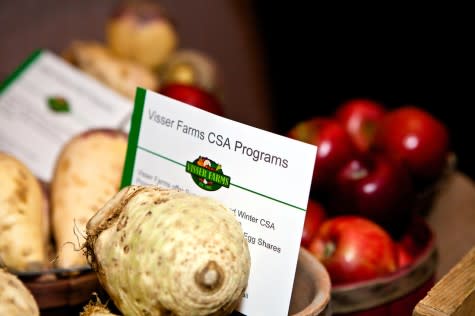 During the meal courses, says Rangel, each chef talked for a few minutes about their process and the local farms they used. But the locally sourced theme didn't stop there. After the meal, guests discovered that their placemats were actually paper bags which they could now take to the Farmers Market Rangel had set up in the JW ballroom to fill with seasonal goodies.
Although the Annual Celebration was held in February, there was plenty to choose from. "There's a huge misconception that farmers only have things in the summer," says Rangel. "But a lot of farms have greenhouses, so we had plenty of vegetables. We also had meat, fish, honey, and jams. Plus, there were cheeses from Cowslip Creamery."
Sometimes event planners who are enthusiastic about the idea of supporting locally-sourced food with their events find that the venue they've chosen limits their food vendor choices. "Supporting local food doesn't always have to mean the food you're serving," says Rangel. If your attendees will have a free afternoon or evening, she suggests compiling a list of restaurants that serve locally sourced food so they can try them on their own. You may even be able to arrange a discount ahead of time.
Another way meeting planners can support local businesses is by using local product for giveaways. "When people travel, they like to buy something true to that area," says Rangel. "Buying something from a local vendor can be just as impactful and unique as having a local menu."