Are summer conferences on the agenda? They don't have to be all work and no play.
With beaches, breweries, world class museums and plenty of other offerings, Grand Rapids, Michigan, makes it easy to turn a work trip into a mini-vacation. Bring the family and let them play or tack on some extra days so you can join them.
Tim Nelson, director of convention services for Experience Grand Rapids, works with groups throughout the year to plan itineraries for guests of attendees, tailoring the offerings to the specific groups.
"It's very personalized; it all depends on what the group is after," Nelson said. "There are some groups that are still interested in straight-up tours where they want to be taken out and shown something. Others want something far more educational or interactive.
"They can be purely social or educational."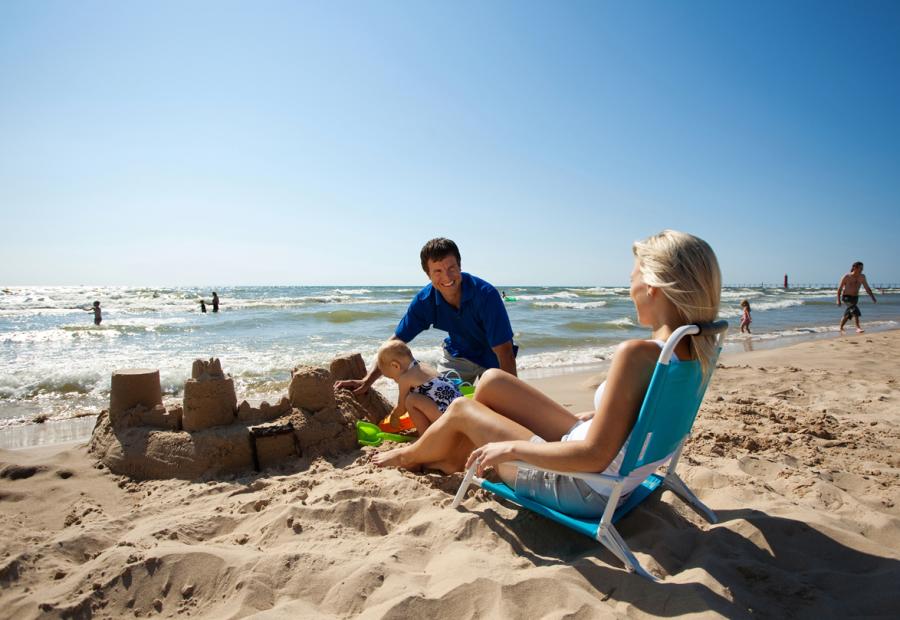 Happy Family Building a Sandcastle on a Beach near Grand Rapids
Photo by Experience Grand Rapids
Hit the beach
Just because Grand Rapids isn't on the East or West Coast doesn't mean you can't enjoy a sunny beach day.
The city is a half hour to 45 minutes away from several, beautiful Lake Michigan beaches in Muskegon, Holland, Grand Haven and Saugatuck and Nelson can help plan day trips. The sugar-sand beaches and dunes border crystal clear fresh water with an added bonus: No sharks!
You can even hit the beach closer to downtown at Millennium Park, a 13-minute drive from the convention campus. Its 1,500 acres include a sandy swimming beach, beach house, picnic facilities for families and groups, play areas, as well as paved trails for cycling, walking, running and in-line skating.
Visitors can also rent kayaks, paddle boats, paddle boards, canoes and row boats.
Get active downtown
Kayaks, canoes and bikes are also available for rent downtown or not too far from it. Grand Rapids Bike Rentals and Grand Rapids Bicycle Co. can provide you with some wheels and suggested routes to spend your day, including directions to family-friendly hot spots or some of the city's breweries.
Want to take advantage of the city's namesake river? GR Paddling or Grand River Kayak and Canoe can set you up with some downtown floats including transportation.
If you prefer your own two feet, consider a tour with Discovery Michigan or Grand Rapids Running Tours and learn more about the area while getting some exercise.
Something for everyone
For multi-generational groups, Nelson often recommends Frederik Meijer Gardens & Sculpture Park.
"We try to look for something that will appeal to many different age groups," he said. "At a park or beach, you can have social time for the older people in the group and playtime for the younger people
"We do that at Meijer Gardens, too. Send kids to the Children's Garden where families are able to find something to do and the older people get to take a tour on the tram and then you can bring everybody together for a meal."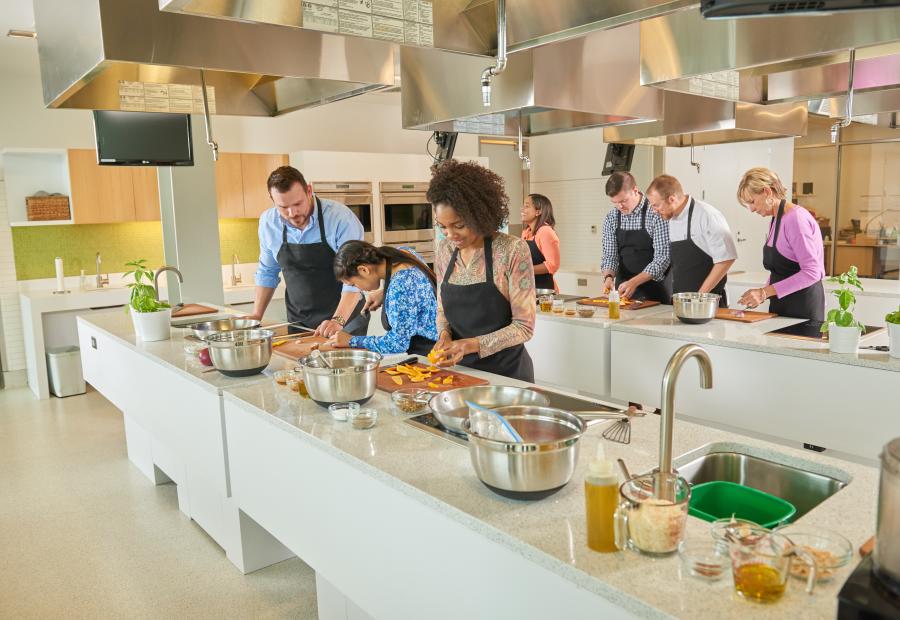 Downtown Market offers cooking classes for all ages and skill levels!
Photo by Downtown Market
Cooking classes
Nelson said cooking classes are always a popular option and lately they have been taking a special focus:
"There is an emphasis on healthy eating and fresh foods. It goes along with the farm-to-table concept," he said. "I have worked with clients to arrange more food experiences in the last year or two than ever before."
The Local Epicurean and the Downtown Market regularly offer classes or can work with groups for special offerings. The city also has a vibrant restaurant scene and is home to the Secchia Institute for Culinary Education, which opens its doors for custom-designed events.
Options abound
Nelson can also help arrange events around any topic of interest, including art and architecture, breweries and distilleries, or whatever people might want.
"The big thing is that people just want something new," he said. "But nobody wants to go too far out on a limb in case people won't participate."
In Grand Rapids, the city's strengths are beer, fresh food, live music and art, Nelson said.
"It's where we can deliver a more unique experience," he said. "We try to add a little more meat to the event and make it more than a tour. We may do a beer pairing with food, or make it a brewing theme and combine beer tasting with coffee tasting.
"It's fun and if you learn something, you take that home with you."
invalid widget [plugins_common_blog_subscription] []