When you're traveling by car to an unfamiliar place, how much do you rely on your phones mapping app and the turn-by-turn directions?
Or maybe you use a GPS tool like Garmin or Magellan?
Either way, it gives you confidence to be able to see your virtual self moving across the screen as you head to your destination.
As a meeting planner, wouldn't it be nice to give that same confidence to attendees as they navigate the halls of an unfamiliar convention center?
It's the next big thing in location services at meetings and events, and DeVos Place in Grand Rapids, Michigan, is one of the first to offer it in the form of an app.
You can see where you're going inside the hall, said Ken Curry, cofounder of Tangerine Mobile, which developed the app for DeVos Place. It features a blue dot that moves as you walk around.
Many venues offer an app for their events that include maps and allow meeting planners customize it with agendas, speaker lists or other services. But DeVos Place is one of the first to offer the indoor navigation.
"It can guide me to the places Im looking for, like a session room, exhibitor or restaurant," Curry said.
The convention center app also features interactive maps of the venue that can be customized with specific exhibit and meeting locations combined with a map of Grand Rapids highlighting restaurants and other points of interest.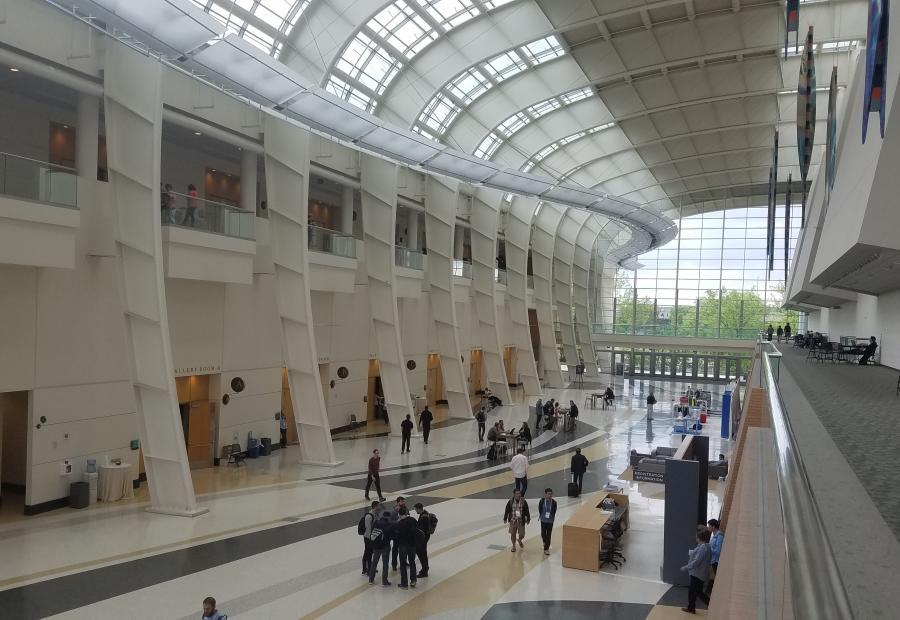 DeVos Place Grand Gallery
"You're just accessing one map that gives you access to all the fun things to do in Grand Rapids along with every floor of DeVos Place, the exhibit floor and the hotel," Curry said. "It's sort of like Google with an indoor map. As you zoom in, you get more detail."
While those are great features for attendees, part of the location technology allows planners to track movement of people at events, too - at least the ones who have downloaded the app and have WiFi or Bluetooth enabled on their phone. (Curry said the technology already is heavily used by retailer apps, such as Starbucks or Macy's.)
"It's important for these events to showcase traffic on the exhibit floor so they can go to a sponsor or booth and show that they're getting what they pay for," Curry said. "It will also allow planners to make better decisions in the future."
Curry said they are in the education phase with the technology, showing planners the benefits it can provide. His team has piloted the app at events for the Michigan Dental Association, Michigan Association of School Boards and ArtPrize, among others.
"As the technology and society move forward and embrace location services, it will become much more a part of the fabric of our every day lives," he said. "I think you're just seeing the tip of the iceberg here."
invalid widget [plugins_common_blog_subscription] []