The COVID-19 pandemic called for rapid and innovative responses from Michigan's government, business, nonprofit and healthcare leaders. The West Michigan Vaccine Clinic, located at DeVos Place Convention Center in downtown Grand Rapids, highlights how West Michigan's convention center owner and operator, Kent County and county Health Department officials, and healthcare systems collaborated and flexed to quickly ramp up vaccine access to area residents in the first half of 2021.
Nearly a year after the outbreak of the coronavirus in the U.S., state and local governments began implementing large-scale vaccination efforts, creating increased need for healthcare providers and spaces that could keep up with demand.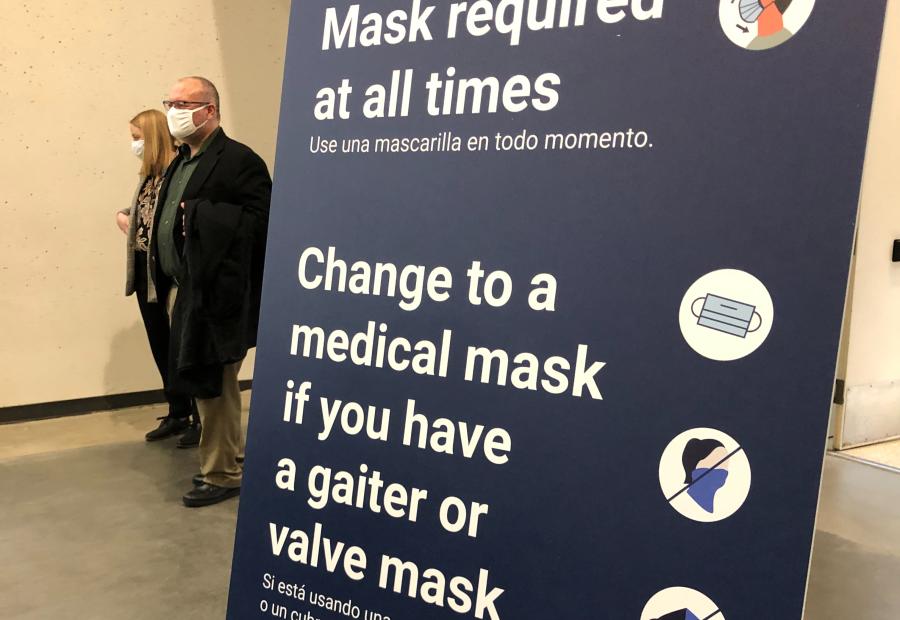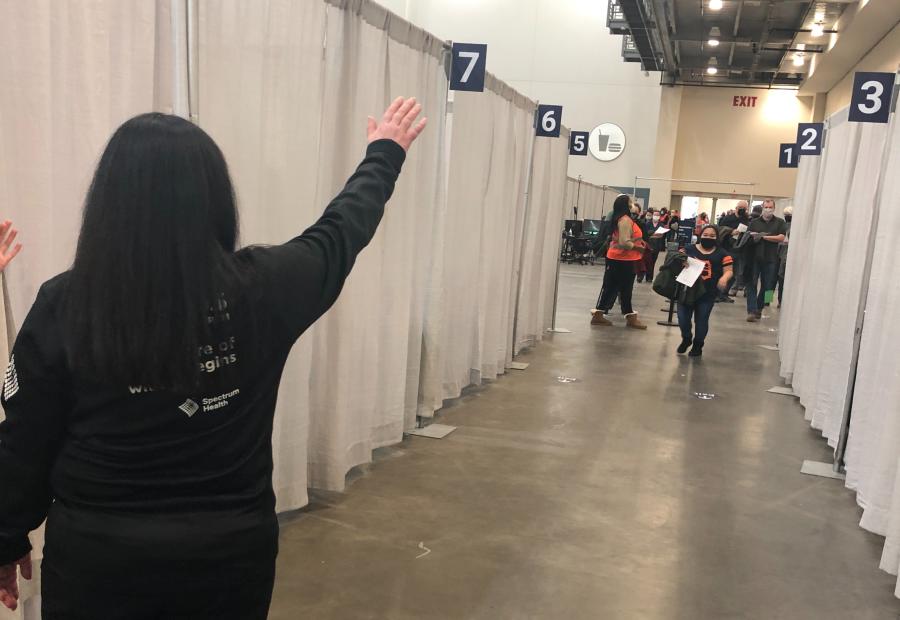 Ample parking, plus easy access to highways and bus routes made the Devos Place Convention Center an easy choice to host the state's largest vaccination clinic.
Photo by Provided by Truscott Rossman
The right assets
In January, Kent County leaders worked with the public-sector DeVos Place Convention Center owner – the Grand Rapids-Kent County Convention/Arena Authority – and building manager ASM Global to negotiate a plan to convert the 1 million-square-foot convention center into a mass vaccination clinic. 
The size and configuration of DeVos Place are well-suited for a large-scale undertaking of this kind. The facility features a 162,000 square foot, column free exhibit hall, 40,000 square foot ballroom and 26 individual sub-dividable meeting rooms. During normal, day-to-day operations, this flexible space can host multiple events simultaneously. That flexibility made it the perfect space for healthcare and public health providers to quickly set up and efficiently operate a massive and unprecedented vaccination clinic.
Facility operators had also recently installed state-of-the-art air purification and ventilation systems thanks to a CARES Act grant allocated by Kent County. Plus, the facility has the systems to support ultra-cold, secure vaccine storage and the connectivity and IT infrastructure required in today's high-tech healthcare environment. 
Finally, the fact that the site is on bus routes, is accessible from multiple interstate highways, has ample parking and is centrally located in downtown Grand Rapids were other key factors that drove tens of thousands of residents from throughout the region to get the jab here. 
"DeVos Place is a community asset, and as such, the CAA and ASM Global have always strived to activate the convention center in an effort to promote economic growth in West Michigan," said Rich MacKeigan, ASM Global regional GM, Van Andel Arena and DeVos Place.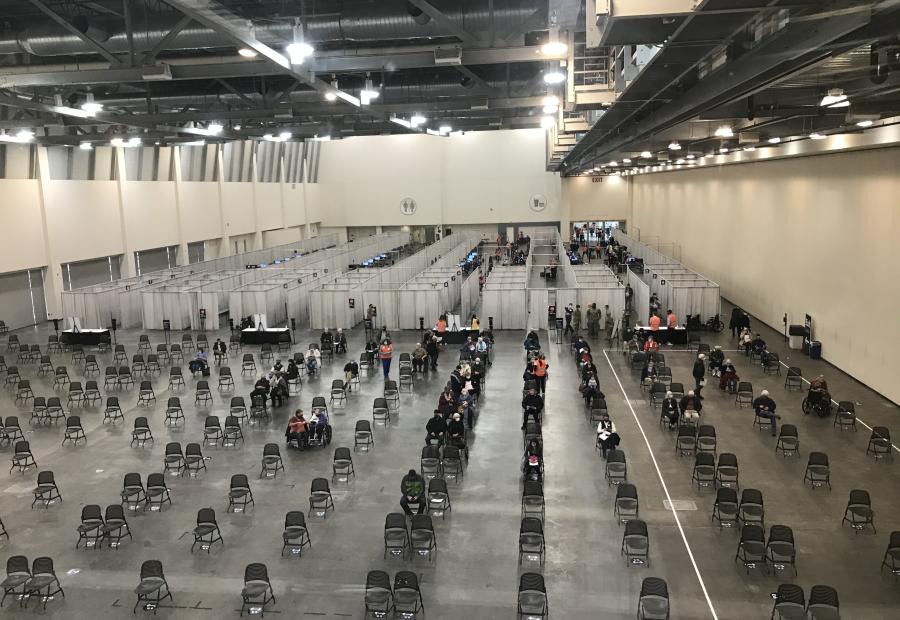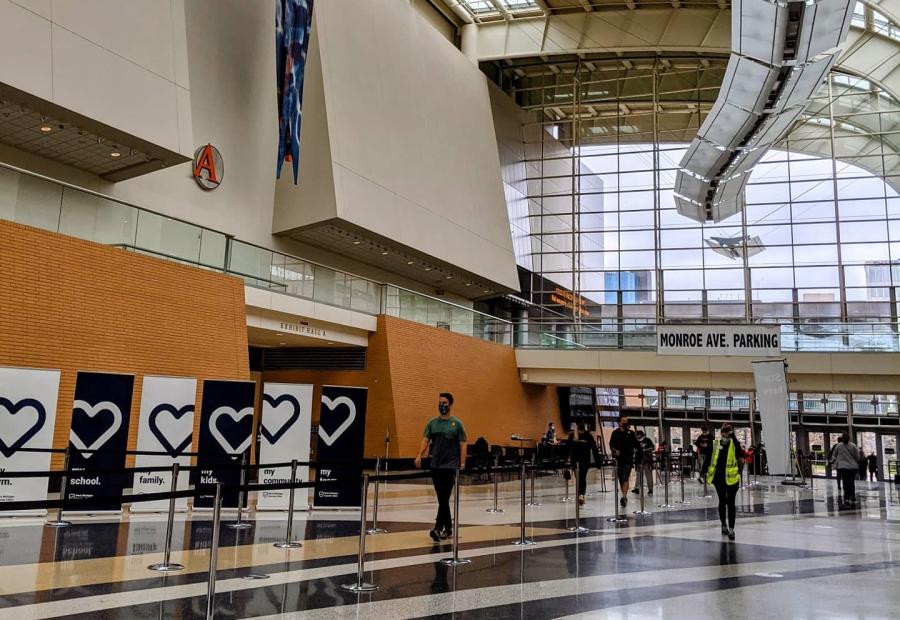 The convention center's large, flexible space mean it can often host multiple large events at once.
Photo by Provided by Truscott Rossman
Possibility through partnership
When it came time to get the operation up and running, the Kent County Health Department partnered with the two largest area healthcare systems – Spectrum Health and Mercy Health Saint Mary's – along with the Vaccinate West Michigan consortium, to plan, set up and operate a clinic that would allow thousands of people to be vaccinated at one central location. 
The coalition was hopeful about the public health possibilities that the location offered and opened the doors of the clinic on January 25, 2021.
On April 29, Governor Gretchen Whitmer became one of thousands of Michigan residents to receive their second dose at DeVos Place, highlighting the significance of the clinic in statewide vaccination efforts. 
Thanks to an extensive network of community volunteers and dedicated healthcare workers, the clinic administered 231,000 doses of the COVID-19 vaccine in four months of operation. At its peak, more than 12,500 vaccine doses were administered at the clinic in a single day, setting a statewide record with roughly 1,000 doses being administered per hour, according to Brian Brasser, chief operating officer at Spectrum Health. 
This large-scale, efficient operation was able to clear the backlog of residents waiting for a vaccine appointment and dramatically increase local vaccination rates, allowing the facility to return to normal operations sooner than expected. The clinic was a major contributor to the fact that Kent County maintains vaccination rates that are among the highest in the State of Michigan.
"Hosting the West Michigan Vaccine Clinic, in partnership with Kent County, Spectrum Health, Mercy Health and Vaccinate West Michigan, allowed for expedited distribution of the vaccine," said MacKeigan. "This collaborative effort contributed to Michigan's reopening and helped put our community on the path to economic recovery. I am confident this 'event' will be a historic highlight for DeVos Place."
Kent County enjoys a long history of public-private partnerships that enhance the regional quality of life. In 2021, one vital partnership elevated that impact to 'life-saving.'