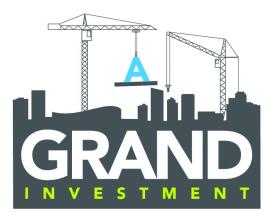 In a region where global corporations were among the first to advance design thinking, the iterative, human-centered design process is enhancing learning and driving innovation in after-school programs, K12 and higher education. This is the second in a three-part series that takes a look at where that's happening and what it looks like in West Michigan.
Out-of-the-box and out-of-the-classroom thinking
"Design thinking is essentially creative problem solving," explains Dr. David Coffey, a mathematics professor at Grand Valley State University (GVSU).  Coffey, who was trained at the Stanford d.school, is part of the Design Thinking Initiative through the Pew Faculty Teaching and Learning Center at GVSU and is a consultant for the university's Design Thinking Academy.
"The current problems in education could use some creative solutions," he contends. "Too often we tinker around the edges or repurpose old ideas and nothing really changes. Design thinking offers a set of mindsets and methods that can bring creativity back into educational decision-making; it encourages out-of-the-box thinking."
Grand Rapids Public Schools recognizes this and is using design thinking to shape facility renovations and design, model programs, Centers of Innovation, professional development and community engagement. 
The Grand Rapids Public Museum School illustrates just how integral design thinking is to the district's vision and growth.
The idea for an urban middle and high school housed in the city's former public museum was sparked by a 2012 chat between running buddies – the Grand Rapids Public Museum director Dale Robertson and the then Grand Rapids Public School Board president and professor at Ferris State University Dr. Tony Baker. They brought the idea to GRPS Superintendent Teresa Weatherall Neil, who picked up the baton and included the idea in the District Transformation Plan later that year.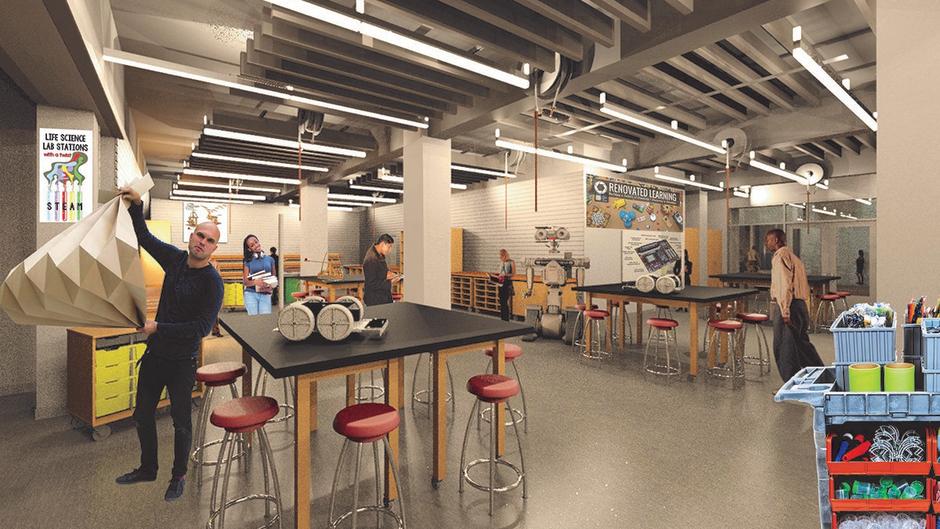 A mockup of a classroom setting in the Public Museum School shows how students would engage with the space.
Photo Credit: Media 3 Design
---
From the beginning, the concept was for a school with a design-thinking, place-based curriculum that would use the community as a classroom. So, when it came time to transform the concept into reality, naturally, design thinking drove the collaborative, human-centered solution-building process. Community engagement was key, so several partners were brought on board.  
District and public museum leaders engaged design thinking practitioners from Kendall College of Art and Design (KCAD) of Ferris State University. They also brought on faculty and administrators from the College of Education and Office of Place-Based Education at GVSU.
And because organizers firmly believed that schools can help drive community revitalization and civic engagement, partners and planners from the City of Grand Rapids and Downtown Grand Rapids, Inc. were invited to the table.
Design thinking requires learning, doing and making
"We recognized immediately that we would need the city as a partner because we're training students to be civically engaged," explains Gayle DeBruyn, associate professor and chair of the Collaborative Design, Furniture Design, and Master of Arts in Design programs at KCAD and one of the architects of the Museum School.
The plan was to "tear down the walls" of the traditional school, use the community as a classroom and empower students as problem solvers, active learners, creative thinkers and engaged citizens.
"Design thinking requires learning, doing and making," DeBruyn says. "We learn by listening – by hearing each other. We brought together a city, two universities, a public school district and a cultural institution to build this school. We heard what each had to say, and we created a new way to think about education."
The Museum School launched as a sixth grade program with 60 students in 2015, and is adding one class each year until 2021, when it will offer a full sixth through 12th-grade curriculum at two downtown campuses. The middle school is housed on the fourth floor of the Grand Rapids Public Museum, nestled on the banks of the city's namesake Grand River. The high school will open its doors in August 2018 and will be housed in the former museum building about a mile east of the riverside facility. The high school building is adjacent to the public museum's Community Archives and Research Center, which will serve as an extended classroom.
John Helmholdt, Executive Director of Communications & External Affairs at GRPS, describes the impact of design thinking on the way students learn at the Museum School.
"It's not just sit and get. It's collaborative. Students work together on ideation and problem solving, with the museum, its exhibits and archives, the river, cultural institutions, city hall, and every community asset within a two-mile radius serving as their classroom."
DeBruyn and colleague Dr. Cindy Todd, chair of the Art Education program at KCAD, have remained engaged in shaping and supporting the school curriculum. Todd's art education students work with sixth grade Museum School students on project-based learning through design thinking – their lab is the middle school classroom.
The partnership continues with the GVSU College of Education, as well, with faculty deeply involved in developing Museum School curriculum.
Christopher Hanks, Museum School principal and former faculty member in the GVSU College of Education, describes the impact of infusing design thinking into the curriculum this way: "We want to transform the students from consumers of education to producers of it."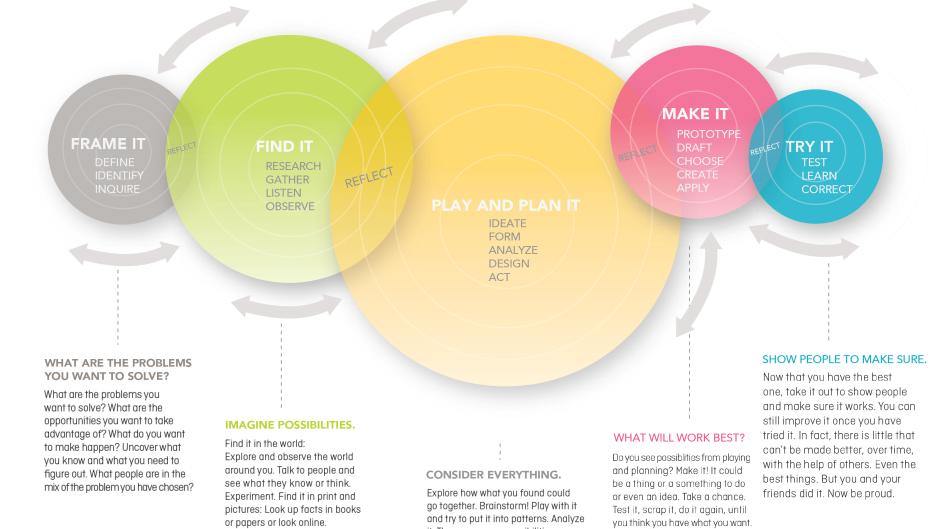 This diagram maps out the interactive nature of learning by design thinking.
Photo Credit: Kendall College of Art and Design
---
XQ Super School
By all accounts, they're on the right track, and they have a $10 million XQ Super School award to prove it.
The XQ Super School project is a competition inviting America to reimagine high school. Innovative high schools compete for $100 million in grant money, and the Museum School was one of 18 first-round winners.
In addition to funding buildout of the high school, GRPS has earmarked grant dollars to invest in an Institute for Design Thinking and Place-Based Education. They are partnering on plans with KCAD and GVSU and envision an institute where teachers from throughout the region could visit to learn about the Museum School's teaching model.
In next month's installment of "A Grand Investment," we'll look at ways Public Agency, a design thinking consultancy and social enterprise of the West Michigan Center for Arts and Technology is pushing the boundaries of design thinking to create more equitable access to opportunity in education.
A Grand Investment is an ongoing series exploring the business landscape of Grand Rapids. Michigan's fastest growing metro area and one of the nation's strongest economies, Grand Rapids is fueled by a creative, collaborative spirit that generates global, national and entrepreneurial investment. This series highlights leading sectors of the local economy and underscores the city's suitability for innovation-focused meetings. 
Don't miss a post!
Sign-up for the Meeting Minds Blog to get the next A Grand Investment story!