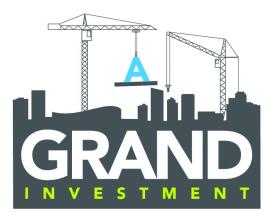 In a region where global corporations were among the first to advance design thinking, the iterative, human-centered design process is enhancing learning and driving innovation in after-school programs, K12 and higher education. This is the first in a three-part series that takes a look at where that's happening and what it looks like in West Michigan.
Taking cues from design pioneers
In a design-centric region that is home to furniture design pioneers like Herman Miller (think the iconic Eames Lounge and Aeron chairs) and Steelcase (check out the new SILQ office chair that intuitively responds to its occupant's movements), it may come as no surprise that design thinking is driving innovation in education, as well.
In West Michigan, educational institutions and enterprises are becoming purveyors of the collaborative problem-solving methodology that employs empathy to understand and clearly define a problem, then engages in collective ideation and several rounds of prototyping, trial and error before landing on – and employing – a solution.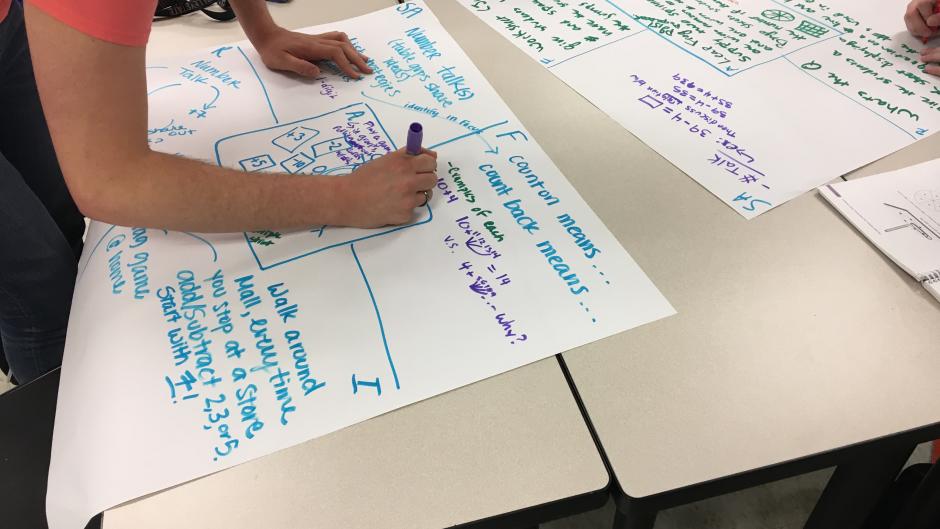 GVSU Prototyping Planning
Photo Credit: Dr. David Coffey of Grand Valley State University
---
A human-centered approach
The process is human-centered. According to Tim Brown, CEO and president of global design company IDEO – formerly a division of Steelcase – innovation born of design thinking is powered by a thorough understanding, through direct observation, of what people want and need in their lives and what they like or dislike about the things designed to meet those wants and needs. This goes well beyond product design and applies to services, processes, experiences and strategies. Design thinking brings a human-centered approach to how these things are conceptualized, made, marketed, sold, delivered and supported.
Dr. David Coffey, a mathematics professor at Grand Valley State University (GVSU), points to these human-centered solutions as a reason design thinking is critical to innovation in education.
"We have de-humanized the profession of teaching by focusing almost entirely on quantitative data from test-scores," he says. "Design thinking brings empathy back into the decision-making process; this helps us to plan lessons, curricula, classrooms, schools ... with children in mind."
Design thinking brings empathy back into the decision-making process
Empowering students to be problem solvers
Coffey, who was trained at the Stanford d.school, is part of the Design Thinking Initiative through the Pew Faculty Teaching and Learning Center at GVSU and is a consultant for the university's Design Thinking Academy.
The academy is a non-credit program on design thinking patterned after the Stanford d.school and aims to prepare students to be innovative problem solvers who will find and lead solutions to civic, social and business challenges. It's the first program of its kind for undergraduate students.
Participants begin with a design thinking deep dive, then they are assigned a client. The students work with that client and a small academy team – including a GVSU faculty coach – to develop a solution to a community-based issue.
That's why many Grand Rapids-area educators are applying design thinking to everything from corporate workshops and career training to after-school programs, university curricula, model school development, facility design, K12 school district strategy and pedagogy.
Goals are to enhance equity and inclusion and create immersive learning experiences that promote problem solving, encourage student and community engagement, and deliver a more satisfying and successful educational experience.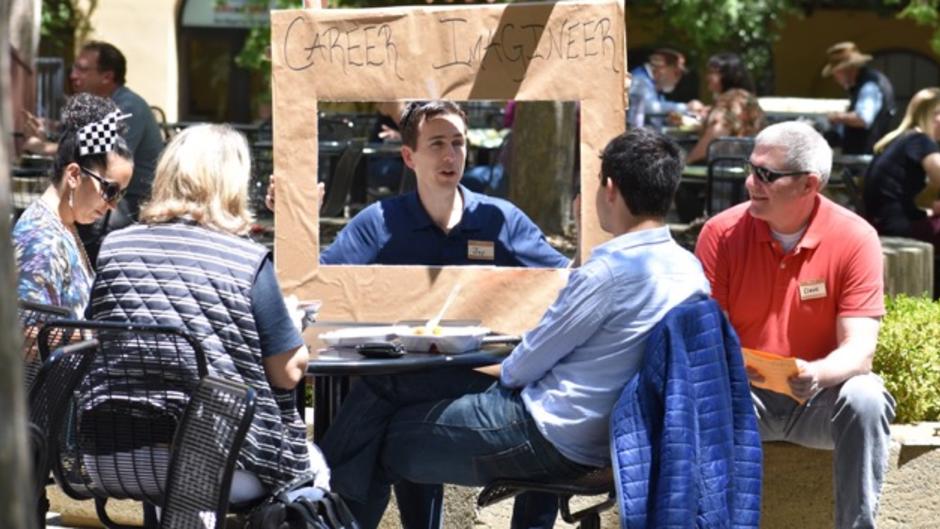 Group discussion at Stanford d.school
Photo Credit: Standford d.school
---
"Design thinking is essentially creative problem solving," explains Coffey.  "And the current problems in education could use some creative solutions. Too often we tinker around the edges or repurpose old ideas and nothing really changes. Design thinking offers a set of mindsets and methods that can bring creativity back into educational decision-making; it encourages out-of-the-box thinking."
In next month's "Grand Investment" post, we'll look at how one area K12 district has applied design thinking to create an out-of-the-box – and out-of-the-classroom – solution. 
A Grand Investment is an ongoing series exploring the business landscape of Grand Rapids. Michigan's fastest growing metro area and one of the nation's strongest economies, Grand Rapids is fueled by a creative, collaborative spirit that generates global, national and entrepreneurial investment. This series highlights leading sectors of the local economy and underscores the city's suitability for innovation-focused meetings. 
Don't miss a post!
Sign-up for the Meeting Minds Blog to get the next A Grand Investment story!