Floods, evacuations and chaos rarely leave people smiling, but a few weeks after Tammy Brown faced all three at her SkillsUSA Michigan state conference in Grand Rapids, she can't help but smile.
"Everybody in the City of Grand Rapids, the fire department, the hotels, Experience Grand Rapids, DeVos Place, we all worked together, and we got it done," Brown said. "We couldn't have asked for anything more."
Except maybe a little less water.
It was April 20, day two of the three-day event, and Brown was delivering some last-minute paperwork to a competition site when she got the call: Guests were evacuating the Courtyard by Marriott as flood waters rose to record-breaking levels.
That meant her attendees in the 138 guest rooms booked there needed to be relocated, as did the competitions scheduled for the hotel due to start that morning. Between the two, about 500 people were affected. That's out of about 2,000 total guests, volunteers and judges that attend the event.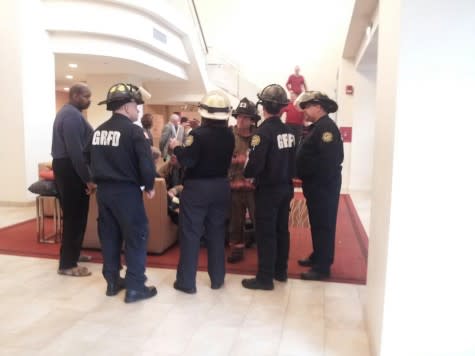 Students were in the lobby, some still in their pajamas. Others had already left for off-site competitions and had no idea they couldn't return to their rooms. But Brown said everyone stepped forward to contribute.
Staff from the Amway Grand Plaza set up a room as a home base for all evacuated guests, while the fire department made a plan to have staff escort small groups of students back in to get their things.
The competitions were moved to DeVos Place convention center and started only two hours behind schedule in a room that was so well set up, it appeared to have been the plan all along. (Although, some students were forced to compete in their pajamas!)
Heidi Schmitt of Experience Grand Rapids worked closely with staff from the Courtyard to find blocks of rooms at other hotels for the displaced guests; downtown hotels were all full. She even made sure they had enough food for the influx of hungry teenagers headed their way.

"Fortunately we have relationships with the other hotels, so on a community level we just all kicked in," Schmitt said. "They understood the crisis and were willing to be right there to help."
Andie Newcomer, convention services manager for Experience Grand Rapids, handled transportation with Great Lakes Motorcoach, making sure students returning from morning competitions knew where to go and securing busing for the next morning to get everyone back downtown for final ceremonies.
While all that was going on, Brown said she was able to concentrate on the conference, calling competition sites and school contacts to let them know that everything was being handled.
"It was just a nice synergy," she said. "Everyone was working on something. Everyone understood what was going on."
Browns best advice? Keep calm and carry on. "With me keeping calm, I think that calmed everybody else."