When Steve Cauble planned the 2013 annual meeting of the International Church of the Foursquare Gospel, it included childcare and ministry programming for 500 children.
"We not only had 22 rooms of various sizes and capabilities assigned to the task, but we also had a huge part of the exhibit hall with inflatables as a fun zone," he said. "And we had another huge part with seating for 300 for crafts, plus another area where we could seat 500 at a time for meals."
Five years ago at the same meeting, childcare accommodations included one hotel room. "It was a self-care nursery. They were on their own."
Cauble has been convention production manager for the IDFG for 30 years, but only in the last five has childcare become a priority for his attendees. It's now the first thing he considers when judging potential venues. All his RFPs include it.
Not all meeting planners are running into this trend. But the IDFG includes several leaders that are younger with young families.
"They are not in a position to leave their kids home for a week," he said. "We had to decide: If it's important for us to have them there, then we need to make it family friendly."
So what should a meeting planner consider when it comes to childcare?
How much do you want to offer? Some groups will be happy with a list of area providers they can call themselves. (Although that wasn't enough for some attendees of the 2012 Democratic National Convention.) Others will want all the bells, whistles and bounce houses provided for them.
Will the venue accommodate it? Not only does it have the space available, but does the surrounding area offer kid-friendly attractions within walking distance, like museums, parks or zoos?
Food: When planning menus and meal times, consider kid-friendly choices for events that might include the whole family.
Security: How do you handle background checks? Cauble taps into the vast network of the ICFG to secure volunteers that have already passed background checks for their churches. Care provider websites such as sittercity.com and care.com provide an avenue for references and background checks, too.
Liability: Do you have the right kind of insurance? Check it out.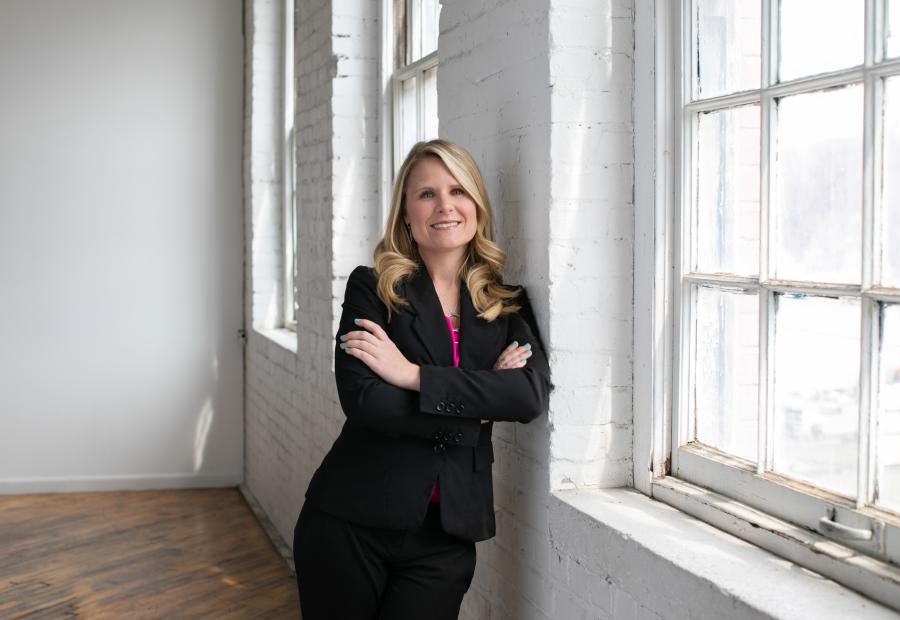 Andie Newcomer, Director of Events at Experience Grand Rapids, 2019.
Photo by Experience Grand Rapids
Andie Newcomer, a convention services manager at Experience Grand Rapids, helped a visiting organization arrange for group childcare during an evening awards banquet a few years ago.
She called the Grand Valley State University Children's Enrichment Center, which helped her tap into GVSU students and alumni who were interested in childcare. Newcomer arranged for four students to come to the Amway Grand Plaza to watch the children. She provided them with free parking and met them at the hotel to ensure everything went smoothly.
"We had reserved one of the smaller meeting rooms where they could play," she said. "We put a couple tables in there and they rented a Wii game from the hotel."
There were also snacks and other activities. But the evening was so nice, the caregivers walked the kids over the pedestrian bridge to nearby Ah-Nab-Awen Park where they played Frisbee and did other outdoor activities.
"It worked out really well," Newcomer said. "With advance notice like that, we certainly can do it all over again. Those students are passionate about watching children and childcare."
invalid widget [plugins_common_blog_subscription] []