Throughout the COVID-19 pandemic, the Gerald R. Ford International Airport (GRR) worked closely with health experts from around the world to maximize the safety and well-being of passengers, guests and employees. As travel has rebounded and more people are passing through its terminals, GRR continues to employ elevated health and sanitation protocols developed to combat the spread of the virus.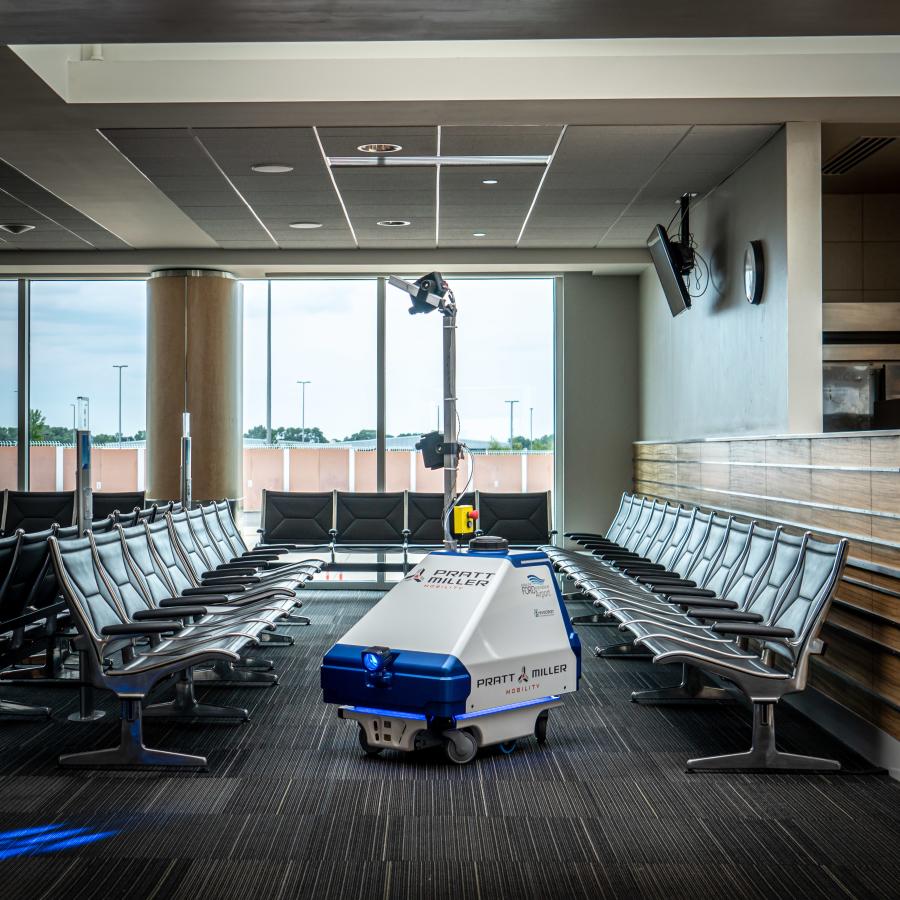 GRR was the first large airport to test the use of the disinfecting (LAAD) robotic vehicle in 2020.
Photo by Pratt Miller
Leading the Way
GRR was the first airport in Michigan to earn the Global Biorisk Advisory Council™ STAR™ Facility Accreditation status from the ISSA – the worldwide cleaning industry association. GRR met GBAC Star's 20-element quality standards program covering health protocols, disinfection techniques, and cleaning.
The airport was the world's first test site for the Large Area Autonomous Disinfecting Vehicle (LAAD), which roamed the facility dispensing FDA-approved disinfecting solutions on high-contact surfaces.
And it was one of 46 airports around the world to receive a 2021 Airport Service Quality Award from Airports Council International for providing a superior guest experience during the COVID-19 pandemic. GRR was honored in the Best Hygiene category, reflecting its investment in cleaning and sanitation as well as such measures as plexiglass between guests and employees, signage to remind people of social distancing and mask mandates, and enhanced air ventilation and filtration.
Today, the airport continues to rely on continuous cleaning protocols to disinfect and sanitize high-traffic areas, including bathrooms, airline kiosks, TSA bins, and more. Hand sanitizers are placed throughout the terminal pre- and post-TSA screening areas while upgraded energy-efficient HVAC systems improve air quality and temperature comfort.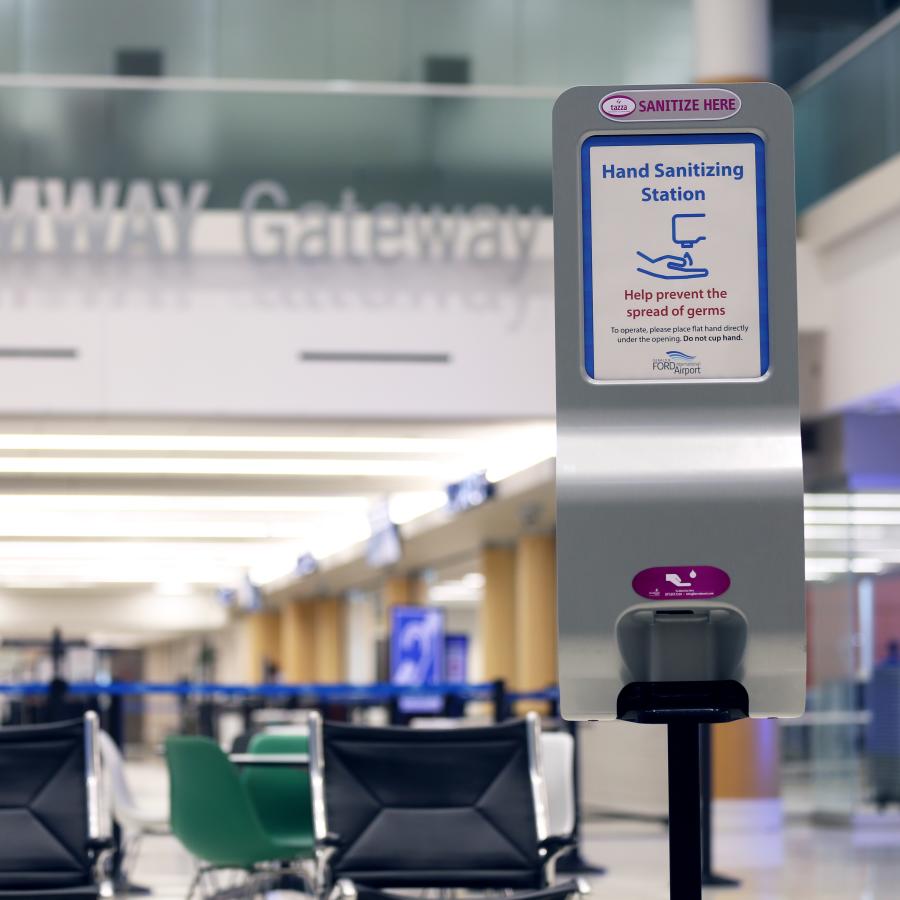 Additional safety precaution were added at the airport to further enhance safety measures and many remain today.
Photo by Gerald R. Ford International Airport - Sabo PR
Fly Safe. Fly Ford.
All of these elements were key to the airport's "Fly Safe. Fly Ford." campaign, launched in summer 2020, which sought to restore confidence in the flying public. The promise to provide a safe, comfortable traveling experience remains in full effect.
Even as America has greatly eased up on COVID-19 safety precautions – including no longer requiring that masks be worn on planes and in airports – GRR continues to offer drive-thru COVID testing in its economy parking lot as a way to secure peace of mind for travelers and help stem the spread of the virus. Open every day from 6am-6pm, the service offers a range of tests as well as an on-the-go test that can be used anywhere in the world.
GRR also remains in close consultation with the Centers for Disease Control, World Health Organization, local, state, and federal governments, and its airline partners to monitor developments with COVID-19 and other emerging health threats.
The airport's easy-to-navigate size facilitates healthy practices and the ability to quickly respond to any emerging threat. With six airlines connecting to 34 non-stop destinations and conducting more than 100 flights a day, GRR is big enough to get travelers where they want to go, but small enough to better control cleaning procedures, train staff members in best practices and offer a safer travel experience.
Visit GRR's Fly Safe page for more information.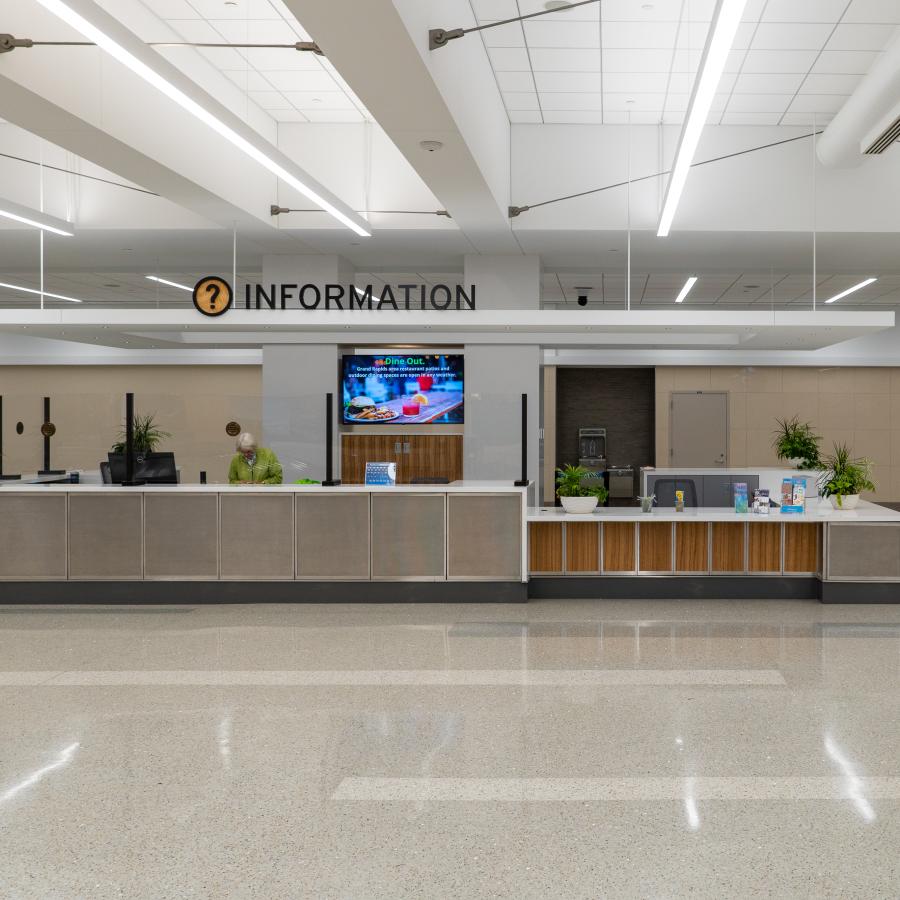 Arrive confidently! There is a team of people at our information desk to help. You can find them by baggage claim.
Photo by Experience Grand Rapids