The Gerald R. Ford International Airport (GRR) is experimenting with revolutionary new tools in its ongoing efforts to make airline travel safer. Most recently, the airport served as a test site for a Large Area Autonomous Disinfecting Vehicle (LAAD). This first-of-its kind technology roams the airport dispensing an FDA-approved disinfecting solution on high-contact surfaces including seating, gates and vending machines.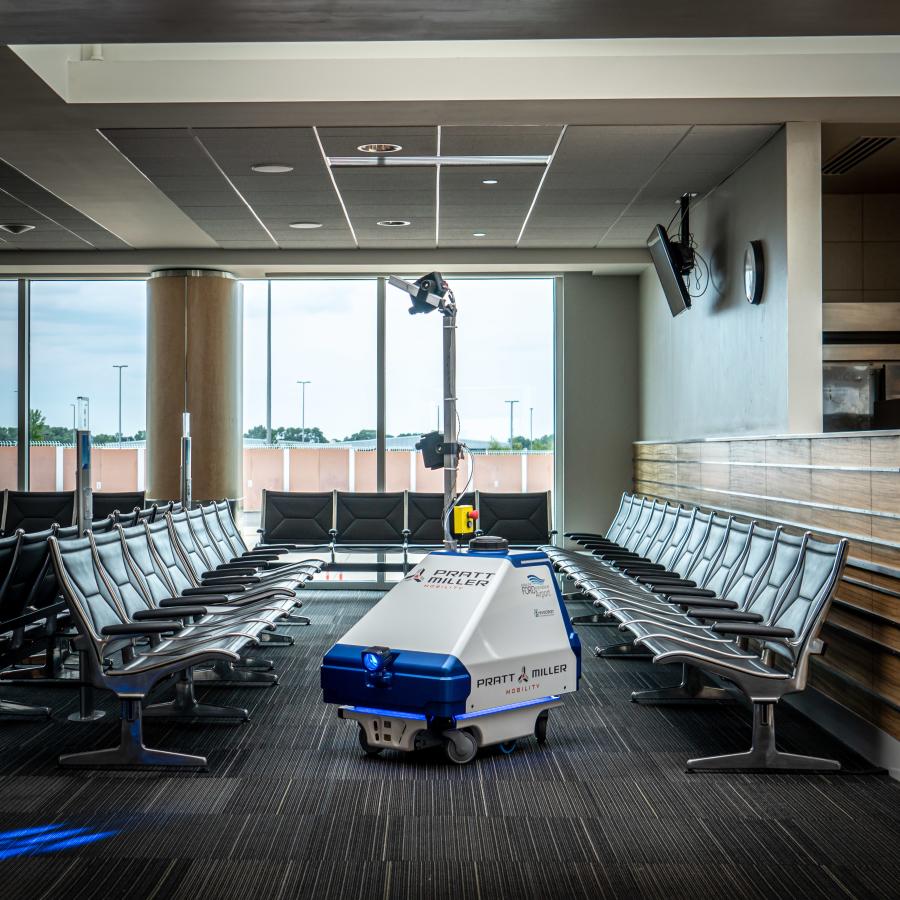 Disinfecting (LAAD) robotic vehicle
Photo by Pratt Miller
On July 20, GRR became the first site in the world to deploy this robotic vehicle developed by Michigan-based engineering firm Pratt Miller.
The LAAD is specifically designed to disinfect large areas such as airport terminals, stadiums, shopping centers, casinos and big box retailers. Electrostatic technology sprays disinfectant into the air and it adheres to surfaces for maximum protection from COVID-19 and other viruses.
While the disinfecting solution it disperses is not harmful to humans, GRR uses the machine at night when foot traffic is low. The system monitors coverage and alerts staff members to any missed areas so they can go back and disinfect them manually.
Fly Safe. Fly Ford.
"This new technology from Pratt Miller is a great tool in our Fly Safe. Fly Ford campaign to restore confidence in the flying public," said Tory Richardson, GRR's President and CEO, in a statement.
The campaign highlights the numerous steps the airport has taken to keep passengers safe while still offering a comfortable travel experience. These steps include:
Reliance on continuous cleaning protocols (like the LAAD) to disinfect and sanitize high-traffic areas.
Placement of hand sanitizer stations throughout the terminal, pre- and post-Transportation Security Administration (TSA) screening.
Installation of custom plexiglass at all interaction points, including ticket counters, rental car facilities, etc.
Use of visual cues – floor clings, stanchion toppers, wall decals and computer monitors –to reinforce physical distancing throughout the airport.
Offering personal protective equipment (PPE) to guests in concession areas and through vending machines
Installation of energy-efficient HVAC systems that improve indoor air quality and temperature comfort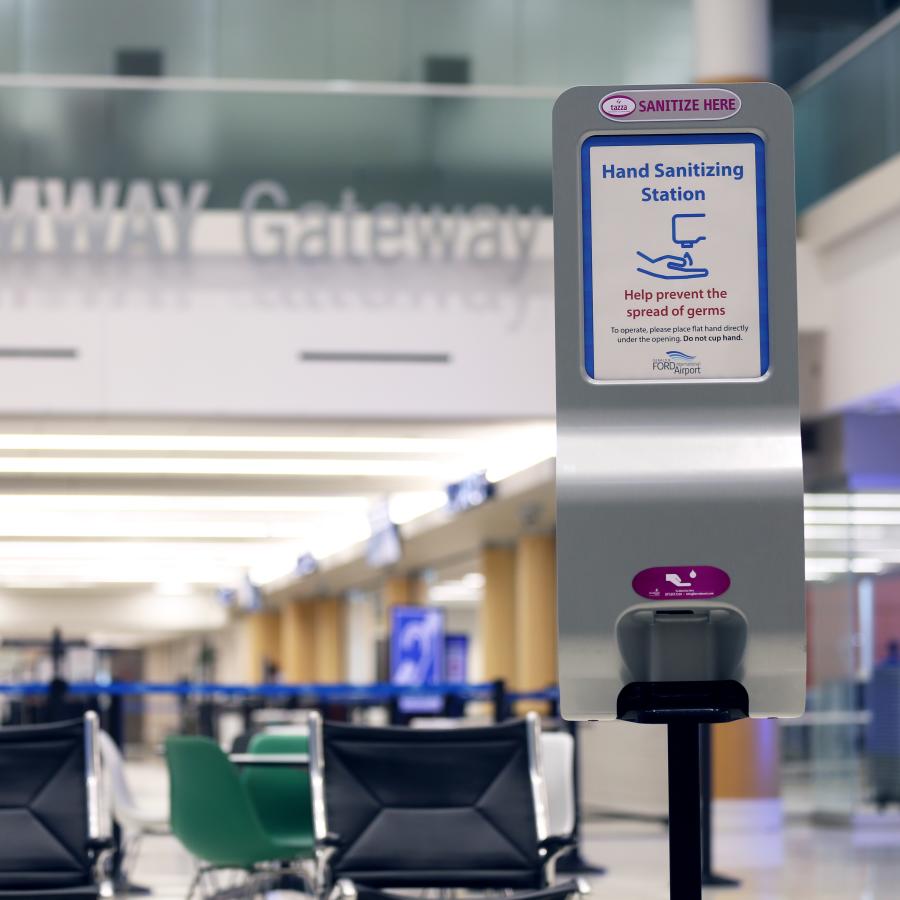 Additional safetly percausions have been added at the airport
Photo by Gerald R. Ford International Airport - Sabo PR
Prioritizing Your Health
In concert with Michigan's mandate for face coverings to be worn in all indoor spaces, these precautions are focused on safeguarding passenger health from the plane door to the parking garage.
The airport's easy-to-navigate size also facilitates healthy practices and boosts traveler confidence. With six airlines conducting over 100 flights a day, GRR is big enough to get travelers where they want to go, but small enough to better control cleaning procedures, train staff members in best practices and offer a safer travel experience.
The bottom line is this, says CEO Richardson: "You can avoid the crowds, hassle, stress and uncertainty of travel when you Fly Safe. Fly Ford."
Please check our travel updates for visitor tips and safety guidelines. Together, we can ensure that you can travel confidently.
invalid widget [plugins_common_blog_subscription] []