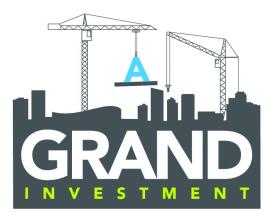 One of the best things about living – and recreating –  in West Michigan is spring. And summer. And fall. Winter, too! Michigan's four distinct seasons mean outdoor enthusiasts are never bored. From swimming and boating on the Great Lakes to skiing, biking and hiking on great trails, West Michigan offers four seasons of fun.
Whether golf, running, skiing, cycling, boating, swimming, hiking or fishing is your thing, West Michigan has the playground – and season – for you.
We're taking a seasonal look at outdoor recreation in Grand Rapids and the surrounding region. In our last installment, we covered spring and summer. Here, we focus on fall and winter.
Fall: A colorful playground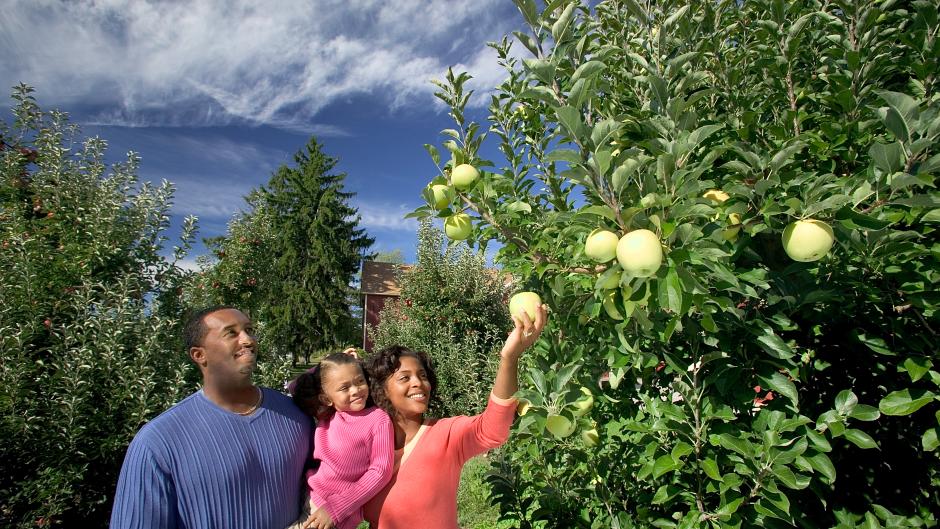 Getting outside to pick apples at Robinette's Apple Haus & Winery is a West Michigan Tradition.
Photo Credit: Experience Grand Rapids
---
Fortunately, the autumnal equinox doesn't signal the end of fun in the sun – or on the water.
Grand River Watershed
Whether it's a day exploring the Lake Michigan shoreline or enjoying the fall foliage along the banks of one of the many rivers or streams that flow through the lower Grand River watershed, fall is one of the most beautiful – and colorful – times to enjoy all that West Michigan has to offer. That includes our urban waterways.
In fact, the city of Grand Rapids is partnering with Grand Rapids Whitewater to enhance year-round activities centered around the Grand River, the longest river in the state of Michigan and the city's namesake. Grand Rapids Whitewater is dedicated to revitalizing the river, improving fish habitat and restoring the rapids in a two-mile stretch of the Grand that runs through the heart of downtown Grand Rapids.
In addition to enhancing recreational opportunities like kayaking, stand-up-paddling and fishing on the river, the city is focused on revitalizing the water's edge with walking and cycling trails, improved recreational access points and commercial investments that will allow residents and visitors to take full advantage of all the river has to offer.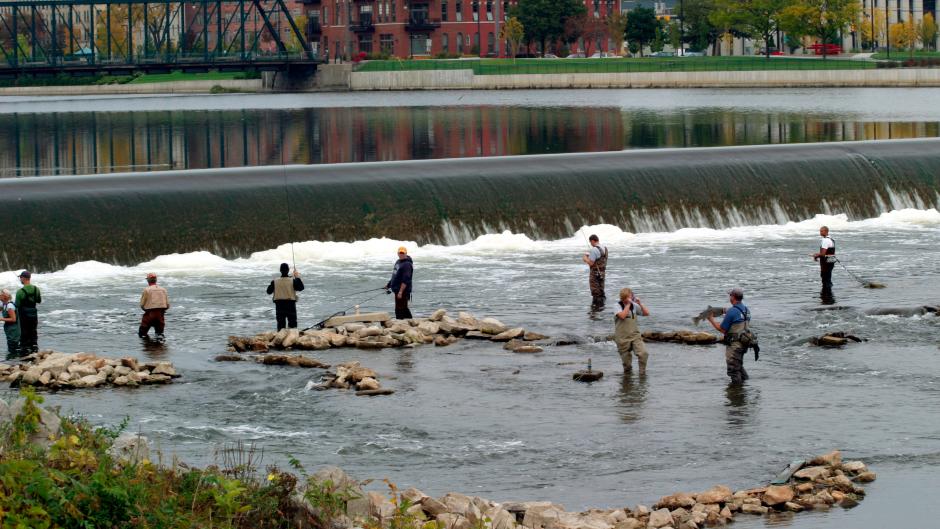 Fishing along the Grand River at the Sixth Street Dam.
Photo Credit: Experience Grand Rapids
---
Fishing
Anglers love autumn on West Michigan rivers, too. That's because king and Coho salmon leave their summer home in Lake Michigan and run up the Grand and its tributaries to spawn.
"By early September, the water begins to cool, king salmon enter the river, and they provide great sport through mid-October," Feenstra says. "By then, steelhead have also entered the Muskegon.  Steelhead are the mainstay of our river fisheries, and this beautiful game fish draws anglers from hundreds — and sometimes thousands – of miles away."  
When salmon return to the Rogue, Blackwood says the area draws fly fishing enthusiasts from Kalamazoo, Lansing and the lakeshore – plus day trippers from Chicago and Detroit areas.  
"The Rogue is one of the top urban cold-water trout, salmon and steelhead fisheries in the country," he says. "But what makes our opportunity on the Rogue even more special is that we're 20 minutes from world class shows and restaurants in Grand Rapids.
"You can fish in the afternoon and watch the Eagles or experience the Chop House or see a Broadway show in the evening. There are very few places with this urban blend of opportunity. You can come for a convention and, if you want to blow off an afternoon to play, you can fish on the Rogue, cycle on the White Pine Trail, stroll through Frederik Meijer Gardens & Sculpture Park or visit the beaches of Lake Michigan."
There are very few places with this urban blend of opportunity.
Apple Picking, Hayrides and Family Fun
You can also spend an afternoon apple picking at one of dozens of area orchards. Michigan is the third largest apple producing state in the country, and a trip to one of our orchards on a crisp October afternoon will remind you that there's no truer taste of fall than a fresh picked apple.  A hay ride, corn maze, visit to the pumpkin patch, cinnamon-spice donut and cider break and tour of the local farm market will keep the family entertained all afternoon.
Those crisp fall afternoons also signal winter and all her beauty are coming to West Michigan.
Winter: Let it snow!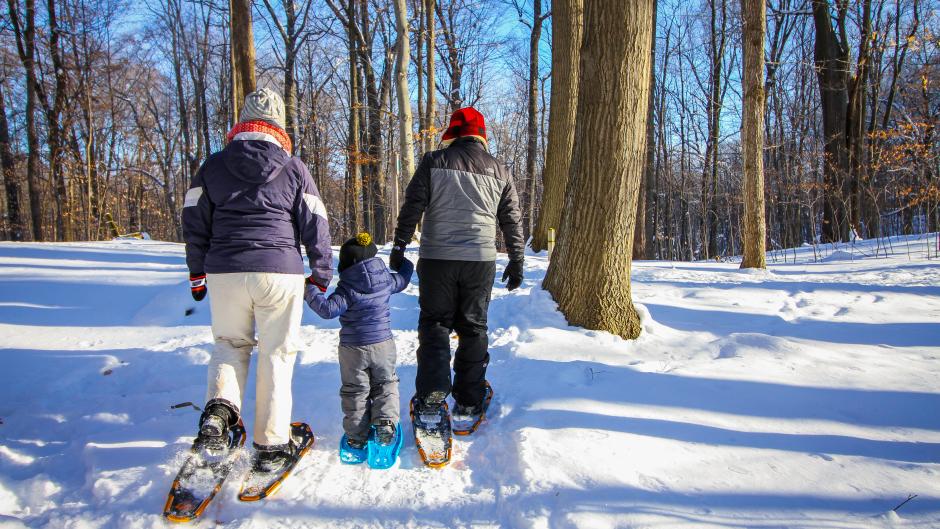 A family snowshoes together at Blandford Nature Preserve.
Photo Credit: Experience Grand Rapids
---
By late December, West Michigan has seen some snow, with the heaviest blanket typically covering the area in January and February.
Skiing
Nordic skiers have no shortage of nearby trails to explore. Several Kent County Parks offer scenic trails of varying difficulty. Three 2-mile-long groomed loops at Palmer Park wind through woods and glide over open stretches of an adjacent golf course.
Pigeon Creek Park in nearby Ottawa County offers more than 10 miles of groomed and lighted ski and snowshoe trails, as well as equipment rental. Kids love the lighted sledding hill, too.
Cannonsburg Ski Area boasts four primarily wooded Nordic trail loops surrounding a downhill park where skiers and snowboarders enjoy 9 lifts and 21 beginner to advanced runs.
Fat Biking
The snowy trails of West Michigan beckon fat tire bikers, as well, with four groomed fat bike trails within 45-minutes of downtown. That includes trails in the heart of the city and in surrounding parklands.
On the urban side, Central District Cyclery owner Nate Phelps worked with the city of Grand Rapids to create a four-mile fat bike trail and social center at the city-owned Indian Trails Golf Course. The course hosted the USA Cycling Fat Bike Nationals in 2017.
Outside of town, 6.5 miles of groomed single-track trails through woods, meadows and skirting Deep Lake, make Yankee Springs Recreation Area one of the most popular spots for area fatbikers. Cannonsburg, host of the 2018 USA Cycling Fat Bike Nationals, offers two groomed trails. And Luton Park in Rockford boasts nine miles of beginner to advanced trails through pines, meadows, hardwoods, and marshes and includes three bridge crossings over Rum Creek.
Rosa Parks Circle turns into an ice rink each winter.
Photo Credit: Experience Grand Rapids
---
Ice Skating
But to enjoy the beauty of a fresh winter day in Grand Rapids, visitors need venture no further than the heart of downtown where ice skating at Rosa Parks Circle draws thousands of skaters each season.
The charming rink is integrated into the "Ecliptic," a functioning sculpture designed by world-renowned artist Maya Lin. The sculpture features trees filled with little white lights in the winter, seating areas for 1,500 people, a seasonal misting fountain and reflecting pool and 166 fiber-optic lights that shine through the winter ice and depict the millennial constellation over Grand Rapids on January 1, 2000.
So, when you're here in West Michigan, we invite you to grab you skates, skies, bike, fly rod or running shoes and enjoy all that this incredible four-season playground has to offer.
A Grand Investment is an ongoing series exploring the business landscape of Grand Rapids. Michigan's fastest growing metro area and one of the nation's strongest economies, Grand Rapids is fueled by a creative, collaborative spirit that generates global, national and entrepreneurial investment. This series highlights leading sectors of the local economy and underscores the city's suitability for innovation-focused meetings. 
Don't miss a post!
Sign-up for the Meeting Minds Blog to get the next A Grand Investment story!