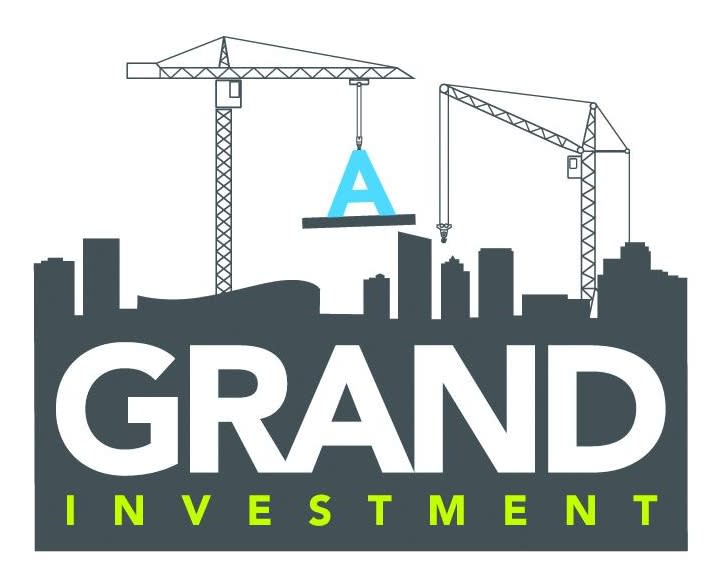 One of the best things about living – and recreating –  in West Michigan is spring. And summer. And fall. Winter, too! Michigan's four distinct seasons mean outdoor enthusiasts are never bored. From swimming and boating on the Great Lakes to skiing, biking and hiking on great trails, West Michigan offers four seasons of fun.
Whether golf, running, skiing, cycling, boating, swimming, hiking or fishing is your thing, West Michigan has the playground – and season – for you.
We're taking a seasonal look at outdoor recreation in Grand Rapids and the surrounding region. In this installment, we cover spring and summer. In May, we'll focus on fall and winter, so stay tuned.
Spring: Planting our feet back on the ground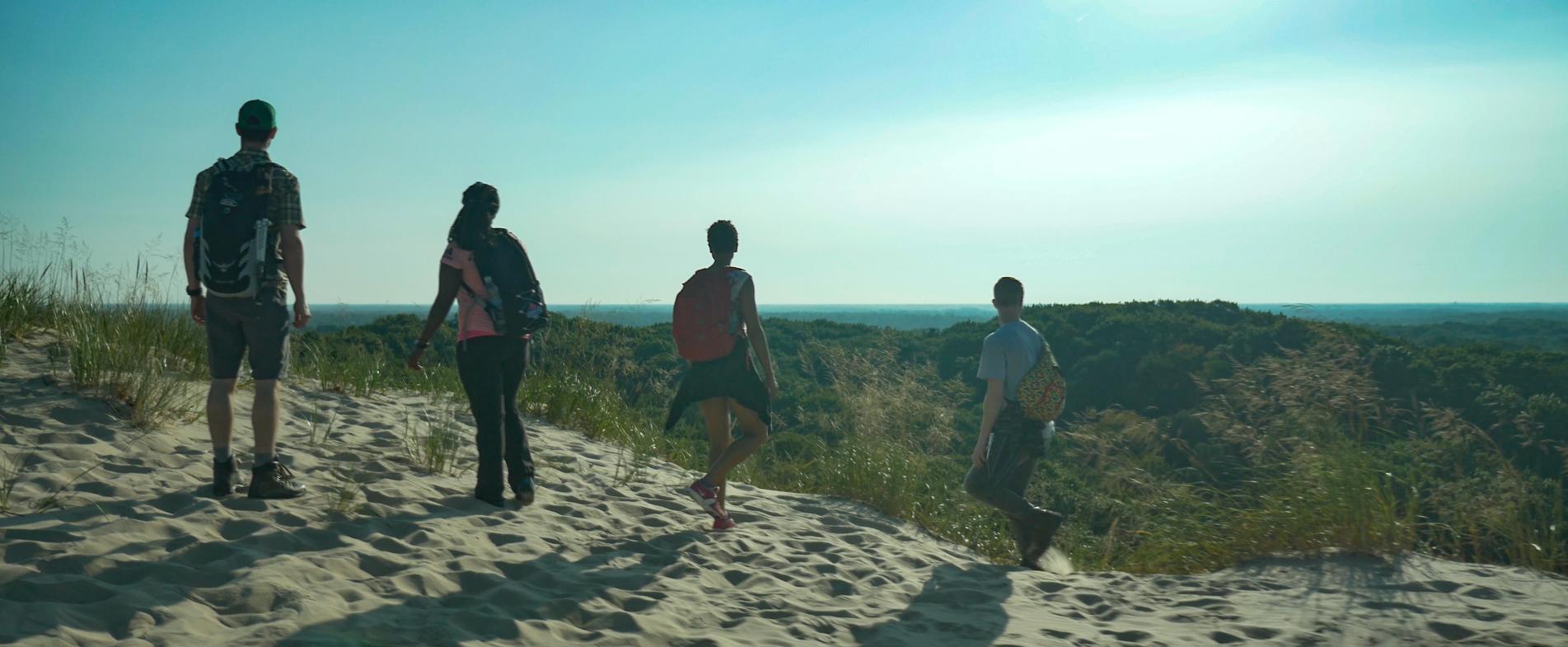 Hiking a trail in the PJ Hoffmaster State Park, which leads to a beach on Lake Michigan.
Photo Credit: Experience Grand Rapids
Exploring Trails
Each March, as the blanket of snow recedes and crocuses poke from the ground in search of sun, recreational runners, hikers and cyclists also emerge to explore newly exposed trails.
In fact, Kent County is home to one of the oldest county park and trail systems in the state. Since 1924, Kent County Parks and Trails has grown to include 42 parks, greenspaces and four regional connector trails that stretch a total of 41 miles. More than 40 miles of additional trails are maintained within park borders.
They include hiking, mountain biking, regional multi-used paved and water trails that wind through more than 6,800 acres of parkland and connect communities throughout the region.
Cannonsburg, just 20 minutes north of Grand Rapids, is another popular spot for mountain bikers who enjoy trails at Cannonsburg Ski Area and Cannonsburg State Game Area.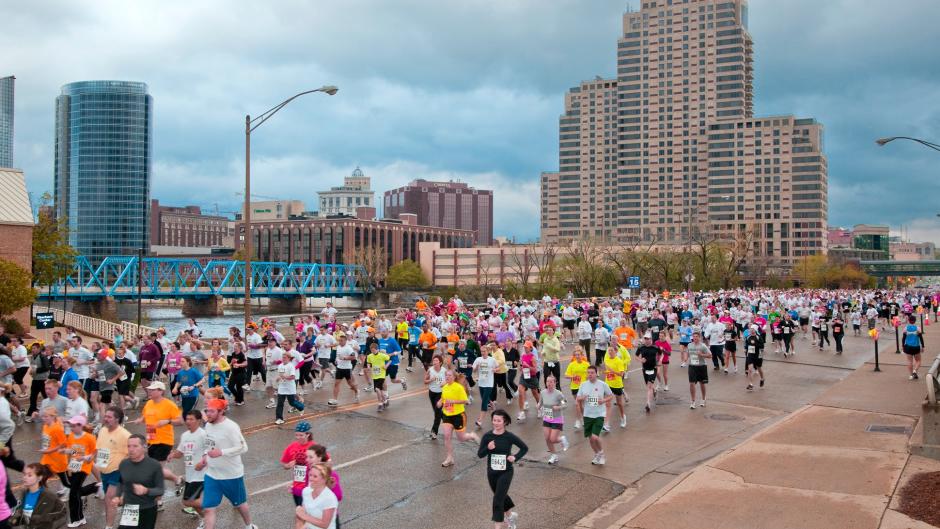 Crowd Participating in The Fifth Third River Bank Run in Grand Rapids
Photo Credit: Experience Grand Rapids
---
Running
As the snow melts, competitive runners pack away their ice cleats and begin training in earnest for spring and summer races. Packs of brightly-clad running groups spring up on neighborhood streets like May flowers.
First up each spring is the Gazelle Girl Half Marathon, a women's only run in downtown Grand Rapids – scheduled for April 22 this year. From serious half-marathon competitors, to first-time 5K-ers, this event encourages women and girls to get out and run together.
May 12 is the date for the 41st annual Fifth Third River Bank Run a road race that is expected to draw more than 17,000 people in 2018, making it the largest 25K road race in the country. The event also features the only 25K wheelchair racing division in the world along with a 25K handcycle division. The race starts and finishes in downtown Grand Rapids, with the vast majority of the course running along the banks of the event's namesake Grand River. 
To close out the spring season, the Grand Rapids Triathlon, a USA Triathlon-sanctioned event, hits the scenic country roads and peaceful Thornapple River just east of Grand Rapids on June 10. This year, the event will host the USAT Clydesdale & Athena National Championship.
One thing that makes this area so special is the diversity of our fishing opportunities.
Fishing
And while fishing West Michigan's lakes and streams is a year-round sport, anglers look forward to the spring thaw to take full advantage of some of the best fly fishing in the Midwest.
"West Michigan is very unique in that you can fish or fly fish literally every day of the year," says Kevin Feenstra, owner and guide at Feenstra Guide Service. He and his team guide approximately 75 miles of the Muskegon River starting about an hour north of Grand Rapids all the way to Muskegon Lake.
"I consider the Muskegon the Swiss Army Knife of rivers," says Feenstra. "It provides fishing for warm water fish, cold water fish and migratory fish throughout the year.  As we head into spring, the trout fishing becomes the main focus here in May and June. This is an especially good time if you are a dry fly fisherman, and we have great hatches of mayflies throughout West Michigan."
Just 15 miles north of Grand Rapids, Rogue River anglers wade in the cold spring water in search of steelhead – large migratory rainbow trout – returning to their natal river to spawn from late February through April. 
As the water begins to warm and insects hatch, resident brown trout get active.
"One thing that makes this area so special is the diversity of our fishing opportunities," explains Glen Blackwood, fly fishing instructor and owner of Great Lakes Fly Fishing Company in Rockford. Blackwood, who lectures on fly fishing nationwide, takes clients out on the Rogue in Rockford and Flat River in nearby Lowell. 
"The fact that we have resident trout 365 days a year, steelhead running in the spring, king and Coho salmon in the fall, plus smallmouth bass and others – that's something special on the Rogue and other rivers throughout the region like the Muskegon, Platte and Pere Marquette."
Summer: City to shore fun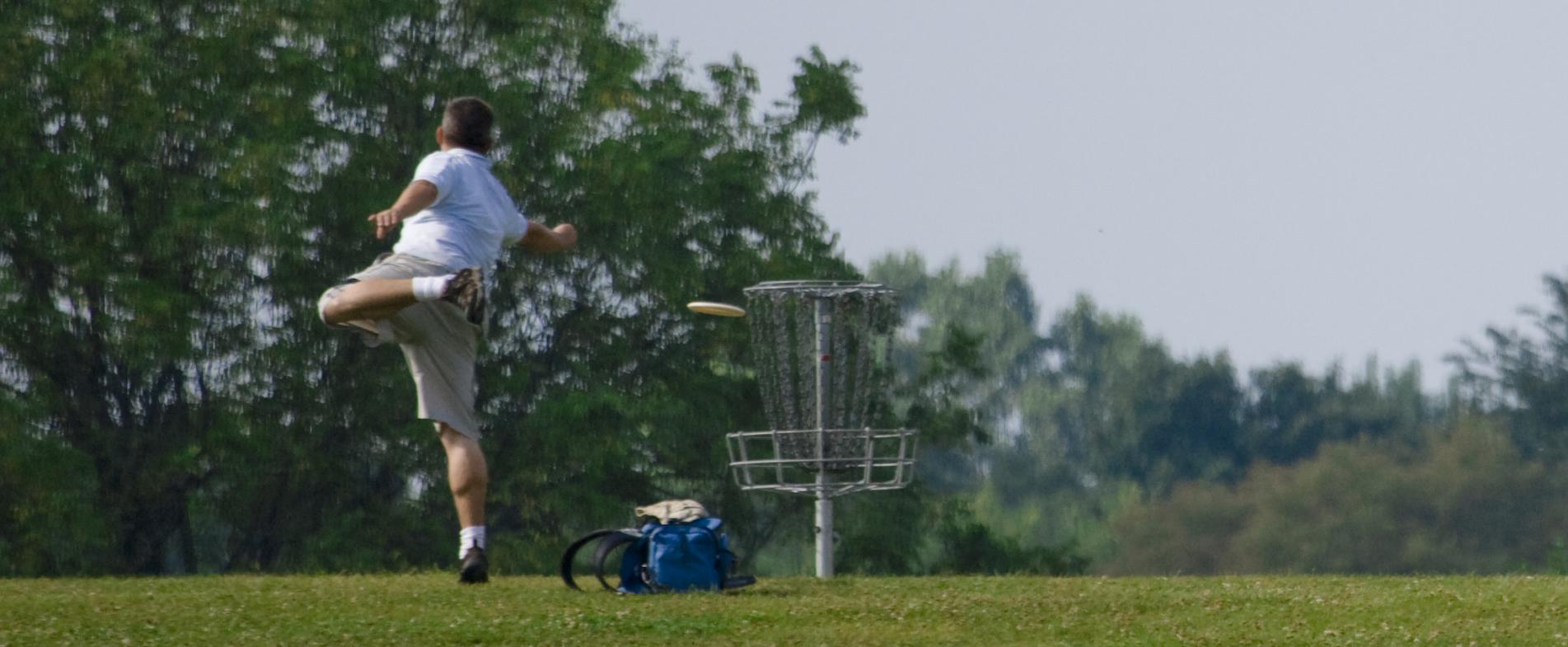 Long summer days and dozens of nearby courses make Grand Rapids a disc golfer's paradise.
Photo Credit: Experience Grand Rapids
Golf/Disc Golf
As spring morphs into summer, the golf season gets into full swing. Throughout the season, workforce ranks thin out on sunny afternoons as people take advantage of the long summer days and dozens of courses within a 30-minute drive of downtown Grand Rapids.
According to GolfAdvisor.com, "the rich golf scene [in] Grand Rapids and its environs boast a vast collection of upscale courses and low-priced gems…. Among courses to consider are high-end Thousand Oaks Golf Club (Rees Jones), modern downtown attraction The Mines, spectacular muni L.E. Kauffman Golf Course, and moderately priced but magnificently conditioned Pilgrim's Run Golf Club, voted the favorite place to play by readers of the Grand Rapids Press."
For those who prefer to fling a disc over a tree-lined fairway, Grand Rapids has plenty of disc golf course options. Riverside Park is the largest at 1.2 miles and 18 acres that loop around a Grand River lagoon. The park was the primary venue for the 2017 PDGA Masters Disc Golf World Championships. Fallsburg Park in nearby Lowell combines field and forested play, while North Grand Rapids Rotary navigates the greens, ponds and sand traps of a former golf course.
There are ten mountain biking trails within 45 minutes of downtown. Lake Michigan is just 30 miles away, or 45 miles via bike path.
Cycling
Cycling takes off in summer, as well, with the Michigan State University College of Human Medicine's annual Gran Fondo kicking off the season. The event has raised nearly $800,000 for skin cancer research over the past 5 years. With 1,700 participants in 2017, the "big ride" was ranked among the top Gran Fondos in the U.S. by Gran Fondo Guide for the third consecutive year. The 2018 event is scheduled for June 23.
Those looking to set their own pace – and course – can find self-guided tours and interactive digital bike maps of Grand Rapids' on-street, recreational and mountain biking networks with the My City Bikes app. 
Mountain biking trails beckon off-road cyclists, and there are plenty to choose from. In fact, when Outside Magazine listed Grand Rapids among "The 25 Best Towns of 2017," it cited biking trails among the reasons for the selection: "There are ten mountain biking trails within 45 minutes of downtown. Lake Michigan is just 30 miles away, or 45 miles via bike path." 
Running
Runners keep up the pace throughout the summer, with the Reeds Lake Run on June 23 hosting the first 5 and 10Ks of the summer. On July 28, Grand Rapids joins the happiest 5K on the planet – The Color Run – with a pre-event party and Finish Festival in Calder Plaza, all to benefit the West Michigan Sports Commission. And closing out the summer on September 8, the Rhoades McKee Reeds Lake Triathlon Duathlon is one of the oldest triathlons in the area, celebrating its 35th year in 2018.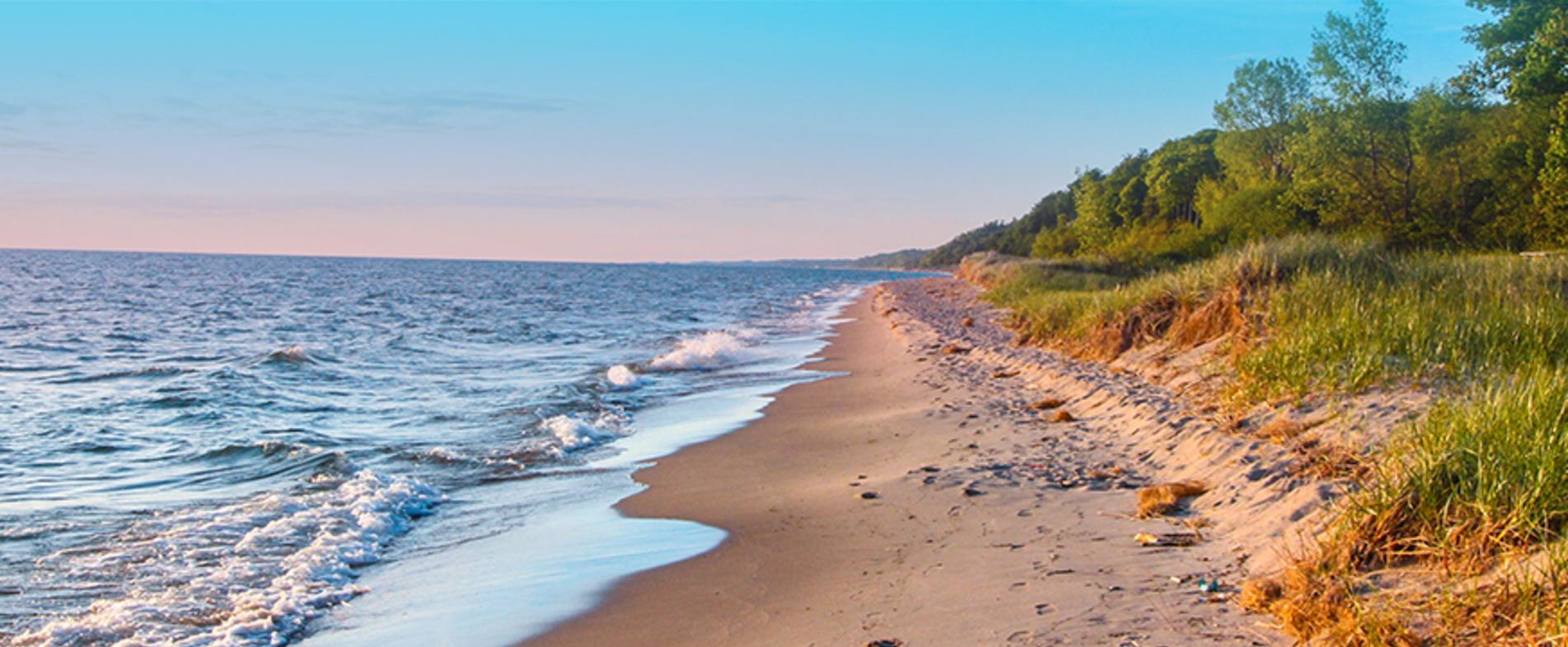 Lake Michigan is just 35 miles from Grand Rapids, making it a popular day trip for locals and visitors.
Photo Credit: Experience Grand Rapids
Lake Michigan
But the true star of the season, of course, is Lake Michigan. Just 35 miles from downtown Grand Rapids, this pristine freshwater sea offers visitors an abundance of clean, sandy beaches, clear water, and seemingly endless ways to enjoy them both.
If it's dunes you're looking for, hit the lakeshore and head south to Saugatuck Dune Rides or north to Silver Lake Dunes. Challenging dune climbs, sweeping vistas and thrilling dune buggy rides are just a few things in store.
When you're done playing in the sand, it's time for a swim. West Michigan beaches can accommodate. Saugatuck Dunes State Park, Holland State Park, Grand Haven State Park and Hoffmaster State Park in Muskegon are all less than an hour's drive from downtown Grand Rapids.
If you'd like to get out on the water, boat rentals along the Lake Michigan shoreline are plentiful. Whatever your speed, from kayaks to a sunset sailboat cruise, there's a watercraft for you. Chartered fishing services also abound in Lake Michigan ports. Steelhead, Chinook and Coho salmon, Lake Trout and Walleye are among Lake Michigan anglers' prized catches.  
Fortunately, the end of summer doesn't mark the end of outdoor fun in West Michigan. Check back in May for part two in our seasonal look at what the area has to offer outdoor enthusiasts.
A Grand Investment is an ongoing series exploring the business landscape of Grand Rapids. Michigan's fastest growing metro area and one of the nation's strongest economies, Grand Rapids is fueled by a creative, collaborative spirit that generates global, national and entrepreneurial investment. This series highlights leading sectors of the local economy and underscores the city's suitability for innovation-focused meetings. 
Don't miss a post!
Sign-up for the Meeting Minds Blog to get the next A Grand Investment story!