Meeting planners: looking for entertainment options beyond the usual comedians or music? Consider joining the growing number of organizations taking advantage of "agritourism" to bring meetings out of the convention hall and out into the fresh air.
As you might expect, agritourism means heading out to the farms or farmers markets around your meeting destination and enjoying the fruits (and vegetables) of their labor. Not only can agritourism provide a farm-fresh alternative to staying in the hotel where your attendees have been all day, it also supports the local economy in your host city.
In Michigan, agritourism is a natural fit and a great way for meeting planners to expose attendees to one of the state's best resources.
"Farm markets and agritourism are a big part of our show," said Dave Smith, executive secretary of the Michigan Vegetable Council. Farmers grow crops to sell in their markets, but they do a lot of other things to bring people in, too."
The Grand Rapids area is rich with agri-tourism offerings. A bounty of farms and markets offer hayrides, wine tasting, corn mazes and fruit picking, depending on the season.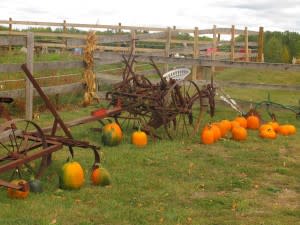 They offer hayrides, animals, corn mazes, fruit and pumpkin picking, campfires and concessions. "It's just a good outside experience for people that have been sitting in a conference all day," Briggs said.
Alicia Robinette, manager of Robinettes Apple Haus & Winery, said they had several organizations come out to their 101-year-old farm northeast of Grand Rapids, MI this year.
While they offer a corn maze and a jumping pillow (which is way better than a trampoline), she said most of the conference guests gravitated toward their wine tasting.
"We also have shopping and meals," Robinette said. "They can get fresh doughnuts anytime during the year from our bakery. We have lunches we make fresh here and we have a lot of Michigan items in our gift shop and people like to shop for those."
Interested in exploring the agri-tourism possibilities around Grand Rapids? Robinettes and Fruit Ridge Hayrides are both part of
Kent Harvest Trails
, which lists Kent County attractions and their offerings. The
Michigan AgriTourism Association
 also has a statewide directory to help guide visitors. In fact, the association organized an educational bus tour of farm markets for those in the agri-tourism industry as part of the
Great Lakes Fruit, Vegetable & Farm Market Expo
 coming to Grand Rapids in December 2012.
If you're intrigued by the possibilities of agritourism but don't necessarily want to plan a mass trek out of town, consider farmers markets, which allow attendees to get a taste of the host city's local flavors without wandering too far from the meeting facilities.
For example, Grand Rapids features the recently renovated Fulton Street Farmers Market, and the new Downtown Market is slated to open next summer.
Conveniently, the Downtown Market will feature an event space. Combining farm-fresh food, wine and festivities close to Grand Rapids' top-notch downtown meeting facilities might just offer the best of both worlds.