"A lot of people walk in and think this looks like a whole different airport," said Tara Hernandez, marketing and communications director for the airport. "Everything about this project is customer-based. It's meant to be more efficient for passengers and give them more options for food, beverages and amenities.
"We're really, really proud of everything that's gone on."
So, what has gone on? A lot:
Security
The Ford Airport has two concourses and each used to have its own security screening. The transformation plan consolidated the process; increasing efficiencies and cutting wait times by 50 percent.
"We haven't had wait times longer than 20 minutes since we've done this," Hernandez said. In fact, the average wait time was reported at 3 minutes.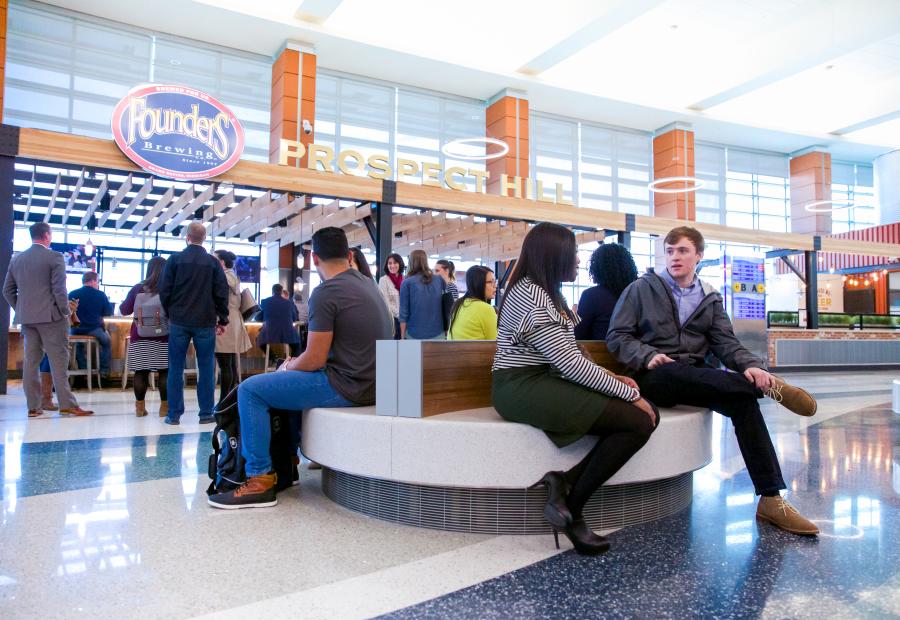 Prospect Hill by Founders Brewing at the Airport
Photo by Experience Grand Rapids
Food and drink
We already told you about the Starbucks before and after security. The renovation also features a new Prospect Hill Brewhouse and restaurant after security serving locally brewed craft beer, including Founders.
Shopping
There is new gift shop called the Touch of Grand Rapids, which is not your typical airport gift shop, Hernandez said. Its merchandise highlights Grand Rapids' identity, including items from ArtPrize, Cherry Republic, the Grand Rapids Public Museum and many things related to the city's title as Beer City USA.
"They are things that really say West Michigan," Hernandez said.
Comforts and conveniences
There is a new children's play area, restrooms, family restrooms, nursing rooms and business centers. The business centers were outfitted by West Michigan office furniture companies Steelcase and Herman Miller. There are also new lounge areas for each concourse and an observation deck to view the runway.
Airport Welcome Center
Photo by Experience Grand Rapids
Special touches
Also included in the renovation is a military welcome center where members of the armed forces can meet privately with friends and family when they arrive or before they leave. It features an interactive map where people can post where they're going or where they're from.
And thanks to a partnership with the Gerald R. Ford Presidential Museum, there is a Tribute Room dedicated to the 38th president, who called Grand Rapids home.
Ford Airport is more than 50 years old, so the changes and updates were needed, Hernandez said, especially with record-breaking growth in passenger travel for the last four years. In 2016, more than 2.6 million travelers flew in and out of the airport, 4 percent more than 2015.
As a result, phase two, slated to start in 2018, will tackle some of the remaining needs, including more space and automation for passenger check-in and an updated luggage return area.
"The baggage claim areas are a little undersized for the amount of traffic that we have," Hernandez said.
Like the idea of a less-than-five-minute security screening? Discover more reasons why Grand Rapids is a great place to host your next meeting or convention. 
invalid widget [plugins_common_blog_subscription] []