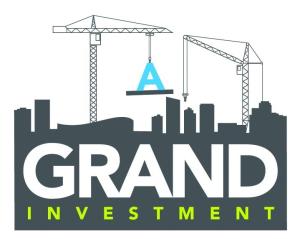 Whether you're looking for the best beer and burgers, a top U.S. cycling town or one of the best places to live in the country, you'll find it in Grand Rapids. The accolades are all over the map, but the destination is clear – Grand Rapids is a great place to visit, live, work, play and do business. In this installment of "A Grand Investment," we explore what's behind the accolades.
The best place to raise a family. The best river city. One of the best places to visit, invest, start a career, own a small business, bike, eat, drink beer, own a home and retire. Just when you think there couldn't possibly be one more way to recognize a city, Grand Rapids makes another list of top places. But what does that really mean when it comes to quality of life in Michigan's second largest city?
Tasting and toasting
No matter who you are and what brings you to Grand Rapids, come hungry because you'll find one of the best food and beverage destinations in the world. But don't just take our word for it.
In its 2017 list of under-the-radar culinary gems, Tasting Table dubbed Grand Rapids "one of the Midwest's most legit culinary cities." Thrillist also named Grand Rapids the best food city in Michigan in 2017.
GQ Magazine found some gems of their own when visiting Grand Rapids, with GQ calling out the burgers at Stella's Lounge and the Imperial Slam Dunk Earl Grey tea at Madcap Coffee among America's best.
Travelocity and The American Distilling Institute ranked Grand Rapids one of the top 20 craft spirit tourism destinations in 2017, and USA Today named Grand Rapids the Best Beer Scene in 2017.
So, whether you're looking for innovative, hyper-local cuisine, a prime steak house, a culinary tour of Italy, breakfast nestled in an eclectic neighborhood, river or lakeside dining, creative craft cocktails, or some satisfying comfort food and a local craft beer, Grand Rapids has it all with over 100 restaurants in the Downtown area.
If home cooking is more your style, the city boasts dozens of delis, specialty grocers, artisan bakeries, butcher shops and fresh markets including the Fulton Street Farmers Market and Downtown Market. To learn more, download a copy of the Grand Rapids Food Trail guide, and start your adventure.
The World Food Travel Association – the leading authority on food and beverage tourism – agrees, ranking Grand Rapids the 2nd best food and beverage destination experience worldwide in its 2017 FoodTrekking Awards.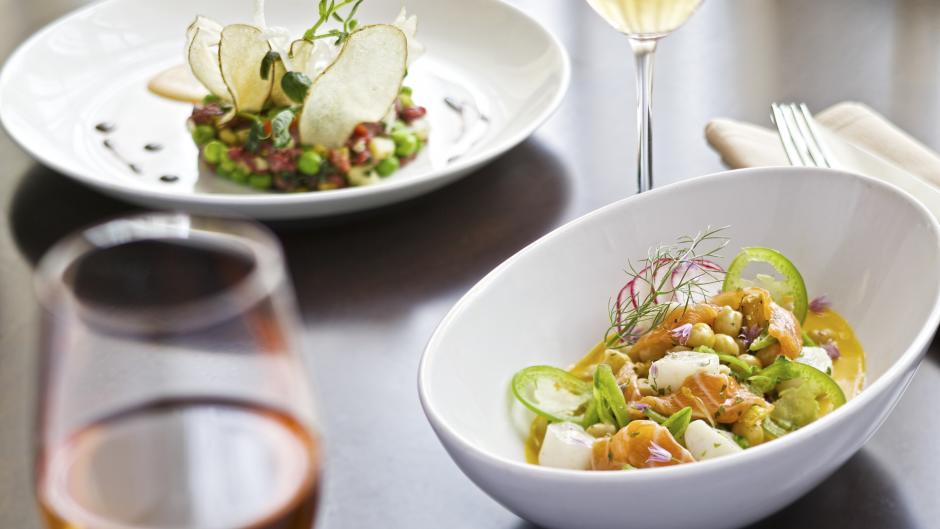 Grove
Photo Credit: Grove
---
The great outdoors
After all that great food, you may be ready for an outdoor adventure. Whether your idea of recreation is cycling, hiking, swimming, kayaking, boating, fishing, skiing, golfing, any-kind-of-ball, or spectating we have the trails, rivers, lakes, hills, courses, fields, parks, courts, teams and stadiums for you.
The West Michigan Sports Commission capitalizes on all the region has to offer, bringing 900 youth and amateur sporting events and tournaments to the Greater Grand Rapids area in its 10-year history. This August, the Commission along with the Meijer State Games of Michigan will host 12,000 athletes participating in the State Games of America. The 48-sport, 60-event four-day biennial sports festival will draw athletes of all ages and their families to 35 venues throughout West Michigan.
The 60-acre Art Van Sports Complex will serve as one of the venues. The 8-field baseball-softball complex was opened in 2014 and features a covered championship field, plus a Miracle Field for players with disabilities, and draws amateur teams to dozens of tournaments each year.
But Grand Rapids draws its share of professional competition, as well. The city is home to four minor league pro teams – six-time Midwest Minor League baseball champions, West Michigan Whitecaps, the 2017 American Hockey League Calder Cup champions, Grand Rapids Griffins, the Grand Rapids Football Club, a National Premier Soccer League member now in its 3rd season, and NBA D-League team, Grand Rapids Drive.
If getting back to nature is more your style, Kent County Parks and Trails are where you want to be with 41 sites featuring scenic trails, swim areas, campgrounds and more. Hiking, water, ski, regional paved and mountain bike trails wind through more than 6,700 acres of parkland and connect communities throughout the region.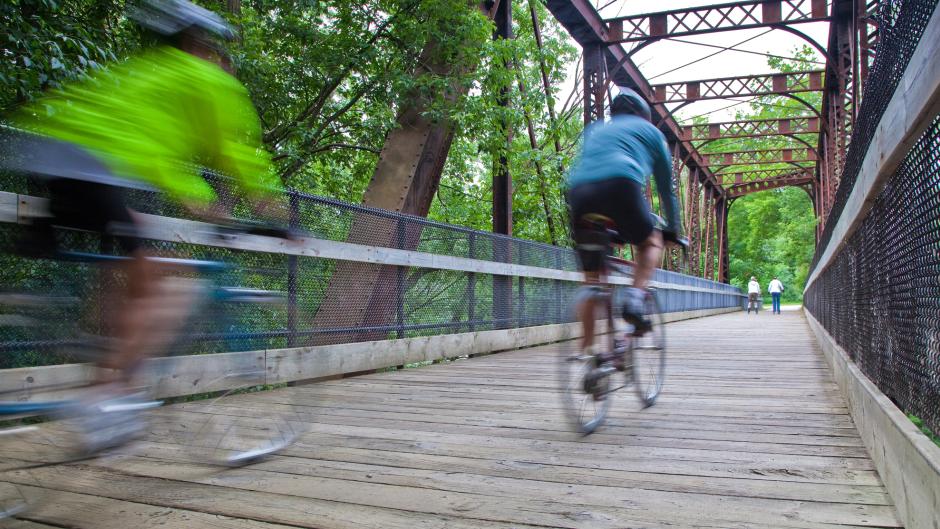 Two People Speeding Across a Bridge on Bikes
Photo Credit: Experience Grand Rapids
---
Millennium Park is one of the largest urban parks in the country with 1,400 acres of rolling terrain and six miles of frontage on the Grand River. The county park features large natural habitats, a six-acre beach and splash pad, boat rental facilities and nearly 18 miles of paved and natural trails.
The city of Grand Rapids operates an extensive parks system, as well, with 74 urban parks spanning just over 1,600 acres within the city limits. But the greenspace doesn't end at the park gates. The city is working in partnership with Friends of Grand Rapids Parks to establish a 40 percent tree canopy throughout the community as part of its Green Grand Rapids Master Plan. 
The city is also partnering with Grand Rapids Whitewater, a group dedicated to revitalizing the Grand River, improving fish habitat and restoring the rapids in a two-mile stretch of the city's namesake waterway that runs through the heart of downtown Grand Rapids. In addition to enhancing recreational opportunities like kayaking, stand-up-paddling and fishing on the river, the city is focused on revitalizing the water's edge with walking and cycling trails, improved recreational access points and commercial investments that will allow residents and visitors to take full advantage of all the river has to offer.
The Grand Rapids Whitewater project is one reason Outside Magazine named Grand Rapids the "Best River Town" in its list of 25 Best Towns in 2017. This is the second time GR has made the list – the first was in 2010, when Outside dubbed Grand Rapids the best town for mountain biking. The article pointed to, "75-plus miles of trails in eight locations within a 45-minute drive, from beginner-friendly fire roads to technical singletrack."
Combining a couple favorite pastimes, Trivago named Grand Rapids a "Best Value for Craft Beer & Cycling" in its list of 17 Best Value Destinations for 2017.
The accolades are no accident.  Grand Rapids is dedicated to being a bike-friendly community, launching Driving Change, a comprehensive bike education safety program in 2016 and working toward a goal of 100 miles of bike lanes and other bicycle facilities as part of its larger Vital Streets Plan.  
Picking up on that passion, the Michigan State University College of Human Medicine, which calls Grand Rapids home, hosts an annual Gran Fondo and has raised nearly $800,000 for skin cancer research through the event over the past 5 years. With 1,700 participants in 2017, the "big ride" was ranked among the top Gran Fondos in the U.S. by Gran Fondo Guide for the third consecutive year.
Golf is another West Michigan summer tradition, with dozens of courses within a 30-minute drive of Grand Rapids. According to GolfAdvisor.com, "the rich golf scene [in] Grand Rapids and its environs boast a vast collection of upscale courses and low-priced gems. Couple that with the city's eclectic mix of reasonably priced restaurants and night spots, and Grand Rapids offers tremendous value as an under-the-radar golf destination." 
Meijer LPGA Classic has been hosted in Grand Rapids since 2014, an event that draws nearly 150 of the world's top female golfers to Grand Rapids to play 72 holes over four days in pursuit of a $2 million purse. The competition has earned the title "Best Tournament" by The Ladies Professional Golf Association for two years running.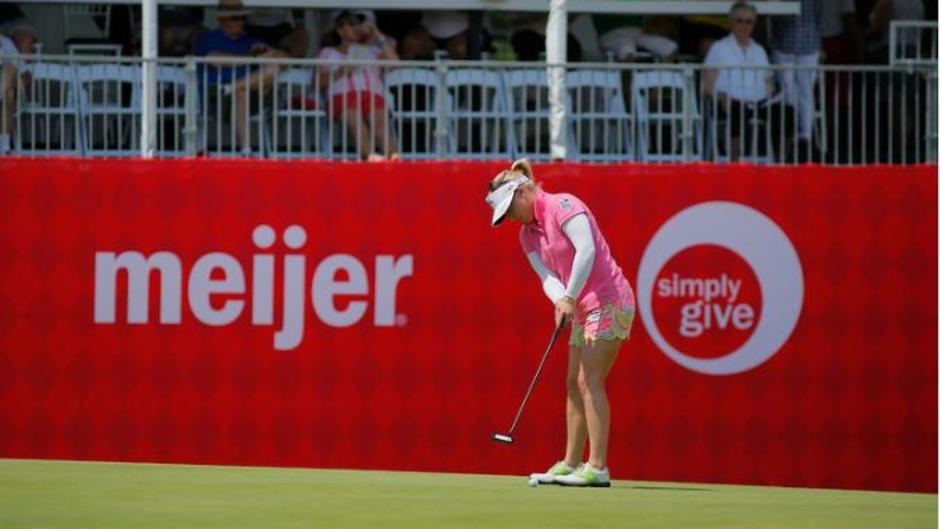 Meijer LPGA for Simply Give
Photo Credit: Experience Grand Rapids
---
But what's there to do in the winter? Plenty! Miles of scenic trails draw Nordic skiers and fat-tire cyclists alike. In fact, Grand Rapids hosted the USA Cycling Fat Tire Bike National Championship in 2017 and will be the host again in 2018.
Area downhill skiers and snowboarders can enjoy more than 40 ski resorts throughout the state, some located as close as suburban Grand Rapids and others scattered all the way up through Northern Michigan and the Upper Peninsula.
But you don't need to travel far to enjoy the beauty of a fresh winter's day – ice skating at Rosa Parks Circle in the heart of downtown Grand Rapids draws thousands of skaters each season.
The rink is integrated into the "Ecliptic," a functioning sculpture designed by world-renowned artist Maya Lin. The sculpture features shade trees, seating areas for 1,500 people, a misting fountain, a reflecting pool and 166 fiber-optic lights that shine through the winter ice and depict the millennial constellation over Grand Rapids on January 1, 2000.
Arts and entertainment
Art and outdoor sculpture have long been part of the Grand Rapids landscape and continue to enhance the quality of life in the city.  From Alexander Calder's La Grande Vitesse – the first civic sculpture jointly financed by federal and private funds – to Frederik Meijer Gardens & Sculpture Park – ranked by Art Newspaper in the top 100 most-visited art museums worldwide – art lovers enjoy a rich palette of local and international work throughout the city.
In fact, The New York Times cited a flourishing creative community fed by a confluence of urban revival and arts funding when it named Grand Rapids to its list of "52 Places to Go in 2016."
Apparently, people are listening. Billed as a radically open, independently organized international art competition, Grand Rapids-based ArtPrize has earned the distinction as the most attended public art event on the planet, according to The Art Newspaper. The annual 19-day event attracts more than 1,400 artists and 25,000 visitors each year.
Music and performing arts are part of the artistic landscape, as well, and can be enjoyed at large and small venues throughout the community. The biggest of Grand Rapids' music and entertainment venues is Van Andel Arena, listed among the top 10 highest grossing arenas by Billboard Magazine. DeVos Performance Hall, 20 Monroe Live, Grand Rapids Ballet, Broadway Grand Rapids, Grand Rapids Symphony, Opera Grand Rapids, Circle Theatre, Grand Rapids Civic Theatre and the summer concert series at Meijer Gardens offer something for every age and taste.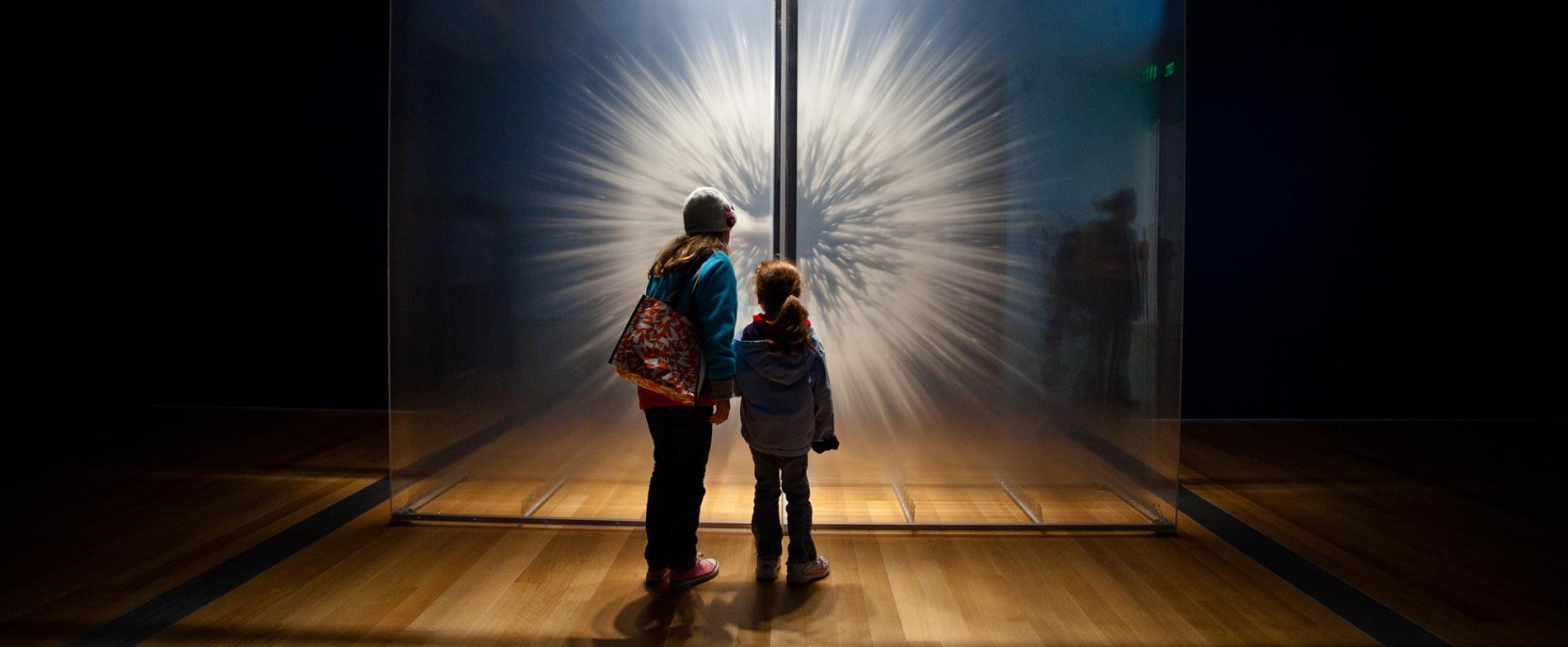 The living is easy
All this adds up to a great quality of life, one of the best in the U.S., according to US News & World Report. The publication ranked Grand Rapids 7th in its 2016 list of "The 20 Best Places to Live in the U.S. for Quality of Life," and 19th in its 2017 "Best Places to Live," a ranking of the 100 most populous metro areas in the country.
In 2012, The Atlantic cited Grand Rapids in its piece, "Why These 20 Cities Are Leading the New Economy." Since then, the area's economy has shown no sign of slowing. In fact, according to figures just released by the U.S. Bureau of Labor Statistics, Grand Rapids is the fastest growing economy in the U.S. That's based on job growth of 4.4% last year, compared to 1.7% average growth nationwide.
Forbes has repeatedly shined a spotlight on Grand Rapids as one of the best places to raise a family, one of the best U.S. cities to invest in housing, one of the top 10 places to make your mark and one of the top 15 emerging U.S. downtowns.
Trulia.com called Grand Rapids "one of the best places to be a millennial" and WalletHub.com counts Grand Rapids among "2017's Best Large Cities to Start a Business."
Couple all that with our town's ranking as one of the most affordable cities America, and it's pretty hard to deny that Grand Rapids is a great place to be.
A Grand Investment is an ongoing series exploring the business landscape of Grand Rapids. Michigan's fastest growing metro area and one of the nation's strongest economies, Grand Rapids is fueled by a creative, collaborative spirit that generates global, national and entrepreneurial investment. This series highlights leading sectors of the local economy and underscores the city's suitability for innovation-focused meetings.
Don't miss a post!
Sign-up for the Meeting Minds Blog to get the next A Grand Investment story!