Businesses, medical and educational institutions, visitors and residents continue to drive demand for new hotels, residential properties, life science investment, entertainment venues, restaurants, beer gardens and breweries in downtown Grand Rapids, underscoring the fact that Grand Rapids is ranked as one of the best economies in the country.
Downtown Grand Rapids shows no signs of slowing
Having ranked among the best places to live, start a business, visit, eat, drink beer, be a hipster, raise a family and make your mark, it's no wonder new development is booming in downtown Grand Rapids.
The second largest city in Michigan, this growing riverside community sits 30 minutes from Lake Michigan on the West side of the state.
Like many American cities, Grand Rapids experienced an early to mid-century suburban boom. But urban renewal projects launched in the late '60s began to shift focus back to the downtown.
Major investments in downtown hotels, a convention and performing arts center and 12,000-seat sports and entertainment arena in the '80s and '90s – along with consistently strong population and job growth – spurred developers, business leaders, entrepreneurs, healthcare and biomedical research institutions, and universities to invest billions in the city's core over the next 25 years.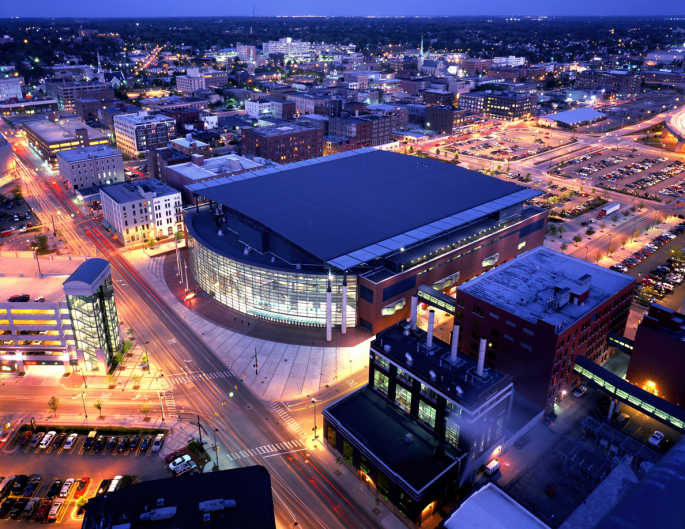 Van Andel Arena
Photo Credit: Brian Kelly Photography
---
Today, cranes continue to dot the skyline as investors long on Grand Rapids build new or renovate historic structures to accommodate the skyrocketing demand for downtown residential space, craft breweries and distilleries, restaurants, entertainment venues and Class A office space.
The recently restored Rowe, a former landmark hotel built in 1923, is a prime example. After falling into disrepair, the building sat vacant for 15 years before CWD Real Estate Development gave it a $28 million makeover.
Now the 11-story structure – situated on the north end of downtown at the intersection of the city's entertainment district, medical and research corridor, and burgeoning West Side neighborhood – offers 77 luxury market-rate apartments, nine high-end penthouse condos, a fitness center, parking, a rooftop deck and street-level retail, including Atwater Brewery. The 6,000-square-foot tap house, winery, distillery and biergarten is the first West Michigan location for the Detroit-based craft brewery and features wood, marble, doors and other materials reclaimed from old Detroit and Grand Rapids buildings.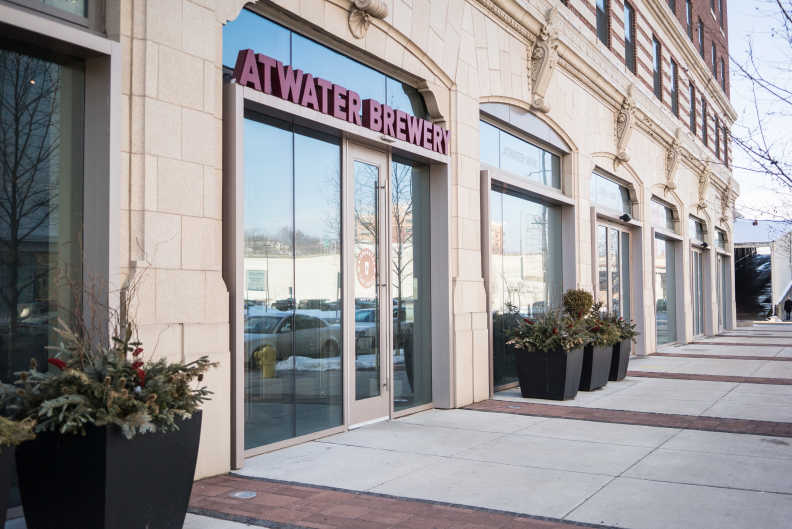 Atwater Brewery
Photo Credit: Experience Grand Rapids
---
The Rowe sits across Monroe Avenue from the Michigan State University Grand Rapids Research Center, slated to open in late 2017. The $88.1 million biomedical research center will support 44 research teams comprised of MSU scientists, clinical-based faculty physicians from the MSU College of Human Medicine and other researchers from MSU's partnering institutions.
According to MSU, core research will include Parkinson's disease, Alzheimer's disease, pediatric neurology, autism, inflammation, transplantation, genetics, women's health and reproduction, and skin cancer – with the vision of helping people live longer and better, and improving the health of the Grand Rapids community and beyond.
Construction of the research facility, alone, is expected to generate $55 million in wages and an economic impact of $95.6 million to the area.
A few blocks to the south, the Gilmore Collection and Orion are building a $32 million residential and entertainment complex. The first component of the project, 20 Monroe Live, held its opening concert on February 1. The 2,600-seat concert venue and flex space is slated to host over 120 ticketed events each year. The new entertainment complex will soon feature a 5,000-square-foot outdoor beer garden, due to open later this year, and is designed to complement the Van Andel Arena, which is located just across Fulton Street and attracts over 1 million visitors a year.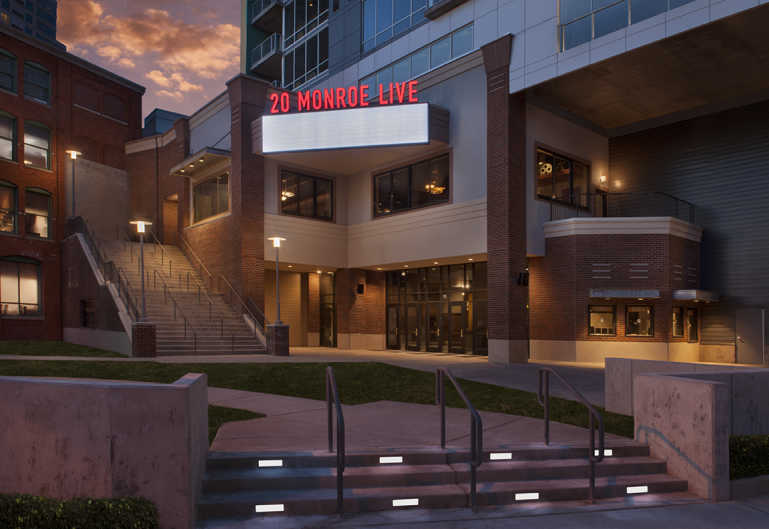 20 Monroe Live
Photo Credit: Ryan Forbes
---
The adjoining 11-story residential Venue Tower will boast 88 apartments, including 24 micro-lofts designed for active urbanites who value quality and accessibility to everything a thriving downtown offers.
With a 42-story hotel and residential tower proposed one block over from Venue Tower, a 130-room AC Hotel by Marriott slated to begin construction this year, a host of new restaurants, brewpubs, breweries and distilleries opening their doors downtown and in adjoining neighborhoods, a rebirth of Calder Plaza – the heart of Grand Rapids' business and government district – underway, and Grand Rapids' recent ranking as one of the best economies in the country, there are no signs this growth is slowing anytime soon.
"A Grand Investment" is an ongoing series exploring the business landscape of Grand Rapids. Michigan's fastest growing metro area and one of the nation's strongest economies, Grand Rapids is fueled by a creative, collaborative spirit that generates global, national and entrepreneurial investment. This series highlights leading sectors of the local economy and underscores the city's suitability for innovation-focused meetings.
Don't miss a post!
Sign-up for the Meeting Minds Blog to get the next A Grand Investment story!